Some brands of cottage cheese have probiotics. However, you will have to shop wisely to find the right brands that offer cottage cheese with probiotics.
Review the label for "live cultures " statements to identify cottage cheese with probiotics. The label will often list the type of live cultures contained in the product L. acidophilus, L. thermophilus, B. bufidum, etc.
Does Cottage Cheese have Probiotics?
Taking care of your gut health is essential for a healthy lifestyle. Whether you decide to eat yogurt, kefir, or cottage cheese for your daily dose of probiotics, maintaining a healthy balance of gut bacteria will help you reduce your risk for diseases and improve your overall long-term well-being.
Aside from probiotics, there are a lot of benefits that fermented dairy foods offer. They tend to be packed with nutrients like protein and calcium, which are delicious, too. So the next time you're contemplating that cup of Greek yogurt, it's worth considering fermented food like cottage cheese, kefir, or feta cheese. 
When it comes to cottage cheese, though, you'll need to pick the right type to enjoy the probiotic benefit to your digestive health. Here's our essential guide to whether cottage cheese has probiotics.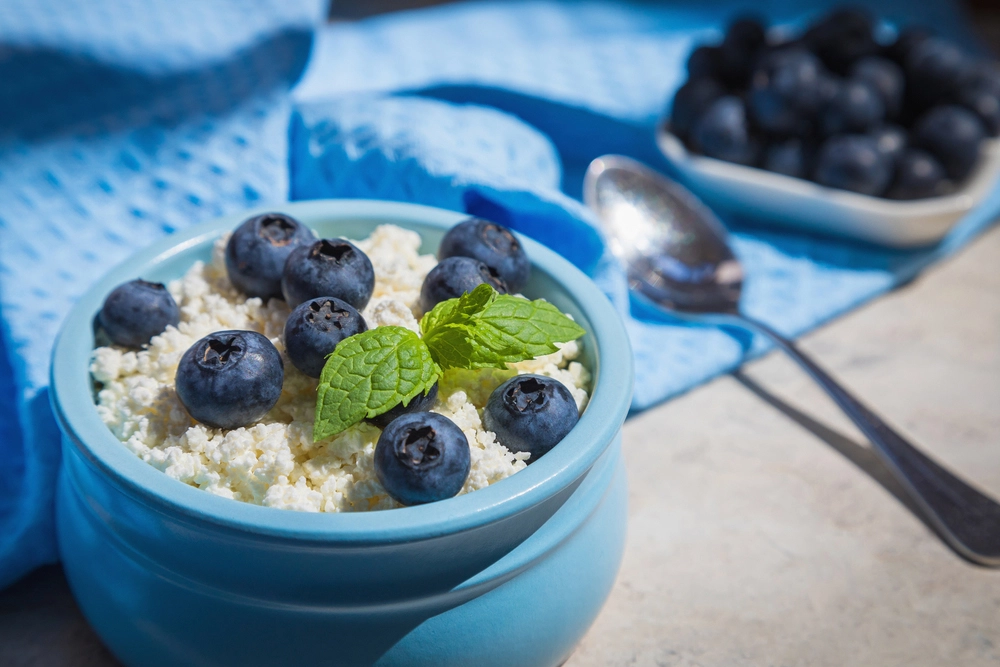 Does Cottage Cheese Have Probiotics?
Whether or not cottage cheese has probiotics depends on the brand you decide to purchase. Some brands are fermented and allowed to grow healthy probiotic bacteria, while others don't offer any more benefits than a glass of milk. 
Probiotic cottage cheese should be labeled as containing "live and active cultures," including S. thermophilus and L. bulgaricus. 
Cottage cheese is incredibly healthy when you select the right brand to eat. While you will need to eat it in moderation due to its high sodium content, cottage cheese nourishes your system with tons of calcium, protein, and beneficial bacteria. 
It's nutritionally comparable to kefir, yogurt, and other fermented dairy and milk products. 
How Can I Tell If Cottage Cheese Has Probiotics?
To determine if your cottage cheese brand has probiotics, you'll need to examine the label closely. Products like kefir and cottage cheese that contain probiotics will be labeled with a statement saying that the product has "live cultures." 
The label typically also discloses the type of cultured bacteria, such as S. thermophilus, L. bulgaricus, and L. acidophilus.
What Brands Of Cottage Cheese Have Probiotics?
Unfortunately, only a few store-bought brands of cottage cheese contain probiotics. Only brands with bacteria deliberately added after the pasteurization process contain probiotics. 
The best brands of cottage cheese with live and active cultures you can buy are Nancy's probiotic cottage cheese and Good Culture organic cottage cheese.
Nancy's Probiotic Cottage Cheese
Among all the cottage cheese brands, Nancy's Probiotic Cottage Cheese is one of the most highly recommended, and there's a good reason. Their cottage cheese is made with nutritious organic whole milk and pasteurized cream, delivering 14 grams of protein and 160mg of calcium every serving—just over 25% and 10% of your RDV, respectively!
Best of all, Nancy's Probiotic Cottage Cheese is easy to purchase in grocery stores across the United States. Retailers like Whole Foods, Walmart, Kroger, H-E-B, Safeway, and Hannaford offer the product.
It can even be purchased from Instacart and delivered to your home.
Good Culture Organic Cottage Cheese
Good Culture is one of the best brands you can buy regarding healthy dairy product options. Its single-serving portions of cottage cheese contain an impressive 18 g of protein and 90 mg of calcium. 
And since the brand adds healthy live cultures into its cottage cheese products, you can support your gut health with every delicious bite.
There are several ways you can purchase Good Culture Organic Cottage Cheese. Four products can be purchased through AmazonFresh and delivered to your home. 
You can also find the products at Publix Supermarket, Whole Foods, H-E-B, Target, Safeway, and Kroger. You can use Good Culture's store locator to find a store near you that sells its cottage cheese.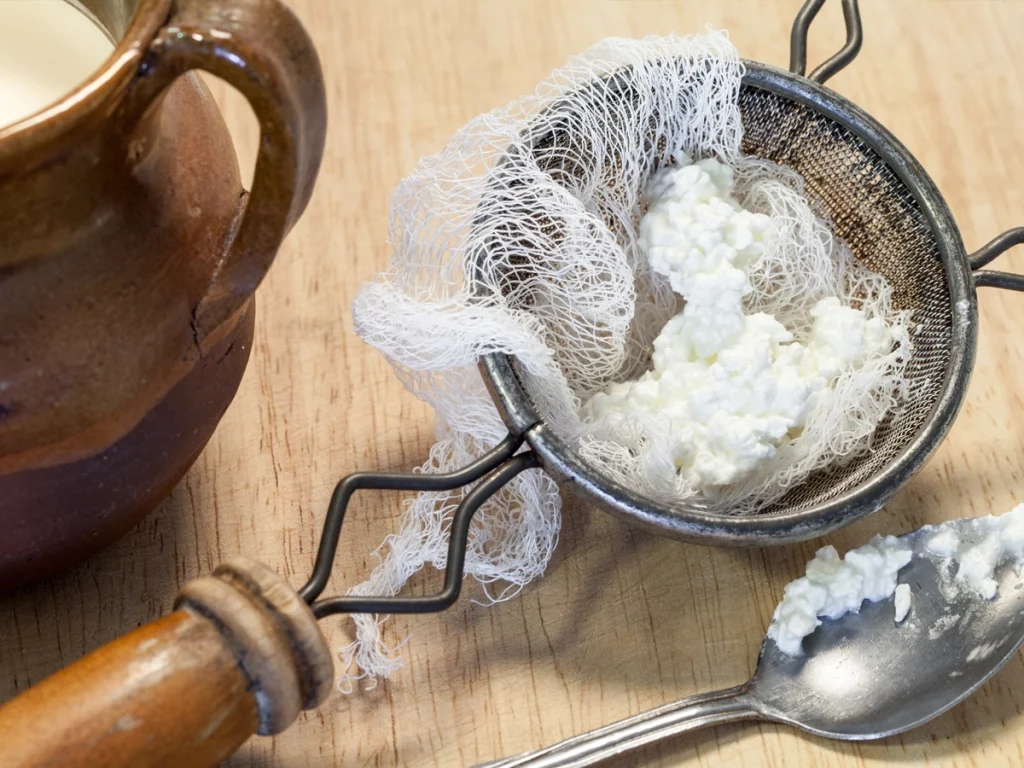 Make Probiotic Cottage Cheese At Home
To make probiotic cottage cheese at home, gather a few ingredients:
Sea salt
One cup of plain kefir or full-fat probiotic yogurt
Half a gallon (eight cups) of raw milk
The kefir will serve as your starter, so it's essential to ensure that your product contains live and active cultures. If you're unable to get raw milk, you can use pasteurized milk—however, you may need to add an extra starter since the cultures in the pasteurized milk have been eliminated. 
Before starting, allow the raw milk to sit in the fridge for at least 24 hours. Once the cream has separated, skim the milk off and set it aside for later. 
If you're using pasteurized milk, you can skip this step.
Once the milk is ready, place the covered bowl on the counter and stir in the probiotic plain kefir or full-fat yogurt. The mixture should be allowed to thicken for one to two days until it forms curds with the consistency of yogurt. When the curds have fully thickened, you should cut them into ¼-inch-sized pieces.
Finally, prepare to heat and rinse the cottage cheese. Fill a large pot with water and set it to low heat.
Once the water has begun heating, place the bowl of curds over the water (with the cover removed) and let the water heat the curds through the bowl.
You will need to monitor the curds closely during the heating process. It's recommended to stir the curds and check their temperature at least every five minutes. 
Let them heat to 110°F, but once the curds have reached this temperature, remove them from the heat. Any higher temperatures will kill the probiotic cultures in the cottage cheese.
Once the cottage cheese has cooked, it's time to finish preparing it. Pour the mixture through a strainer to separate the cottage cheese. 
Then, rinse the cottage cheese with water, gently stirring the curds to ensure all the water drains from the mixture. Finally, you should add heavy cream and sea salt to taste.
Eating Cottage Cheese To Support Your Gut Health
Like other dairy foods, cottage cheese offers your body a lot of benefits: it has a high level of calcium and protein that nourishes you, and it's packed with probiotics to give your gut health a boost, too! 
Unfortunately, not all cottage cheese is created equal, and most cottage cheese brands don't contain any probiotics. However, by purchasing the right brand of cottage cheese or making your own at home, you can enjoy all the gut benefits that probiotic foods offer.