This post may include affiliate links. As an Amazon Associate I earn from qualifying purchases.You can read my complete affiliate disclosure for more details.
11 Types of Raw Cheese With Probiotics
If you were looking for another reason to whip up a charcuterie board filled with your favorite cheeses, you are in luck. Here is a detailed list of 11 probiotic-rich types of cheese.
Cheeses that have been aged but not heated afterward, such as Swiss, provolone, Gouda, cheddar, Edam, Gruyère, and cottage cheese, have probiotics. They contain good bacteria that can contribute to gut and overall health. (1)
There are numerous health benefits available when enjoying cheese, primarily due to its probiotic content. Thus, cheese can be just as healthy as it is tasty!
Probiotics are healthy bacteria renowned for their benefits to digestive health. The bacteria are typically found in fermented foods, including kimchi, sauerkraut, kombucha, and yogurt.
Regarding cheese, probiotics are found in myriad soft kinds of cheese like Mozzarella or Gouda. Several hard varieties, such as provolone or cheddar, also contain decent contents of friendly bacteria.
Health Benefits of Eating Cheese with Probiotics
Probiotics have incredible effects on one's overall gut health. The bacteria is known to aid bloating, constipation, and the impact of irritable bowel syndrome (IBS). They can also provide immune-boosting benefits.
Additionally, new research has shown that probiotics can positively benefit mental health. The concept was further supported by establishing "psychobiotics," certain strains that may affect cognition and reduce depression.
Most people consume probiotics through supplements or fermented foods. Luckily for you, quite a few famous cheeses fall in that category. Enjoying quality fermented cheeses is a beautiful way to feature healthier probiotics in your diet.
How to Buy Fermented Cheese
Several cheese types containing probiotics can easily be found at your local grocery or specialty food stores. Numerous online retailers sell fermented cheeses, such as Amazon, Murray's, and Walmart.
Try to purchase unpasteurized cheese types if you want probiotic benefits. Double-check the label to ensure that it was aged for a minimum of six months for optimal results.
Shop: Best Cheese-Making Kits
Full List of 11 Types of Cheeses that Contain Probiotics
There are quite a few types of cheeses that contain probiotics. Knowing these different varieties will allow you to make more informed decisions before purchasing.
Check out the list below to learn more about these tasty cheeses' health benefits and flavors.
1. Feta
Crumbly Feta is a delicious game-changer. It is traditionally made using a combination of goat and sheep milk. Along with probiotics, this low-calorie cheese also boasts high calcium, phosphorus, and Vitamin B contents.
Feta makes for a wonderful appetizer or salad topping, especially in Greek-style tomato salads.
Related Topic: Best Fermented Beet Powder Review
2. Swiss
Swiss is most notable for its unique appearance featuring holes that gained the nickname "eyes."
Though the cheese has a fairly potent aroma, the flavor is mild, with some nutty and sweet notes. Swiss makes an excellent addition to sandwiches or burgers.
3. Gouda
Gouda is a luxurious semi-hard cheese that acts as a stellar addition to characterize boards. It has a strong yet slightly nutty flavor, especially in that of smoked gouda.
This type of cheese is rich in calcium and contains the highest number of probiotics out of any on this list.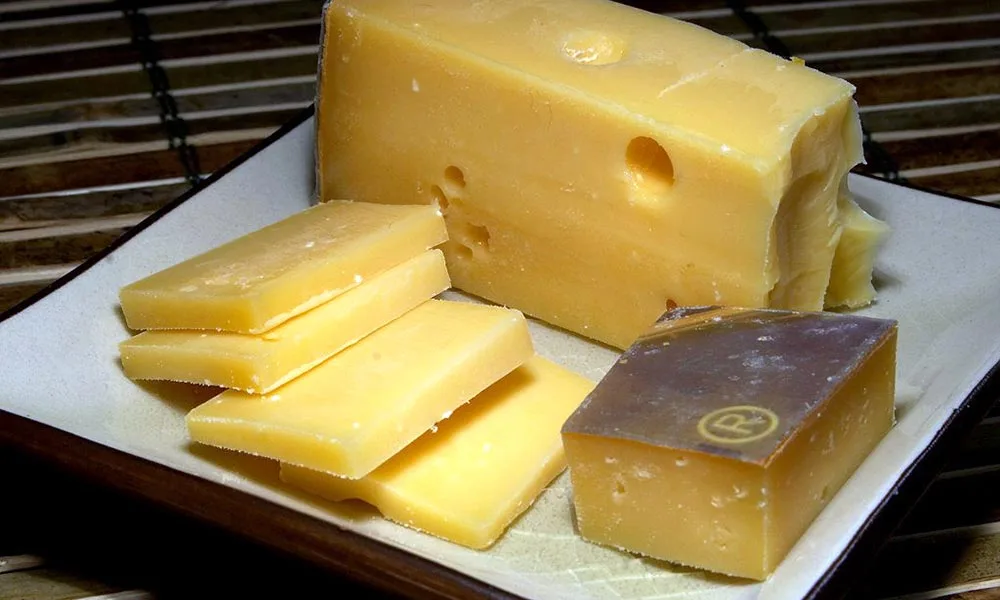 4. Edam
Edam is a unique cheese that ages like fine wine. Its mild flavor and creamy texture sharpen over time. Pair with a nice glass of Malbec or Chardonnay for a fantastic appetizer.
Additionally, even though savory Edam contains probiotics, it also boasts a large amount of sodium.
5. Caciocavallo
This Southern Italian staple has a sharp and slightly salty taste. Caciocavallo can be served alone or grated on top of pasta. The process in which this gourd-shaped cheese is made is comparable to that of the famous Mozzarella.
6. Emmental
Much like Swiss cheese, Emmental features similar holes and a pale-yellow hue. This cheese has a pleasant aroma with a sweet, mild overall flavor.
Emmental is renowned for its quick melting properties, making it one of the best cheeses for fondue. It can be added to sandwiches, burgers, or salads.
7. Gruyere
Gruyere is known for its creamy and nutty flavors that intensify with age. It makes for a delectable addition to a charcuterie board, especially featuring fruit enhancing the cheese's unique taste.
Gruyere is also very easy to melt, thus acting as another option for serving fondue.
8. Cottage Cheese
Cottage cheese has many health benefits, which explains why it is often essential for various diets.
It is low in fat and contains significant amounts of calcium, protein, selenium, and Vitamin B. The soft cheese has a mild overall flavor but a potent aroma.
Learn which brands of cottage cheese contain probiotics.
9. Parmesan Cheese
Parmesan traditionally referred to as Parmigiano-Reggiano, is a sharp and savory cheese originating in Lombardy, Italy.
The cheese is most well known for grating as pasta or pizza topping. Although, parmesan served on its makes for a delightful appetizer paired with crackers and a glass of Pinot Grigio.
10. Provolone
Provolone is another delicious Southern Italian cheese with a sharp flavor featuring nutty and peppery notes.
The cheese can be used in various dishes, including pizza or sandwiches, but tastes delightful on its own. Pair with some sliced soppressata and a glass of Chianti.
11. Raw, Unpasteurized Cheddar
Raw cheddar contains more of the amazing benefits that this cheese has to offer, including probiotics. It also boasts high amounts of calcium, protein, and healthy fats.
The mild yet sharp flavors make great additions to various meals. Add some raw cheddar cheese topping to your burgers at your next barbecue, as it is sure to be a crowd-pleaser.
Types of Cheeses That DO NOT Contain Probiotics
Unfortunately, not all cheese varieties contain probiotics. Some brands of cheddar and cottage cheeses, for example, do not contain healthy bacteria. It is important to review the labels before buying to ensure the cheese is fermented.
While not every type may include probiotics, many kinds of cheese are rich in calcium and essential vitamins. So, still enjoy these delectable cheeses on your cheat day!
To receive probiotic benefits, always buy raw and unpasteurized cheeses made from raw, unpasteurized cow or goat's milk.
Related Fermentation Guides
Does Store Bought Sauerkraut Have Probiotics? (and the Best Brands To Buy)What's the Difference Between Fermenting and Rotting Food?
References:
Is cheese a healthy source of probiotics? Harvard Health Publishing website. https://www.health.harvard.edu/staying-healthy/is-cheese-a-healthy-source-of-probiotics. Published February 1, 2021. Accessed December 24, 2021.
---
The information on this website is for educational purposes only. It has not been evaluated by the FDA and is not intended to diagnose, treat, prevent, or cure any disease. You assume full responsibility and liability for your own actions.
FTC Disclosure: As an Amazon Associate, Fermenters Kitchen earns from qualifying purchases. Fermenters Kitchen receives a small commission on all purchases made through Amazon links in our posts.