This post may include affiliate links. As an Amazon Associate I earn from qualifying purchases.You can read my complete affiliate disclosure for more details.
The best brands of pickles with probiotics are raw and naturally fermented. When buying fermented pickles for their probiotic benefits, read the label; if it says raw, fermented, or probiotic, you've found fermented pickles.
Bubbies, Olive My Pickle, and Kreugermann Pickles are some of my favorite fermented pickle brands. You can find them at the grocery store and online.
There are many quality fermented pickle brands on the market today.
Best Brands of Pickles That Are Fermented
Olive My Pickle sells pickles in a Fermented Pickle Bundle that includes Garlic, Kosher Dill, and Spicy Dill.
It says right on the label, "Lab Verified Probiotic." Olive My Pickle packs its products in a bag, which makes them easier to store in the pantry and fridge since they're not bulky.
Bubbies makes naturally fermented Kosher Dill Pickles and Kosher Dill Relish. It says so right on the jar, no sugar, no vinegar, all-natural.
Their ingredients include cucumbers, water, salt, garlic, dill, spices, mustard seed, and calcium chloride.
This brand of pickles is delicious and a great source of naturally fermented probiotic bacteria that foster good gut bacteria in our bodies.
However, Bubbies Bread & Butter Chips are not fermented. Their Bread & Butter Chips are pasteurized and shelf-stable but equally delicious. Bubbies also make sauerkraut.
Kreugermann takes pride in its pickled products that come from traditional family recipes.
For fermenting, Kreugermann uses locally sourced ingredients such as dill and cucumbers and a mild salt solution, which doesn't have chemical agents.
The result is the natural production of probiotics. Kreugermann says it all on their label "In Cloudy Brine, Naturally Fermented Dills."
Kreugermann tastes naturally sour without vinegar which is excellent for pickle lovers suffering from hyperacidity.
Oregon Brineworks is a brand that is so popular its products are flying off the shelves. Beyond the Garlic Dills and Spicy Dills, they make sauerkraut, Beet Kvass, Pickled Beets, and Ginger Roots with golden beets, carrots, and ginger.
A unique trait of Oregon Brineworks is that it doesn't pasteurize its pickles and only sources ingredients from organic farms. These pickles are so good they are often sold out; you can buy their line of fermented foods here.
Related Topic: Best Fermented Beet Powder Review
What kind of pickles have probiotics?
Read the label; if it says "raw," "probiotic," "unpasteurized," or "fermented," you've found the right brand of fermented pickles.
There's nothing wrong with vinegar pickles if you like the taste. Just know you won't get the gut health benefits that fermented pickles offer.
And while the vinegar was once a living fermenting food, the jarred pickles have since been heated and pasteurized, so it's no longer a live active culture.
When shopping for brands of pickles that are fermented and full of good bacteria, such as naturally occurring lactobacillus, choose pickles that do not use vinegar or sugar in the pickling process.
Unpasteurized fermented pickles are made with sea salt and water solution that feeds the growth of good bacteria, which may make sour pickles help with digestion.
Shop: Best Fermentation Crocks for Making Pickles (Amazon link)
Where to find fermented pickles in the grocery store?
Probiotic pickles will be in the refrigerated section of the health food aisle. The pickles found in the middle aisles are not fermented.
Fermented food, including pickles, will always be found in the refrigerated section of the produce aisle or health food aisle. The cooler temperatures halt the fermentation process without harming the fermented food's fragile beneficial strains of bacteria.
Fermented pickles are considered a probiotic food, which means they contain beneficial strains of bacteria that, if consumed often, can contribute to the population and diversity of our gut microbiome.
Fermented foods are full of probiotics and help your body fight disease more effectively by supporting your immune system.
Eating more fermented foods also reduces gas, bloating, and diarrhea and supports and maintains your skin's health. Fermented pickles are excellent sources of these mighty microbes.
These brands make many other delicious fermented foods, including olives, beets, carrots, and sauerkraut.
The Difference Between Pickling and Fermenting Pickles
Canning pickles are the process of submerging the sliced or speared cucumbers in a brine made of vinegar, water, salt, and various spices or herbs.
The brine preserves the pickles by creating an acidic environment that prevents harmful bacteria, yeast, mold, and other contaminants from growing.
Pickling foods is a great way to preserve foods for an extended period.
When you ferment pickles, you also make brine. But this brine which includes water, salt, spices, and herbs, promotes the growth of good bacteria, i.e., probiotics.
The vegetables are kept below the brine to remove the oxygen, which allows the probiotics to grow.
Which brands of pickles are not fermented?
Not all pickles are fermented. Shelf-stable brands of pickles that are marinated in vinegar and sugar are not fermented. This method of pickling is called fresh pack. These pickles don't offer the same probiotic benefits that fermented pickles offer.
That doesn't mean they are bad for you; they don't have gut-healthy bacteria.
Are Vlasic pickles fermented? Are Claussen pickles fermented? The answer is No. Vlasic and Claussen's pickles are not fermented.
Mt. Olive and Nalley are also not fermented.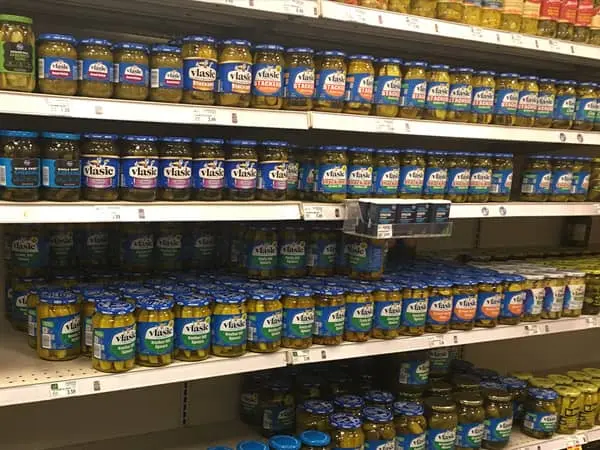 Did I cover everything you wanted to know about shopping for brands of fermented pickles that have gut-healthy probiotics?
In this article, we went over which brands of pickles are fermented and have probiotics. We also discussed why eating fermented pickles is good for you.
Aside from providing you with a constant supply of probiotics, fermented dill pickles boost your body's vitamin K and A supply.
Fermented pickles are better than typical pickles because they promote a healthier gut. It's easy to know which pickles are fermented by reading the label. If it says raw, fermented, unpasteurized, or has probiotics, you've found fermented pickles.
How To Shop The Grocery Store For Gut Health
Eating various fermented foods with live probiotics can have powerful benefits for your body and brain. Check out my posts on choosing the right fermented foods with probiotics in the grocery or shopping online.
Which Brands of Sauerkraut have Probiotics?
Unfortunately, like pickles, most sauerkraut you find in stores or online does not contain enough or any probiotics.
Cultured sauerkraut is one of the best sources of live probiotics out there. Just 2-3 tablespoons of sauerkraut will give you enough beneficial colony-forming units (CFUs) recommended for a day.
Check out my post Does Store-Bought Sauerkraut have Probiotics? to learn more.
Related Topics: