This post may include affiliate links. As an Amazon Associate I earn from qualifying purchases.You can read my complete affiliate disclosure for more details.
Originally published on February 21, 2021. Last updated on September 4, 2023
The best brands of pickles with probiotics are raw and naturally fermented. When buying fermented pickles for their probiotic benefits, read the label; if it says raw, fermented, or probiotic, you've found fermented pickles.
Bubbies, Olive My Pickle, and Kreugermann Pickles are some of my favorite fermented pickle brands. You can find them at the grocery store and online.
There are many quality fermented pickle brands on the market today.
Best Brands of Pickles That Are Fermented
Olive My Pickle sells pickles in a Fermented Pickle Bundle that includes Garlic, Kosher Dill, and Spicy Dill.
It says right on the label, "Lab Verified Probiotic." Olive My Pickle packs its products in a bag, which makes them easier to store in the pantry and fridge since they're not bulky.
Bubbies makes naturally fermented Kosher Dill Pickles and Kosher Dill Relish. It says so right on the jar, no sugar, no vinegar, all-natural.
Their ingredients include cucumbers, water, salt, garlic, dill, spices, mustard seed, and calcium chloride.
This brand of pickles is delicious and a great source of naturally fermented probiotic bacteria that foster good gut bacteria in our bodies.
However, Bubbies Bread & Butter Chips are not fermented. Their Bread & Butter Chips are pasteurized and shelf-stable but equally delicious. Bubbies also make sauerkraut.
Kreugermann takes pride in its pickled products that come from traditional family recipes.
For fermenting, Kreugermann uses locally sourced ingredients such as dill and cucumbers and a mild salt solution, which doesn't have chemical agents.
The result is the natural production of probiotics. Kreugermann says it all on their label "In Cloudy Brine, Naturally Fermented Dills."
Kreugermann tastes naturally sour without vinegar which is excellent for pickle lovers suffering from hyperacidity.
Oregon Brineworks is a brand that is so popular its products are flying off the shelves. Beyond the Garlic Dills and Spicy Dills, they make sauerkraut, Beet Kvass, Pickled Beets, and Ginger Roots with golden beets, carrots, and ginger.
A unique trait of Oregon Brineworks is that it doesn't pasteurize its pickles and only sources ingredients from organic farms. These pickles are so good they are often sold out; you can buy their line of fermented foods here.
Related Topic: Best Fermented Beet Powder Review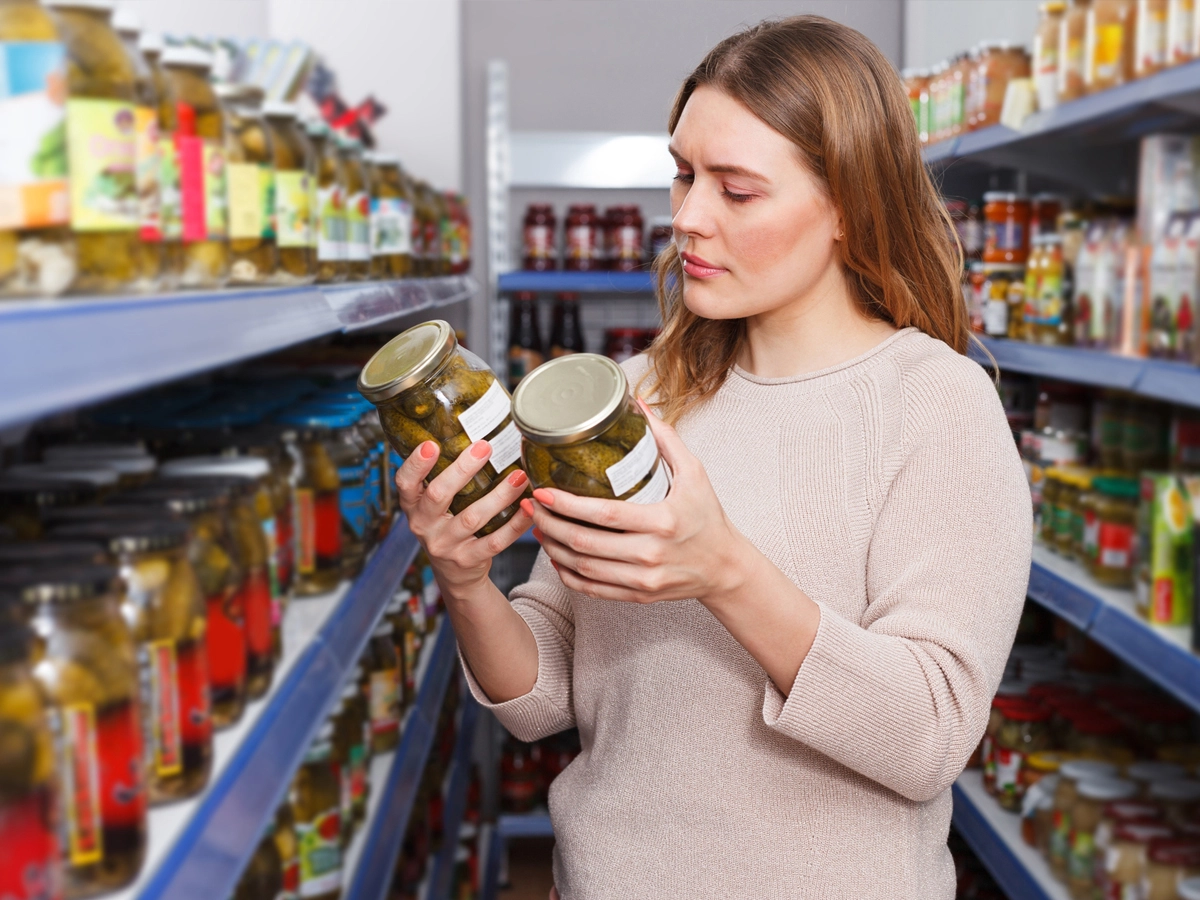 What Are Fermented Pickles?
Before we dive into how to spot fermented pickles, let's understand what fermentation means. Fermentation is natural when microorganisms, like bacteria and yeast, break down food. 
Cucumbers are submerged in a salt brine. Over time, beneficial bacteria turn the sugars in the cucumbers into lactic acid. This acid gives fermented pickles a tangy flavor and is a natural preservative.
How to Tell If Pickles Are Fermented:
Check the Ingredients: The first clue to identifying fermented pickles is to look at the ingredients list. Fermented pickles usually contain cucumbers, water, salt, and sometimes spices or herbs. You won't find vinegar on the list because fermented pickles rely on something other than vinegar for preservation.
Look for Bubbles: When bacteria ferment the cucumbers, they produce carbon dioxide gas as a byproduct. This gas creates tiny bubbles in the pickle jar's brine (the salty water solution). So, if you see bubbles in the jar, it's a good sign that the pickles are fermented.
Check the Label: Some pickle brands proudly state that their pickles are fermented right on the label. Look for words like "naturally fermented" or "fermented pickles" to be sure.
Smell the Pickles: Fermented pickles have a distinct sour and tangy smell. If you open the jar and it smells sharp and vinegary, it's a sign that the pickles are fermented. Fresh cucumbers will have a different, strong aroma.
Taste Test: The most fun way to determine if pickles are fermented is by tasting. Fermented pickles have a complex, tangy, and slightly sour flavor. They're not as sharp and sour as vinegar pickles. The taste should be pleasantly tangy and full of flavor.
Look for Cloudy Brine: Fermentation can make the brine appear cloudy. While vinegar pickles usually have a clear brine, fermented pickles may have a slightly cloudy or milky appearance due to the natural bacterial activity.
Why Choose Fermented Pickles?
Now that you know how to spot fermented pickles, let's talk about why you might want to choose them over regular pickles:
Probiotic Benefits: Fermented pickles are a source of probiotics, beneficial bacteria that can improve your gut health. These friendly microbes can aid in digestion and boost your immune system.
Unique Flavor: Fermented pickles have a distinctive tangy flavor that differentiates them from vinegar-based pickles. Fermented pickles are worth a try if you enjoy complex and bold tastes.
Preservative-Free: Fermented pickles rely on natural fermentation to stay fresh, so they don't contain artificial preservatives or additives.
Low-Calorie Snack: Pickles are generally low in calories and make for a satisfying and guilt-free snack.
Identify fermented pickles by checking the ingredients, looking for bubbles, smelling the pickles, tasting their unique tang, and observing the brine. Once you've tried fermented pickles, you might enjoy their distinct flavor and reap the benefits of their probiotic goodness. So, next time you're at the store, give fermented pickles a chance and add some zing to your snack or meal!
Shop: Best Fermentation Crocks for Making Pickles (Amazon link)
Where to find fermented pickles in the grocery store?
Probiotic pickles will be in the refrigerated section of the health food aisle. The pickles found in the middle aisles are not fermented.
Fermented food, including pickles, will always be found in the refrigerated section of the produce or health food aisle. The cooler temperatures halt the fermentation process without harming the fermented food's fragile beneficial strains of bacteria.
Fermented pickles are considered a probiotic food, which means they contain beneficial strains of bacteria that, if consumed often, can contribute to the population and diversity of our gut microbiome.
Fermented foods are full of probiotics and help your body fight disease more effectively by supporting your immune system.
Eating more fermented foods also reduces gas, bloating, and diarrhea, supporting and maintaining your skin's health. Fermented pickles are excellent sources of these mighty microbes.
These brands make many other delicious fermented foods, including olives, beets, carrots, and sauerkraut.
The Difference Between Pickling and Fermenting Pickles
Canning pickles are the process of submerging the sliced or speared cucumbers in a brine made of vinegar, water, salt, and various spices or herbs.
The brine preserves the pickles by creating an acidic environment that prevents the growth of harmful bacteria, yeast, mold, and other contaminants.
Pickling foods is a great way to preserve foods for an extended period.
When you ferment pickles, you also make brine. But this brine which includes water, salt, spices, and herbs, promotes the growth of good bacteria, i.e., probiotics.
The vegetables are kept below the brine to remove the oxygen, which allows the probiotics to grow.
Which brands of pickles are not fermented?
Not all pickles are fermented. Shelf-stable brands of pickles that are marinated in vinegar and sugar are not fermented. This method of pickling is called fresh pack. These pickles don't offer the same probiotic benefits that fermented pickles offer.
That doesn't mean they are bad for you; they don't have gut-healthy bacteria.
Are Vlasic pickles fermented? Are Claussen pickles fermented?
No, Vlasic and Claussen pickles are not fermented. Unlike traditional fermented pickles like kraut or sourdough bread, Vlasic and Claussen pickles undergo a different process known as brining.
Both brands of pickles are made using a meticulous brining process that combines vinegar, water, salt, and a blend of flavorful spices, including garlic, dill, and peppercorns.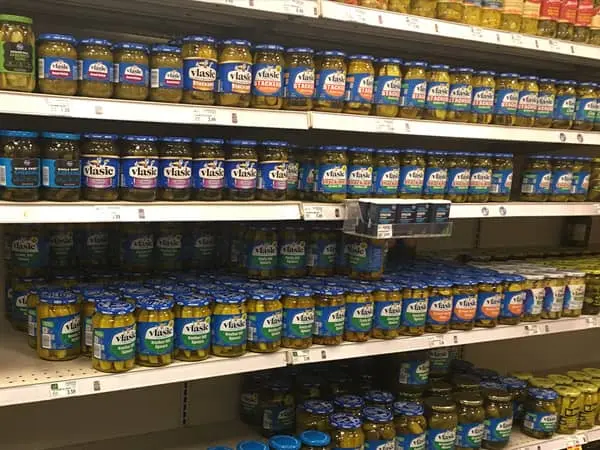 Did I cover everything you wanted about shopping for brands of fermented pickles with gut-healthy probiotics?
In this article, we went over which brands of pickles are fermented and have probiotics. We also discussed why eating fermented pickles is good for you.
Aside from providing you with a constant supply of probiotics, fermented dill pickles boost your body's vitamin K and A supply.
Fermented pickles are better than typical pickles because they promote a healthier gut. It's easy to know which pickles are fermented by reading the label. You've found fermented pickles if it says raw, fermented, unpasteurized, or has probiotics on the jar.
Which Brands of Sauerkraut have Probiotics?
Unfortunately, like pickles, most sauerkraut you find in stores or online does not contain enough or any probiotics.
Cultured sauerkraut is one of the best sources of live probiotics out there. Just 2-3 tablespoons of sauerkraut will give you enough beneficial colony-forming units (CFUs) recommended for a day.
Check out my post Does Store-Bought Sauerkraut have Probiotics? to learn more.