Strawberries make a delicious and sweet addition to breakfast and dessert -- but you don't just have to settle for plain strawberries. Fermenting your strawberries can prolong their shelf life and introduce tangy, delicious notes to every meal you add them to. The best part is that fermenting strawberries is an incredibly simple process.
Jump to:
How To Ferment Strawberries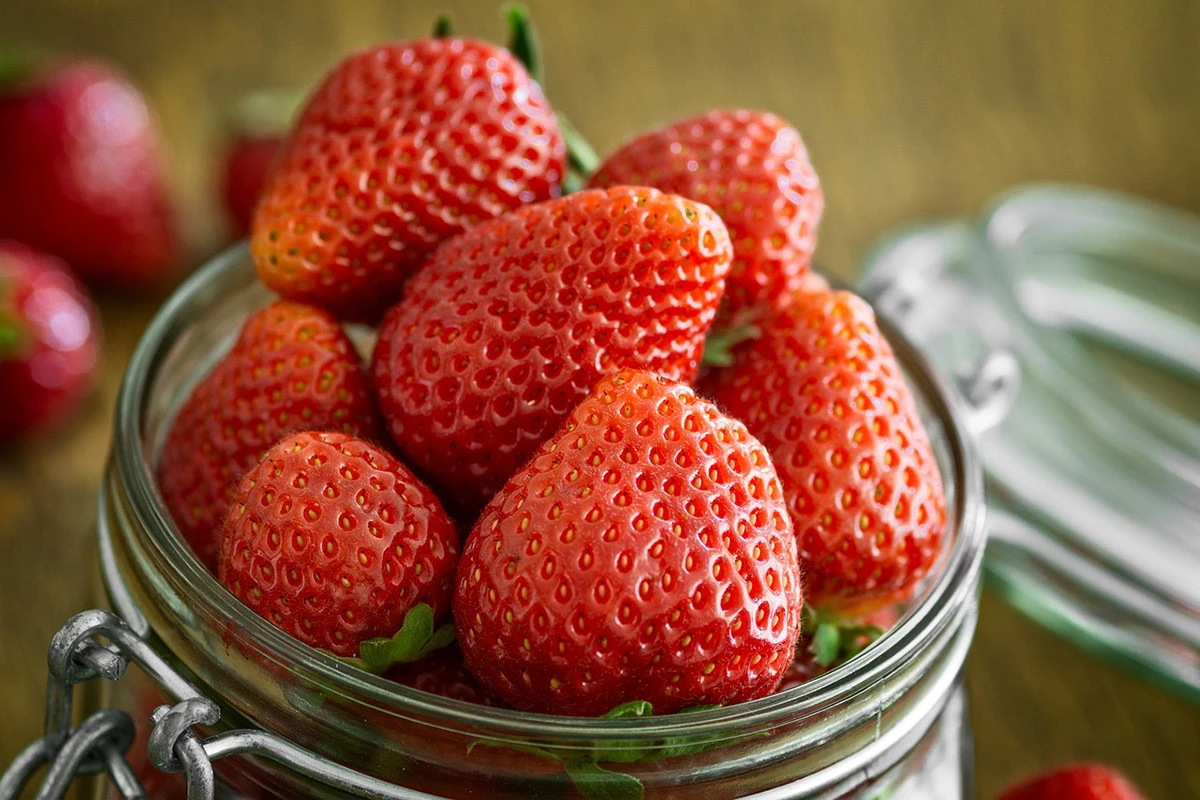 There are a few different ways that you can ferment strawberries. Some fermenters like to prepare theirs with whey, while others use juice from sauerkraut or kombucha. The most reliable method, however, is using a dedicated starter culture.
Equipment & Ingredients
You won't need many ingredients to prepare a batch of fermented strawberries using starter cultures. The most important ingredient you'll need is your strawberries.
It's okay to use fresh strawberries, but softening and just-before-molding strawberries are an excellent choice, too -- after all, you'll be able to prevent them from becoming waste.
Sale
Last update on 2023-11-27 / Affiliate links / Images from Amazon Product Advertising API
Aside from your strawberries, it's recommended that you purchase a vegetable starter culture.
Unlike vegetables such as cabbage and radishes, fruits are packed with yeast.
If you don't use culture to give the lactic acid bacteria on your strawberries a boost, you'll likely be battling yeast throughout the entire fermentation process -- that is, if they don't make the berries inedible, to begin with.
Optionally, you can add other ingredients to your batch of fermented strawberries. Adding different types of fruit and berries, such as blueberries and blackberries, is a great way to add variation and depth to its flavor.
Alternatively, add ingredients like honey, ginger, or cinnamon to flavor the strawberries directly.
It's essential to have the right equipment on hand, too. Use a mason jar with a suitable pressure-releasing fermentation lid to store your strawberries.
If you don't have a lid on hand, cover the mouth of the jar with a paper towel and secure it with a rubber band. Using a glass container and avoiding options like plastic Tupperware is recommended.
Fermenting Strawberries with Starter Cultures & Honey
After you've gathered your ingredients and equipment, preparing a batch of fermented strawberries is extremely simple.
First, clean the jars by soaking them in white vinegar and then rinsing in hot water.
Doing so will eliminate many of the germs that could contaminate your ferment. You'll need to let your equipment cool before you start.
Next, slice the strawberries and any other fruit you're using. You should quickly rinse the fruit using a strainer and then slice the fruit into small pieces.
Smaller pieces are better for making fermented jam or spreads, while larger pieces are better if you intend to use the strawberries as the highlight of a dish -- for example, as the centerpiece of delightful fermented strawberry shortcakes.
Once your strawberries are chopped, add them to your mason jar or fermentation container.
To make the brine, mix the following ingredients:
2 tablespoons honey
2 tablespoons of whey (or 1 probiotic capsule)
¼ teaspoon salt
3 tablespoons of water 
Pour the starter culture over your berries, and top with more water as needed to completely cover the strawberries. You'll want to pour enough water so the strawberries are completely submerged in the liquid. This will prevent the growth of aerobic bacteria and yeast.
Distributing the culture evenly is vital if you want the best possible results from your ferment.
If any ingredients try to float to the top of the liquid, adding a fermentation weight can help protect the batch from contamination.
Find a suitable place to let the strawberries ferment for the next few days. Generally, you'll achieve the best results when they're kept somewhere cool and dark. Find a kitchen cupboard that isn't exposed to external heat from nearby appliances, and place your strawberry fermentation jar inside.
Depending on the type of container you use, you may need to periodically 'burp' your jar by opening it to release the air.
If you covered your mason jar with a paper towel or a pressure-releasing fermentation lid, you should check on the ferment at least once a day to ensure it's processing suitably.
Within two to four days, you'll find that your batch of strawberries becomes a tangy and delicious batch of fermented fruit.
Alternative Methods for Fermenting Strawberries
If you don't have vegetable fermentation culture on hand, there's no need to despair. It's possible to ferment strawberries with almost any probiotic starter, ranging from whey and honey to the juice from sauerkraut and kombucha.
Using Whey from Yogurt and Honey
Some of the best natural cultures for fermentation can be found right in your pantry or fridge. If you have probiotic yogurt, you can kickstart the fermentation in your batch of strawberries by adding a few spoonfuls of fresh whey.
Avoid stirring the yogurt if possible, as it will likely be separated when you first open it. Just scrap off about 2 tablespoons of fresh whey from the yogurt to innoculate a pint of fermented strawberries. 
You'll want to pair each spoonful of whey with an equivalent amount of honey. Much like before, you'll want to add all your ingredients to a mason jar with water and allow the strawberries to ferment for two to four days.
Using Juice from Sauerkraut, Kombucha, or Water Kefir
The juice from sauerkraut, kombucha, and water kefir are also great for fermenting strawberries.
These probiotic sources are particularly helpful if you don't consume dairy, and they're easy to find in almost any grocery store. Before starting, you'll need to determine what kind of starter you'd like to use.
Sauerkraut juice is rich in lactic acid bacteria. Kombucha offers a slightly more diverse selection of probiotics.
Water kefir is one of the most exciting starters you can use, as you'll use the unique probiotics found in the kefir grains to kickstart fermentation in your strawberries. Each probiotic source produces a taste similar to its original flavor.
Every fermented product has different concentrations of bacteria, so there's not one rule of thumb for how much juice you should add to your strawberries.
It's safe to say that more is better, however, as elevated levels of probiotics will help prevent unwanted yeast and mold from forming on your strawberries during the early stages of the fermentation process.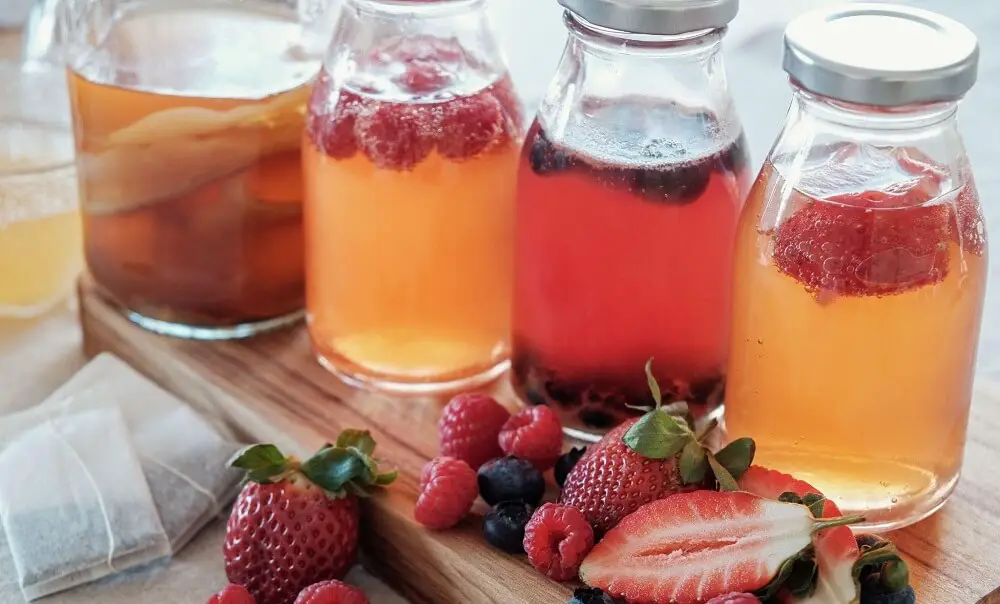 Why Ferment Strawberries?
It's easy to see that fermenting strawberries is possible, but it's hard not to wonder why you want to ferment strawberries.
Aside from the fact that fermentation is an excellent and natural preservation method, you'll also find that fermented strawberries offer a unique and incredible flavor.
Preserving Large Batches of Strawberries
The most important benefit of fermenting strawberries is that it allows you to preserve them and extend their shelf life by months, even if they're on their last day of freshness.
As the strawberries ferment, the lactic acid bacteria present in the starter will gradually consume the sugar in the berries and create acids. These acids will cause the berries to soften and grow tangy.
Gradually, the brine surrounding the berries will grow sour enough that harmful bacteria and mold become incapable of surviving or growing in the brine. After just a few days of fermentation, the berries will have enough lactic acid to preserve them for months when properly stored.
It's worth considering fermentation if you're ever on the verge of tossing strawberries or other fruit. While fermented fruit might not be as sweet as its fresh counterpart, it's perfect for adding to dishes and desserts with a touch of sourness.
The best part is that you'll minimize food waste and add a healthy dose of vitamins and probiotics to your diet while you're at it.
Recommended Products
If you're attempting to ferment food for the first time, it's worth purchasing all the proper equipment -- not just fermentation weights. Masontop's complete mason jar fermentation kit is one of the best starter packs you can buy. Everything you'll need, ranging from airlock lids to a reliable wooden tamper, is included in this kit.
Once you've added your strawberries and brine to the mason jar, you can use the fermentation weights to ensure they remain submerged throughout the process. The tamper can flatten and stir the strawberries, while the airlock lids are perfect for preventing contaminants from entering the jar.
Check our shopper's guide for the best tools for fermentation.
These glass weights are non-porous so that they won't absorb germs or materials from your successive fermentation batches. They also feature a hole in the center that makes them easy to remove from your ferment and allows carbon dioxide to bubble to the surface.
Ways to Use Fermented Strawberries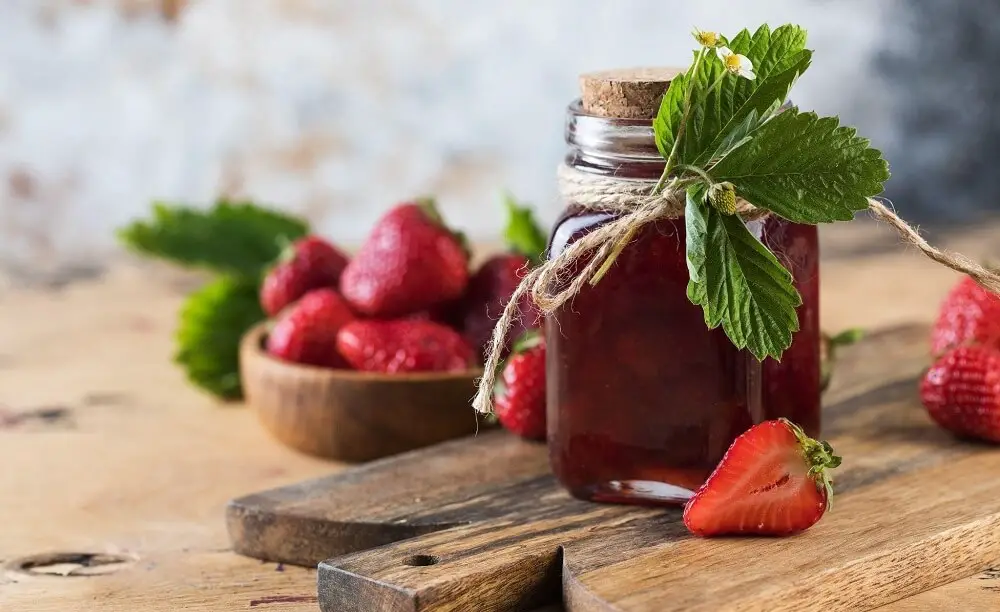 It takes two to four days for strawberries to ferment properly. As the days pass, it's hard not to wonder how you'll enjoy your new batch of fermented strawberries. One of the best things you can do is to create a delicious spread.
Making Jams and Spreads
Strawberry jelly is a staple. It's deliciously sweet and fresh. Whether you like to add it to tea or smear it across biscuits and toast, it's hard not to feel a sense of nostalgia about the decadent summertime flavor.
If you want a new twist on this beloved classic, turn your fermented strawberries into jam. If you're planning to make jam, starting with strawberries that are already somewhat soft is ideal.
Check your pantry and your local grocer's discount aisle to check if any overripe and mushy strawberries are available -- just make sure they aren't rotten. Jar them with a starter culture and allow them to ferment for two to four days.
Once your strawberries have fermented, you're ready to create a spread. Pour any extra brine from the strawberries until the liquid level is suitable. Next, use a clean utensil to smash your berries into a soft, consistent spread. Once you're done, try your new strawberry jam by preparing toast or tea.
Enjoy Deliciously Tangy Fermented Strawberries
While fruits might not be as popular to ferment as vegetables, they're just as delicious. The tanginess and acidity of the fermentation process allow the strawberry flavor to shine in entirely new ways.
Try preparing strawberry shortcakes, enjoying fermented strawberry jam, or even adding the berries to probiotic yogurt.
Frequently Asked Questions
Can I use frozen strawberries for fermentation?
You can use frozen strawberries for fermentation, but they'll likely turn out excessively mushy. You might find that they work perfectly for fermented strawberry spreads and jams, but it's inadvisable to use frozen strawberries instead of fresh if you want a firm result.
How long can fermented strawberries be stored, and what's the best way to store them?
Fermented strawberries can be stored for at least several weeks when properly refrigerated. Place them in an area of your fridge away from the door (which has variable temperatures) that does not form ice. Keep a lid on the strawberries' container and ensure they're always completely submerged in brine.
Are there any safety precautions to consider when fermenting strawberries?
There aren't any major safety precautions to consider when fermenting strawberries beyond verifying that fermentation was successful. If you notice any odd tastes, textures, growths, or smells, discard your fermented strawberries and try again. Check out this post on how to know when fermented foods have gone bad for more information.
More Fermented Fruit Recipes to Enjoy: