When it comes to Korean cuisine, there's a world of flavors waiting to be explored, and one dish that never fails to captivate taste buds is Kimchi Fried Rice.
This culinary masterpiece blends the piquant punch of kimchi, the smoky allure of bacon, and the hearty goodness of rice into a dish that's nothing short of irresistible.
What does kimchi fried rice taste like?
Fried rice with kimchi is a delicious dish that combines different flavors and textures. Imagine taking a bite of this dish, and here's what you might taste:
First, you'll notice the rice, which is soft and slightly chewy. It's been cooked with oil, so it has a subtle richness. The rice also soaks up all the flavors from the other ingredients.
Then, there's the kimchi. Kimchi is a spicy and tangy fermented cabbage dish. It adds a burst of flavor to the fried rice. Depending on how it's prepared, you'll taste the spiciness, which can range from mild to quite spicy. The tanginess is a bit sour, like pickles, but with a unique twist.
Mixed in with the rice and kimchi are usually some vegetables like carrots, peas, and sometimes bell peppers. These veggies bring a fresh, slightly crunchy element to the dish. They provide a contrast to the soft rice and the bold flavors of the kimchi.
The fried rice might also have protein like bacon, chicken, fried beef, or tofu. This adds another layer of taste. The protein can be savory, and it soaks up the flavors of the rice and kimchi, making each bite satisfying.
Fried rice with kimchi tastes like a harmonious blend of soft rice, spicy and tangy kimchi, crunchy vegetables, and savory protein. It's a dish that offers a little bit of everything – spicy, sour, flavorful, and satisfying.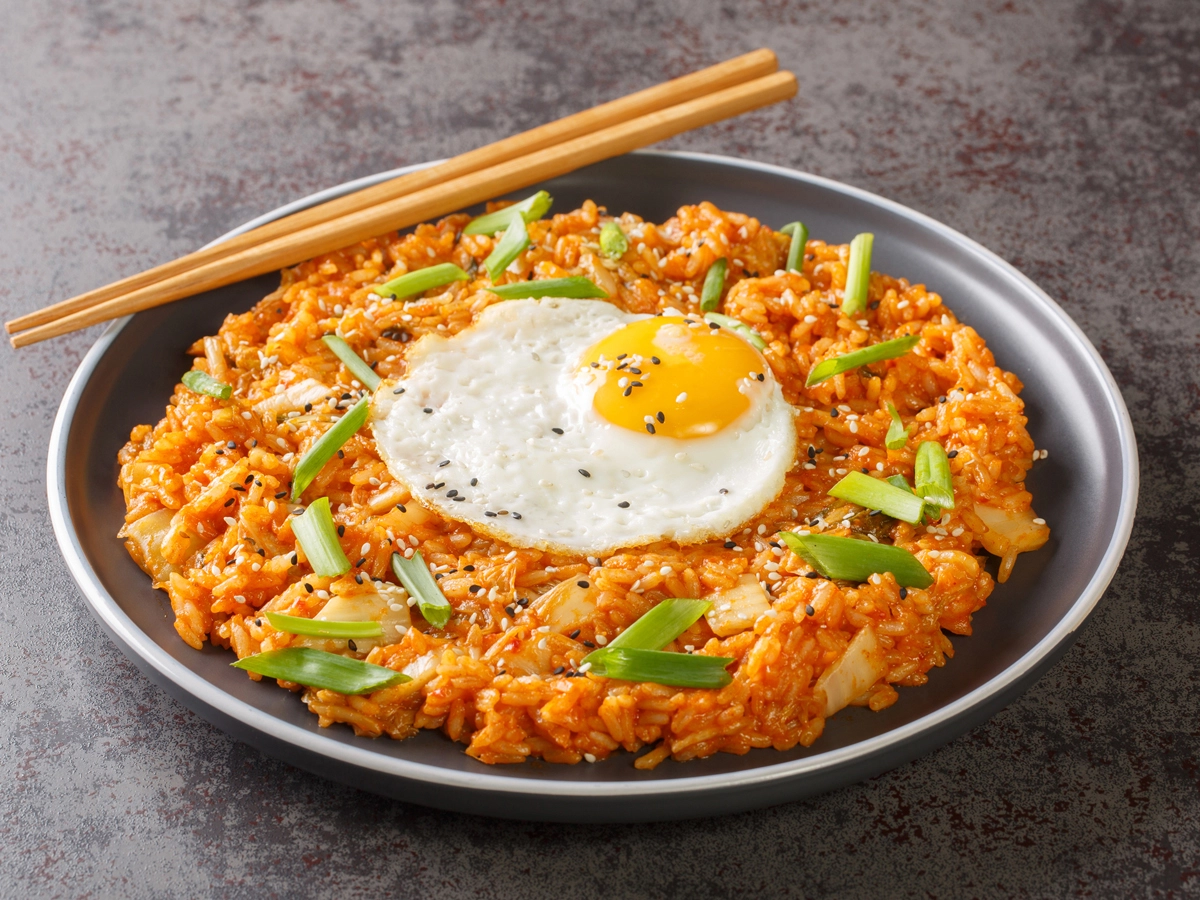 The Essence of Kimchi Fried Rice
Kimchi Fried Rice is a revered classic in Korean culinary tradition, a dish that's both comforting and exciting in equal measure. It's a simple yet delectable stir-fry that combines kimchi, a traditional Korean delicacy made from fermented spicy napa cabbage, and rice.
However, this dish isn't satisfied with simplicity alone. It cranks up the flavor by introducing a symphony of ingredients like diced meat and vegetables, elevating the dish to a whole new level.
In our kitchen, we've perfected crafting the ultimate Kimchi Fried Rice. Our secret? We infuse the dish with the rich, smoky goodness of bacon and the satisfying taste of mushrooms, creating a delightful symphony of flavors and textures.
And if you're cooking for a meat-loving crowd like we often are, you'll understand the importance of loading up on the meaty goodness – it's a non-negotiable requirement!
The Magic of Aged Rice
Now, let's talk rice. The foundation of any fried rice dish is, of course, rice. But not just any rice will do. The key is using rice that's a day or two old. Why, you ask?
Freshly cooked rice tends to be moist and soft, which, when stir-fried, can turn into an undesirable, gluey mess. So, whether you're using yesterday's leftovers or preparing rice fresh, remember this pro tip: reduce the water slightly during cooking to ensure the rice isn't overly moist.
Unlocking Flavor with Kimchi Juice
To truly elevate your Kimchi Fried Rice, you'll want to focus on the art of seasoning. The secret weapon here is the well-fermented kimchi juice straight from the kimchi container.
It's a game-changer, packed with layers of flavor – a tangy kick, a hint of spice, and a subtle sweetness, all harmoniously dancing on your palate.
In fact, we often skip adding anything else to our dish – no gochujang (Korean chili paste), no gochugaru (Korean chili flakes) – unless we're running low on kimchi juice or in the mood for an extra spicy kick.
However, customize your dish with these ingredients to suit your taste.
Beyond Kimchi Fried Rice
While Kimchi Fried Rice is a standout dish in its own right, it's just one of the many creative ways to savor the tangy, spicy allure of kimchi. In our kitchen, we love to explore other mouthwatering recipes like Vegetarian Budae Jjigae Recipe, where tofu and other meat alternatives take center stage, offering a delightful twist to the traditional Budae Jjigae version.
And if you're passionate about incorporating kimchi into your meals in unique ways, don't miss our compilation of "14 Delicious Ways to Eat Kimchi!" – a treasure trove of inspiration for your culinary adventures.
Ingredients for Kimchi Fried Rice
To recreate our Kimchi Fried Rice masterpiece, here's what you'll need:
1 cup of kimchi (cut into thumbnail-size pieces)
½ a cup of bacon (cut into thumbnail-size pieces)
1 pack of mushrooms
3 cups of steamed white short/medium-grain rice (leave it out for 5 to 10 minutes at room temperature if freshly cooked)
4 large eggs (cooked sunny-side up or as per your preference)
½ teaspoon minced garlic
¼ cup of kimchi juice
½ tablespoon sesame oil
½ tablespoon cooking oil
1 to 2 tablespoon roasted sesame seeds (for garnish)
1-2 stalks of green onion (thinly sliced, optional)
Roasted seasoned seaweed (chopped, optional)
Cooking Up Kimchi Fried Rice
Now that you have the ingredients at hand let's whip up some Kimchi Fried Rice magic:
Heat a pan or wok over medium-high heat. Once hot, add cooking oil and ensure it coats the pan evenly.
Add minced garlic to the pan and stir for 10 seconds. Then, introduce the bacon and sauté it until it's halfway cooked.
it's time for the star ingredient – the kimchi. Stir it into the pan until it's about 80% cooked.
Add mushrooms and stir briefly. Reduce the heat to medium-medium low.
Add the rice and kimchi juice to the pan, ensuring they blend seamlessly.
Drizzle in the sesame oil and mix everything thoroughly. Remove the pan from the heat.
Plate your Kimchi Fried Rice masterpiece and garnish it with sesame seeds, green onions, and shredded seaweed. Top it off with the sunny-side-up eggs. And there you have it – your Kimchi Fried Rice is ready to be savored!
With its explosive flavors and intriguing textures, Kimchi Fried Rice is more than just a dish; it's a culinary adventure. The possibilities are endless, from perfecting the art of seasoning with kimchi juice to exploring a world of delightful kimchi-infused recipes. So, dive into the vibrant world of cooking with kimchi and let your taste buds guide you!