Where to Buy Miso Paste and Find it in the Grocery Store
With miso paste's newfound popularity, many fans wander the grocery store asking themselves, "Which aisle can I find miso paste on in the grocery store?"
You can find miso paste in the refrigerated section of the health food aisle or the international aisle in grocery stores.
Jump to:
Where to Find Miso Paste Near Me in the Grocery Store
The best aisle to find miso paste in the grocery store can vary. But here are a few places to check out when looking for it:
Aisle Fresh Miso Paste is on
Fresh miso paste is kept in the produce section or the refrigerated section of the natural foods aisle next to the tofu, tempeh, and other fermented foods such as sauerkraut and kimchi.
Aisle Shelf Stable Miso Paste is on
Typical grocery stores such as Safeway, Kroger, Publix, Food Lion, Piggly Wiggle, Whole Foods Market, and Trader Joe will keep shelf-stable miso paste in the international aisle next to other Japanese condiments and soups.
If you're interested in a specific type of miso paste that isn't in your neighborhood grocery store, you may want to search for it in an Asian grocery store instead. They'll have some more authentic imported varieties that you can enjoy.
Pay attention to the ingredients list to avoid ingredients such as stabilizers, alcohol, and other additives. High-quality miso paste will not have any of that.
While non-refrigerated miso tends to store for longer, fresh or refrigerated miso is typically the tastiest and healthiest.
In your search, you might find miso-paste in plastic tubs, pouches, and sometimes sachets. So be on your guard, it could take many forms.
What is in Miso Paste?
Depending on the type of miso, the ratios of ingredients may vary. Most miso soups are made with:
● Soybeans
● A variety of grain (this can change depending on the type of miso paste)
● Salt
● Koji (a fungus that is also a key ingredient in sake)
Miso paste is, at its core, a naturally fermented soybean paste. But this paste gets darker the longer it has to age and ferment, leading to many different varieties.
Miso is packed with protein, vitamins such as B12, gut-healthy probiotics, and several other types of minerals. So it's healthy.
Many chefs have substituted miso paste for salt since miso already contains enough sodium. And it adds complexity to dishes that salt alone cannot.
Order Miso Paste Online
Types of Miso Paste
There are 1,000+ different types of miso out there. Where you live or travel will determine which ones you have access to. The most common are white, red, mixed miso, and yellow miso.
The differences between miso pastes can occur because of different ingredients, fermentation times, and even storage conditions.
In general, their textures are very similar to thick nut butter. And, depending on their variety, they can be smooth or chunky like peanut butter.
Whatever type you get, make sure you don't boil your miso paste. Otherwise, you can kill off the living probiotics inside them. And these probiotics are valuable because they support a healthy immune system and digestion.
You Might Also Like: Which Brands of Sauerkraut Have Probiotics?
White Miso
Also called "Shiro miso," white miso is the perfect option if you are looking for mild sweet miso. White miso typically has more rice than soybeans less salt.
White miso paste is also highly versatile for all types of Japanese dishes. It's especially useful for salad dressings, sauces, and miso soup.
Last update on 2023-11-27 / Affiliate links / Images from Amazon Product Advertising API
Red Miso
In Japan, red miso goes by the name of "Aka Miso." Red miso has more soybeans and goes through a longer fermentation process. It's known as a darker red and brown miso. Red miso is saltier than light yellow and white miso and has a more assertive, intense flavor because it has more soybeans.
Red miso ranges from dark brown to deep red, even black, depending on how long it's fermented. Red miso is excellent for adding complex flavor to meats, hearty stews, and dishes that you want to make super savory.
Red miso also makes a great substitute for salted shrimp when you are making kimchi.
Last update on 2023-11-27 / Affiliate links / Images from Amazon Product Advertising API
Mixed Miso
Mixed miso is called Awase Miso in Japan because it is mixed miso made with a combination of red and white miso, making it a happy medium between the two. It's an exciting balance between sweetness and savouriness.
Last update on 2023-11-27 / Affiliate links / Images from Amazon Product Advertising API
Yellow Miso
Yellow miso is a light variety of miso. It's more yellow in color than typical white miso because it tends to use barley as its core grain instead of rice.
Yellow miso is mild and has more of an earthy flavor, whereas Shiro miso is sweeter.
Last update on 2023-11-26 / Affiliate links / Images from Amazon Product Advertising API
Where to Buy Miso Paste ~ Soy-Free
Can't eat soy but still want to enjoy miso? Well, you are in luck! Here are two great brands that make masterfully delicious soy-free miso:
Miso Master Miso, made with chickpea instead of soy: the ingredients included Organic Handmade Rice Koji, Organic Whole Chickpeas, Sun-Dried Sea Salt, Blue Ridge Mtn Well Water, And Koji Spores.
Sale
Last update on 2023-11-26 / Affiliate links / Images from Amazon Product Advertising API
South River Miso Company replaces the soy with Organic Azuki Bean: the ingredients include Deep Well Water, Lightly Polished Organic Brown Rice, Organic Azuki Beans, Sun-Dried Sea Salt, Organ.
Last update on 2023-11-26 / Affiliate links / Images from Amazon Product Advertising API
How to Cook with Miso Paste
Miso paste is a delicious addition to many soups, sauces, marinades, dressings, and sourdough bread. Miso can be eaten cooked or raw. Since miso is a fermented food, it's best to add it to dishes at the end of cooking because too much heat will kill the good bacteria in the miso, reducing its health benefits.
There are countless ways to cook with miso that don't involve soup.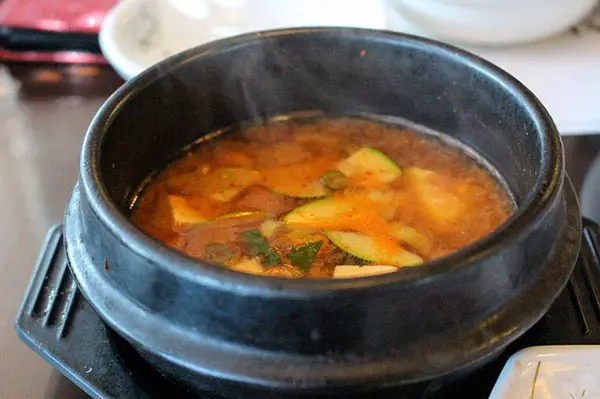 How to Store Miso
Before opening your miso, it's OK to store it in the same conditions that it was when you purchased it. For example, if your miso was in the fridge, keep it in your refrigerator. But if it was on the shelf, you can keep it in your pantry until you open it.
Once you open your miso paste, you want to ensure that you're storing it in the fridge to maintain its freshness for as long as possible.
Additionally, you should note that miso paste can oxidize, leading to discoloration if you're not careful.
Pressing some plastic wrap directly onto the surface of the miso paste every time you store it can prevent air from messing with your miso.
Does Miso Paste Ever Go Bad?
Miso paste can go bad. But it has a pretty good shelf life. As long as you're storing it correctly and using it within a year of purchase, it's unlikely to become unusable.
Check the best-by date on the label; if it is an unopened package of miso, it will be fine for at least a couple of months past that date.
If it is past the best-by date, it does not mean the miso paste has gone bad or anything. But the quality and flavor can change because miso is alive, and it continues to ferment, albeit very slowly.
Once you open the package, the paste should retain the best quality for about three months or even longer.
Light miso can have a bit of a shorter lifespan than its bolder counterparts. So you should try to use the lighter varieties in less than a year.
The longer you keep your miso paste, the more it ferments because it's alive. So that could lead to some delightful flavor changes.
But if you believe your paste is incredibly funky or growing fur, it's probably the best bet to toss it in the trash. Better safe than sorry.
What Does Miso Paste Smell Like?
Most people find that miso paste does smell a bit funky because it is a fermented food. But don't be deterred; it's normal. You may also note that it smells like yeast because of fermentation due to the koji fungus.
Related Topics:
---
The information on this website is for educational purposes only. It has not been evaluated by the FDA and is not intended to diagnose, treat, prevent, or cure any disease. You assume full responsibility and liability for your own actions.
FTC Disclosure: As an Amazon Associate, Fermenters Kitchen earns from qualifying purchases. Fermenters Kitchen receives a small commission on all purchases made through Amazon links in our posts.