This post may include affiliate links. As an Amazon Associate I earn from qualifying purchases.You can read my complete affiliate disclosure for more details.
Small-Batch Sauerkraut Recipe in a Jar 
This quick, small-batch version is an easy way to learn how to make a homemade sauerkraut recipe. Serve it as an accompaniment to other dishes providing a salty, sour, delicious topping, or eat it straight out of the jar. 
Once you taste how delicious your first batch of homemade sauerkraut can be, you might become hooked. Not that that can ever be bad when considering all the excellent health benefits you can gain from fermented foods.
How To Make Homemade Sauerkraut
Sauerkraut is an excellent recipe for beginners as it is easy to make, and the sour flavor is delicious. Other fermented foods, such as kimchi, can have a fiery kick which may be offputting for newbies.
I am known for spending weeks perfecting a recipe for fermented foods, and I am delighted to share what I have learned from many experiments in the kitchen.
As a newbie hobby fermenter, you may wonder what salt to use for the fermenting process or how long your sauerkraut will keep. 
Don't worry; I am here to walk you through this traditional fermenting method and lend you all my expert advice on making perfect fermented vegetables.
Get started on your sauerkraut today with this helpful step-by-step photo guide.
Similar Recipes from Fermenters Kitchen: Fermented Curtido
Ingredients for Sauerkraut
Cabbage
When fermenting sauerkraut, we like to find the crispiest head of cabbage, preferably freshly picked from the garden or purchased from the farmer's market. When they're not in season, we scour the market shelves until we find the firmest ones possible. 
Like selecting cucumbers for fermented pickles, you want the cabbage to be healthy and fresh, so they are full of water and retain a crunch.
Use fresh (and preferably organic) ingredients. The better your cabbage and other vegetables taste when they are new, the better your sauerkraut will taste in the end.
Ensure the cabbage is finely shredded. Use a cabbage slicer or cut your vegetables by hand. 
Make delicious sauerkraut with various cabbages: Try different types of cabbage, such as red cabbage and napa cabbage. Make individual batches or combine varied kinds for a multi-colored sauerkraut! 
Additional Vegetables and Seasoning
You can add many vegetables to a sauerkraut recipe to add more flavor. Try carrots, jalapenos, onions, garlic, bell peppers, juniper berries, and apples or pears. Caraway seeds, mustard seeds, and peppercorns add great flavor as well.
Be sure to cut each vegetable to match the cabbage's size to balance the texture of the final dish. You don't want large chunks of onion mixed in with shredded cabbage. 
Salt
A vital component of making sauerkraut is using good quality salt. Not only does salt create that iconic fermented food taste, but it also allows the fermentation process to occur.
The salt brine makes the much-needed anaerobic conditions for fermentation and prevents the cabbage from being exposed to the air, where it may begin to mold.
Finally, adding salt will prevent the vegetables from softening too quickly, allowing them to remain crunchy over a more extended period.
Related Topic: How Much Salt to use to Make Sauerkaut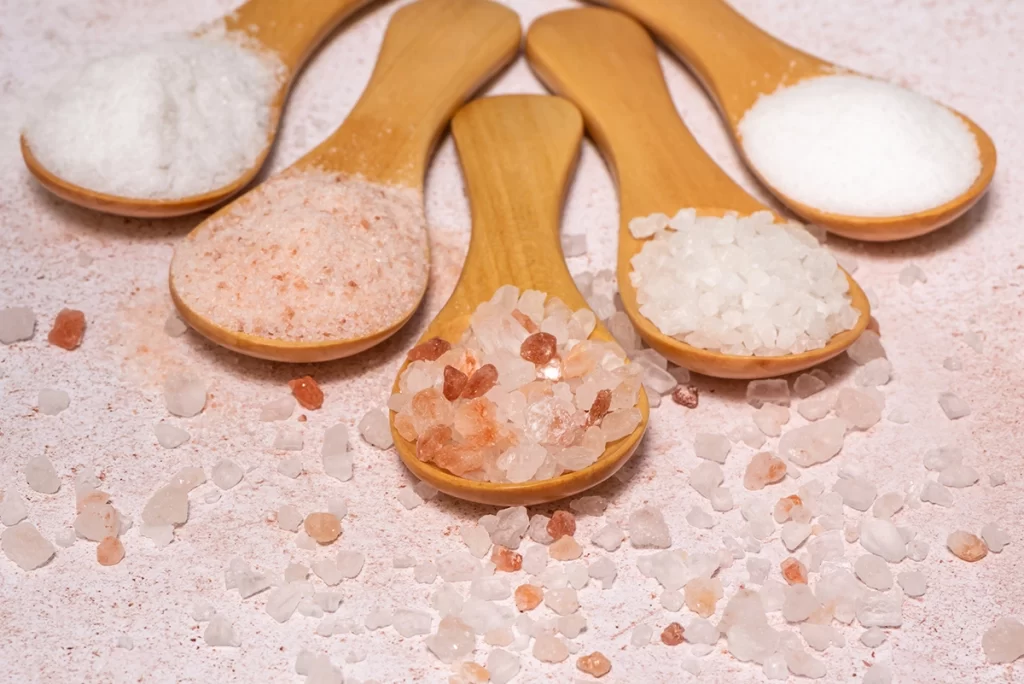 What Kind Of Salt To Use When Making Sauerkraut?
But isn't all salt the same? Unfortunately, not all salt will work the same in the fermentation process.
Best Salt To Use For Sauerkraut
My general rule is to use an all-natural salt with no additives. Use salt with a rich mineral profile for the best chance at perfectly fermented sauerkraut. These can increase the nutritional benefits of the recipe, as a salt containing more minerals will translate into more minerals in the final product.
Best Salt for Fermenting Vegetables
Pink Himalayan salt
Pure salt
Sea salt
Pickling salt
Salts To Avoid
Any salt with more than just 'salt' in the ingredients list is a no-go for fermenting. The additives, such as anti-caking agents, can interfere with fermentation.
Avoid using table salt and iodized salt when fermenting sauerkraut or other vegetables.
How Much Salt Do You Need To Make Sauerkraut?
How to add salt by taste:
Start with 1 tablespoon of salt and 2 lbs of vegetables.
Taste the mixture; it should be slightly salty but not too salty. It all depends on your preference here. Add more salt or more vegetables as necessary.
Brine Solution
If the cabbage is not making enough brine on its own, you can make extra brine to top it off.
Make a salt brine by mixing 1 tablespoon salt with 2 cups of clean chlorine-free water. After adding all the cabbage to the jar, top off with the salt brine.
Furthermore, if the brine disappears during the first ten days of fermentation, top it off with more salt brine.
Supplies for making Small Batches of Sauerkraut
Jars: 2-3 16oz. Wide Mouth Jars with lids. Ball or Mason brands are great.
Kraut pounder: a kraut pounder, wooden spoon, or even a mash potato tool that can fit inside the mouth of the jar will do.
Glass Weights: Place weights on the vegetables to hold below the brine. A few clean stones, a zip lock bag with water, and even a few outer leaves of the cabbage placed on top of the mixture will do the trick.
Want to learn more about the what, why, and how of keeping veggies submerged below the brine? Please read my article, Fermentation Weights: How to Keep Veggies Submerged.
Airlock: Airlock for Sauerkraut and other Fermenting Vegetables
An airlock makes fermenting vegetables easy and safe by creating an anaerobic environment needed to produce a healthy ferment. 
An airlock is a one-way valve that allows gases to escape during fermentation. 
It also blocks any oxygen, bacteria, mold spores, or wild yeasts from entering the jar, causing a ferment to mold or spoil.
Even when using an airlock, you will still need a fermentation weight to hold the vegetables below the brine. 
Try this kit that includes this airlock system and glass weights.
Wide Mouth Mason Jars 16 oz 5 pack
Fermentation Kit-4 Glass Fermentation Weights,4 Fermenting Lids,4 airlocks
DASH Safe Slice® Mandoline Slicer
Wide Mouth Mason Jars 16 oz 5 pack
Fermentation Kit-4 Glass Fermentation Weights,4 Fermenting Lids,4 airlocks
DASH Safe Slice® Mandoline Slicer
Last update on 2023-03-12 / Affiliate links / Images from Amazon Product Advertising API
Method For Making Sauerkraut
1. Wash Everything
Start by cleaning the jars and tools thoroughly. Hot soapy water is perfect. You will use your hands to massage the salt into the cabbage, so give those a good wash, too.
A clean environment will give the good bacteria a chance to succeed.
2. Prepare the Cabbage
Remove any discolored or damaged outer leaves from the cabbage, cut the cabbage in half and remove the core. Slice the cabbage very thinly, approximately ⅛ inch thick. We recommend slicing it very thinly by hand for the best texture, not with a food processor. 
You can slice it by hand or use a mandolin or cabbage slicer.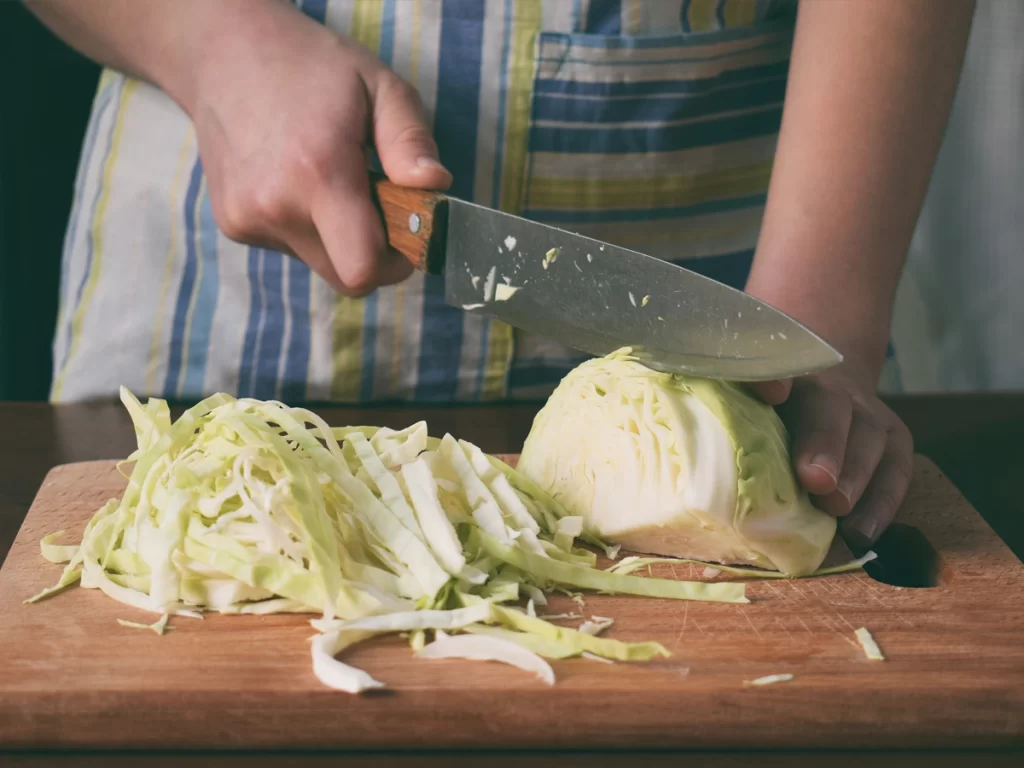 3. Combine The Cabbage and Salt
Place the sliced cabbage and other vegetables in a large bowl in layers while sprinkling in the salt a little at a time to evenly distribute it.
Use a kraut pounder or your hands for kneading in the salt, squeezing firmly to help release the liquid from the cabbage.
Cover and let it sit for a half-hour; this allows the salt to draw the fluid out of the vegetables. Repeat this process 4 - 5 times.
It is ready when the cabbage has wilted and released its juices. If there is not enough juice, add a little salt brine.
Periodically taste the mixture to determine how much salt you need to add. It should be a little salty, but not too salty. Add more salt as needed.
4. Pack the Cabbage into a Jar Tightly
Fill each jar to about ⅔ full of cabbage. Use the kraut pounder to pack it down firmly. It is essential to remove any air pockets to prevent mold growth.
Continue to mash the cabbage down, releasing more juice until the cabbage is well below the brine.
If you still don't have enough brine after mashing it down, mix up a salt brine to cover the cabbage.
5. Weight Down The Cabbage
Once all the cabbage is firmly packed into the jars, weigh it down with a glass weight to keep the cabbage submerged beneath its liquid.
You have probably realized by now that keeping the cabbage submerged under the brine during fermentation is essential as mold will form on any specks of vegetables that make their way to the top.
Screw the lid onto the jar, place it in a rimmed pan to catch any spillage, and let it ferment.
6. Let the Fermentation Process Commence
Check the fermentation every other day, and if any cabbage rises above the salt water level, mash it back down again. 
Give the sauerkraut a taste test after 4 - 5 days. It is ready when it reaches the desired texture and level of tanginess that you prefer. 
If your goal is to reap the probiotic benefits, let it ferment for at least one month.
Don't be alarmed if the brine becomes fizzy; this is entirely normal and a positive sign of microbial activity.
The cabbage color will change from green to a pale yellow-green color. 
When done, remove the airlock lid and replace it with the lid that came with the jars.
Store the sauerkraut in the refrigerator.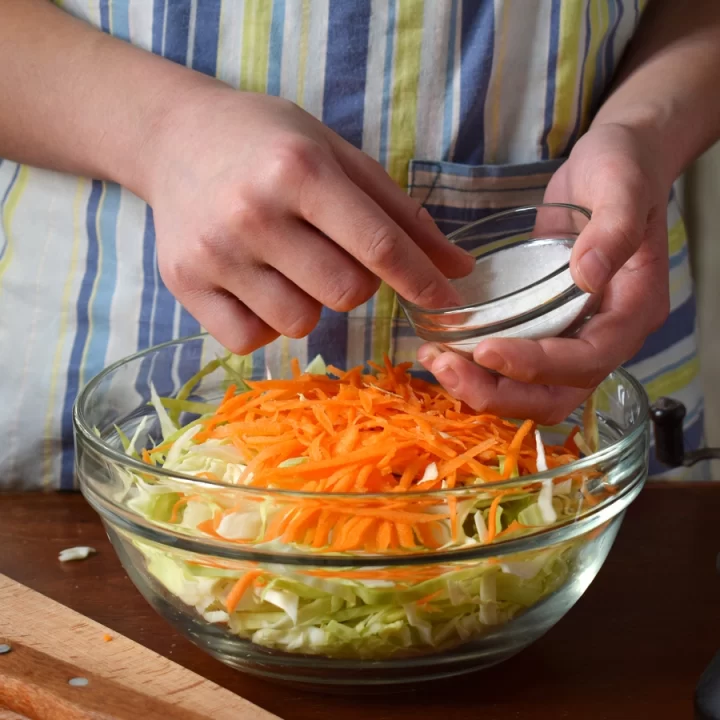 Homemade Sauerkraut Small-Batch Recipe
Total Time:
28 days
1 hour
This homemade small batch sauerkraut recipe is perfect for those who love their traditional homemade fermented cabbage but want an easy-to-manage-sized batch that doesn't take up a lot of space in the kitchen.
Ingredients
1 Medium Head of Cabbage ( about 3 – 5 lbs, preferably organic)
1 Medium Carrot or vegetable of choice
Sea Salt 1 to 3 Tablespoons. The amount of salt used can vary according to personal taste preference.
Instructions
Start by cleaning the jars and tools thoroughly. Hot soapy water will do just fine. 
You will use your hands to massage the salt into the cabbage, so give those a good wash, too.
Finely shred the cabbage and any other vegetables.
Place the vegetables in a large bowl in layers while sprinkling a little salt.
Sprinkle with 1 ½ tablespoons of sea salt, mix, pound, and massage the cabbage by hand.
Cover and let it sit for a half-hour; this allows the salt to draw the fluid out of the vegetables.
Repeat 2 – 3 more times.
Periodically taste the mixture to determine how much salt you need to add. It should be a little salty, but not too salty. Add more salt as needed.
It is ready when you can squeeze a handful of cabbage, and the liquid runs freely into the bowl.
Scoop the cabbage mixture in the mason jars and pack it down firmly by hand or use a kraut pounder.
Fill the jar only about ⅔ full, so it has room to expand.
Place a weight on the cabbage to hold it under the brine.
Use an Airlock system on the glass jar and close it securely. You might need 2-3 jars.
Store the jars away from sunlight and at room temperature (60-70°F is preferred) for at least seven days.
Burp the jars every couple of days to release excess pressure from the gas buildup. Skip this step if using an Airlock system.
The sauerkraut can take 4 to 6 weeks, depending on your preference.
Continue to test it every few weeks, and when it has reached the desired flavor, it is ready to enjoy.
Notes
Optional seasonings: ½ teaspoon caraway seed, celery seed, dill, mustard seed, anise seed, chili flakes, allspice, turmeric.
Optional vegetables: grated carrots, apples, beets, onions, radishes, ginger, and turnips are delicious and will make your sauerkraut pop with flavor. These vegetables also produce a lot of liquid and will help generate more brine which is helpful if the cabbage is a little dry.
Sauerkraut FAQs
How Does Temperature Effect Fermentation?
Keep in mind that the fermentation process will take longer in colder temperatures and shorter in warmer temperatures. 
The key is not to let your kitchen get too warm, or the sauerkraut can turn out soggy. The optimal temperature is between 60-70°F.
What temperature should you ferment sauerkraut, and for how long?
Store the container of choice between 70 to 75°F while fermenting. At these temperatures, sauerkraut will fully ferment in about three to four weeks.
It will take longer if the temperature is lower, between 60 to 65°F. Fermentation may take six weeks.
Avoid temperatures below 60°F, as the sauerkraut may not ferment at all. 
The sauerkraut may become soft and spoil if it is left to ferment at temperatures above 80°F.
Related Topic: How To Prevent Soft Mushy Sauerkaut
How Does Fermentation Happen?
During fermentation, lactic acid bacteria can grow in the high salt environment and produce acid and flavors associated with fermented vegetables. 
Lactic acid bacteria are found naturally on the surface of the cabbage and vegetables, so you do not need to add in cultures as you might with other fermented food. 
The salt you add and the acid the bacteria produce will help control bacterial contamination. 
The acid produced during the fermentation process is what preserves the product.
Lactic acid bacteria produce a variety of flavorful byproducts during fermentation. Lactic acid is the most important one, and it is what contributes to the tartness and preservation of the finished sauerkraut.
However, other acids and flavors are also made by the bacteria as they grow. 
The temperature sauerkraut ferments in will impact the development of the acidic flavors and the lactic acid. 
At lower temperatures, growth occurs more slowly. Therefore, the fermentation process often takes longer when stored under cooler conditions.
Why You Should Make Sauerkraut at Home
Homemade DIY sauerkraut is both easy and inexpensive. Buying a jar of sauerkraut with probiotics can cost $15 or more.
You are wrong if you thought all sauerkraut sold in stores has probiotics. Check out my post, Does store-bought sauerkraut have probiotics?
You can make your own by buying the ingredients, organic cabbage, sea salt, and a few jars.
Related Topic: 10 Ways to Eat Sauerkraut.
Health Benefits Of Sauerkraut
The process of lactic acid fermentation transforms salt and vegetables into fermented foods and increases food enzymes and vitamins.
Using this process to turn salt and cabbage into sauerkraut is another example of food to help maintain, nourish, and heal the gut.
Homemade sauerkraut is full of healthy bacteria, which are friendly microorganisms that help to colonize the gut, support the immune system, and develop vitamins in the digestive tract.
Fermented cabbage, in particular, is superior to the fresh variety in terms of its health benefits. This is due to the digestible sugars converting into organic acids our body can utilize to its advantage.
Essential nutrients in sauerkraut include:
Vitamin C – is great for fighting the common cold and aids the body's natural healing process.
Vitamin K1 – essential for healthy bones
Vitamin B6 – is an excellent nutrient for improving brain function and immunity.
Folate (Vitamin B9) – is critical for cell growth, which is especially important during pregnancy.
Iron – anyone who experiences periods should be mindful that they are consuming adequate iron in their diet. Sauerkraut is a decent source of iron for vegetarians.
Manganese
Copper
Potassium
Probiotics
Probiotics allow your body to digest food thoroughly and extract and absorb more vitamins and minerals from your food. Probiotics improve your overall health and digestion by enhancing the concentration of good bacteria in your gut. 
Studies have shown that a diet rich in probiotics can reduce many stomach-related issues, such as bloating or nutrient absorption.
This can be especially beneficial after you have been through a course of antibiotics, which may have killed some of the friendly bacteria in your gut.
Although you can take probiotic supplements, it is more cost-effective to make your own at home through fermenting.
How long does sauerkraut last once opened?
Sauerkraut stores well if refrigerated. I have enjoyed sauerkraut well over six months old; it is fine, although it can start to lose its crispness at the half-year mark. 
Just be cautious of its smell and color because as soon as new bacteria enter the jar, the sauerkraut can spoil.
How to make sauerkraut less sour?
Wondering how to fix sauerkraut that tastes too sour? The easiest way to use an overly sour batch of sauerkraut is to serve it with creamy foods with a high-fat content to neutralize the sour taste. 
Mix avocado or olive oil into the sauerkraut or serve it alongside fattier foods. For example, serve your sauerkraut on top of avocado on sourdough toast.
Another way to reduce the sour taste is to add sweeteners such as a sprinkle of sugar, sliced fresh fruit, shredded carrots, or dried fruits, such as apricots or raisins. 
What to Do With Leftover Brine?
Do not discard the leftover brine from your jar. Not only can you use the brine in a second batch, but you can also use brine in recipes such as salad dressings, in your compost, or even drink it as a "gutshot." 
Learn more about how to take an immune-boosting gutshot in our popular post – Top 10+ Genius Uses For Kimchi Brine Leftovers.
Can dogs eat sauerkraut?
Yes, learn more in this article, "Can dogs eat sauerkraut?"
Summary
This post was all about how to make sauerkraut at home. Even a total newbie to the wonderful world of fermentation can create the perfect batch with this easy sauerkraut recipe and our pro tips.
If you are inspired to start making sauerkraut, check out my previous post on the best tools for fermenting.
Related Topics: