This post may include affiliate links. As an Amazon Associate I earn from qualifying purchases.You can read my complete affiliate disclosure for more details.
Making Homemade Sauerkraut is Very Easy
Sauerkraut is a classic fermented condiment made of cabbage and salt. What's fun about making sauerkraut at home is its endless opportunities to customize the taste. Let's dive in!
This recipe for fermented sauerkraut is acidic and sour, with a subtle saltiness and a bit of tangy, and perfect for liberally topping hotdogs and salads or eating large bite fulls straight out of the jar.
It's easily made at home and can be adapted to your tastes–mild or spicy, more or less sour.
Add jalapenos and onions for just the right amount of spice. It's perfectly briny and crunchy. If you like a sweeter sauerkraut, add pears and apples to the recipe.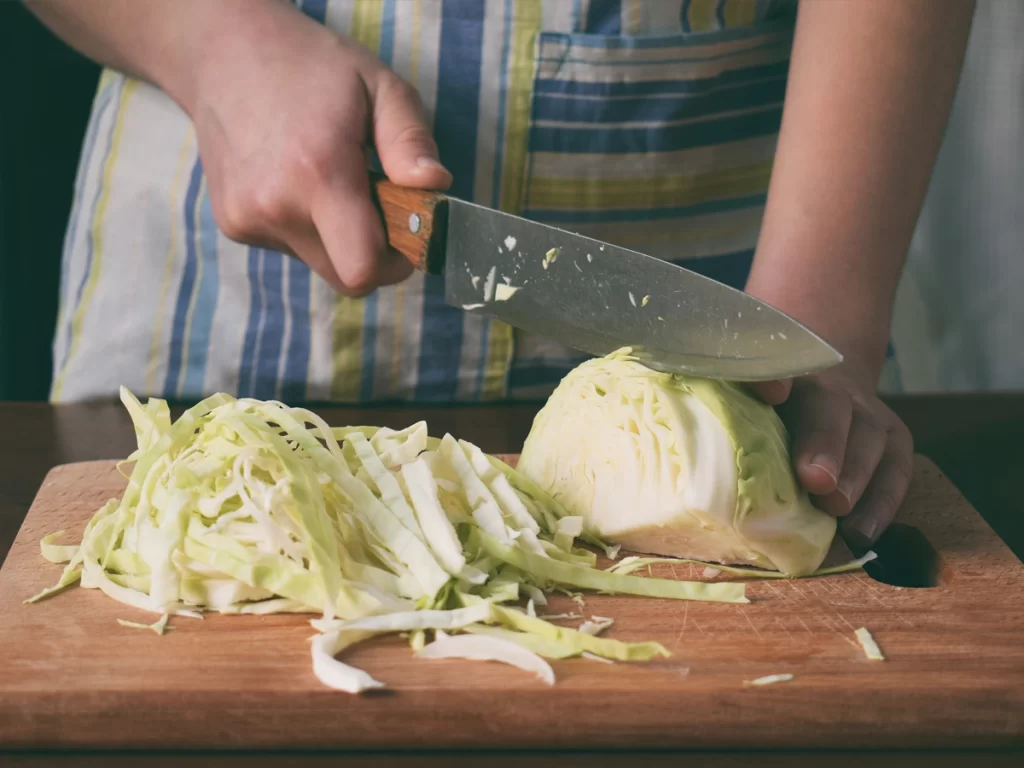 Why You Are Going To Love This Recipe
Simplicity at its Best: This recipe requires two main ingredients: cabbage and salt. It's an uncomplicated process that yields complex flavors.
Health Boost: Sauerkraut is a nutritional powerhouse. Rich in vitamins, minerals, and dietary fiber, it's also a fantastic source of probiotics that support digestion and strengthen the immune system.
Gut-Friendly: Probiotics are known for their positive impact on gut health. Including sauerkraut in your diet can contribute to a well-balanced gut microbiome, which is essential for overall well-being.
Versatility: While the basic recipe is delightful on its own, sauerkraut can be a versatile addition to your meals. Use it as a topping side dish or incorporate it into recipes for added zing.
Cost-Effective: Store-bought fermented foods can be pricey, but making your sauerkraut home is a cost-effective way to enjoy its benefits.
** If you want to reap the health benefits of fermented foods, make sauerkraut without vinegar.
Ingredients for Classic Sauerkraut
Cabbage
When fermenting sauerkraut, we like to find the crispiest head of cabbage, preferably freshly picked from the garden or purchased from the farmer's market. When they're not in season, we scour the market shelves until we find the firmest ones possible. 
Like selecting cucumbers for fermented pickles, you want the cabbage to be healthy and fresh, so they are full of water and retain a crunch.
Use fresh (and preferably organic) ingredients. The better your cabbage and other vegetables taste when they are new, the better your sauerkraut will taste in the end.
Ensure the cabbage is finely shredded. Use a cabbage slicer or cut your vegetables by hand. 
Make delicious sauerkraut with various cabbages: Try different types of cabbage, such as red cabbage and napa cabbage. Make individual batches or combine varied kinds for a multi-colored sauerkraut! 
Salt
A vital component of making sauerkraut is using good quality salt. Not only does salt create that iconic fermented food taste, but it also allows the fermentation process to occur.
The salt brine makes the much-needed anaerobic conditions for fermentation and prevents the cabbage from being exposed to the air, where it may begin to mold.
Finally, adding salt will prevent the vegetables from softening too quickly, allowing them to remain crunchy over a more extended period.
Related Topic: How Much Salt to use to Make Sauerkaut
Additional Vegetables and Seasoning
You can add many vegetables to a sauerkraut recipe to add more flavor. Try carrots, jalapenos, onions, garlic, bell peppers, juniper berries, and apples or pears. Caraway seeds, mustard seeds, and peppercorns add great flavor as well.
Be sure to cut each vegetable to match the cabbage's size to balance the texture of the final dish. You don't want large chunks of onion mixed in with shredded cabbage. 
Let's get straight to the point on how to make fermented sauerkraut without any vinegar. Here's the no-nonsense recipe:
Ingredients:
1 medium-sized cabbage (about 3-5 pounds)
2-3 tablespoons salt (sea salt, kosher or non-iodized)
Equipment:
Cutting board
Chef's knife
Large mixing bowl
2-quart wide-mouth jars 
Canning funnel (optional)
glass weights for weighing the vegetables down
Cloth for covering the jar, such as cheesecloth
Rubber band or twine for securing the cloth
Steps:
Chop and Shred: Slice the cabbage into thin strips. Chuck the outer leaves and save a couple to use later.
Salt and Sit: Mix the shredded cabbage with the salt in the mixing bowl. Massage it with your fists for about 5 minutes until it gets juicy. Let it chill for 10-15 minutes. Repeat 2-3 times until there enough brine.
Pack It Up: Start shoving the cabbage into the jar. Pack it in tight and press it down while you go. Pour any liquid from the bowl into the jar.
Weight It Down: Place one of the saved outer leaves on top of the cabbage like a blanket. Put a glass weight on top to keep things submerged.
Cover and Wait: Cover the jar with a clean cloth or paper towel, secured with a rubber band. Let it hang out in a room that's not too hot or cold. Fermentation needs its space, so give it 10 days to do its thing. Wait 30 days for even more flavor.
Check and Taste: Peek at it every day or so. You might see bubbles or a funky smell – that's the fermentation at work. After a few days, taste it. Once it's tangy and to your liking, it's go time.
Move to the Fridge: Once it's got the right tang, stick it in the fridge. 
Wide Mouth Mason Jars 16 oz 5 pack
Fermentation Kit-4 Glass Fermentation Weights,4 Fermenting Lids,4 airlocks
DASH Safe Slice® Mandoline Slicer
Wide Mouth Mason Jars 16 oz 5 pack
Fermentation Kit-4 Glass Fermentation Weights,4 Fermenting Lids,4 airlocks
DASH Safe Slice® Mandoline Slicer
Last update on 2023-09-12 / Affiliate links / Images from Amazon Product Advertising API
Give This Sauerkraut Recipe A Twist
HOW TO MAKE SWEET FERMENTED SAUERKRAUT
Are you ready to create something new? Add the following ingredients to the classic sauerkraut recipe for a sweeter flavor. The following portions will work well with one medium head of cabbage.
One pear or apple chopped
One carrot shredded
One tablespoon of finely grated ginger
Handful of Juniper Berries or raisins
HOW TO MAKE SPICY FERMENTED SAUERKRAUT
Regular sauerkraut is excellent, but what if you want to add a new spine to an old favorite. Here are a few ingredients to make a spicy fermented sauerkraut. Only use some of these ingredients, one or two per recipe.
One large jalapeno diced
½ habanero pepper diced
½ white onion diced
 2-3 tablespoons Gochugaru Korean Chilli Flakes
One tablespoon of mustard seed
That's all, folks! No vinegar is needed in this easy homemade sauerkraut recipe, just cabbage, salt, and patience. Or get creative and spice it up!
Slap that sauerkraut on hot dogs, sandwiches, or eat it straight from the jar (no judgment here). It's DIY deliciousness in a jar!