If you've embarked on the wonderful sourdough baking journey, you might have asked yourself, "When is my sourdough starter ready to bake with?" It's an important question, and today, we'll explore the signs that tell you your sourdough starter is raring to go.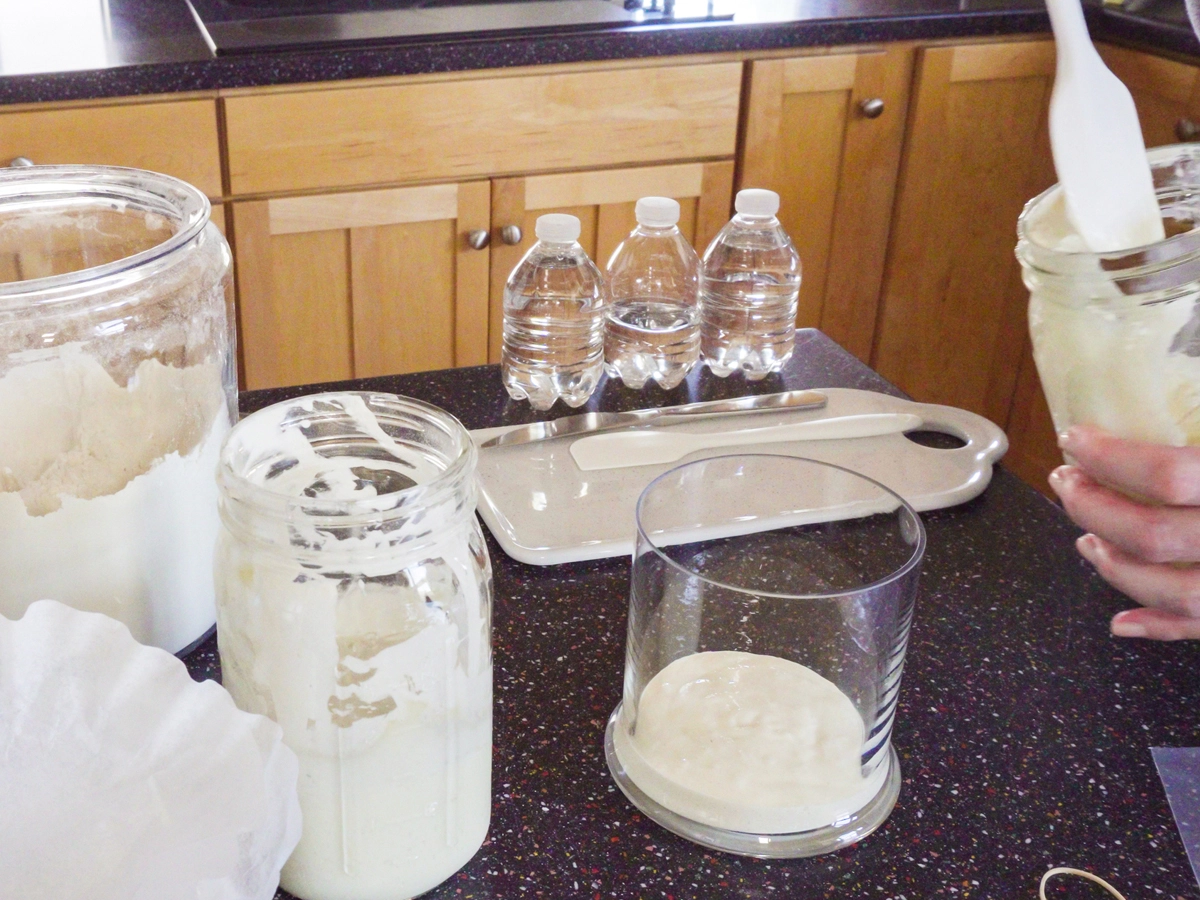 How long does it take for a sourdough starter to be ready to bake with?
It usually takes around 14 days before a sourdough starter is ready to bake with. This is not a hard rule but a place to start. 
Most people who bake with their starter before the two-week timeframe find their bread doesn't rise and the crumb is gummy and tight.
Here are five signs of readiness to look for once you have reached the 14-day mark. But it might take four to six weeks before the sourdough starter is ready to use in a recipe.
Try our delicious crisp sourdough breadsticks recipe.
5 Signs Your Sourdough Starter Is Ready To Bake With
Here are 5 ways to determine if your sourdough starter is ready to bake with.
1. Bubbling with Excitement
One of the most precise indicators that your sourdough starter is ready to make some delicious bread is when it's bubbling with excitement. Keep an eye on it after you've fed it with fresh flour and water. 
You should see tiny bubbles forming on the surface within a few hours. These bubbles are like little pockets of joy, signaling that the wild yeast in your starter is actively working its magic.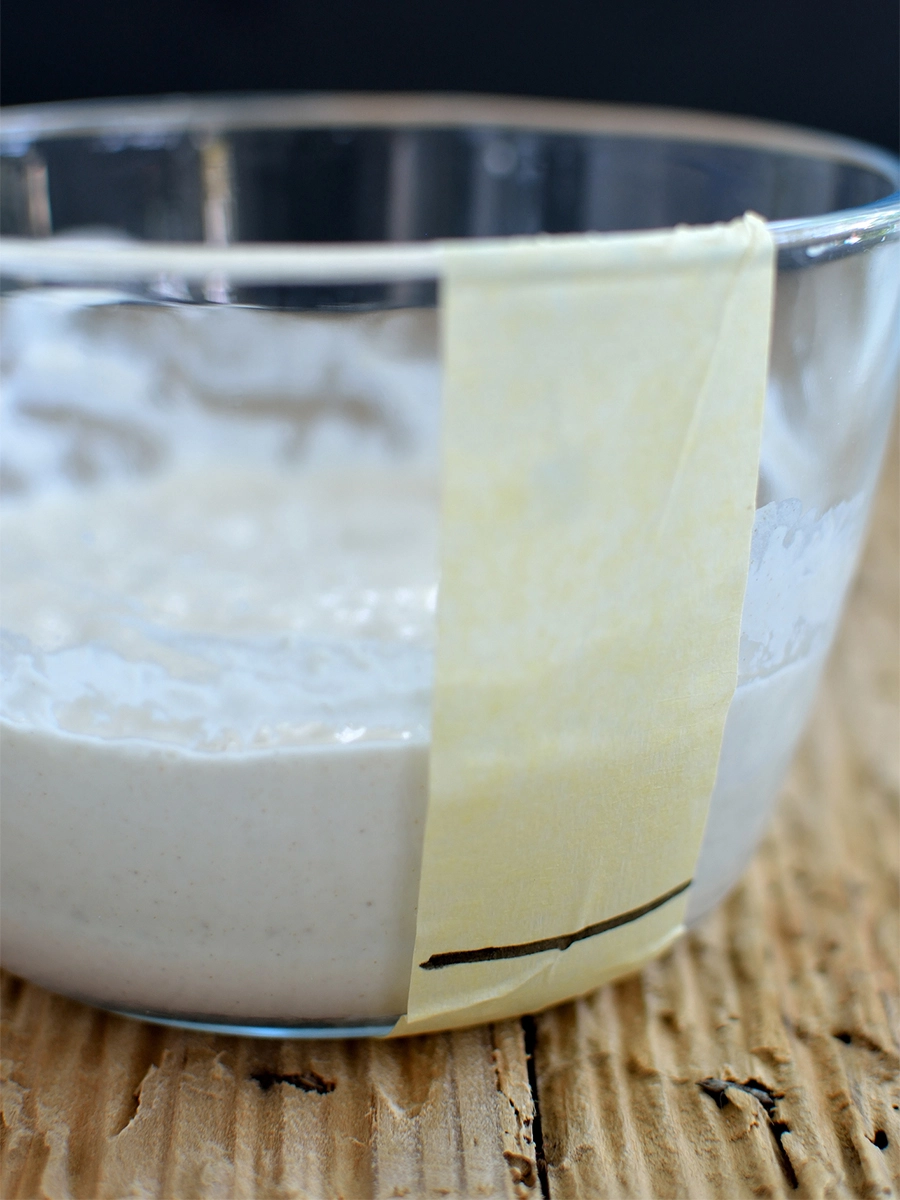 2. Size Matters (But Not Too Much)
While it's not a strict rule, your sourdough starter should ideally double in size within a reasonable time frame after feeding. This process usually takes anywhere from 4 to 12 hours, depending on various factors like temperature and the strength of your starter. 
A doubled size means your starter is robust and ready to leaven your bread dough.
3. The Aroma of Success
Your nose is a handy tool in this journey. A ripe, active sourdough starter emits a pleasant, slightly tangy aroma. It's a smell that makes you think, "Wow, this is going to make some seriously delicious bread!" 
So, if you catch a whiff of that delightful scent, you're on the right track.
4. The Float Test
Here's a cool trick to check your starter's readiness: the float test. Grab a small bowl of water and gently plop a spoonful of your starter into it. 
If it floats like a buoyant little cloud, it's a great sign that your starter is lively and ready to help your bread rise.
5. The Time Factor
Timing is everything in sourdough baking. To ensure your starter is at its peak, feed it 4 to 6 hours before using it in your bread recipe. This allows it to become fully active and ready to give your dough a fantastic rise.
Remember, every sourdough starter has its personality and pace. Don't be discouraged if it takes a little longer to mature. The key is patience and a little TLC. Keep feeding it regularly, and maintain a consistent schedule. 
Before you know it, you'll have a sourdough starter ready to help you bake the most delicious, crusty, and flavorful loaves of bread. Happy baking, and may your sourdough adventures be filled with joy and tasty success!
Related: Best Jars for Sourdough Starter
Maturity Of A Sourdough Starter
Sourdough starters, like fine wine or a good cheese, get better with age. A mature starter that's been around for a while tends to give your bread that extra oomph of flavor. So, if you've been lovingly feeding your starter for weeks, it might be time to bake something spectacular.
Final Thoughts
In the realm of sourdough baking, the quest for that perfect homemade loaf is an exhilarating journey filled with anticipation. Central to this adventure is the pivotal question: When is the right moment to transform your sourdough starter into a delectable bread?
This question requires a blend of patience, keen observation, and a touch of intuition.
As you've discovered, the age of your starter holds significance in this process. Older starters become reliable companions in your baking escapades, while younger ones have their own schedules to follow.
Through consistent care and feeding, these fledgling starters will gradually mature and become ready for the bread-making stage.
To gauge this readiness, you can rely on three key indicators: rising, appearance, and instinct. The doubling in size of your starter after feeding is a clear signal.
Observing a light and bubbly texture in your starter is equally important. Moreover, trust your gut feeling; sometimes, you'll intuitively sense it's ready to embark on the bread-making adventure.
Though the float test is a popular method, remember it's just one element of the larger picture. So, armed with these valuable insights, don't hesitate to take that leap of faith as you step onto the path of sourdough baking.
Your starter is alive, active, and eagerly awaiting the delightful journey of becoming your first mouthwatering sourdough loaf. Happy baking!
FAQ's About Signs Sourdough Starter Is Ready To Bake With
Does Sourdough Starter Need To Double?
It's about more than just the size; doubling is a good sign! Your sourdough starter should double in size within 4 to 12 hours after feeding. This means it's bubbling with life and ready to work its magic in your bread dough.
Ways To Tell A Sourdough Starter is Active
An active sourdough starter is a happy sourdough starter. Look for tiny bubbles forming on the surface after feeding. It's like your starter saying, "I'm alive and ready to help your dough rise!" You might even notice a pleasant, tangy aroma.
Do you stir sourdough starter before using it?
Absolutely! Give your starter a gentle stir before using it. This helps redistribute the mixture's wild yeast and friendly bacteria, ensuring your bread consistently rises.
How long before baking should you feed your sourdough starter?
Timing is crucial in sourdough baking. Ideally, it would help if you fed your starter 4 to 6 hours before you plan to use it. This gives it enough time to become active and bubbly, ready to give your bread that fantastic rise.
Now, you're equipped with the knowledge to know when your sourdough starter is at its prime and ready to make delicious, crusty, and flavorful loaves of bread. Happy baking! 
More Sourdough Baking Resources