Curious about fermenting vegetables in plastic containers? Many folks wonder if it's possible, safe, and practical. In this article, we'll explore the ins and outs of using plastic containers for fermenting your favorite veggies.
Discover tips, benefits, and potential pitfalls to make an informed choice for your fermentation journey. Whether you're a beginner or a seasoned fermenter, we've got you covered!
Jump to:
Can you ferment vegetables in plastic containers? The answer is yes, but it's essential to choose the right kind of plastic containers. To ensure your safety and the quality of your fermentation process, opt for plastic containers that can safely hold acidic liquids without breaking down or leaching harmful chemicals. Additionally, ensure the containers are free from any scratches that could introduce unwanted bacteria into your fermenting vegetables.
We'll start out with the types of plastic you should avoid using for fermenting foods.
What are the dangers of fermenting vegetables in plastic containers?
Below are the dangers of using plastic containers for fermentation:
Easily Damaged
Unlike glass bottles and containers, plastic products can easily crack, scratch, or break. It would be sad to spend days or weeks waiting for your delicious food or drink to ferment, only to discover the container is damaged and leaking. Even if the scratch is small, it can lead to harmful bacteria infiltrating the food or drink.
If you decide to use a plastic container for fermentation, inspect the container for any signs of damage, no matter how small.
If there is damage, do not use it. If you notice damage after you've begun fermenting, it's best to get rid of the food or beverage.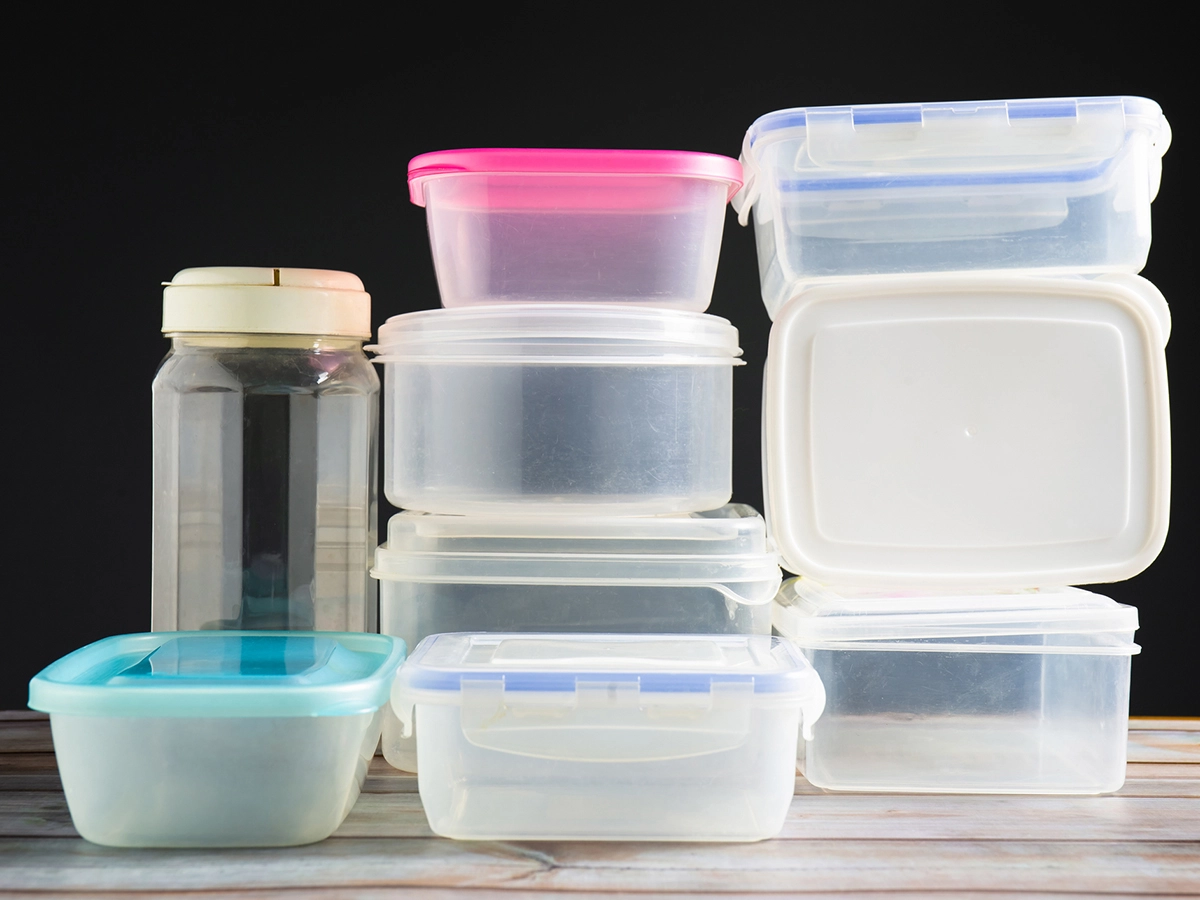 Possible Degradation
Aside from obvious damage, degradation is another issue people face when fermenting in a plastic container. Not all plastic can withstand the acidic nature of fermented foods and drinks.
If you use plastic containers for fermenting, the acid in the food or drink may degrade the plastic. It will also allow particles to seep into the fermented product. Degradation can be challenging to notice, so avoiding plastic is best.
Chemical Additives
Chemical additives are another significant reason not to use plastic for fermentation. The fermentation process can take weeks, depending on what you're fermenting and your goals.
Many low-quality plastics contain chemical additives that can leach into your food. This makes it unsafe to consume or, at the very least, tainting the flavor. The two worst culprits are BPA and phthalates. These are present in many plastic bottles and containers.
These chemicals are bad for children, affecting healthy growth and brain development. They're also dangerous for adults, especially those with diabetes, heart problems, or high blood pressure. The chemicals can worsen or even cause these health issues.
Bacteria Harboring
Along with the harmful chemicals in the plastic, these containers can also be hotspots for harmful bacteria. Bacteria can thrive in the nooks and crannies of plastic containers.
This contaminates the fermentation process. This issue often works in tandem with degradation and damage, as the bacteria usually thrive in these tiny flaws in the containers.
The bacteria that grow in and on plastic containers harms your health. It can also disturb the fermentation process. Your food and drink may not ferment due to the bacteria in the container.
Even thorough sanitization can leave some of these bacteria behind. So, this is always a risk when using plastic bottles and containers for fermentation.
Lingering Odors and Substances
Another issue is unpleasant smells lingering on plastic containers and affecting fermented foods. Most of us have experienced the frustration of a stinky Tupperware container that smells like last month's pad Thai. Or, you have a container stained by a bolognese you made a year ago.
These lingering smells can contribute to bacterial growth or mess with your fermentation. It may prevent your food or drink from fermenting, infuse the product with a funky and unpleasant flavor or scent, or change the expected color.
If you're using brand-new plastic containers, they will likely take on a strong odor or become discolored. The lingering scent from fermentation can be quite powerful.
Which plastic containers are safe for fermentation?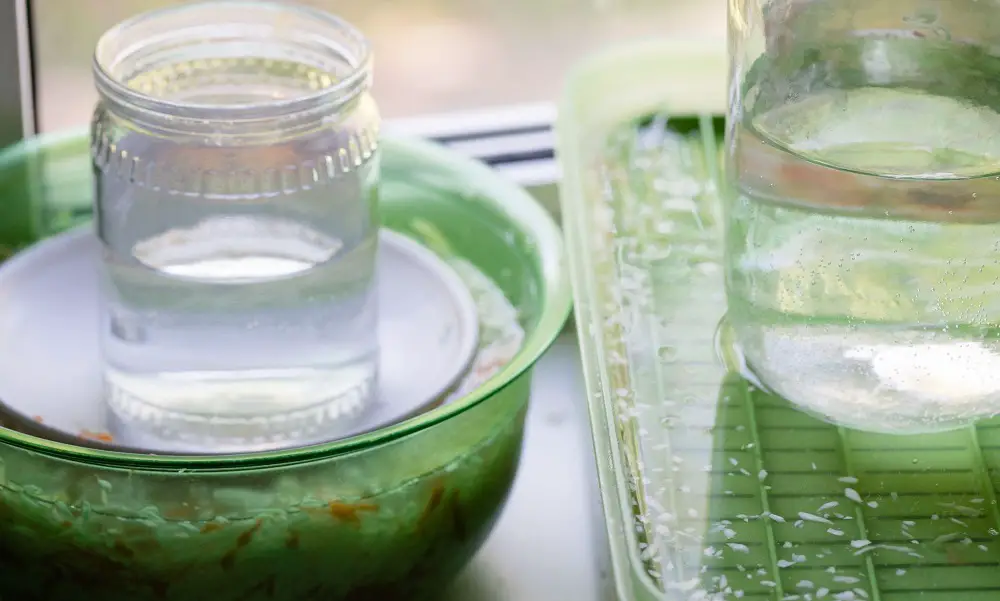 Food-Grade Plastics
The importance of using high-quality food-grade plastic containers for fermentation cannot be overstated. While not all food-grade plastics are ideal for fermentation, using plastic that is not labeled as food-grade can be dangerous. Another thing to consider is the difference between food-safe plastic and food-grade plastic. They are not the same!
Food-grade plastic is any type that can safely come in contact with food, but it may not be food-safe for the specific item you're storing or fermenting. Food-safe plastic is only considered food-safe when used for its intended purpose.
One food-grade container may be food-safe for something dry and cool, like cereal. But, that same container may not be food-safe for something hot and liquid, like chowder. But a food-safe container for hot chowder may not be food-safe for ice cream.
As you can see, it is difficult to find containers that are 100% food-safe for fermented items. The containers you use must be food-safe-approved for fermentation, not for something else.
The best type of plastic for fermentation is still up for debate. Most people agree that LDPE, polycarbonate, and HDPE plastics are the best options. They won't leach chemicals into the food or drink.
Chemical-Free Plastics
HDPE, polycarbonate, and LDPE are the best plastics for fermentation. They do not contain the harmful chemicals that other types of plastics do. These plastics are less likely to leach chemicals into fermented food or drink.
The top plastics to avoid chemical leaching are PVC and PS plastics. PVC has even been nicknamed the "poison plastic" by people in the food industry. This is because it contains high levels of BPA and BHA. These are almost guaranteed to contaminate food at higher temperatures or repeatedly.
Never use PVC and PS plastics for fermentation. They pose serious health risks, and your food or beverage will likely not ferment. You may be wondering why the FDA approves these plastics; you're not the only one.
Under the influence of research, the FDA has approved using BPA and BHA in plastics for decades. This states that the trace amounts of these chemicals consumed through plastic are not harmful.
The human body can eliminate these chemicals in adults and prevent them from causing health issues. But, the more research on these chemicals, the more dangerous they seem. BPA and BHA are still FDA-approved, but that could change. More studies will likely explain the dangers of digesting these chemicals.
Recommended plastic that are safe for fermentation
Safe plastic types like HDPE, LDPE, polycarbonate, and polypropylene are suitable for fermentation. HDPE and LDPE are the best options as they are almost chemical-free, highly durable, and temperature-resistant. These plastics are commonly used in restaurants and commercial kitchens.
When exploring your plastic options for fermentation containers, knowing what to look for and avoid is essential. You should always avoid PVC and PS when fermenting because they are known to leach chemicals.
If you use plastics in your ferments, your best choice is those made from either #2 grade, #4 grade, #5 grade, or polycarbonate.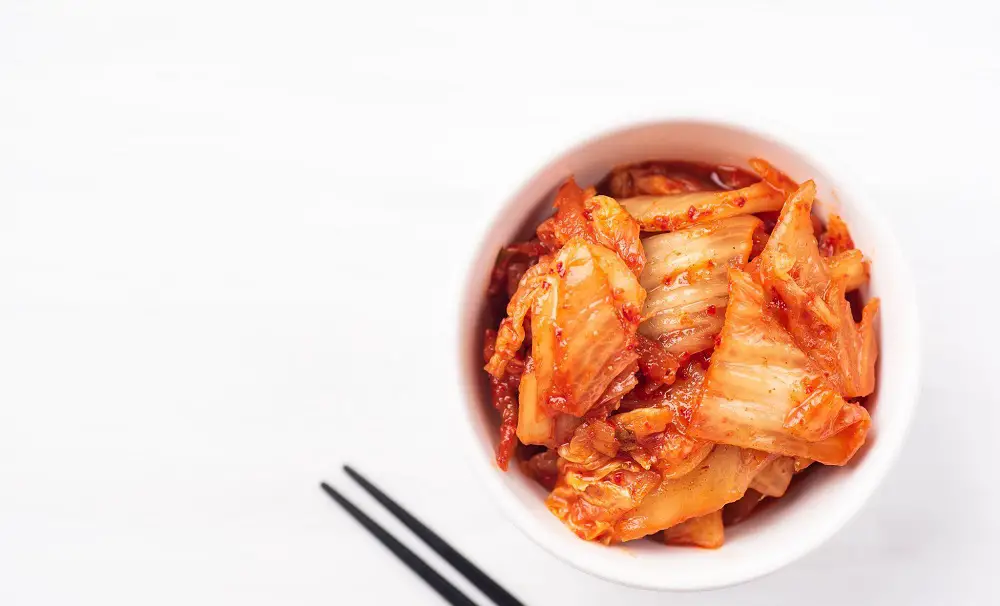 All the information can be daunting. Shopping for plastic means checking labels and understanding container recycling symbols.
To make this easier, three brand recommendations are below for food-safe fermentation containers made with plastic. When shopping, look for these brands or order them online to make your life easier.
Crazy Korean Fermentation Containers
Crazy Korean containers are known for their suitability in fermentation. This company designs plastic fermentation containers made with high-quality plastic. So it can withstand the acidity of fermented vegetables and other items. They're mainly for kimchi but suitable for various fermented foods and drinks.
The company guarantees that all its products are BPA-free, DEHP-free, and lead-free. This means no harmful chemicals can leach into the food. They make the containers by mixing polypropylene plastic with 7-10% natural clay for the best porosity. Most of the containers are safe for temperatures between -22°F and 284°F.
Crazy Korean Fermentation Container
The original sandy brown colored container for foods with strong color
The Perfect fermentation and storage container combining the ancient Korean Onggi principle with modern andeasy-to-use technology
It protects the surface of the food and the crispy texture and vibrant color are maximized.
The adjustable inner vacuum lid to minimize air inside, keeps the food fresh and slows down decomposition process.
High quality polypropylene plastic mixed with 7-10% natural clay for optimal porosity.
Last update on 2023-11-27 / Affiliate links / Images from Amazon Product Advertising API
e-Jen Fermentation and Storage Containers
Another reliable choice for fermenting vegetables is e-Jen containers. The e-Jen fermentation containers are incredibly like the Crazy Korean containers. They use polypropylene plastic for all their containers. Some are mixed with clay, like the Crazy Korean containers.
Unlike the Crazy Korean container, the e-Jen containers come in a few different colors. So, you can choose a stylish container that will match your home! The differences between the e-Jen and Crazy Korean containers are very small, so you can't go wrong with either brand.
E-Jen Premium Kimchi, Sauerkraut Container Fermentation
Easy to use! Essential product for kimchi, pickling vegetables, and making delicious sauerkraut
Food safe, dishwasher safe, freezer safe, microwave safe, light and easy to operate
Great for storing other dry goods like grains, beans, flours, and pasta.
Modern technology combining ancient Korean Earthenware with the highest quality polyprolene plastic.
Last update on 2023-11-27 / Affiliate links / Images from Amazon Product Advertising API
Best Fermentation Jars and Containers
Now that you understand the dangers of using plastic for fermentation, you might wonder how safe other materials are. Below are the most common materials people want to use for fermentation.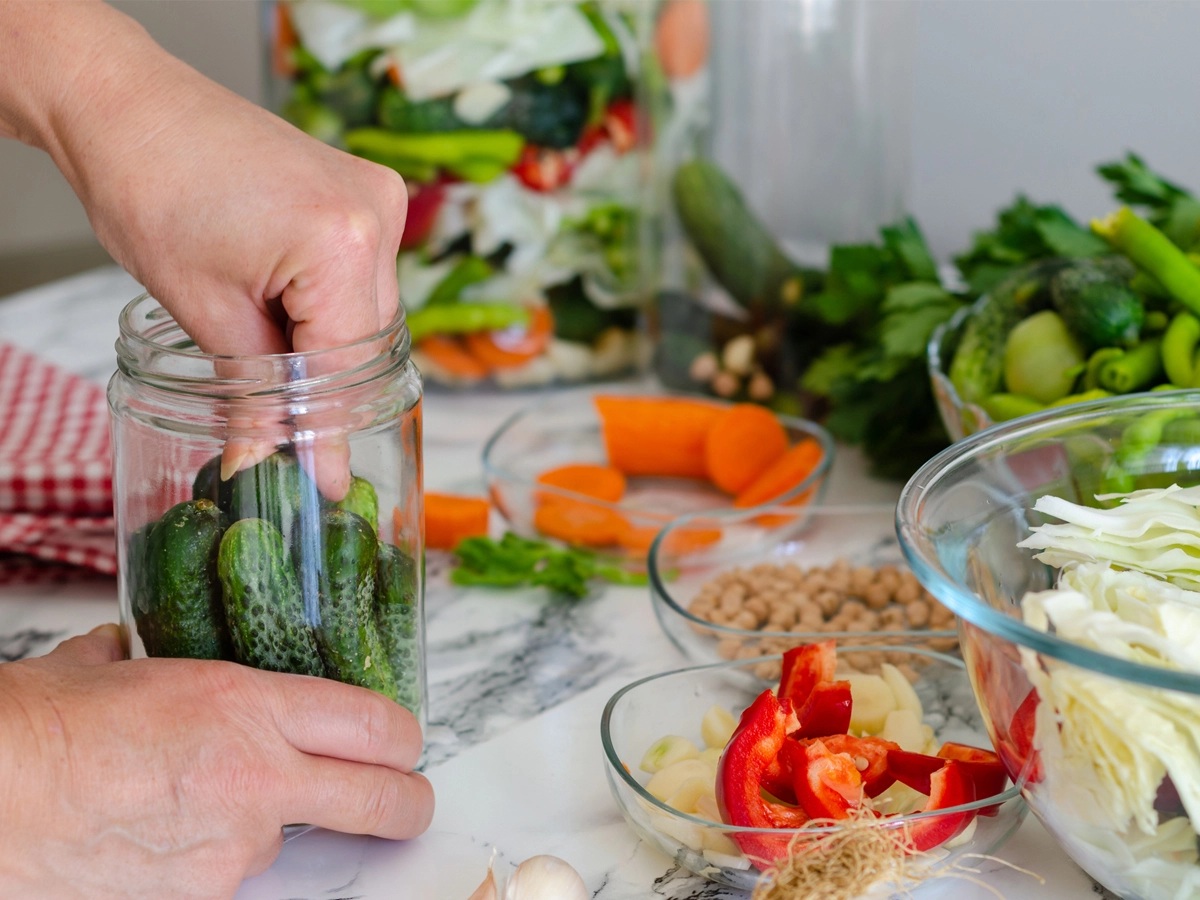 Glass
As you might've guessed, glass is the best material for fermenting vegetables. Food-grade and food-safe glass are durable, so you don't have to worry as much about bacteria. They're also far less likely to hold onto unpleasant odors and colors.
Many varieties of fermentation lids and weights fit on glass jars. This indicates that glass jars like Mason and Bell are great for fermenting vegetables.
Glass jars are so easy to find and come in many sizes, 16 oz, 32 oz, and even large 64 oz.
Glass can also be used without issue, while many other container materials will degrade with every use. If you want to avoid buying new glass bottles or other containers, save jars from other foods and use them again.
Pickle jars are one of the best options. They were already storing something that was probably fermented. To be clear, not all pickles are fermented, but many are.
Ceramic
Ceramic is one of the closest materials to glass that you can use for fermentation. If you want to use a ceramic container, buy a fermentation crock. Check out my review of the best fermentation crocks to use.
Unglazed ceramic containers are more likely to absorb moisture, hang onto odors, and leach chemicals into the food. Make sure you find ceramic containers with lead-free, cadmium-free glazes.
Sale
Fermentation Crock 1.3 Gallon
The Kenley fermentation crock is a natural and easy way to make sauerkraut, kimchi, pickles, and more at home. With a 1.3-gallon capacity, it can hold up to 8lbs of vegetables, making it perfect for small batches.
Last update on 2023-11-26 / Affiliate links / Images from Amazon Product Advertising API
Related: Best tools for fermentation
Porcelain
Porcelain is a better fermentation choice. It is less porous and more rigid than ceramic. It is far less likely to absorb moisture, trap odors, and become discolored than ceramic.
When shopping for porcelain, you must also be mindful of the container's type of glaze. You should still be looking for lead-free, cadmium-free glazes.
Metal
Stainless steel is the best choice for a metal container for fermenting food. When choosing a stainless steel container for fermenting vegetables, you can consider the following:
Grade: 316-grade stainless steel is a better option for fermentation than 304-grade because it is resistant to corrosion from saline solutions.
Material: Stainless steel is used widely for commercial fermentation. Ordinary pots and pans should not be used. Aluminum, copper, and silver do react to acids and should be avoided.
Scratches or cracks: The container should not have scratches or cracks that could harbor harmful bacteria.
Choose enamel over low-grade steel if the enamel has no chips on the interior surfaces. Chipped areas may rust, and you want to avoid rust in your food. Always avoid metals like cast iron, copper, aluminum, and tin. They can react with the acids in fermented food, giving it a strange flavor or causing a color change. These metals can also leach into the food.
The coating on Teflon and other nonstick containers can peel away and contaminate your fermentation recipes.
These containers often have metal under the coating that's reactive to the acidic environment of fermentation, resulting in off flavors or colors in your recipe.
When in doubt, it's best to avoid using metal during fermentation. The high acidity levels in the food or drink can cause the metal to corrode. This allows harmful particulates to infiltrate the food. However, a stainless-steel container is still better than PVC and PS plastics.
Which container is the safest to ferment vegetables?
In summary, yes, you can ferment vegetables in plastic containers. However, the type of plastic is essential. Sticking to glass containers that won't leach chemicals or degrade due to the acid when in doubt is best.