I've been growing sprouts in my kitchen for five years now, and I've found that alfalfa sprouts are by far the most delicious and easiest sprouts to grow.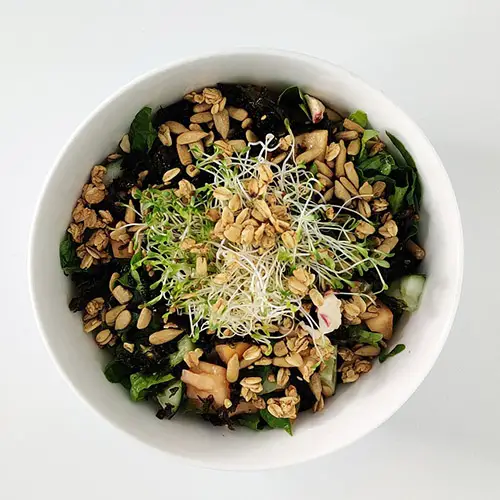 What You Need to Get Started Sprouting Alfalfa Seeds at Home
The equipment list for growing alfalfa at home is a short one. You will need alfalfa seeds, a jar, a piece of cheesecloth, or a mesh lid that fits the jar! If you decide to grow large batches of alfalfa then I suggest buying a seed sprouter, a tiered system where the water easily drains. But it is not essential to have when you are first starting out. 
Learn How to Grow Alfalfa Sprouts at Home
Growing sprouts in a jar are as easy as it gets when it comes to growing your own food. It is also a great way to get kids involved with growing your own food at home. 
To get started sprouting, first soak the alfalfa seeds for 8+ hours to help them get off to a good start. This will help make the sprouting process much easier and faster!
The following sprouting instructions can essentially be used for any other seeds you want to sprout. Alfalfa is one of the most popular, but there are loads of other seeds you can use: clover, broccoli, radish, etc. All have different nutritional profiles and flavors. Experiment with a few to see what flavors you like – or even make up your own mix of seeds!
Step-By-Step Sprouting Alfalfa Seeds In A Jar
Thoroughly rinse 2 tablespoons of alfalfa seeds to remove any debris.
Put the alfalfa seeds in a quart jar or other sprouting container and add ½ cup of cool water, cover with a cheesecloth or mesh sprouting lid and soak 8 – 12 hours.
Drain the water.
Place the jar in a bowl upside down and at an angle so that the seeds can fully drain and the air can circulate.
Every 8 – 12 hours repeat the process: add water, gently mix, rinse and drain.
Store the jar away from direct sunlight, in a cupboard or pantry is fine.
Repeat this process 2-3 times daily for up to 6 days.
In about 3 days you should see sprouts beginning to form. Once the alfalfa sprout tails start to appear, move the jar to indirect light for growing green leaves. Avoid direct sunlight.
Again, continue the rinsing and draining process, 2-3 times daily for another 2-3 more days, or until the sprouts have grown to about 3 inches tall.
Once sprouts have reached the desired length, drain and remove any remaining hulls. It is now time to enjoy your alfalfa sprouts. 
Alfalfa sprouts will keep in the refrigerator for several days.
Alfalfa Sprouts Nutritional Benefits
Alfalfa sprouts are a great addition to any diet. They make great toppings on salads,  sandwiches, wraps, and more. The added crunch with a bit of flavor can really boost the nutritional value of any meal. For example, alfalfa sprouts are high in vitamin K and contain vitamin C, copper, manganese, and folate. (source) Sprouting seeds and beans will significantly increase their nutrient quality and make it easier for our bodies to digest.
Other popular sprouts such as bean sprouts are known to provide more than the recommended daily intake of vitamin C in just one cup. 
Broccoli sprouts are considered a cancer-fighting superfood by many nutritionists.
Now that you know how to grow alfalfa sprouts at home, you can enjoy this nutritious treat whenever you want.
Try These Easy Seed Sprouting Recipes