This post may include affiliate links. As an Amazon Associate I earn from qualifying purchases.You can read my complete affiliate disclosure for more details.
While wheatgrass juice might not be as well known as kombucha and kefir, it offers plenty of health benefits to those who drink it.
The beverage is loaded with vitamins, minerals, and beneficial enzymes.
The best part about wheatgrass juice is that it's extremely easy to make at home. This article will provide a complete step-by-step recipe explaining how to make fermented wheatgrass juice for yourself.
It will also cover the fermentation process and people's most common questions about fermented wheatgrass juice.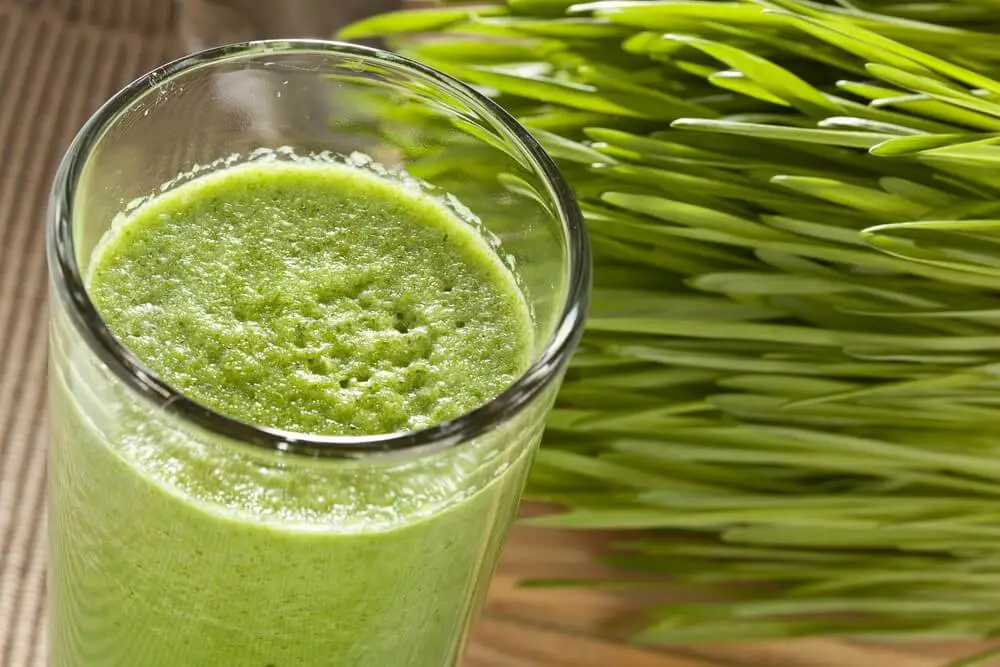 Introduction to Wheatgrass Juice
Wheatgrass juice is a drink that is made by blending the grass from wheat. The grass used to prepare the beverage is harvested when it is as young as seven to ten days old.
It has an extraordinarily tender and flavorful character that makes it perfect as an ingredient for a refreshing beverage.
The health benefits of wheatgrass juice are far-reaching. The drink's low caloric content and filling texture make it popular with people following diets.
Wheatgrass juice also has a very high nutritional content. In particular, an antioxidant-rich wheatgrass shot has very high amounts of vitamins A, C, and E.
Wheatgrass juice also contains several important enzymes, chlorophyll, and phytonutrients. Minerals such as iron and magnesium are abundant in the drink, too.
Wheatgrass juice is commonly touted as a superfood because it offers drinkers well-rounded nourishment.
The nutritional content of wheatgrass is so good that some researchers believe it may help the body to regulate blood sugar and reduce chronic inflammation.
In particular, the chlorophyll content of wheatgrass juice is believed to play a significant role in alleviating inflammation across the body.
Health Benefits of Fermented Wheatgrass
Fermented wheatgrass is also known to help the body support a thriving gut microbiome and maintain a strong immune system.
The probiotic bacteria found in fermented wheatgrass juice inhabit the digestive system and improve the body's ability to digest food and absorb nutrients.
Fermented wheatgrass is a potent superfood that offers several health benefits. While wheatgrass is packed with nutrients, fermenting it can enhance its bioavailability and increase the concentration of beneficial compounds.
Here are some potential health benefits of fermented wheatgrass:
Improved digestion: Fermented wheatgrass contains enzymes that aid digestion, promoting better nutrient absorption and reducing digestive discomfort.
Enhanced detoxification: Wheatgrass is known for its detoxifying properties; fermentation can enhance this effect. Fermented wheatgrass may help eliminate toxins and heavy metals from the body, supporting liver function and overall detoxification.
Increased nutrient absorption: Fermentation can break down complex nutrients in wheatgrass, making them more bioavailable and accessible for the body to absorb. This can improve the utilization of wheatgrass's vitamins, minerals, and antioxidants.
Strengthened immune system: Wheatgrass is rich in antioxidants, vitamins, and minerals that can support immune function. Fermented wheatgrass may help boost the immune system, reducing the risk of infections and supporting overall health.
Improved energy and vitality: Wheatgrass contains chlorophyll, which helps increase oxygen levels in the body and supports red blood cell production. This can result in increased energy, improved stamina, and reduced fatigue.
Anti-inflammatory effects: The antioxidants and phytochemicals in wheatgrass, including flavonoids and chlorophyll, possess anti-inflammatory properties. Fermented wheatgrass may help reduce inflammation, potentially benefiting conditions like arthritis or inflammatory bowel diseases.
Alkalizing properties: Fermented wheatgrass has an alkalizing effect on the body, helping to balance pH levels. An alkaline environment may promote overall health and counteract the acidity caused by certain dietary choices or metabolic processes.
Potential cancer-fighting properties: Wheatgrass contains compounds like chlorophyll, flavonoids, and antioxidants that exhibit anti-cancer properties. While more research is needed, fermented wheatgrass has the potential to support cancer prevention and complement traditional cancer treatments.
It's important to note that scientific research on the health benefits of fermented wheatgrass specifically is limited.
Therefore, while the properties of wheatgrass itself support these potential benefits, more studies are needed to validate the specific advantages of fermented wheatgrass.
As with any dietary supplement, it's recommended to consult with a healthcare professional before adding fermented wheatgrass to your diet, especially if you have any underlying health conditions or are taking medications.
Equipment for Fermenting
The essential tools and equipment for fermentation are 16oz. Mason jar with an airlock lid. You can use a cheesecloth or coffee filter secured with a rubber band if you don't have an airlock lid.
An airlock allows carbon dioxide to escape while preventing oxygen from entering the vessel. These devices help regulate pressure buildup and reduce the risk of spoilage.
Various types of airlocks and lids are available, including water-filled airlocks, silicone airlock lids, or specialized fermentation lids with one-way valves.
After the wheatgrass is fermented, you will need a masticating juicer to more pulverize the grass.
Mason Jars 16 oz With Regular Lids and Bands 12 pack
Masontops Pickle Pipes - Waterless Airlock Fermentation Lids
9 Pack Fermentation Glass Weights with Easy Grip Handles
Masticating Juicer Machine
Mason Jars 16 oz With Regular Lids and Bands 12 pack
Masontops Pickle Pipes - Waterless Airlock Fermentation Lids
9 Pack Fermentation Glass Weights with Easy Grip Handles
Masticating Juicer Machine
Last update on 2023-09-13 / Affiliate links / Images from Amazon Product Advertising API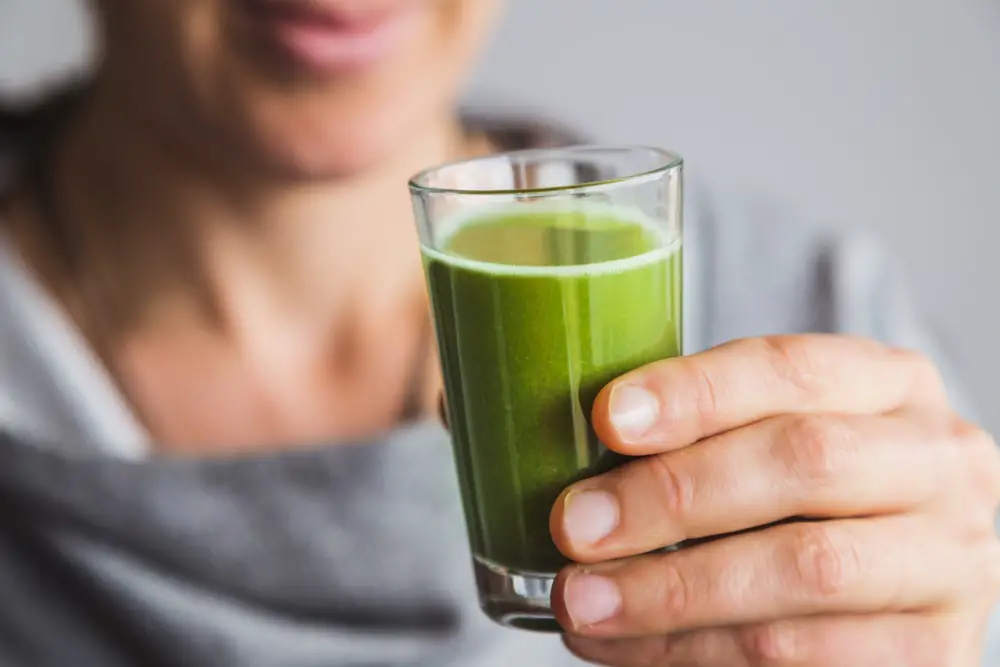 Fermentation Process for Wheatgrass Juice
Once you have your equipment and ingredients, you can ferment your wheatgrass.
Step 1. Cut and clean the wheatgrass and make sure to remove any dirt or debris.
Step 2. Prepare the salt brine by mixing four cups of water with one tablespoon of salt in a separate container and stirring until dissolved.
Step 3. Place the cleaned wheatgrass into the glass jar, packing it tightly to the top but leaving about an inch of headspace. Pour the salted water over the wheatgrass until the wheatgrass is wholly submerged and an inch of air is left at the top of the container.
Step 4. Place a fermentation weight or sanitized stone on the wheatgrass to ensure they remain submerged in the brine. This helps prevent mold growth.
If you're using an airlock lid, attach it according to the manufacturer's instructions. If using a regular jar lid, create a venting system by lightly closing it, leaving room for gas to escape during fermentation.
You can also use a muslin cloth, cheesecloth, or coffee filter and secure it with a rubber band to allow air circulation while preventing insects or contaminants from entering.
Related: Best Fermentation Weights: Ideas for keeping your ferments submerged
Step 5. Find a place to leave the jar that is room temperature but not exposed to direct sunlight or intense heat. The wheatgrass will need to ferment for several days.
Step 6. Monitor the fermentation of your wheatgrass and taste it periodically. After 2-3 days, the wheatgrass is certain to be mildly tangy. It can be fermented for up to ten days, according to your preferences.
Once you like the tanginess of the wheatgrass, you're ready to make your juice.
Making Wheatgrass Juice from Fermented Wheatgrass
After the wheatgrass is fermented, it is time to add it to your favorite wheatgrass smoothie or juice recipe. First, you will need a masticating juicer or blender that is powerful enough to pulverize the grass completely.
Remove your wheatgrass from the fermentation container. You should use approximately two ounces of wheatgrass for each serving of juice.
Grab any other fruits or vegetables you want to add to your wheatgrass juice.
If you use a masticating juicer, chop the wheatgrass into extremely small pieces. Feed the wheatgrass into the masticating juicer and extract the juice at least once.
Continue juicing until you're satisfied with the amount you can abstract from your wheatgrass.
If you are using a blender, place all the wheatgrass inside and pour in a small amount of water. Add any other ingredients you intend to use, like apple juice, lemon juice, or coconut water.
Blend the water and wheatgrass until the wheatgrass is completely liquified. Finally, run the blended wheatgrass through a sieve or towel to filter out any large chunks.
After the wheatgrass has been blended, your juice is ready to drink. Preparing wheatgrass juice right before you intend to drink it is recommended, but it can be prepared in advance and refrigerated in an airtight container.
Mix the juice with water, coconut water, or apple juice to make the flavor more pleasant; add it to your favorite fresh juice wheatgrass smoothie recipe, or make a wheatgrass shot and drink it fast.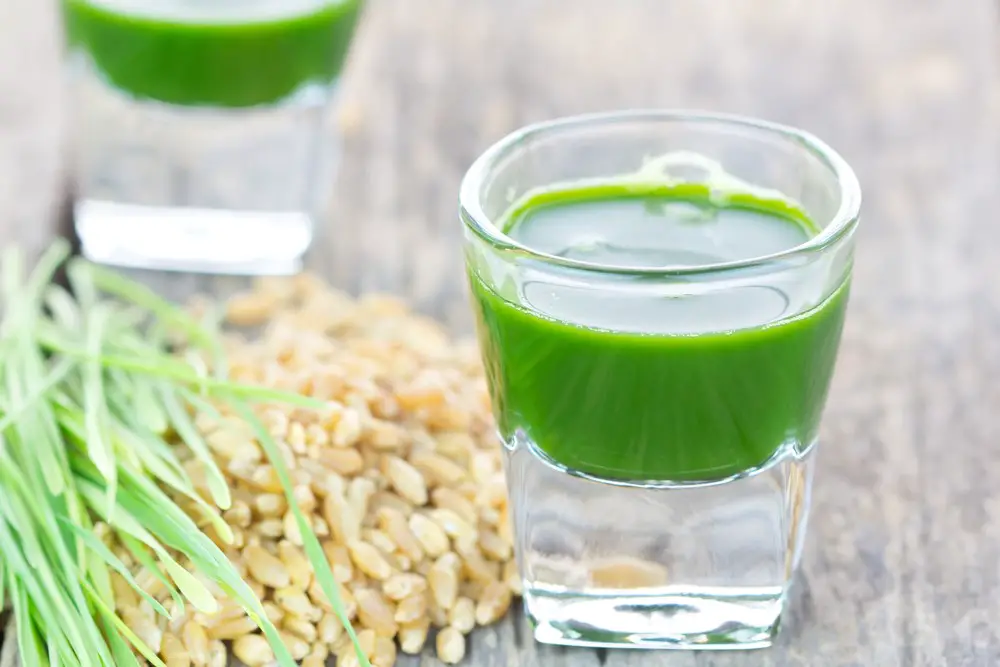 Frequently Asked Questions
How long does it take to ferment wheatgrass?
It takes three to ten days to ferment wheatgrass. You can allow the wheatgrass to ferment as long as you want in accordance with your taste preferences.
It will grow more sour with each day.
Can I ferment wheatgrass without using any additives?
You can ferment wheatgrass without using any additives. Much like when you ferment radishes or cabbage, the bacteria naturally found on wheatgrass are sufficient for fermenting it.
How does fermentation affect the nutritional value of wheatgrass?
Fermentation improves the nutritional value of wheatgrass because it makes its nutrients more digestible. The fermentation process also produces nutrients like folate and riboflavin.
Can I mix fermented wheatgrass juice with other juices or liquids?
You can mix fermented wheatgrass juice with other juices and liquids. I recommend diluting fermented wheatgrass juice with fruits such as cranberries or lemons to improve the flavor.
Can I store fermented wheatgrass juice for an extended period?
You cannot store fermented wheatgrass juice for an extended period. I recommend storing the fermented whole wheatgrass and blending it as needed.
If necessary, wheatgrass juice can be refrigerated for one to two days.
Can I grow my own wheatgrass for fermentation?
You can grow your own wheatgrass for fermentation. The process involves sprouting wheatgrass seeds and planting them. The wheatgrass is harvested after seven to ten days of growth.
Are there any potential risks or precautions to consider when fermenting wheatgrass?
The main risk to consider when fermenting wheatgrass is that your ferment may be contaminated. You should be very cautious during the fermentation process and only use clean equipment.
You should research the signs of contamination in advance to drink your wheatgrass juice confidently.
Remember to monitor the fermentation process closely and use your senses to determine when the wheatgrass is fermented correctly.
If you notice any signs of spoilage or an off odor, it's best to discard the batch.

Enjoy the nutritional benefits of your homemade fermented wheatgrass and experiment with incorporating it into your favorite recipes!