If you've never eaten kimchi before, knowing what to do with it can be difficult. The tangy and flavorful dish has an incredible flavor, but this strong flavor can make it quite intimidating. Many people find that the best way to get started with eating kimchi is by using recipes.
You can incorporate kimchi into a wide variety of recipes. In this article, we'll describe some recipes for kimchi tacos, grilled cheeses, kimchi pancakes, kimchi stew, and kimchi fried rice. Of course, these aren't the only possibilities. The internet has hundreds of recipes you can choose from when deciding how to eat your kimchi.
Getting to Know Kimchi
Kimchi is an extremely popular Korean dish made from seasoned fermented cabbage. Other vegetables, like radishes and peppers, are often incorporated into kimchi. The dish is prepared by allowing the bacteria that live in the cabbage leaves to ferment and produce lactic acid.
This dish has a very long history in Korea. Originally, kimchi was made from radishes. But when Chinese cabbage was imported into Korea in the Goryeo period (918 - 1392), many people started to prepare kimchi using cabbage. As ingredients like chili peppers were introduced to Korea later on, the recipe shifted, and kimchi gradually grew into the delicious food we know today.
Today, kimchi remains an extremely popular dish in Korea. It is renowned for its long history in Korean culture. In fact, a kimchi-making festival (often called the kimjang festival) is even celebrated every year to celebrate the dish.
Numerous types of kimchi exist. The most popular type of kimchi is baechu kimchi, which is made with napa cabbage. Kkakdugi is a traditional type of kimchi made from cubed radishes. Nabak kimchi is made from various ingredients, including radishes, carrots, napa cabbage, and green onion. Other types, like oi sobagi and yeolmu kimchi, use various ingredients.
Kimchi is known to have a wide variety of nutritional benefits. The fermented dish is rich in antioxidants and fiber. It generally contains various microbial strains, making it an excellent food for improving your gut microbiome.
Kimchi contains an excellent amount of vitamin C, vitamin K, vitamin A, calcium, and iron. The presence of vitamins can vary depending on what kind of kimchi you decide to eat. Kimchi contains massive amounts of calcium, making it an excellent addition to vegan diets.
Using Kimchi in Your Recipes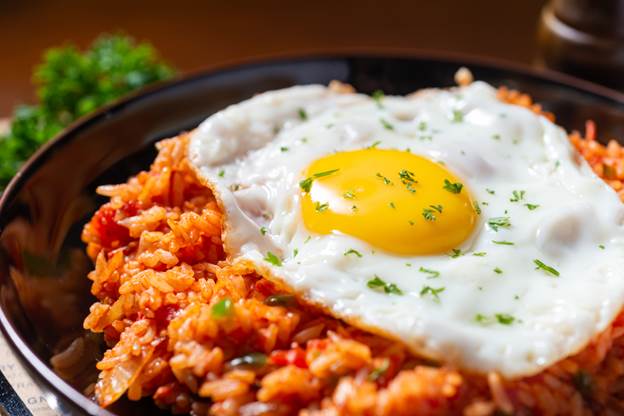 Kimchi Fried Rice
Kimchi is an excellent addition to fried rice. Many people enjoy cooking fried rice with kimchi in a skillet with other vegetables. This will help incorporate the flavor into the dish but may cook away many probiotic bacteria. You can maximize the probiotic benefit of your kimchi fried rice by warming it separately at a low temperature and adding it to the dish once served.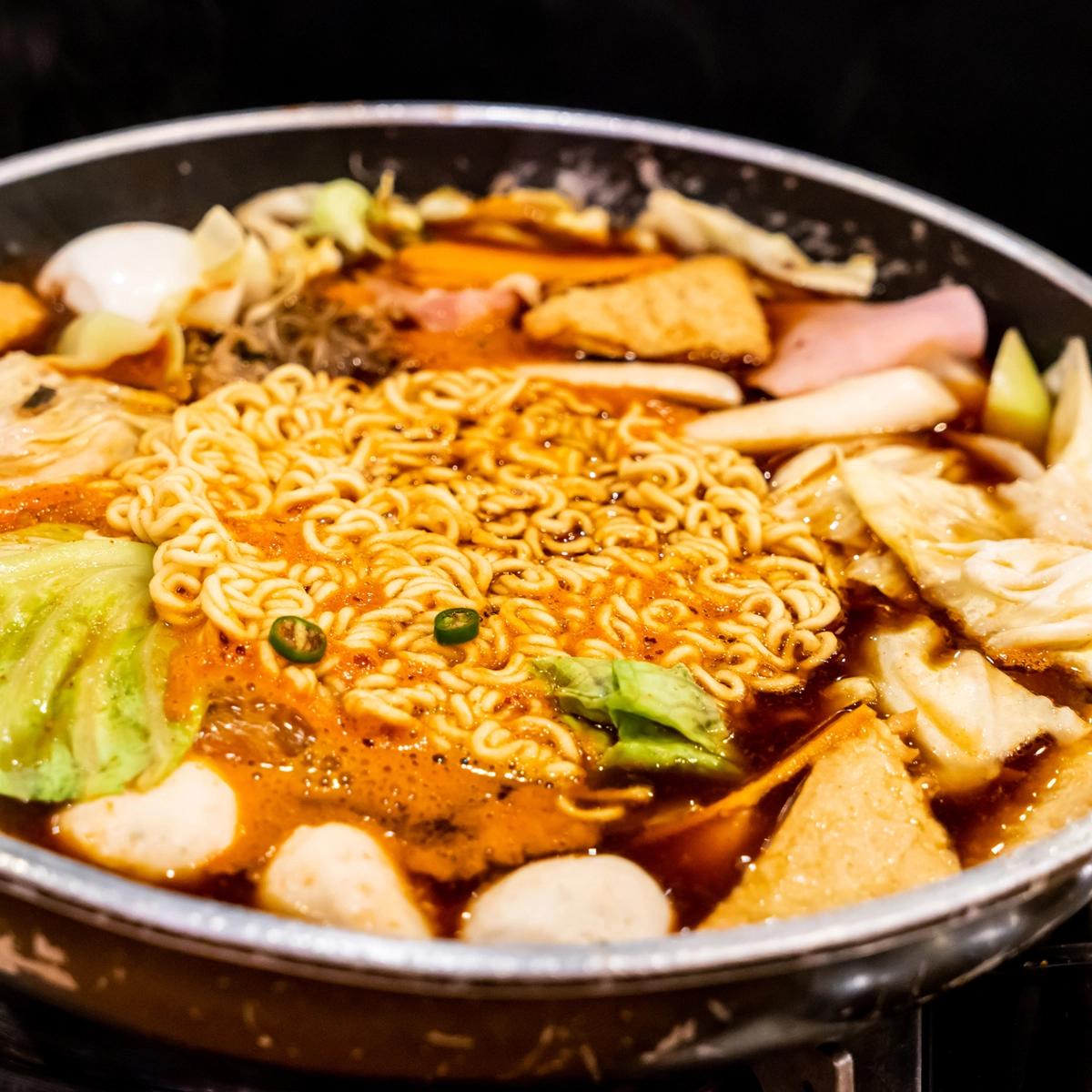 Kimchi Stew
Kimchi is popularly served in a stew called kimchi jjigae. This warm and filling dish is one of the best things you can eat during cold weather. To prepare kimchi stew, start by frying onion, garlic, and pork belly in a pot. Once the ingredients are softened, add salt, sugar, gochujang, gochugaru, or chili sauce, and chopped shiitake mushrooms.
Add your kimchi and pour in enough vegetable broth to cover the ingredients. Simmer the stew and allow it to cook for 10 to 15 minutes. Add firm tofu and let it cook for another 10 minutes. Finally, add sesame oil, scallions, green onion, or any other toppings you choose. You can pair the stew with steamed white rice to make a delicious and filling meal.
Try our Vegetarian Budae Jjigae recipe.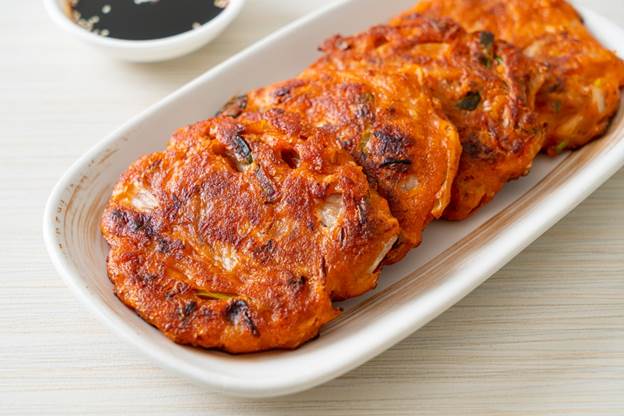 Kimchi Pancake
Another dish popularly prepared with kimchi is kimchijeon or kimchi pancakes. This savory dish is made by frying kimchi with pancake batter. The only ingredients to prepare the batter are all-purpose flour, cornstarch or rice powder, and kimchi with a little brine. You can also use store-bought buchimgaru batter if you prefer.
Many people add other ingredients to their kimchi pancakes. Meat like pork, tuna, and squid are often added. The kimchi pancakes should be cooked at high temperatures with a generous amount of oil. Ensure the batter is viscous enough to form a very thin pancake.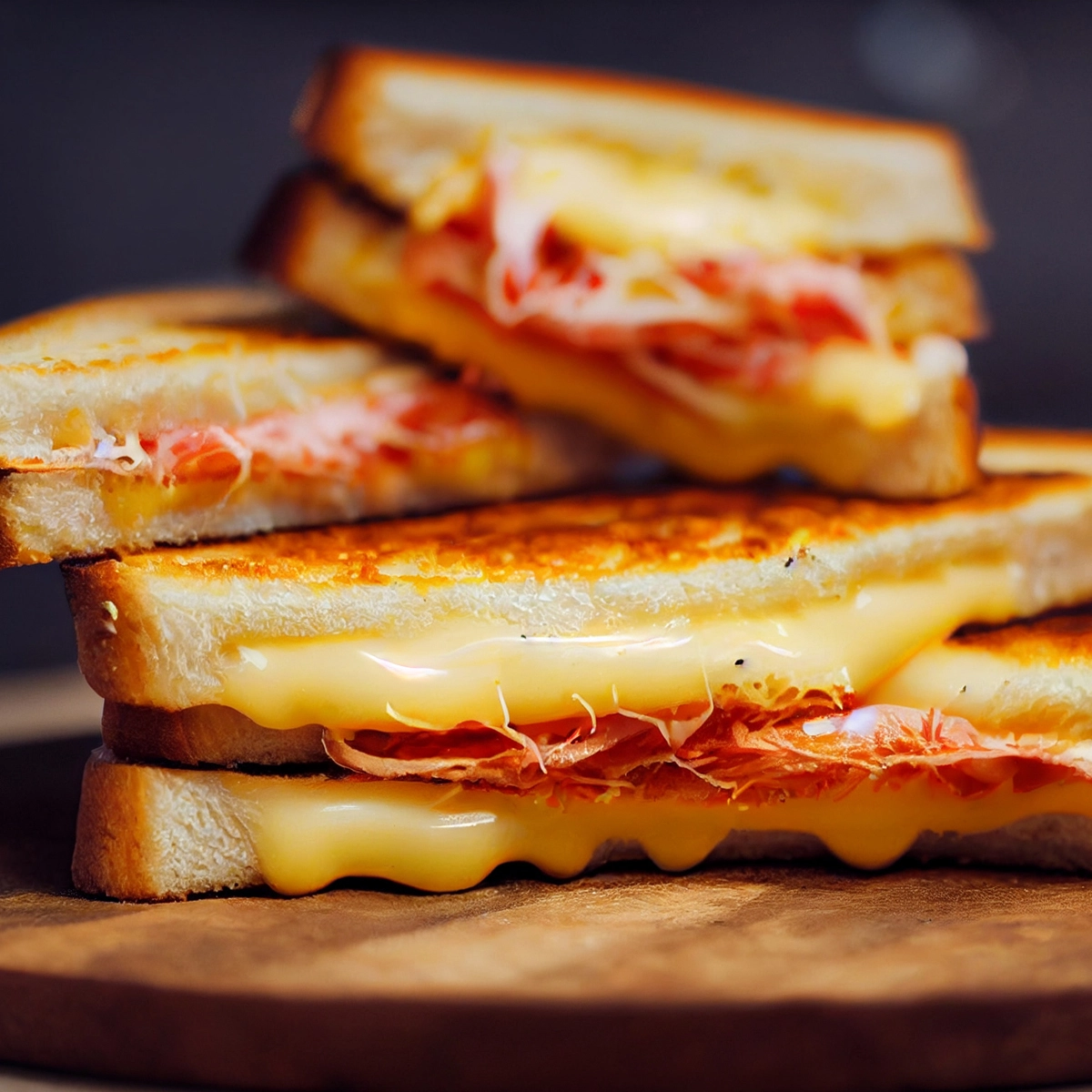 Kimchi Grilled Cheese
Many people find that kimchi offers a perfectly fresh and crisp contrast to creamy and rich dishes like grilled cheeses. If you want to try a kimchi grilled cheese for yourself, all you need to do is add kimchi on top of the cheese before frying your grilled cheese. I recommend using extra-gooey cheese like mozzarella for the best flavor and texture.
Kimchi Tacos
One amazing way to add kimchi to your diet is to make kimchi tacos. These tacos are inspired by Korean cuisine and can incorporate ingredients like bulgogi beef, gochujang, and cilantro. You can pair the tacos with classic condiments like guacamole and sour cream. If you want a meat-free taco, I recommend using a substitute like tempeh or TVP.
Tips and Tricks for Cooking with Kimchi
Learning to cook with kimchi can be challenging if you aren't familiar with Korean cuisine. You'll quickly learn to love this amazing fermented dish using the right strategies to incorporate kimchi.
Remember that every type of kimchi is different. Napa kimchi is the most common kind and works well for most dishes. Kkakdugi, or radish kimchi, is a good option if you want to try a more traditional variety.
Always store your kimchi in the fridge once you've opened the container. Keep the kimchi submerged in the brine. If there's not enough brine, add water and salt to prevent microbes from growing on the kimchi and contaminating it.
If your kimchi is too spicy, you can try diluting it by making or purchasing a batch of mild kimchi and mixing the two together. White kimchi, radish kimchi, and water kimchi are all known to be extremely mild varieties of kimchi. They are all excellent options for dilution.
I recommend pairing kimchi with rich, bulky foods like rice bowls or savory kimchijeon pancakes. You can also use kimchi to flavor dishes like stews and braises.
If you need to substitute kimchi in a recipe, I recommend using sauerkraut. Sauerkraut and kimchi have a crunchy texture and sour taste since they're both made by fermenting cabbage and preserving it in lactic acid. If you have kimchi seasonings on hand, you can make the sauerkraut have a similar flavor.
Frequently Asked Questions
Is Kimchi Safe to Eat?
Kimchi is safe to eat. Many people worry about eating kimchi because of its bacteria. The bacteria in kimchi are known as probiotic kimchi, however. These probiotics are essential for keeping your gut microbiome in good condition. To get a daily dose of probiotics and vitamins, you should add fermented foods like kimchi, kombucha, or sauerkraut.
Can I Make My Own Kimchi at Home?
You can make your own kimchi at home. As long as you have the proper equipment and ingredients, making kimchi at home is incredibly simple. You should use a kimchi recipe for guidance during your first attempt at making this fermented treat. You will need cabbage, salt, and kimchi seasonings. You will also need an airtight container in which the kimchi can ferment.
Can Kimchi Be Used in Non-Korean Recipes?
You can use kimchi in non-Korean recipes. Many people enjoy eating kimchi with breakfast because its bright tanginess pairs perfectly with a batch of creamy scrambled eggs. Other creamy dishes, like mac n' cheese and grilled cheeses, are also popularly paired with kimchi. Some people have even made unusual recipes like kimchi mashed potatoes.
How Long Does Kimchi Last in the Fridge?
Store-bought kimchi can last a very long time when the container is sealed. Once the container is open, eating the kimchi within three to six months is recommended. You should ensure that your kimchi is stored at 39°F or lower to minimize the possibility of spoilage.
Much like store-bought kimchi, homemade kimchi should usually be eaten within three to six months once opened. It will become sourer with time but may remain edible after six months. Kimchi that contains seafood or other ingredients prone to spoilage should be discarded at the best-by date.
Can I Freeze Kimchi for Later Use?
You can freeze kimchi for later use. Freezing kimchi for up to three months generally doesn't affect the flavor or texture of kimchi. You may find that kimchi's qualities change slightly when frozen for over three months.
Freezing kimchi properly will help maintain the taste and texture. You should store your kimchi in a Ziploc bag or airtight Tupperware container to ensure minimal air comes into contact with the kimchi. Allow kimchi to defrost in the fridge to minimize the possibility of texture or flavor changes.