Today, I'm excited to share a delicious recipe that celebrates our commitment to a healthier, plant-based lifestyle. 
Say hello to Vegetarian Budae Jjigae 부대찌개 (Korean Army Base Stew) – a mouthwatering Korean stew that's sure to make your taste buds dance with joy!
Budae Jjigae, also known as "Army Base Stew," has a fascinating history. It originated in South Korea during the post-Korean War era when food was scarce, and creative minds found a way to make a hearty and satisfying meal from the few ingredients available. 
Jump to:
Traditionally, Budae Jjigae includes ingredients like spam, hot dogs, and other processed meats, but our vegetarian twist on this classic dish offers tofu as a meat alternative.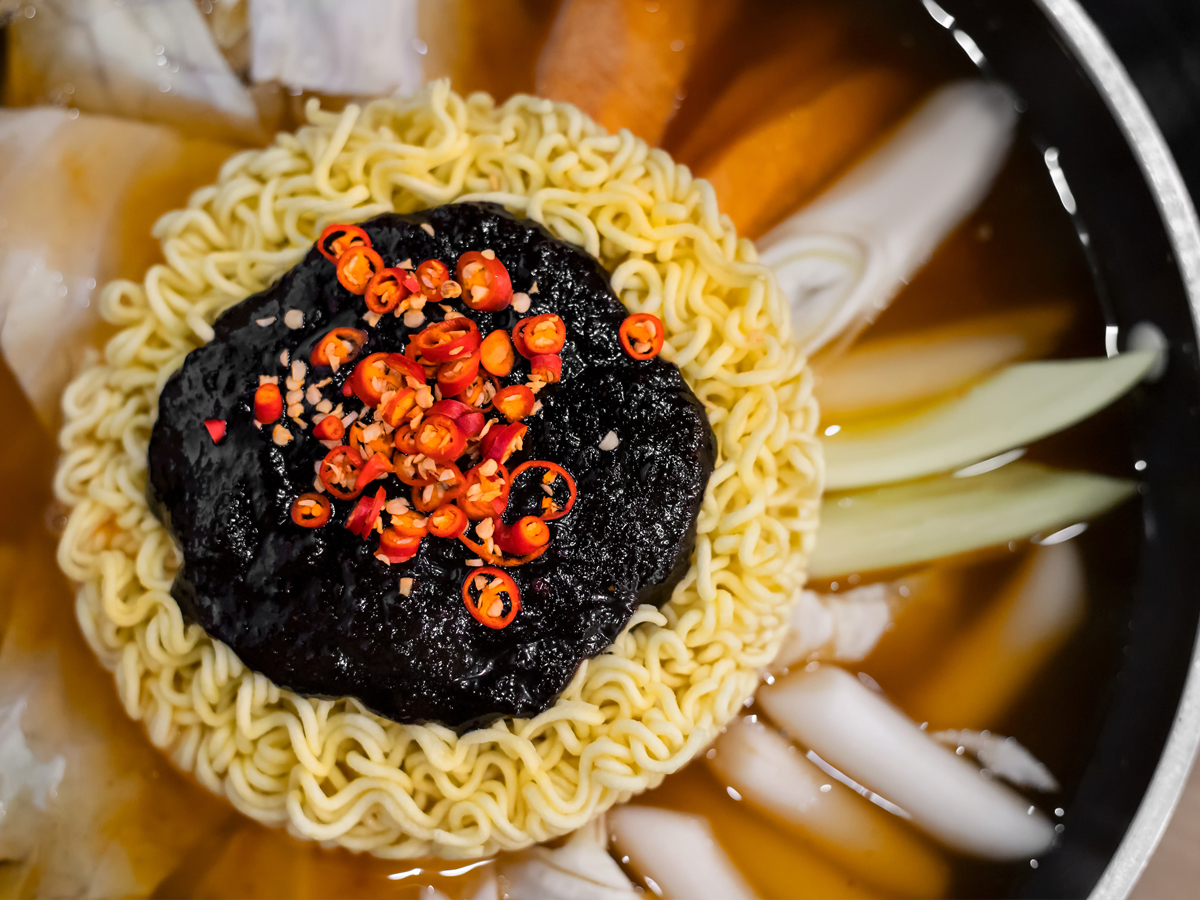 Vegetarian Budae Jjigae with Meat Alternatives Recipe
Ingredients
1 package of firm tofu, cubed (or any meat alternative)
1 cup of sliced mushrooms (any variety will do)
1 cup of sliced cabbage
1 cup of sliced kimchi (spicy kimchi, daikon radish kimchi)
1 cup of sliced scallions
2 cloves of minced garlic
1 tablespoon of soy sauce
1 tablespoon of gochugaru (Korean red pepper flakes)
4 cups of vegetable broth
2 tablespoons of vegetable oil
Cooked ramen noodles (optional for serving)
Instructions
Heat the vegetable oil in a large pot over medium heat. Add the minced garlic and sauté until fragrant.
Add sliced mushrooms and your chosen meat alternative (tofu, sausages, seitan, or tempeh)
Sauté for a few minutes until they start to brown.
Stir in the sliced cabbage and kimchi. Continue to sauté for another 3-4 minutes.
Pour in the vegetable broth, soy sauce, and gochugaru. Give it a good stir and bring the mixture to a boil.
Reduce the heat to low and let the stew simmer for 15-20 minutes. This will allow the flavors to meld together beautifully.
Just before serving, add the sliced scallions for a burst of freshness.
If you like, serve your Vegetarian Budae Jjigae with cooked ramen noodles for a comforting and filling meal.
Related: Gochugaru Substitutes, What are those black spots on Tempeh?
Now, sit back and savor the heartwarming aroma that fills your kitchen as this flavorful stew simmers away. The combination of earthy mushrooms, spicy kimchi, and the umami richness of tofu makes this dish incredibly satisfying. 
Plus, it's a great way to enjoy Korean cuisine's bold and complex flavors without compromising your vegetarian principles.
What makes this recipe even more remarkable is its adaptability. Feel free to experiment with different vegetables or tofu variations to suit your taste. You can even customize the level of spiciness by adjusting the amount of gochugaru – more for a fiery kick or less for a milder experience.
Not only is Vegetarian Budae Jjigae a delightful treat for your taste buds, but it also showcases how creative and versatile vegetarian cooking can be. 
It's a testament to enjoying the world's diverse culinary traditions while staying true to your values.
So, the next time you're in the mood for a comforting and satisfying meal, try this Vegetarian Budae Jjigae recipe. It's a celebration of flavors, a tribute to Korean cuisine, and a nod to your commitment to a healthy and compassionate lifestyle. Bon appétit!
Ramen Noodle Pot
Hemoton Korean Food Ramen Noodle Pot with Handle Frying Pan Stainless Steel Ramyun Cooker for Cooking Soup Pasta Stew Gold
Last update on 2023-11-29 / Affiliate links / Images from Amazon Product Advertising API
Vegetarian Meat Alternatives for Budae Jjigae
Here are some great meat alternatives for a vegetarian version of the beloved Korean dish, Budae Jjigae. With these delightful swaps, get ready to tantalize your taste buds and embrace a more compassionate approach to food!
This dish includes meat-based ingredients like spam and hot dogs. But today, we're turning the page on tradition and infusing the same rich flavors into a plant-based delight!
Stone Pot with Lid
Korean Dojagi R Pot/Premium Korean Stone Pot with lid Stone Bowl Ttukbaegi Dolsot (Large)
Last update on 2023-11-29 / Affiliate links / Images from Amazon Product Advertising API
Plant-Based Sausages: To replicate the savory essence of hot dogs, consider using plant-based sausages. They come in various flavors, from classic to spicy Italian, allowing you to tailor your Budae Jjigae to your taste.
Seitan: Seitan, also known as wheat meat, is a fantastic substitute. It has a hearty texture and absorbs flavors wonderfully. Sliced or cubed seitan can mimic the chewiness of spam in your stew.
Tempeh: Tempeh is another versatile meat alternative that's rich in protein and has a nutty flavor. Cut it into small pieces and marinate it in soy sauce and spices for a delicious and chewy addition to your Budae Jjigae.
Tofu: Firm tofu is a vegetarian's best friend when adding protein and substance to your stew. Cube it and toss it into the pot, and it will soak up all the mouthwatering flavors of your broth.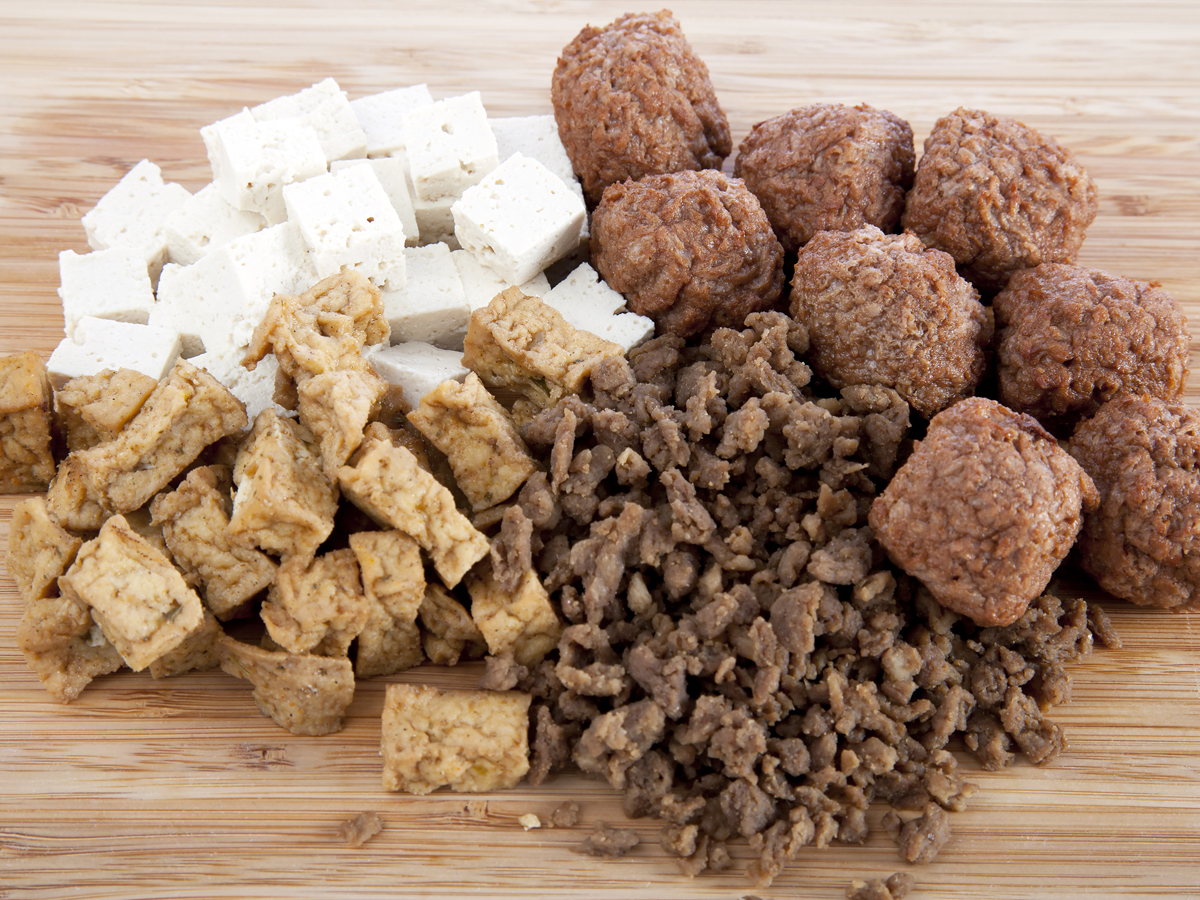 Voila! You've created a sumptuous Vegetarian Budae Jjigae, bursting with flavors and brimming with compassion. The meat alternatives provide the same hearty satisfaction as the traditional ingredients, and you'll be amazed at how effortlessly they blend into this classic Korean dish.
With these plant-based swaps, you can enjoy Budae Jjigae while aligning with your vegetarian values. It's a celebration of creativity in the kitchen and a testament to the ever-evolving world of compassionate cuisine. So, gather your ingredients, embrace these meat alternatives, and savor the joy of a flavorful, cruelty-free Budae Jjigae feast!
Dishes to Pair with Budae Jjigae
We've already explored the deliciousness of Budae Jjigae, a flavorful stew, but what about the fantastic sidekicks that can make your meal truly unforgettable? Join me on this culinary adventure as we discover dishes that pair like a dream with our favorite Korean comfort food!
1. Kimbap: The Perfect Handheld Treat
Kimbap, often dubbed "Korean sushi," is a delightful snack or side dish that complements Budae Jjigae beautifully. Made by wrapping seasoned rice, vegetables, and sometimes meat alternatives or seafood in seaweed, kimbap offers a satisfying contrast in texture to the hearty stew. Its light and refreshing flavors are a palate cleanser between spoonfuls of rich Budae Jjigae.
2. Korean Pancakes (Jeon): A Crunchy Delight
Korean pancakes, known as "jeon," are a crunchy and savory addition to your meal. You can prepare jeon with various ingredients like zucchini, kimchi, or mushrooms, making them versatile and adaptable to your preferences. The crispiness of these pancakes provides an enjoyable contrast to the heartwarming flavors of Budae Jjigae.
3. Pickled Radishes (Danmuji): A Zesty Palette Cleanser
Danmuji, or pickled radishes, are common on Korean dining tables. Their vibrant yellow color and tangy flavor make them an ideal accompaniment to Budae Jjigae. The sharpness of the pickles cuts through the richness of the stew, offering a refreshing and zesty contrast.
4. Steamed Rice: The Classic Pairing
Sometimes, simplicity is key. A bowl of perfectly steamed rice is a classic companion to Budae Jjigae. The neutral flavor and fluffy texture of rice serve as a canvas for the complex flavors of the stew. Take a spoonful of Budae Jjigae, followed by a bite of steamed rice – the combination is pure bliss.
5. Korean Banchan: A Feast of Small Plates
Expand your culinary horizons with a selection of Korean banchan and various small side dishes. These can include marinated vegetables, spicy cucumbers, or soybean sprouts. Banchan's diversity of flavors and textures adds depth to your meal, allowing you to explore different taste sensations alongside your Budae Jjigae.
6. Tofu Salad: Freshness on the Side
A light and refreshing tofu salad can be a fantastic contrast to the hearty stew. Toss together some cubed tofu, crisp lettuce, and a zesty dressing. The cool, crisp salad provides a refreshing respite from the warmth and bold flavors of Budae Jjigae.
Budae Jjigae may steal the spotlight, but the accompanying dishes can elevate your meal to a new level of culinary delight. Whether you prefer the crunch of kimbap, the zest of pickled radishes, or the simplicity of steamed rice, there's a perfect partner for every Budae Jjigae enthusiast. So, gather your favorite Korean side dishes, create a balanced and flavorful feast, and let your taste buds embark on a happy journey of culinary discovery!
More Vegan Recipes