The big difference between sauerkraut and kimchi is taste. Sauerkraut has a sour and salty taste and is often tangy and acidic. Kimchi tastes salty, too, with a lot more spice and a signature umami flavor, which means savoriness.
Both fermented dishes can vary in taste due to the vegetables you use to make them, while sauerkraut always tastes like fermented cabbage.
You might already be familiar with the tangy, sharp flavor of sauerkraut and the spicy umami of kimchi. Both sauerkraut and kimchi are rich in probiotics and nutrients, making them a healthy addition to any diet.
Considering their significant differences in flavor and ingredients, knowing the exact differences between them is essential. Here's everything you need to know about the differences between sauerkraut and kimchi.
People have been fermenting food for thousands of years. And since fermented food can be preserved for years, it's easy to see why people have always relied on fermentation for a consistent food source.
Fermentation can also increase the nutritional value and enhance the flavor of food. When it comes to fermenting cabbage, there are two popular dishes prepared across the world: sauerkraut and kimchi.
Nutritional Content
Kimchi and sauerkraut have slightly different nutritional contents. Kimchi is usually prepared with seasonings and many different vegetables, while sauerkraut often consists of just cabbage and salt. This can lead to significant differences in what vitamins kimchi and sauerkraut offer.
Kimchi is often prepared with napa cabbage, daikon radishes, green onions, garlic, kale, and carrots. Seasonings like gochugaru and dried seafood are often added to enhance the flavor of the kimchi. The exact composition of the kimchi will vary depending on what kind you purchase.
You can expect the average cup of kimchi to contain 24 calories. Three grams of carbohydrates are typical for this fermented treat, with two grams being dietary fiber.
There is only one gram of protein on average per cup of kimchi. Vitamins C, A, and K are all abundant in kimchi.
You can also expect a healthy dose of nutrients like potassium, choline, calcium, and beta carotenes.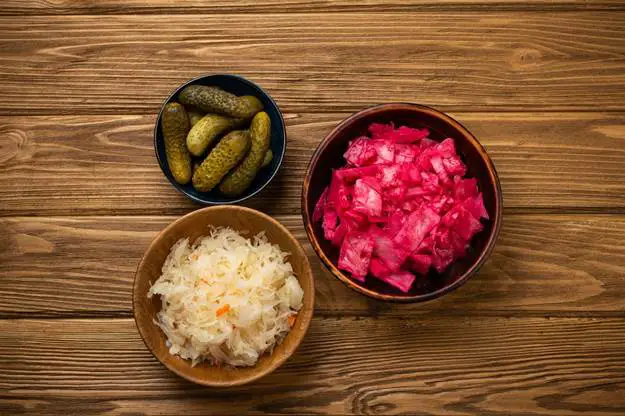 Sauerkraut usually averages 32 calories per cup. On average, it has six grams of carbohydrates, with four grams of dietary fiber.
You can expect an average of two grams of protein per cup. Sauerkraut is rich in vitamin C and vitamin K.
It is also rich in minerals like manganese, copper, potassium, and folate.
The portions in which kimchi and sauerkraut are eaten also differ. Kimchi is often consumed as a primary part of dishes. It can be added in generous amounts on top of a dish.
Kimchi might also be served in a bowl on the side. Sauerkraut is mainly eaten as a condiment. You will likely have more kimchi (and more nutrients) when offered a typical serving of both dishes.
Remember to watch your salt intake when eating sauerkraut or kimchi. Both dishes are usually prepared with a large amount of salt.
While kimchi and sauerkraut offer an abundance of probiotics and vitamins, you should consider adding other probiotic foods to your diet to keep your sodium intake within reasonable levels.
As you can see, kimchi and sauerkraut are both similarly nutritious. If you want to eat a more diverse range of vitamins, you should purchase kimchi containing several types of vegetables.
Remember to balance your intake of kimchi and sauerkraut carefully to enjoy the probiotic benefits without consuming too much sodium.
Taste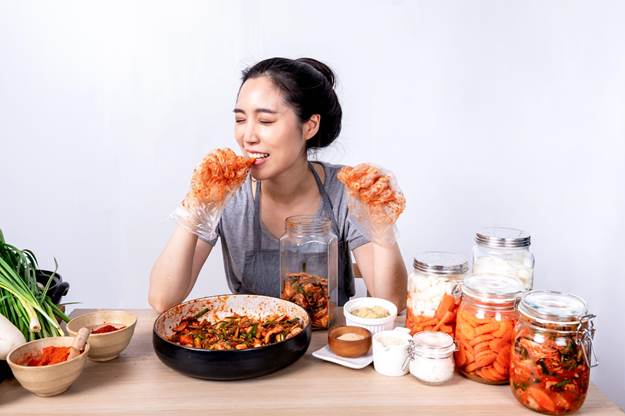 Sauerkraut tastes very similar to pickled cabbage and certain types of mild kimchi. Its distinct flavor results from the fermenting process used to make sauerkraut.
To make sauerkraut, the cabbage is chopped and submerged in a salty brine. The beneficial bacteria that live on the leaves of the cabbage feed on the sugars in the cabbage and gradually release compounds like lactic acid and acetic acid.
As the bacteria continue to feed, more and more lactic acid is released. The composition of the cabbage changes.
It becomes sour and soft and eventually turns into the sauerkraut that you're familiar with.
When seasonings like garlic, herbs, caraway seeds, fruit, or peppercorns are added, the flavor of the sauerkraut can have much more complexity.
Kimchi is prepared in the same way that sauerkraut is, with one key difference: kimchi is heavily seasoned. These seasonings are responsible for making the spicy and tangy kimchi that you're familiar with.
Not all kimchi is seasoned in the same way. And when different amounts of various vegetables are added to kimchi, depending on the recipe, what kimchi tastes like can vary wildly.
The most common ingredients to make kimchi are napa cabbages, radishes, scallions, ginger, gochugaru, fish sauce or dried seafood, garlic, carrots, and salt.
Other ingredients may be added depending on the recipe. Plant-based substitutions can replace the fish sauce's umami for anyone who avoids eating fish.
Sauerkraut and kimchi both have an incredibly appealing freshness and crispness. They both become slightly soft during the fermenting process, but the structure of the cabbage is maintained just enough that it has a firm consistency.
You should eat sauerkraut if you prefer tangy and sour food. Kimchi is the better option for eating crisp, fermented food with notes of sweetness, spiciness, and umami.
Health Benefits
Sauerkraut and kimchi offer comparable health benefits to those who eat them regularly. These well-preserved vegetables are both rich in vitamins and minerals.
And as a result of the fermentation process, sauerkraut and kimchi are also rich in B vitamins and probiotic bacteria.
The lactic acid fermentation process used to make sauerkraut and kimchi leads to a very rich culture of microbes like Lactobacillus developing. Simultaneously, the brine's saltiness helps deter harmful bacteria from growing.
Strengthening your gut microbiome by eating probiotic foods has improved digestion and nutrient absorption.
It's important to note that not all kimchi and sauerkraut contain probiotics. The probiotics will be killed off if the sauerkraut or kimchi are pasteurized for commercial sale.
You should avoid purchasing canned sauerkraut or kimchi. Jarred sauerkraut or kimchi, explicitly advertised as a probiotic, is a better option because you can be confident that it contains the helpful bacteria you need.
If you regularly eat fermented food and improve your gut microbiome, you might experience a reduction in the severity of issues like indigestion or constipation.
Because a good gut microbiome improves nutrient absorption, many people feel more energetic. They have an improved sense of well-being when they eat probiotic foods like kimchi daily.
Eating kimchi can increase your intake of vitamins. The variety of vegetables and ingredients used to prepare kimchi means it has many vitamins and minerals.
If you wish to consume more dietary fiber, we recommend eating sauerkraut.
Sauerkraut has a slightly higher amount of fiber per cup than kimchi. Dietary fiber is just as important as probiotics for improving your digestion.
Which One Is Better?
Neither kimchi nor sauerkraut is inherently better than the other. Both kimchi and sauerkraut have incredibly appealing flavors.
Both serve a significant role as beloved meals in different cuisines worldwide. Kimchi and sauerkraut are rich in probiotics and vitamins and have many health benefits when regularly consumed.
The answer to whether kimchi or sauerkraut is better largely depends on your preference.
Both foods offer significant health benefits, and each has its advantages. Both are culturally significant and can be used in various delicious recipes.
Sauerkraut and kimchi are a healthy addition to the average diet, with the probiotics and vitamins found in both being essential for good digestive health.
Eating fermented foods regularly is a good idea for the majority of people. Beyond their health benefits, probiotic foods can introduce you to some truly spectacular cuisine.
Immunocompromised and pregnant people should avoid eating probiotic kimchi and sauerkraut, however. While the beneficial bacteria in kimchi and sauerkraut are helpful in most bodies, they can cause issues when ingested by someone who is pregnant or has impaired immune function.
You should also monitor your sodium intake while eating kimchi or sauerkraut if that has been a past concern.
Frequently Asked Questions
What Is the Difference Between Sauerkraut and Kimchi?
A big difference between sauerkraut and kimchi is the ingredients used. Sauerkraut and kimchi generally both use napa cabbage as the primary ingredient. Sauerkraut is often unseasoned but may have ingredients like bay leaves, juniper berries, or peppercorns added for flavor.
Kimchi is always seasoned and may include ingredients like gochugaru and fish sauce. Kimchi is often made with other vegetables like radishes and carrots mixed in.
Both kimchi and sauerkraut are prepared using lactic acid-producing bacteria. As a result, you might find that sauerkraut and mild varieties of kimchi taste very similar.
The lactic acid these bacteria produce is responsible for preserving the cabbage and keeping it fresh for an extended period. It also leads to the tangy, sour flavor you're familiar with in sauerkraut and kimchi.
Which One Is Higher in Probiotics?
Kimchi is usually higher in probiotics than sauerkraut. Both foods are still worth eating, however. You can find good probiotic kimchi and sauerkraut in stores, but we recommend you shop carefully and avoid pasteurized options.
It's important to note that kimchi and sauerkraut don't offer diverse microbe strains. You should make sure to incorporate other probiotic foods into your diet.
Regularly eating kimchi, sauerkraut, kefir, yogurt, miso, and kombucha will help you build an incredibly diverse gut microbiome.
Can Sauerkraut and Kimchi Be Eaten Together?
You can eat sauerkraut and kimchi together. While a dish of sauerkraut and kimchi might be too much for a meal, many people enjoy mixing kimchi and sauerkraut to make a mild intermediate.
You can also eat kimchi and sauerkraut with different meals throughout the day. For example, you could start your day with a delicious kimchi rice bowl for breakfast.
And for dinner, there's no better way to end the day than enjoying a bratwurst and sauerkraut skillet.
Are There Any Side Effects of Eating Too Much Sauerkraut or Kimchi?
The main issue with overeating sauerkraut and kimchi is that you might consume too much salt and beneficial bacteria.
Excessive salt intake can contribute to problems like dehydration and high blood pressure and can be a concern for people who struggle with related health conditions.
If you over-ingest probiotics from sauerkraut and kimchi, you might experience digestive issues like gas, bloating, or diarrhea. Check out my post, does sauerkraut cause gas and bloating?
You can prevent this from happening by reducing your intake of fermented food, but cooking the fermented food and killing the bacteria is another good option.
Still, it's worth noting that many people enjoy eating sauerkraut and kimchi daily without issues. Kimchi is eaten with many meals in Korea, and sauerkraut is a staple food in Germany.
You can enjoy as much sauerkraut and kimchi as possible if you keep your salt and probiotic intake within reason.
Can Sauerkraut and Kimchi Be Made at Home?
Sauerkraut and kimchi can be made at home. People have been fermenting cabbage to make these dishes for thousands of years. With the right tools and a simple recipe, you can make sauerkraut and kimchi too.
Sauerkraut and kimchi are prepared by fermenting the cabbage in a jar. The cabbage is chopped into fine pieces using a thoroughly washed bowl and knife. Then, the cabbage is salted, and water is drawn out of the leaves.
After the salt has been allowed to sit for around 20 minutes, you will use a thoroughly washed strainer to drain all the water from the cabbage.
If you are making kimchi or seasoned sauerkraut, return the cabbage to the bowl and mix it in your seasonings.
Finally, the cabbage is placed in mason jars, and a salty brine is poured over it until completely submerged. The bacteria naturally found in the cabbage are allowed to ferment for around three weeks, and a delicious batch of sauerkraut results.
If you're ready to try fermenting, we recommend using this easy homemade kimchi recipe or this simple homemade sauerkraut recipe to make your first batch.