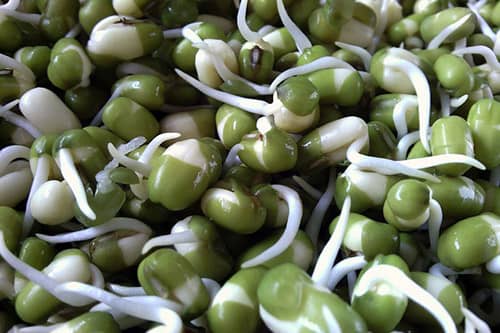 Getting Started Sprouting
If you are new to sprouting or curious about sprouting, there are a few things that you should know. You don't need to have a green thumb to master the art of sprouting. Sprouting at home is an easy process, and this guide will tell you everything that you need to know about sprouting and getting started sprouting.
What is Sprouting
Before you get started sprouting, you should understand what sprouting is. It's the process of increasing the nutrient value in a seed. This is done by taking a seed, nut, grain, or legume and letting it soak so that you can speed up the germination process.
Types of Seeds to Sprout
You can purchase sprouting seeds from health food stores or you can order them online. You can sprout practically almost all types of seeds from kale to onion to clovers. However, there are some seeds that you shouldn't sprout because they aren't good for you. Therefore it is better to use seeds specifically designed for sprouting. Some labels will note this on the packaging.
The types of seed that you don't want to sprout are
:
Avoid chemically treated seeds
Seeds that have been roasted, toasted, cracked, or milled.
Seeds that are in bulk bins
Equipment you Will Need to Get Started Sprouting
You don't need special equipment to sprout at home. You can use a jar with a mesh lid, or you can use a sprouting kit. Some equipment works better, depending on the type of seeds you use.
Here are some other types of equipment great for sproutings:
Weave sacks
Quart or half-gallon glass jars
Cheesecloth
Mesh screen
Trays with covers
Choosing a Sprouting Method
There are several different methods that you can use to sprout seeds. The most commonly used method is using a glass jar. Larger seeds such as legumes fare better using the sack method, or you can use a tray with a cover for leafy sprouts. If you are sprouting chia or flax seeds, you can use a terra cotta saucer.
Sprouting with a Glass Jar
The process involved with sprouting is simple:
Place your seeds, legumes, nuts, or grains in a glass jar of the way full. Add 1/2 a teaspoon of salt and fill the rest of the jar with warm filtered water.
Soak seed overnight, approximately 6-12 hours in water. It would help if you strived to soak them for at least 8-10 hours for the best results.
After you finish soaking the seeds, you need to drain and rinse them.
After you drain the seeds, you need to rinse them with freshwater and place them back in the bowl or jar. This should be done at least twice a day.
After 3-4 days or when the sprouts are the desired length, rinse, drain the sprouts, and dump them on a paper towel. Spread them out on the paper towel in a single layer so that they can air dry.
Check out our step-by-step instructions on how to sprout seeds in a jar.
Sprouting with a Plastic Grow Tray
After the seeds have soaked, you will place them in a plastic growth tray with punctured holes. You will have a nesting tray underneath the tray of seeds, and you will need to put it in an area where there isn't direct sunlight. Mist the seeds with a spray bottle for 2-3 days until sprouts appear. You will then rinse and drain the sprouts to remove hulls and unsprouted seeds.
Sprouting with a Sack
After the seeds go through the soaking process, you will need to transfer them to a mesh sack. You will need to hang the sack so that the water drains completely, and you need to make sure that air circulates. Repeat the rinse and draining process by dunking in a bowl of cold water three times daily for the next 2-5 days until a tail appears. After this, you can harvest the sprouts and do a final rinse and drain before storing and cooking the sprouts.
Sprouting with a Terra Cotta Saucer
If you plan on sprouting flax seeds or chia seeds, the best method is by using a terra cotta saucer.
Place the seeds in at the bottom of the terra cotta saucer
Place the terra cotta saucer in a plate of water bigger than the terra cotta saucer
Use a second plate to cover the terra cotta saucer
The terra cotta saucer soaks up the right amount of water for the seeds to sprout.
You can harvest the seeds within 2-3 days.
Sprouts can last for 5-7 days when stored properly in the fridge.
The Benefits of Sprouting Grains
Sprouting gains offer several benefits for those that are health conscious. Sprouts are considered a superfood loaded with proteins, vitamins, antioxidants, and minerals that can be added to any recipe or substituted for less healthy ingredients for a tasty and healthy snack or meal. Not to mention you can store them longer and use them to make an all-grain flour to bake healthier loaves of bread and cakes.
Ways to use Sprouted Grains in Recipes
There are many ways that you can enjoy your sprouts. Sprouted grains are the perfect ingredient to add nutritional value to just about any recipe. Keep in mind that sprouted grains need to be cooked before you can consume them. The only sprouts that you can eat raw are vegetable sprouts.
Here are some ideas of ways that you can use sprouted grains in recipes:
Substitute grain flour for regular flour in bread and cakes. Dehydrate and grind the grain sprouts into a grain flour.
You can use them to make a high energy protein drink. You blend wheat sprouts, a banana, wheat germ, honey, and milk, pour in a glass, and voila a healthy energy drink.
You can continue growing grain sprouts to make barley or wheatgrass, which is perfect for juicing.
Fresh vegetable sprouts can be added to salads, soups, or other dishes, just like adding herbs and spices.
Conclusion
Sprouting can be time-consuming when you are just getting started sprouting; however, as you can see, the steps and processes are simple and easy to follow. The things that you can do with sprouts are fun and limitless. Just remember to store the sprouts properly, and you can enjoy experimenting with this superfood.
Try These Easy Seed Sprouting Recipes