What makes Apple Cider Vinegar Different From White Vinegar?
Apple cider vinegar
has 4-6% acetic acid
made from the fermentation of apples
used primarily for cooking, can be used for cleaning
Color: brown, murky liquid
White vinegar
has 5% to 10% acetic acid
made from the fermentation of grain alcohol
used mostly for cleaning and some cooking
color clear and clean liquid
The most significant difference is that apple cider vinegar is derived from the bacterial fermentation of apple juice. In contrast, white vinegar is made from water and acetic acid and diluted five to ten percent acid to water.
It is common to find white vinegar in most homes. White vinegar is used as a cleaning agent and sanitizer and is perfect for cleaning glass and other hard surfaces. White vinegar is used in cooking and is an ingredient of mustard and vinegar.
Apple Cider vinegar is another common type of vinegar found in the kitchen. Although it is similar to white vinegar, they are not exactly alike.
For example, white vinegar is commonly used to clean windows, while apple cider vinegar is a great ingredient to brighten up any salad dressing, soup, or braising meat.
White Vinegar Vs. Apple Cider Vinegar 
This type of vinegar is the strongest, with 5% to 10% acetic acid. It has a clear color and is extremely sour to taste. 
However, apple cider vinegar has a reduced 4-6% acetic acid which means it is not as strong. It also has a different brown color and a sweeter/sour taste than fermented apples. 
Everything To Know About Apple Cider Vinegar
Apple cider vinegar has many health benefits and is great for your skin and hair. It can also be used for various other things, like cleaning and cleaning the house, but what is in it? 
How Do You Make It?  
You create it by using apples, sugar, and yeast. You crush the apples, then mix it with the sugar and yeast.  This starts the fermentation process. 
There are two stages to fermentation, including acidic and alcohol. 
You start with alcohol fermentation, where the yeast bacteria feed off the apples and sugar. This converts it into alcohol. 
Then you have the acidic process to make it into vinegar. Acetobacter bacteria colonize the liquid and feed off the remaining sugars. 
What Is It Used For? 
Apple cider vinegar has many uses because of its properties. Humans have been using it in their food for years for health kicks and on their salad dressing or marinating their meat; the list is endless. 
Even though there is no scientific evidence for these benefits, people swear by it and put it in their smoothies every morning. 
It is also recommended always to buy the most unfiltered and raw option you can have with the mother of vinegar in it. This way, you have the most natural product, which has avoided any processing. 
White Vinegar 
You will find this in most American homes, which is usually known by the terms 'distilled white vinegar. You will find some differences in this vinegar compared to apple cider vinegar.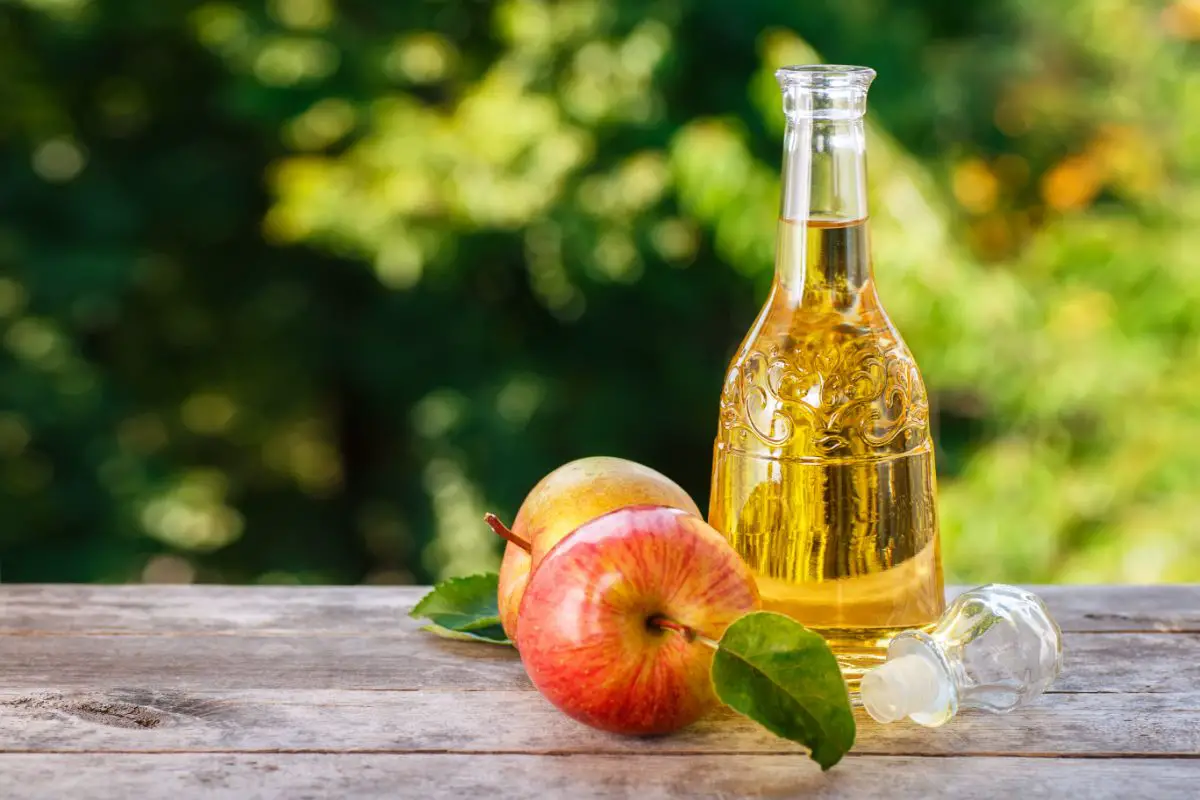 How Is It Made? 
White vinegar is extremely strong and effective for different types of cleaning around your home due to its aggressive nature in removing stains and odors. 
While apple cider vinegar has different fermentation processes, white vinegar has a natural process. Originally, white vinegar was made using extremely starchy fruit and vegetables like potatoes or whey, but now there is a different process. 
Now they use grain, sugar, and yeast. They trigger the alcohol fermentation stage when mixed, producing what we all know as vodka and ethanol. 
Due to ethanol not containing nutrients, they add phosphates to start the acidic fermentation part. Acetobacter colonizes the liquid and feeds on the sugars inside again; that is the last step. It is then diluted. 
Uses For White Vinegar
People also use white vinegar and apple cider vinegar to marinate meat. Many people also use white vinegar as a cleaning solution due to the strength of its properties. 
Differences 
Acid concentration - white vinegar has a higher concentration than apple cider vinegar. White vinegar can be up to 10%, while apple cider vinegar is only 6%. 
Color - The white vinegar is see-through and very clear, whereas the apple cider vinegar has a browner color because of the fermentation of apples. 
Cooking - most people use white vinegar for pickling vegetables because it is more acid and clearer. It is also very good with baking soda as a leavening agent for baked goods.
However, apple cider vinegar is more popular for seasonings and salad dressings. 
Taste - they both have completely different tastes. Apple cider vinegar has a very strong apple taste, whereas white vinegar has a tart scent. 
Household uses - white vinegar is the best tool for antibacterial purposes and stain removal. However, apple cider vinegar has been known to be great for dandruff removal. 
Can You Substitute Them For Each Other?
Yes, even though they have different properties, they can still be used to substitute each other in certain circumstances. There is also a wide variety of vinegar apart from these two, which they can substitute. 
They have quite similar purposes, but one is stronger than the other. However, you can still make it work!  
Conclusion 
Overall, there are several differences between white vinegar and apple cider vinegar that most people do not know about. However, this guide answers every question you might have concerning these two different types of vinegar. 
It outlines what it is, how it is made, and what it is good for. Most people do not know about the benefits it can have for you and your home, but hopefully, this guide has shed some light on how to use vinegar and not just your food. 
You can even substitute them for each other if you only have one of them. The main difference is the acidity each of them has, as white vinegar is stronger. 
Frequently Asked Question
Is White Vinegar Better Than Apple Cider Vinegar?
Apple cider vinegar is the most popular vinegar in the US. It has a long history of use and is considered a healthy ingredient for many dishes.
Vinegar is also used for cleaning, but does it have other benefits? It all depends on what you need to use them for. However, they both do the same job for most purposes.