If you've never heard of mother vinegar, you're not alone. This strange substance isn't well-known outside of fermentation circles, and its presence can be extremely alarming to anyone new to the craft.
You might be wondering, is mother vinegar harmful? Do you have to get rid of mother vinegar? In this article, I'll explain everything you need to know about mother vinegar and how you can use it.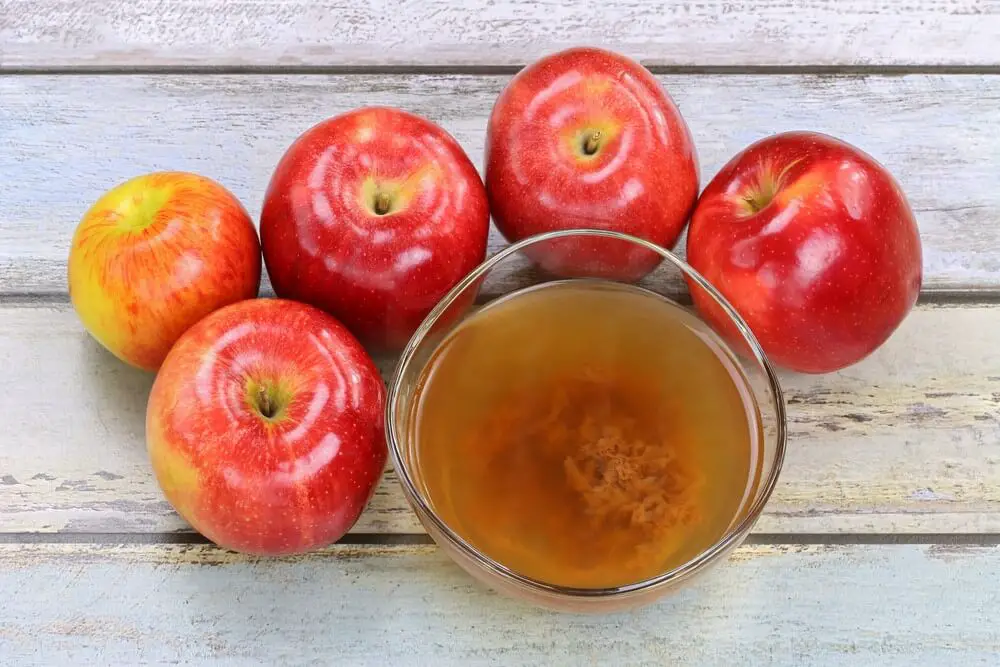 Introduction to Mother Vinegar
Mother vinegar comprises a combination of microorganisms, including acetic acid bacteria, yeast, single-cell fungi, and a type of cellulose film. The sediment or "mother" that forms in vinegar is composed of these microorganisms and gives the vinegar its gelatinous form.
The mother vinegar grows particularly well in vinegar with live cultures kept in temperatures between 60 and 80°F.
The nature of the mother of vinegar was first understood in the early 1700s when a scientist named Hermann Boerhaave began researching vinegar. He determined that the mother of vinegar was a vital part of the acetification process responsible for making vinegar so sour and delicious.
Many researchers continued to study mother vinegar after Boerhaave's original breakthrough. Christian Hendrik Peerson named it Mycoderma, and Louis Pasteur determined that mother vinegar produced acetic acid in vinegar.
Today, interest in mother vinegar remains high — and it's especially popular among home fermenters who wish to make their own homemade vinegar. Many types of mother vinegar are used, including beneficial bacteria strains and yeast species.
Health Benefits of Mother Vinegar
If you have heard about mother vinegar, what you heard was probably related to the health benefits of vinegar. Many people have recently become enthusiastic about brands such as Bragg's that include the mother in their vinegar. But does the mother vinegar actually offer health benefits?
The most significant benefit of mother vinegar is its many probiotic properties. Because the mother itself is made up of lactic acid bacteria, fungi, and yeast, you can trust that the vinegar will give your gut a healthy boost.
These microorganisms may help your digestive function. If you have a poor gut microbiome, the lactic acid bacteria in the vinegar will quickly begin reproducing in your stomach and improve your digestion. This can improve nutrition absorption over time and help prevent heartburn and acid reflux.
The vinegar may also have antimicrobial effects on your body. Vinegar with the mother is known to be anti-fungal, anti-yeast, and antiviral — and the good bacteria in the mother can help ward off harmful bacteria inside your digestive system. Regularly consuming mother vinegar can give your immune system the support it needs to thrive.
Mother vinegar can even be used for skin and hair care. Many people enjoy using mother vinegar as a hair wash because it can reduce the alkalinity of hair and make it less frizzy and dull in the process. Mother vinegar is also believed to be a great exfoliant and treatment for pimples and acne due to its pH.
How to Use a Vinegar with Mother
Mother vinegar offers plenty of health benefits when incorporated into a diet. It's easy to find and delicious to eat, and you won't have to compromise to include it. Hundreds of incredible recipes incorporate mother vinegar for a splash of healthy acidity.
Many people enjoy making salad dressings and marinade with mother vinegar. You can combine the mother vinegar with honey or agave, dijon mustard, olive oil, and garlic to create a flavorful and refreshing vinaigrette. It's perfect for adding to salad and can even be used as a bread dip.
You can also use mother vinegar for pickling vegetables. Many people enjoy using mother vinegar when preserving foods like radishes and cabbage because it has a particularly strong and tangy flavor. It's incredibly simple to use, too, since you can incorporate it into the pickling process like any other type of vinegar.
Ultimately, mother vinegar makes a great addition to any dish that could use a splash of acid. The only thing you should remember when using mother vinegar is that it will lose its probiotic benefits if you cook it, so adding it to a soup or pasta dish just before you eat may be the better option to preserve its healthy properties.
You can use mother vinegar to glaze meats and savory pastries and as an ingredient in pie filling, and it can make an excellent addition to the broths of savory stews. You can even add it to sweet treats like apple butter and smoothies. The possibilities are endless as long as you're creative about using it.
Related: How to Make Apple Cider Vinegar from Scraps
How to Make Mother Vinegar at Home
There are a few ways to get your own mother vinegar. Many people enjoy purchasing unpasteurized vinegar because it often forms a mother. But if you want to make your own vinegar mother at home, you're not alone — and luckily, making it is a relatively simple process.
To start, you'll need to ensure you have all the right equipment. You will need a glass jar or another non-reactive container. You will also need a tight-knit paper towel that can prevent pests and contaminants from falling into the vinegar.
You'll also need to gather some ingredients. You should collect 400ml of 6% ABV alcohol and a sample of live unpasteurized vinegar. You can make your own vinegar from scratch, but using an existing sample of unpasteurized vinegar still offers you some control over the process while making it significantly quicker.
Mother Vinegar Recipe
After you've gathered all of the necessary ingredients and equipment, you're ready to start making your vinegar mother. The acetification process will allow the live vinegar microorganisms to feed on the alcoholic liquid. As mentioned, you'll need alcohol with 6% ABV because it provides the ideal environment for the friendly bacteria to grow.
If your alcohol is more potent, you can use it by making a few adjustments. Diluting with water is the easiest method but may result in a weaker overall flavor. You can gently simmer your alcohol to cook off some alcohol content to make a more robust flavor vinegar.
According to the USDA Table of Nutrient Retention Factors Release 6, you can expect the following amounts of alcohol to remain per amount of time cooking at 173°F. Note that the approximation may vary because the rate of alcohol evaporation will be much higher if you use a pan with a greater surface area.
| | |
| --- | --- |
| Time cooked at 173°F | Percent alcohol remaining |
| 15 minutes | 40 percent |
| 30 minutes | 35 percent |
| 60 minutes | 25 percent |
| 120 minutes | 10 percent |
| 150 minutes | 5 percent |
Once your alcohol has the proper ABV, you must combine four parts of alcohol with one part of unpasteurized vinegar in your jar. Cover the top of the jar with a tight-knit breathable cloth and seal it over the lip of the jar with a rubber band.
Allow the vinegar to sit and acetify in a room-temperature space. You should ensure the vinegar is not exposed to direct sunlight or extreme heat. The vinegar will become cloudy within one to two weeks, and a gelatinous blob will form in the vinegar.
Your vinegar will be ready to eat within one to two months after beginning the acetification process. You can drain the vinegar from the jar and keep it in your refrigerator. If you leave the vinegar mother and about one-third of the vinegar in the jar, you can add four parts alcohol again to make even more vinegar.
Make sure to take good care of your vinegar mother. It may become inactive if you leave it in the vinegar for too long and all the alcohol is consumed. You should periodically remove the vinegar you intend to eat and add a new 6% ABV beverage to the mother to help it thrive.
Remember to experiment as you make each new batch of vinegar, too. You can achieve incredible new tastes by adjusting the fermentation time, temperature, or even alcohol you use to make your vinegar. The possibilities are endless!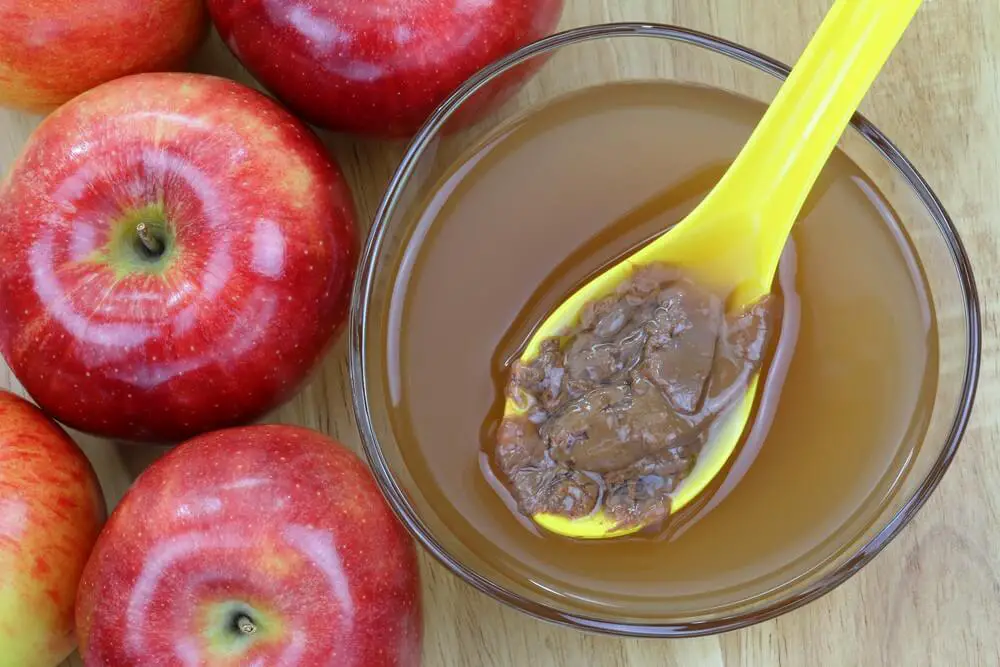 Frequently Asked Questions
What is the difference between mother vinegar and regular vinegar?
The difference between mother vinegar and regular vinegar is that mother vinegar contains live and active cultures. It often forms a congealed 'mother' that contains lactic acid bacteria, fungus, and yeast — all of which are beneficial to consume! Regular vinegar is typically pasteurized and offers no probiotic benefits for gut health.
Related: Difference Between Apple Cider Vinegar and White Vinegar
How long does it take to make mother vinegar at home?
If you start with an existing sample of live unpasteurized vinegar, you can expect it to take one to two months to make your own mother vinegar at home. The process is much longer if starting from scratch because the amount of microorganisms present is significantly lower.
Can I use any type of vinegar to create a mother?
You cannot use any type of vinegar to create a mother. It's acceptable to use any flavor of vinegar, ranging from white vinegar to red wine vinegar to apple cider vinegar, but you cannot use pasteurized vinegar because it does not contain live microorganisms. You will need to purchase unpasteurized vinegar to get the right start.
Can I reuse the mother from a previous batch of vinegar?
You can reuse the mother from a previous batch of vinegar. In fact, many fermenters recommend reusing the mother from your previous batch of vinegar for each new batch because it makes the process significantly faster and more reliable. Starting from scratch is much slower and has a higher risk of failure or contamination.
Are there any risks or precautions when making mother vinegar at home?
There are a few risks when making mother vinegar at home. If your vinegar batch becomes contaminated, eating it might be harmful. You can usually tell if vinegar is contaminated because of its foul taste, texture, and smell.
You can prevent contamination by washing your containers thoroughly and sealing your jar with a tight-knit cloth to ward off dust and insects.