Apple cider vinegar is a product that many people are very familiar with. It is used for cooking, cleaning, and even just drinking for a health boost. There is also a great way to make a similar product at home: Apple Cider Vinegar from Scraps.
While apple cider vinegar is fermented apple cider, this recipe will be much faster and it will give you a way to repurpose your apple scraps.
To make apple cider vinegar, or apple scrap vinegar, you will need to combine apple scraps, water, and sugar in a jar and wait for it to ferment for a few weeks. Then you strain out the apple scraps and let the liquid sit for another few weeks until it has a vinegary smell and taste.
This is just the most basic version of the instructions for this, but there are a lot of other factors in the recipe to take note of. We will go over all of the little details of this recipe, and you will be surprised when you see how easy it is to make, and how customizable it is too.
Apple Scrap Vinegar: The Basics
Before we talk about how to make apple scrap vinegar and all of the little details, it is important to inform you of the benefits of making apple scrap vinegar and look at what it can be used for. After all, why would you spend the time making it if you don't even know what you'll use it for?
Apple cider vinegar in meals
Apple cider vinegar is already an ingredient that all sorts of recipes require. Apple scrap vinegar can be used in a similar way. Some of the most common uses for it are in foods like salad dressings, marinades, soups, and sauces. Apple scrap vinegar makes a great vinaigrette for salads. Its tart and sweet flavors can make any salad dressing more interesting and bold. Marinating a steak in it can create a new level of sweetness that is very enjoyable.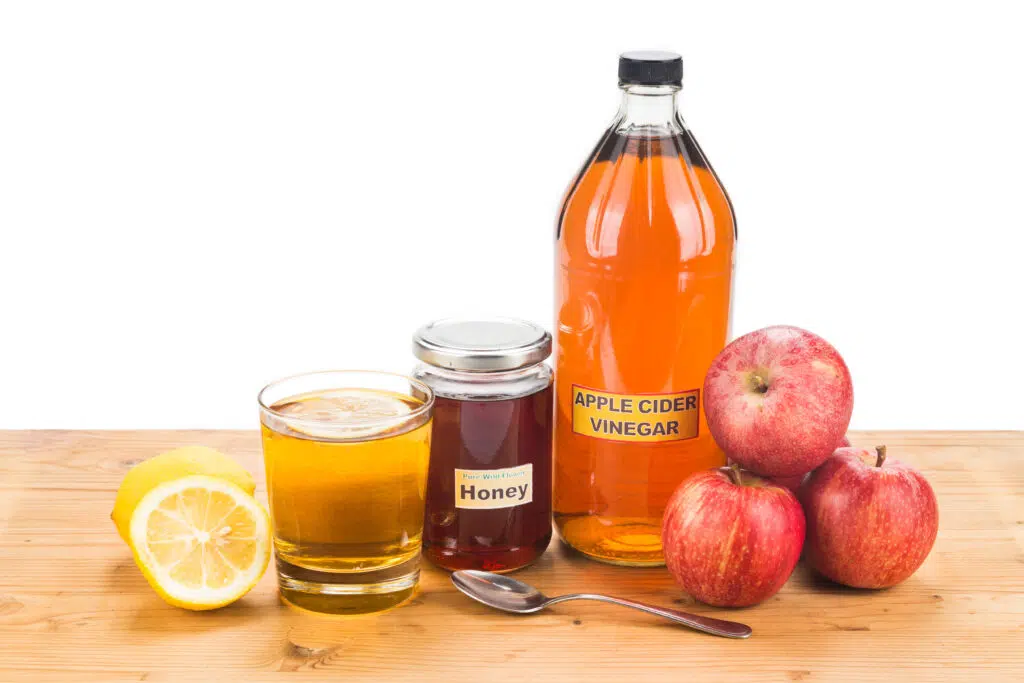 Putting apple scrap vinegar in a soup can really bring the flavors out and will make it bolder. Savory dishes blend well with the tartness and sweetness in the vinegar. Finally, putting it in all sorts of sauces can bring along flavors that pop much more and complement the other ingredients. Apple scrap vinegar can also be used in baking as a replacement for apple cider vinegar. The end product will turn out pretty much the same!
Other Uses
Outside of the kitchen, apple scrap vinegar can be used for all sorts of different things. Some of these uses are all-purpose cleaner, a facial toner, a hair treatment, a mouthwash, a flea repellent, and all sorts of other uses. Apple scrap vinegar has antibacterial properties that make it great for cleaning and sanitizing. It can also be a great liquid to use on your skin and hair because it refreshes them and removes excess bacteria.
Apple scrap vinegar also makes for a great flea repellent for your dog or cat. The odor is not something that fleas want to hang around in, so spraying your pet with a half water half vinegar mixture will help keep the fleas away. It will also help kill any other bacteria that could harm your pet in the process.
Why make it?
A question you probably have by now is why make apple scrap vinegar when apple cider vinegar is so cheap and widely available? While it is totally up to personal preference, there are definitely some benefits to making apple scrap vinegar. The main benefits are that it is cheap, easy to make, and it reduces waste.
While apple cider vinegar is not expensive, it is still cheaper to make your own apple scrap vinegar at home. It costs next to nothing to make it, and you can make a lot. It is really just water, sugar, and apple scraps. If you are considering making this, you probably already have a lot of apple scraps. You will save money over time and that can be a great benefit.
Apple scrap vinegar is super easy to make. Most of the process just involves waiting for it to ferment. It takes very little time to make this recipe, so why not save a little money?
Making your own apple scrap vinegar will help you waste fewer apples. Now you have a use for all of your scraps. Even if you don't mind throwing them away, it is really cool to know how many apples you are saving. You are also preventing yourself from throwing away finished apple cider vinegar bottles because you don't need to buy them anymore. You're reducing waste from packaging and produce! It's a win-win.
Apple Cider Vinegar vs Apple Scrap Vinegar
We have talked a lot about how apple scrap vinegar can be used in place of apple cider vinegar, and it has so many similarities to apple cider vinegar. Apple scrap and apple cider vinegar are pretty much interchangeable and can be used in the same way, in the same amounts, and for the same things. However, they do differ slightly.
Apple cider vinegar is made by fermenting apple cider. Apple cider is apple juice boiled to concentration. To make vinegar, that cider is then put away for a while to ferment. Apple cider vinegar has antibacterial properties and it is used for all of the things that we have mentioned apple scrap vinegar is also good for.
Apple scrap vinegar is made a bit differently. This vinegar is made by covering apple scraps with water and sugar and leaving them to ferment. Then, the scraps need to be removed and the remaining liquid should ferment again for the same amount of time so that it becomes vinegar. The end product is also antibacterial and can be used interchangeably with apple cider vinegar.
These two kinds of vinegar are very similar, they are just made a bit differently. No matter what type of vinegar you prefer, they will provide you with the same effects when you're cleaning and cooking with it.
Different Apples for Different Flavors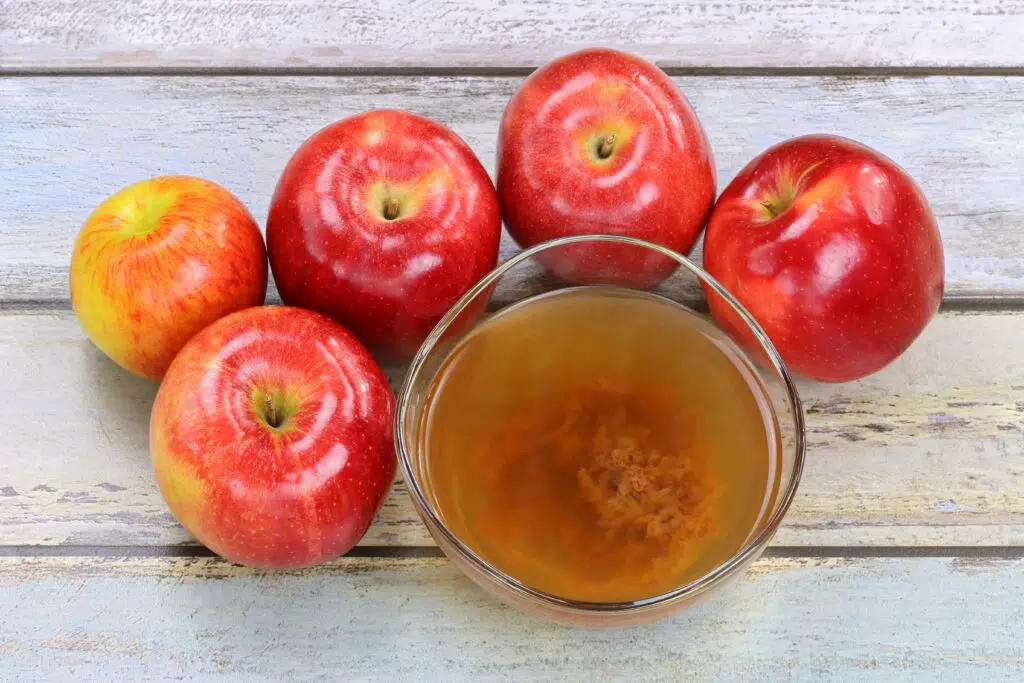 It is probably expected that different apple scraps from different apples will each give the vinegar a distinct taste. If you use sweeter apple scraps from Gala, Fuji, and Jonagold apples, you will get a sweeter vinegar that might take some extra time to ferment and get to that tangy taste. If you use more tart apples, like Granny Smith, Pink Lady, and Jazz, your vinegar will be much more tart and will probably need a lot less time to ferment.
Another thing to consider when picking apples is how strong the flavor is. If the apple has a strong flavor, then the vinegar will probably have a strong apple flavor. If the apples chosen have a light or subtle flavor, the vinegar will have a subtle apple taste and a stronger vinegar taste. It is all up to personal preference.
Why you need Sugar
Some people wonder if sugar is a necessary ingredient when making apple scrap vinegar. The sugar in apple scrap vinegar is a necessary part of the fermentation process. The good bacteria in any fermentation need something to feed on. The sugar or honey that is added is what the bacteria will eat so that the mixture will ferment. Honey is an alternative to sugar, but it drastically slows the fermentation process down.
Tools and Ingredients
To make apple scrap vinegar, you do not need very many tools or ingredients at all. It is a simple recipe and most of the things needed will very likely already be in your home. There are 3 necessary tools, and 3 necessary ingredients to make apple scrap vinegar.
Tools
To make apple scrap vinegar, you will need a container. Glass jars are usually the best option for this item. Metal bowls or containers will give the vinegar an unpleasant taste and should be avoided. Plastics will also work, but they can put harmful chemicals in the vinegar that most people do not want to consume. If you can, stick to glass jars or bowls as your container for the vinegar.
You will also need a scrap of fabric or a coffee filter. For most fermentation, you would want there to be very little, to no air interacting with the thing being fermented, but for apple scrap vinegar it is a bit different. You want the air to be able to get to the mixture, but you want to keep any bugs or dust out.
To do this, you can cover the top of the jar with a cloth or coffee filter and secure it with a rubber band. If you're using a cloth, make sure it is similar to linen or another thin cotton fabric so the air can pass through.
The final tool is a strainer. After the first two weeks of fermentation are up, you will want to strain the apple scraps out of the liquid and throw them out. This will help the vinegar have time to ferment without being overwhelmed with apple flavor. Use the strainer to make sure that no scraps are left behind.
Ingredients
The main ingredient in apple scrap vinegar is very obvious. It is apple scraps! These can be scraps like peels and cores that you will not eat, or they can just be whole apples cut up into chunks. You will need enough to fill up the jar or container ¾ of the way. This will be the main flavoring in the vinegar.
The next ingredient is just water. This will be the base of the liquid and it will give the apples something to ferment in. You need enough water to just cover the apple scraps. Make sure that there are a couple of inches of room at the top of the container.
The final ingredient is sugar. This is the fermenting agent because it will keep the good bacteria alive. You should put in one tablespoon of sugar for every cup of water, so make sure to measure the amount of water it takes to cover the apples when you are putting it in.
Step-by-step Instructions
Fill the jar with the apple scraps up to about the ¾ mark of the jar. In a separate bowl, mix the sugar and water together until it is mostly dissolved. You can then pour the sugar water over the apple scraps in the jar so that it comes up just above them. Make sure that there are a few inches of room left at the top of the jar after the sugar water has been added.
Now you want to cover the jar so that air can still get in and out of it. This is where you will place a coffee filter or scrap of fabric over the top of the jar and secure it with a rubber band. This will keep any bugs or dust out of it while it sits and ferments.
Place the jar in a warm, dark place for about two weeks. This will give the bacteria time to settle in and it will give the apples time to flavor the sugar water. If you would like, you can stir the mixture every few days and skim any scum off of the top. This will help keep it as fresh as possible.
After the two weeks, strain the scraps out of the liquid. It should smell sweet and cidery at this point, but the goal is to turn it into vinegar. You can discard the scraps, or use them in compost. Once the liquid has been strained, put the mixture in the same place for another 2-4 weeks. You can do a smell and taste test to check in on if the vinegar is to your liking or not. Make sure it is still covered during this second set of weeks.
Once you like the smell and taste of it, you can put a proper cap on it and store it in the fridge. It will not go bad this way and you can use it for all sorts of things from here on out!
RELATED FERMENTATION GUIDES
Now that you've learned all about how to make Apple Cider Vinegar from scrapes, here are a few things that you might find interesting…