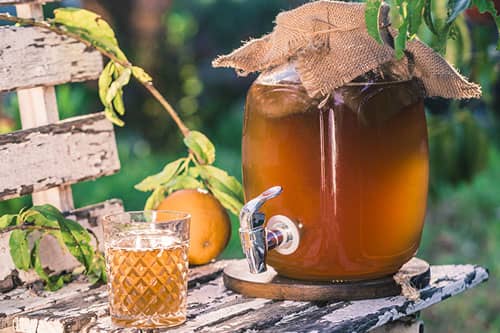 As an Amazon Associate, I may earn a small commission from qualifying purchases if you click to Amazon from my website and make a purchase. Please read my complete disclosure for more details.
Second Fermentation
If you'd like to add a fruit flavor or increase your Kombucha's carbonation, try a second fermentation. When you have finished your 1-2 weeks of initial fermentation ( try our Kombucha one-gallon recipe), pour the fermented tea into glass bottles for storage. Rather than putting them into the fridge and decreasing the fermentation rate, leave them at room temperature to continue fermenting.
There is an endless variety of ways to flavor Kombucha during the second fermentation. Try fresh, frozen, and/or dried fruit, fruit juices, herbs, spices, berries, peppers, and even dark chocolate. This makes the second fermentation a fun and exciting experience you can share with the whole family.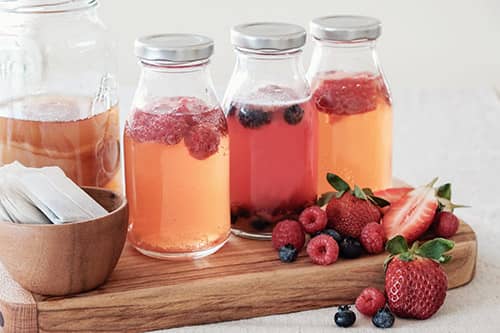 Kombucha's second fermentation is similar to how beer and champagne are made. The fizziness is created when yeast eats up the sugar from the added fruit, converting it to carbon dioxide.
Bottling a Second Ferment
​While the kombucha tea is still in the brewing vessel, give it a good stir. This will help mix the yeast and bacteria evenly throughout the tea and ensure each bottle has a fair amount of carbonation.
Add 1/2 cup of chopped, pureed, or juiced fruit and the Kombucha tea into each 16 oz. bottle. Be sure to leave ½ – 1 inch of head-space at the top of each bottle. Use a pitcher and funnel to prevent spillage.
What Kind of Bottles to use for Kombucha 2nd Fermentation
Use Grolsch-style bottles. However, make sure they are a quality glass bottle; just because it looks like a Grolsch-style bottle does not mean it is one. I suggest buying new to ensure you get the right kind. The bottles have to be strong enough not to explode under the pressure of carbonation.
Try these Amber Glass Beer Bottles for Home Brewing with Flip Caps or these Clear Glass Swing Top Bottles.
Storing Bottled Kombucha
Store the bottles in a dark cupboard, or at least away from direct sunlight for 2 days – two weeks at room temperature. The carbonation will build during this time, make sure to burp the bottles every other day to release excess pressure and avoid exploding bottles.
Opening Bottles Safely
The buildup of carbon dioxide during secondary fermentation means the bottle will be under pressure.

Cover the bottle with a towel to catch any spraying tea and open the top slowly over the sink while applying downward pressure. Check out this post on how to avoid bottles exploding during the second stage of fermentation.
Test The Second Ferment Kombucha
After two days, you can start testing the second fermented Kombucha to see if it's ready. If the flavor is to your liking, then it is time to refrigerate all Kombucha bottles. The cold temps will help keep the tea's carbon dioxide, so it's less likely to fizz over and make a mess when you open it.
The longer the bottles sit at room temp, the more carbonation will build. Be sure to move them to the fridge after a couple of days to pause the fermentation process and prevent over-carbonation.

What if the Kombucha is not fizzy enough?
If you are not satisfied with the carbonation, you can put them back in the cupboard and continue fermenting for another 2 -3 days. Then chill and test again to see if the carbonation levels are better.
Due to the vast variables of temperature and sugar levels in the fruit, some batches could be ready in two days, while others could take a full week to reach the perfect level of fizz.
How to Flavor and Bottle a Second Ferment Kombucha
In less than a week, you can create your own custom fruit-flavored, fizzy, and slightly sweet Kombucha!
Ingredients
1/2 gallon Kombucha tea from the first fermentation
1 Grapefruit or 1/2 cup Grapefruit Juice
1-2 Mint sprigs
optional: 1 -2 tbsp of honey
Instructions
Juice the grapefruit
Add the kombucha tea, grapefruit juice, and mint sprigs to a bottle
leave an inch of headroom in each bottle
Store the bottled kombucha at room-temperature out of direct sunlight and allow 2 to 14 days for the kombucha to carbonate.
After fermenting, move to the refrigerate to store.
Serve chilled over ice!, Enjoy!
Notes
Suggested Ratios for Flavoring Kombucha Tea
When flavoring with fresh, frozen, or dried fruit, start with a ratio of 10-30% fruit and 70-90% Kombucha tea.
If flavoring with a fruit juice, start with 10-20% juice and 80-90% Kombucha tea.
Herbs' strengths can vary, so you are left to experiment and create the best ratio for your preferred flavor profile.
https://fermenterskitchen.com/kombucha-second-fermentation/
Equipment needed for a Second-Ferment & Flavoring Kombucha
---
The information on this website is for educational purposes only. It has not been evaluated by the FDA and is not intended to diagnose, treat, prevent, or cure any disease. You assume full responsibility and liability for your own actions.
FTC Disclosure: As an Amazon Associate, Fermenters Kitchen earns from qualifying purchases. Fermenters Kitchen receives a small commission on all purchases made through Amazon links in our posts.