Sauerkraut is an incredibly nutritious food. Rich in vitamins and probiotics, sauerkraut is a food many people rely on to nourish themselves. But if you practice a diet where you need to reduce how many carbs you eat, it's easy to wonder whether sauerkraut has a concerning amount of carbs.
Fortunately, sauerkraut is very low in carbs. This is excellent for people practicing low-carb and keto diets because it allows them to enjoy all the nutrients in sauerkraut without worrying about a carb count. In this article, I'll give all the information you need to incorporate sauerkraut into a low-carb diet.
What Is Sauerkraut?
Sauerkraut is a food made by fermenting cabbage. It is popularly used as a condiment for foods like bratwurst and pork tenderloins. As a result of the fermenting process, the cabbage is effectively preserved and can be stored for a very long time.
It's believed that sauerkraut was invented 2,000 years ago in China. People may have fermented napa cabbage so that they would have a year-round source of food. By the 16th century, the practice had spread, and fermenting cabbage became extremely popular in Germany.
The practice continued to spread as people realized how nutritious sauerkraut was. When people realized that seamen were developing scurvy because they couldn't access fresh fruits and vegetables, many sailors started eating sauerkraut.
Sauerkraut is extremely nutritious. The most well-known benefit of sauerkraut is that it boosts gut health. This is a result of sauerkraut's high probiotic content. The beneficial bacteria in sauerkraut can live in the gut and aid digestion when eaten.
It is also vitamin-rich. One cup of sauerkraut offers almost 20% of the DV for vitamin C and around 16% of the DV for Vitamin K. You will also get a big dose of Vitamin B6, potassium, and iron when eating sauerkraut.
Related: Is all sauerkraut fermented? Facts and FAQs about Sauerkraut
Carbohydrates in Sauerkraut
Sauerkraut has a very low carbohydrate content. One cup of sauerkraut contains 4.16 grams of carbohydrates. This includes 2.8 grams of dietary fiber and 1.73 grams of sugar. Aside from being very low in carbohydrates, sauerkraut also has a good balance of the types of carbohydrates.
Dietary guidelines recommend that the average woman eats 25 grams of fiber daily and that the average man eats 35 grams daily. One serving of sauerkraut can offer a generous boost in fiber, but due to the high sodium content, I recommend incorporating additional sources of fiber into your diet.
Sauerkraut is very low in sugar. Sugar is sometimes added to commercially produced sauerkraut before fermentation, but you can make homemade sauerkraut with zero added sugar. The AHA recommends that people only eat 25 to 38 grams of added sugar daily, so even generic store-bought sauerkraut falls safely within dietary guidelines.
To maintain a low-carb diet, sauerkraut is better than many other fermented foods. In comparison, tempeh contains 12.7 grams of carbohydrates per cup. Plain whole milk yogurt usually contains around 13.64 grams of carbohydrates per cup.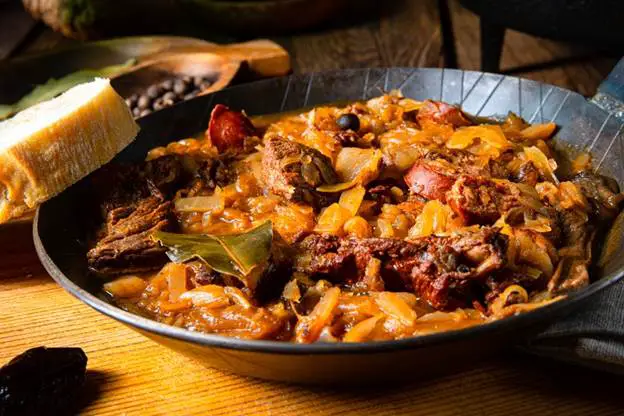 Carbs in Sauerkraut and Your Diet
Sauerkraut makes an excellent addition to a low-carb diet. It is a versatile and flavorful food with plenty of health benefits when regularly eaten. It has a shallow carb content but offers enough fiber and probiotics to improve digestion.
I recommend incorporating sauerkraut into your diet by pairing it with meat like sausage or beef. You can easily make a refreshing and flavorful meal by baking sauerkraut and bratwurst in a cast-iron pan.
That isn't the only way to eat sauerkraut on a low-carb diet. You can add sauerkraut to your deviled eggs recipe or prepare a flavorful salad with sauerkraut as one of the ingredients. These dishes will keep your carb count low without preventing you from enjoying delicious meals.
The low-carb quality of sauerkraut will help you enjoy numerous health benefits. Many people who eat a low-carb diet find that they can lose weight quickly and end any digestive discomfort they might experience due to dietary sensitivities.
And while a low-carb diet might make it more difficult for you to get fiber, sauerkraut will help keep your digestive system working as intended. The probiotics in sauerkraut will improve the quality of your gut microbiome. When you have a good gut microbiome, you will enjoy considerable improvements in how well your body can break down food and absorb nutrients.
Improved digestion isn't the only benefit of sauerkraut. Sauerkraut is high in calcium and vitamin K and can help keep your bones strong. Eating sauerkraut can also help boost your immune system and overall wellness due to improved digestion.
Frequently Asked Questions
How Can I Reduce the Carb Content of Sauerkraut?
You can reduce the carb count of sauerkraut by shopping carefully or making it at home. While sauerkraut itself is very low in carbs, ingredients added to sauerkraut can sometimes raise the carbs too high for it to be eaten on many diets.
I recommend making sauerkraut at home using a minimalistic recipe. You can make it with a lidded mason jar, cabbage, granulated salt, and water. You will also need two bowls, a mixing spoon, and a strainer.
Before making your sauerkraut, you must thoroughly wash your hands, equipment, and kitchen surfaces to ensure that your sauerkraut doesn't get contaminated with any bad bacteria.
After you're done preparing, all you need to do to start is to slice your cabbage and mix it with a dash of salt. I would recommend using one tablespoon of salt per head of cabbage. Mix the ingredients and let the mixture sit. The salt will draw water from the cabbage.
Drain the water mixture using your strainer after 20 minutes and put your cabbage into the jars you washed previously. Mix a brine with one teaspoon of salt for every cup of water and fill each jar until the cabbage is completely submerged. Make sure you leave half an inch of space between the top of the water and the lip of the jar.
Allow the kraut to ferment in a cool, dark space under 75°F. The mixture will likely need three weeks to ferment completely. You should release air from the sauerkraut every few days and check to make sure that no bacteria or contaminants have grown in your sauerkraut.
Can Sauerkraut Be Part of a Keto Diet?
Sauerkraut can be a part of a keto diet. In fact, many people consider sauerkraut to be a fantastic addition to a keto diet. Low-carb and keto diets are sometimes low in fiber, so the probiotics and fiber that sauerkraut provides can make a big difference.
There's no shortage of ways to incorporate sauerkraut into a keto diet. Many people enjoy doing simple roasts with sauerkraut and bratwurst. Sauerkraut is also a popular condiment to add on top of savory keto dishes.
You can even make delicious traditional dishes like bigos (also known as "hunter's stew") using sauerkraut. While you will also need to gather ingredients like sausage, bacon, cabbage, onion, and tomato paste, you won't regret making this dish.
Remember to purchase probiotic sauerkraut to enjoy the full nutritional benefits. Canned sauerkraut doesn't contain live and active cultures. Keep in mind that cooking sauerkraut will also kill off the beneficial bacteria.
Is Sauerkraut High in Fiber?
Sauerkraut contains 2.8 grams of dietary fiber per cup, making it an excellent supplement to a high-fiber diet, especially since it has minimal other carbohydrates and sugars. With that noted, sauerkraut isn't a good primary fiber source because it has a very high sodium content.
I recommend incorporating other low-carb high-fiber foods into your diet. Psyllium seed husks are a good option since they contain over 8 grams of fiber per tablespoon and zero sugar. Other low-carb, high-fiber foods include almonds, avocados, artichokes, and broccoli.