Sauerkraut offers tons of health benefits because it is a fermented food. It contains a tremendous dose of vitamins and probiotics that can help keep your body functioning at its best — and you only need a small serving to enjoy these benefits.
Considering that not all fermented foods are actually fermented, you're not alone if you're having some doubts. Things like vinegar pickles can leave you with lots of scrutiny about other fermented foods. Is all sauerkraut really fermented?
Understanding Sauerkraut Fermentation
Sauerkraut fermentation is a very old and well-understood process. It involves marinating cabbage in a salty brine and allowing the bacteria naturally found on the cabbage leaves to feed and produce lactic acid bacteria. Eventually, this process softens the cabbage and makes it crisp and sour.
Sauerkraut first became popular over 2,000 years ago when Chinese farmers and workers noticed they could preserve cabbage by allowing it to ferment in a jar. This allowed them to have a reliable source of vitamins even when produce wasn't readily available.
Some historians believe Genghis Khan, through his travels, helped the dish spread across Asia and Europe. Eventually, people in Northern and Eastern Europe made the practice ubiquitous so that they could have a reliable source of nutrients over the winter and during sea voyages.
Sauerkraut has plenty of advantages over the cabbage it's made from. It can keep for several months when jarred or kept in another airtight container without needing pasteurization or refrigeration. It also offers a fortified dose of vitamins because the lactic acid bacteria naturally produce nutrients like riboflavin and folate.
While sauerkraut isn't necessary to make it through the winter in the modern day, it remains just as popular — and it's easy to see why. It's one of the best foods to add tangy acidity and crisp textures to a dish. Its probiotic contents can also help keep your gut microbiome healthy.
You've probably enjoyed sauerkraut before. If it isn't already a regular part of your diet, it's certainly one of the best things you can add to improve your digestive health. But that leaves the same question: does all sauerkraut offer the same probiotic benefits?
Fermented Sauerkraut
Unfortunately, not all sauerkraut is truly fermented or probiotic. The difference between the two happens because of key differences in the preparation process. Both types of sauerkraut are delicious but don't offer the same nutritional benefits.
Making traditional fermented sauerkraut is a lengthy process. Aside from a head of cabbage and salt, fermenters making sauerkraut will also need basic kitchen tools and a fermentation container.
Before beginning the process, the kitchen tools and fermentation container are all thoroughly washed with soap. The cabbage is gently washed in cold water and separated into individual leaves. Finally, the cabbage leaves are shredded apart into thin strips.
Next, the cabbage is prepared with the brine. It is added to the fermentation container and mixed with appropriate salt and seasoning. Once thoroughly stirred, water is added until the cabbage is completely covered. Some space is left at the top of the container to accommodate gasses produced by the fermentation process.
Weights are generally used to push down the cabbage and ensure it stays submerged in the brine. Finally, the fermentation container is closed to ward off contaminants, and the mixture is allowed to ferment. The lactic acid bacteria begin to emerge from the cabbage leaves and feed on the sugars in the cabbage.
This process results in a few changes. The bacteria feeding on the cabbage eventually cause it to become soft and almost mushy. The feeding itself results in lactic acid, which helps preserve the cabbage mixture and causes the sauerkraut to become tangy and acidic.
The fermentation process continues over several months at room temperature. Eventually, the sauerkraut becomes mushy and reaches its final texture. The lactic acid bacteria slow down and stop producing as much acid because almost all the sugar in the cabbage is consumed.
As a result of the fermentation process, the sauerkraut is exceptionally long-lasting. The salt and acid work together to ward off any contaminants. The sauerkraut contains many more vitamins and live beneficial bacteria due to fermentation.
Non-Fermented Sauerkraut
Non-fermented sauerkraut is similar in many ways to fermented sauerkraut. It has a tangy flavor and crisp texture, making it a delightful addition to dishes. Unlike traditional sauerkraut, however, non-fermented sauerkraut offers none of the same probiotic benefits.
Non-fermented sauerkraut is made by allowing cabbage to soak in vinegar and salt. Making the non-fermented sauerkraut is similar to the typical process, as it thoroughly cleans your sauerkraut containers and processes the cabbage itself.
The main difference between non-fermented sauerkraut and fermented sauerkraut emerges from including vinegar in the sauerkraut brine. In typical fermenting, the lactic acid bacteria naturally found on the leaves of the cabbage feed on the sugars in the cabbage and produce lactic acid and acetic acid (vinegar).
These lactic acid bacteria cannot thrive while making non-fermented sauerkraut because the brine is too acidic too early. Worse yet, after the cabbage for non-fermented sauerkraut has been chopped and prepared, it is boiled over the stovetop until the cabbage softens.
The boiling process immediately kills all of the lactic acid bacteria present in the brine, effectively eliminating any probiotic benefits that the sauerkraut could have had. It doesn't offer any probiotic benefits because the bacteria are dead, and it doesn't have any extra vitamins because the bacteria were not given a chance to produce them.
While non-fermented sauerkraut is similar in flavor and texture to conventional sauerkraut, it is not an equivalent substitute for probiotic benefits or vitamin content. You should only purchase fermented sauerkraut if you are looking for a food that will provide genuine gut health benefits.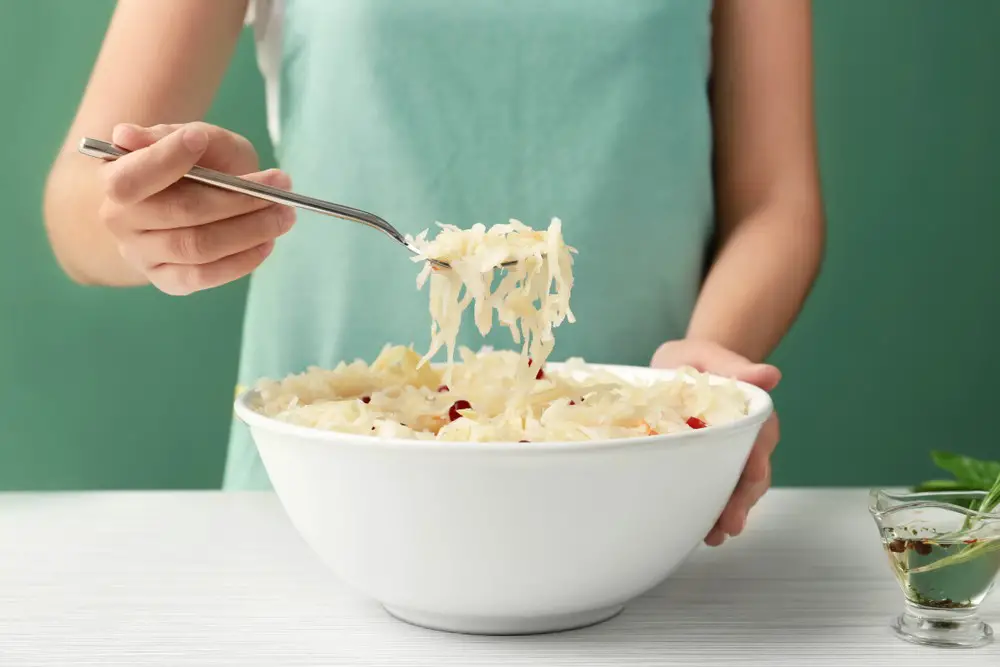 Differences Between Fermented and Non-Fermented Sauerkraut
Fermented and non-fermented sauerkraut are similar in many ways. Non-fermented sauerkraut is meant to serve as a quick and easy substitute for real sauerkraut when it isn't immediately on hand, so the two are pretty similar in taste and texture. There are a few differences, however.
Non-fermented sauerkraut is often texturally "off" from real sauerkraut. Fermented sauerkraut is typically soft and slightly mushy while still incredibly crisp and refreshing due to fermentation. Because non-fermented sauerkraut is boiled, it is often too soft or firm unless cooked exactly right.
Fermented sauerkraut also has a slightly different flavor than non-fermented sauerkraut. Non-fermented sauerkraut is often sweeter than fermented sauerkraut because the sugars within the cabbage are still intact. Fermented sauerkraut is typically tangy without excessive sweetness because the lactobacillus bacteria produce lactic acid from the sugars in the cabbage.
Fermented sauerkraut has a much longer shelf life than non-fermented sauerkraut. Unless the non-fermented sauerkraut contains preservatives and stabilizers, it will rot much faster than fermented sauerkraut because the brine is prone to contamination. The acidity and high bacterial content of fermented sauerkraut protect it from most contamination.
Finally, fermented sauerkraut has an extremely different nutritional profile than non-fermented sauerkraut. The two are pretty similar because they both contain cabbage and vinegar, but fermented sauerkraut is distinguished because it contains significantly higher levels of riboflavin, folate, and other vitamins produced by the lactobacillus.
As a result, fermented sauerkraut offers significantly more potential health benefits than non-fermented sauerkraut. The bacteria in the sauerkraut can contribute to a healthy gut microbiome, while the vitamins and minerals can help nourish the body and improve the function of other organ systems.
Common Misconceptions
There's no doubt that fermented sauerkraut is much better than non-fermented sauerkraut. But if you've heard some alarming hearsay about sauerkraut fermentation, you aren't alone. Many people are intimidated by the complexity of the process and worry about potential food poisoning.
Fermented sauerkraut isn't dangerous. While it does contain loads of bacteria, these bacteria harmlessly live in your gut microbiome and are good for your body. They are a significant part of how your body processes and absorbs the nutrients from food, and you wouldn't be able to thrive without them.
You don't have to worry about fermented sauerkraut being contaminated or spoiled, either. Properly fermented and stored sauerkraut is unlikely to be contaminated. If sauerkraut is spoiled, it typically shows clear warning signs like a strange film or fuzzy mold. You won't have to worry about eating your sauerkraut safely if you use common sense and know the signs to look out for.
And while making sauerkraut might seem complex, it isn't much harder than the average hobby. The process of making sauerkraut is a historical tradition that goes back thousands of years. Once you've practiced the major steps, you'll quickly gain confidence and find yourself capable of making delicious fermented foods.
Is all sauerkraut sold in stores fermented?
Unfortunately, not all sauerkraut sold in stores is fermented. Many brands produce sauerkraut with non-fermentation processes or pasteurize their sauerkraut to extend its shelf life. In doing so, they compromise the probiotic benefits that sauerkraut is supposed to provide. Knowing what to look for is vital to be sure that the sauerkraut you're eating is genuinely probiotic.
You should avoid purchasing sauerkraut labeled as containing vinegar as an ingredient, labeled as pasteurized, or kept in a can on the shelf. This sauerkraut does not contain live cultures or provide probiotic benefits when eaten.
Sauerkraut that is genuinely probiotic will be packaged in bags or jars and kept in the refrigerated section. Refrigeration inhibits the fermentation process, allowing the sauerkraut to be shelf-stable while still containing active cultures. These brands of sauerkraut are often labeled as 'raw' or 'probiotic.'
If you're in doubt about whether a particular brand of sauerkraut is probiotic, I recommend researching the brand online to see whether this information is disclosed. FAQs and online reviews often contain helpful information that might determine whether you make a particular brand of sauerkraut the latest addition to your diet.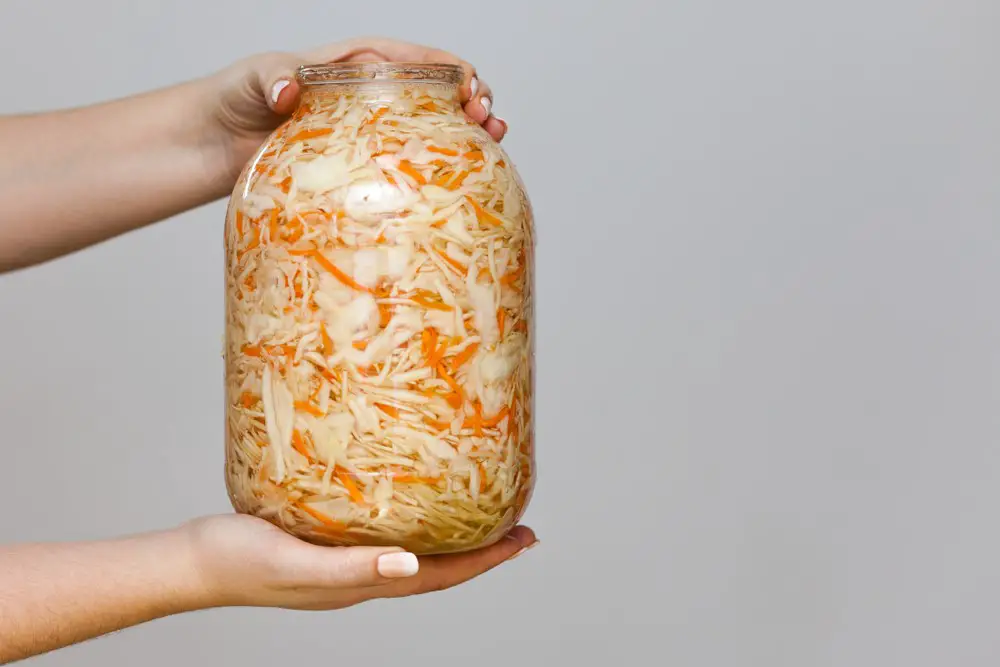 Frequently Asked Questions
Is sauerkraut a fermented food?
Sauerkraut is a fermented food. While some methods allow you to substitute sauerkraut with a non-fermentation process, conventional sauerkraut allows the cabbage to ferment in a salty brine. This fermentation process gives sauerkraut its iconic tangy flavor and crisp texture.
What are the benefits of fermented sauerkraut?
Fermented sauerkraut offers a plethora of health benefits. The probiotics it contains are vital for nourishing a healthy gut microbiome. It also contains vitamins like folate and riboflavin that are vital for your overall health.
Can non-fermented sauerkraut offer similar health benefits?
Non-fermented sauerkraut offers some of the same health benefits as fermented sauerkraut, as it contains all vitamins naturally found in cabbage. It is not remotely as nutritious as fermented sauerkraut, however, as the fermentation process results in tons of vitamins and probiotics being present in the kraut.
How can I tell if sauerkraut is fermented or not?
You can tell whether your sauerkraut is fermented by investigating the packaging. If the sauerkraut is canned or stored at room temperature, it is most likely unfermented or pasteurized. If it is refrigerated and labeled as 'raw' or 'probiotic,' your sauerkraut is fermented.
Can I make my own fermented sauerkraut at home?
You can make your own fermented sauerkraut at home. You only need cabbage, salt, and a lidded jar to get started. You should research the process of making sauerkraut in advance to be prepared to prevent contamination and avoid mistakes throughout the process.
Are there any risks associated with eating non-fermented sauerkraut?
There aren't any significant risks associated with eating non-fermented sauerkraut. You should ensure that the non-fermented sauerkraut is cooked thoroughly if you are immunocompromised because of the bacteria naturally found on cabbage leaves.
Which type of sauerkraut is recommended for probiotic benefits?
Fermented sauerkraut is recommended for probiotic benefits. It doesn't matter if the sauerkraut is seasoned or contains other vegetables as long as the sauerkraut itself was prepared through fermentation. Avoid cooking the sauerkraut if you want to retain its probiotic benefits.