Sweet, sour, and flavor-packed: these are all words that describe pickled pineapple. Combining pickled pineapple with spicy jalapenos, cilantro, and freshly squeezed lime juice leaves you with an extraordinarily flavorful treat that makes a perfect addition to tacos, shredded pork sandwiches, or add it to your favorite homemade salsa or relish recipes!
This versatile and incredible condiment can be made at home in just a few simple steps. In this article, I'll explain the pickling process in full detail and provide insight into how you can make a delicious batch of jalapeno-cilantro-lime pickled pineapple.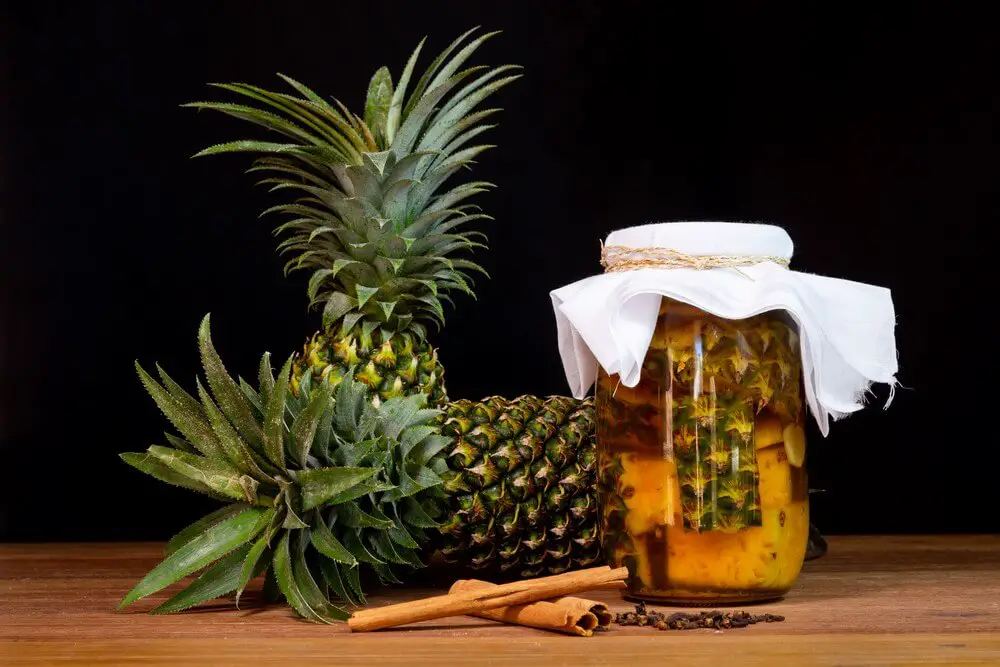 Introduction to Jalapeno-Cilantro-Lime Pickled Pineapple
Jalapeno-cilantro-lime pickled pineapple might sound like an odd food. While it might be unusual, it is anything but unappetizing — and it makes an excellent addition to savory tropical dishes.
The sweetness and acidity of the pickled pineapple can draw out the underlying flavor depth of a dish, while the cilantro and lime serve to add delicious new flavor notes. The jalapeno adds just the right spice to make the dish explode with flavor.
Ingredients and Equipment
You're not alone if you think that jalapeno-cilantro-lime pickled pineapple sounds amazing. Everybody who tries this recipe ends up clamoring for more! The best part about this pickled pineapple recipe is that it only takes a relatively simple preparation process.
You'll need to start by gathering your ingredients. You'll need a ripe pineapple, a fresh jalapeno pepper, a bushel of cilantro, and two limes. You'll also need raw unpasteurized vinegar and salt. Optionally, you can add spices like basil, oregano, garlic, mint, or thyme to enhance the flavor.
Recipe Ingredients
Pineapple - One ripe pineapple diced or sliced. Fresh pineapple is more golden in color than green and has leaves that look fresh, not dried. You can also sniff the pineapple base to see if it is fresh. If it has a sweet scent and is tender to the touch, then it is a good one.
Jalapeños - 1-2 jalapenos. The jalapeno also gets pickled, adding just a touch of muted heat, which perfectly compliments the sweet pineapple. 
Cilantro - ¼ cup cilantro adds a lightly herby punch.
Fresh Lime juice - Freshly squeezed lime juice of two large limes or approximately 4 tablespoons.
Apple cider vinegar - 3 cups of ACV. Use raw unpasteurized ACV for the probiotic benefits. However, rice wine or white vinegar are suitable substitutes.
Water - 1 /4 cup clean or filtered water.
Salt -  two teaspoons salt. Kosher salt is preferred because it dissolves quickly and has no additives. Pickling salt is a good substitute.
Sugar - two tablespoons of sugar
Optional Spices - basil, oregano, garlic, mint, turmeric, and thyme
You should also ensure that all of your equipment is ready for pickling. Gather a cutting board, a good knife, a lime juicer, a mixing bowl, a saucepan, and an airtight container. Clean all of your equipment thoroughly with soap and warm water.
Equipment:
Knife & cutting board
Measuring cups & spoons
Small or medium saucepan
Wooden spoon
Citrus juicer
Funnel
Large mason jar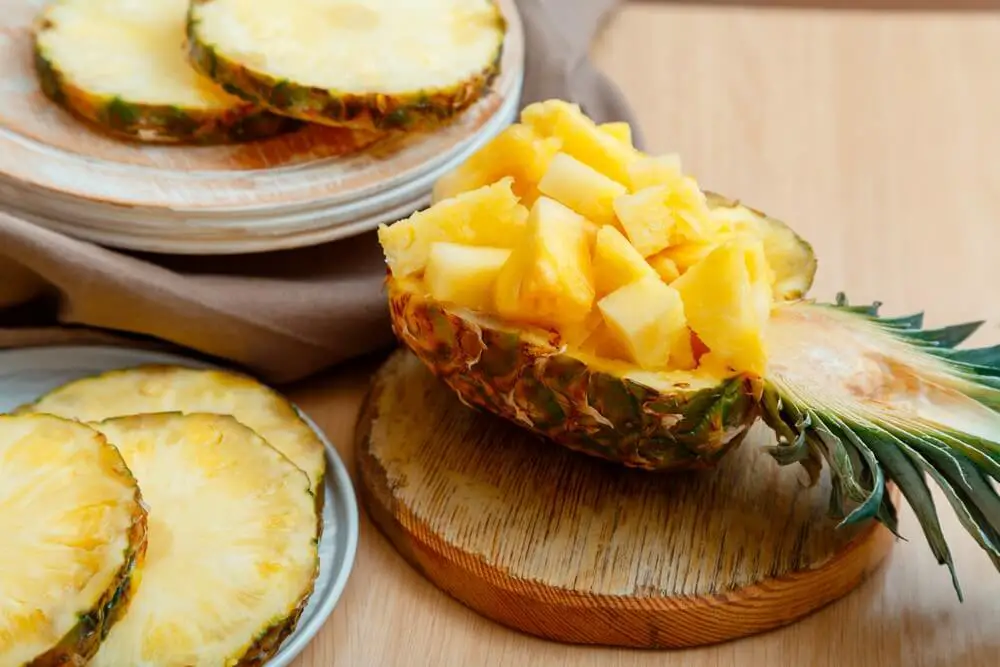 Making Pickled Pineapple Recipe with Jalapeños and Cilantro
Step 1. Wash pineapple, jalapenos, cilantro, and limes.
Step 2. Prepare the ingredients:
Pineapple: Skin and remove the core of one pineapple and cut it into bite-size pieces.
Jalapenos: Dice or slice 1 -2 jalapenos - use more if you like it spicy.
Cilantro: Remove the stems and coarsely chop ½ a hand full.
Step 3. Add the pineapple, jalapenos, cilantro, and any additional spices to a large mixing bowl. Juice your lime directly into the mixing bowl and mix thoroughly. Let sit and marinate while you work on the next steps.
Step 4. Combine the water, vinegar, salt, and sugar in a medium-sized saucepan. Bring to a simmer, and let the salt and sugar dissolve fully. Next, take the saucepan off the heat and allow the contents to cool for at least 10 minutes.
Step 5. Place the pineapple mixture into one large glass jar or split it between 2-16oz jars.
Step 6. Pour the vinegar mixture over the top of the jar, allowing ½ inch headspace. Use a canning funnel for this step. The vinegar should barely cover each jar; if not, top it with more water.
Step 7. Place the lid and ring on each jar. Allow the pickled pineapple to cool for two to three hours, then place it in your refrigerator. Refrigerate for 12-24 hours before enjoying.
Tip: You should put it in the door or towards the front of the fridge to discourage freezing. It will remain fresh and ready to serve for one to two weeks after it is made.
Serving Suggestions and Culinary Uses
How to Use Pickled Pineapples with jalapeños, cilantro & lime juice
I made a massive batch of this pickled pineapple and jalapeño recipe last week, and let me tell you, I've been putting them on everything – pulled pork sandwiches, kimchi bowls, salads, pizza, fish tacos, you name it. I urge you to try adding them to anything you're making that could use a burst of sweet and spicy flavor, but if you're looking for specific recipes, here are some ideas:
There's no shortage of incredible ways to use jalapeno-cilantro-lime pickled pineapple. It's particularly good with savory tropical dishes such as grilled pork or shrimp.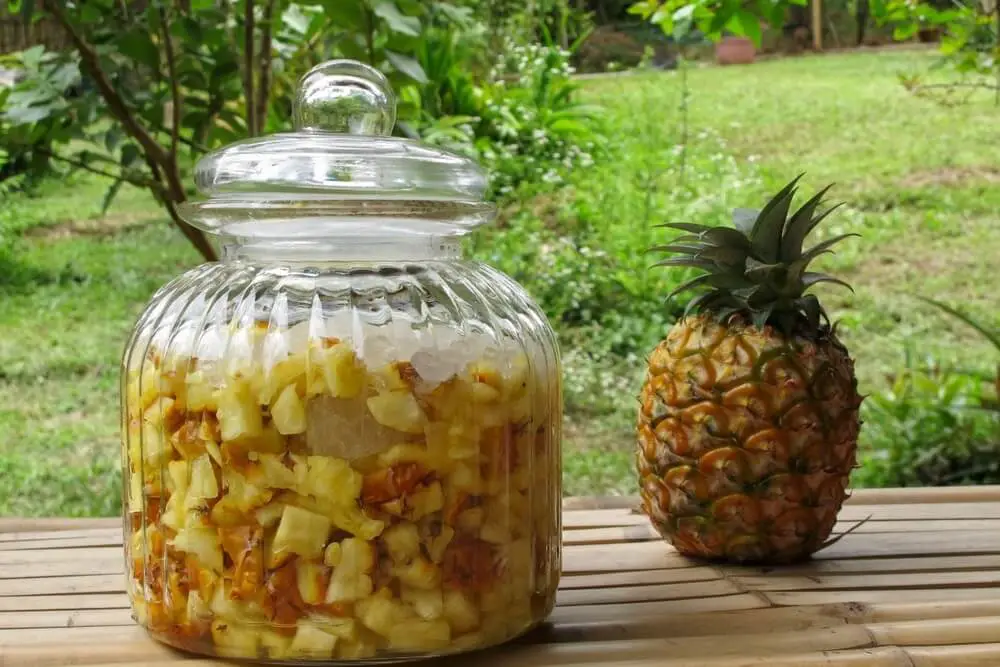 Frequently Asked Questions
How long does pickled pineapple last?
Pickled pineapple lasts one to two weeks when refrigerated. You can prolong its longevity by ensuring the equipment you use to prepare it is completely clean. It will last longer if the pineapple is completely submerged in the brine and if the pineapple is stored at cool but not freezing temperatures.
How should I store the pickled pineapple?
You should store the pickled pineapple in your refrigerator in an airtight container (such as a mason jar). It's best if the container is kept at the front of the fridge if items at the back of your fridge are prone to freezing.
Can I adjust the spiciness level in the recipe?
You can adjust the spiciness level in the recipe by changing how many jalapenos you use. I recommend starting with one jalapeno pepper and using two for more kick. You can make the pickled pineapple have a peppery but not excessively spicy flavor by removing the seeds from the jalapenos before you add them.
Can I substitute jalapeno peppers with other chili peppers?
You can substitute jalapeno peppers with other chili peppers. You should research the pepper you're considering using in advance because it may impact how spicy the recipe turns out.
Can I use canned pineapple instead of fresh?
You can use canned pineapple instead of fresh pineapple, but it's worth noting that it may impact the flavor of the final result because canned pineapple is often stored in syrup. Rinsing the pineapple thoroughly before mixing it with the other ingredients may help reduce the sweetness to tolerable levels. The texture of canned pineapple will be much softer than fresh.
Can I add additional herbs or spices to the pickling liquid?
You can add additional herbs and spices to the pickling liquid. I recommend considering spices such as oregano, basil, mint, and garlic. These seasonings will highlight the cilantro-lime flavor while adding a touch of complexity.
Can I double or halve the recipe?
You can double or halve the recipe. You should be very careful when adjusting the recipe and ensure all ingredients remain proportional. Otherwise, the recipe may turn out unexpectedly spicy or salty.
Can I use this pickled pineapple in cocktails or beverages?
You can use these pickled pineapple chunks in cocktails and beverages. It pairs particularly well with tart cocktails and beverages because it offers complementary sweetness. You should consider the flavors carefully because cilantro and jalapeno may clash with many beverages.