This post may include affiliate links. As an Amazon Associate I earn from qualifying purchases.You can read my complete affiliate disclosure for more details.
How to Make Fermented Honey Garlic: A Simple Guide
Originally published on July 17, 2021. Last updated on August 26, 2023
If you're a fan of garlic's health benefits and honey's natural sweetness, you're in for a treat. Fermented honey garlic is a unique and delicious concoction that adds flavor to your dishes and packs a nutritional punch.
The process involves infusing fresh garlic into raw honey, allowing time and nature to work magic. Plus, it's straightforward to make. Let's dive right into this easy fermented honey garlic recipe.

Jump to:
Fermented Honey Garlic: A Flavorful Condiment with Immune-Boosting Benefits
In natural remedies and homemade delights, fermented honey garlic reigns supreme. Whether you refer to it as fermented garlic honey or honey fermented garlic, the process and outcome remain unchanged.
Harmonizing fresh garlic with raw honey and allowing nature's fermentation process to unfold results in a symphony of flavors and health benefits.
Research has indicated that honey contains abundant antioxidants known as flavonoids and polyphenols. These compounds play a crucial role in combatting bodily inflammation, which includes redness and swelling.
This inflammation-fighting ability contributes to immune system regulation and offers protection against many illnesses. Additionally, honey possesses antibacterial, antiviral, and antifungal properties.
Research on the health benefits of garlic shows that garlic can help protect against the common cold and help lower blood pressure and cholesterol levels.
Furthermore, it improves brain function, keeps diseases like Alzheimer's & dementia at bay, and is excellent for soothing toothaches & arthritis. It also assists in maintaining heart health by keeping cholesterol & blood pressure levels in check and safeguards against blood thinning. (source)
Learn more about fermenting with honey and the health benefits of apple cider vinegar and honey.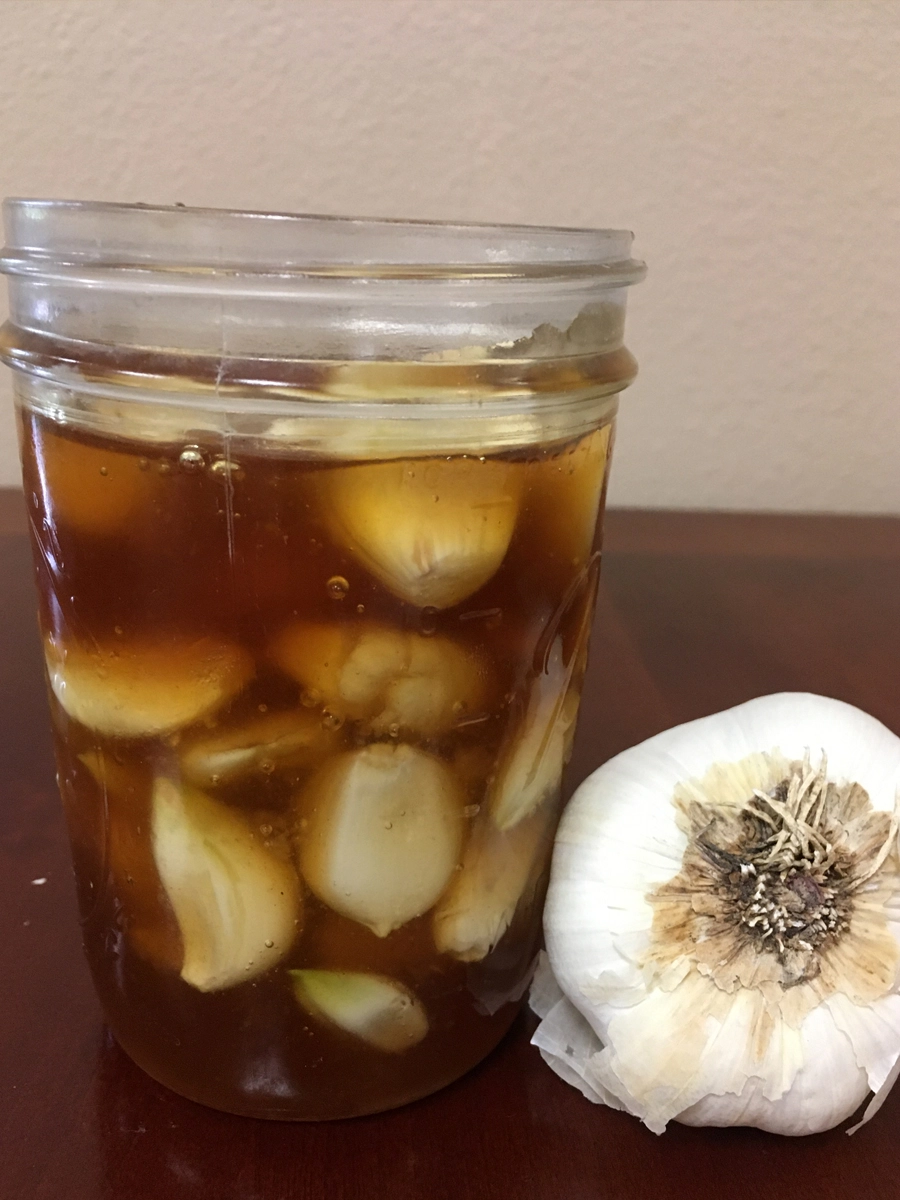 Ingredients
Raw Honey
Always use raw honey to get the best results. Pasteurized honey has been treated to kill off wild yeast and bacteria. The wild yeast and bacteria are necessary for fermentation to happen.
Furthermore, the pollen in raw honey benefits those suffering from allergies. When someone with allergies eats raw honey that contains pollen from plants they are allergic to, it can help to build up a tolerance to those allergens.
Garlic
Choosing the Right Garlic for Your Fermented Honey Garlic Recipe
When making that delectable and health-boosting fermented honey garlic, the quality of your ingredients matters. One of the show's stars is, of course, the garlic. But not all garlic is created equal. 
Let's dive into what kind of garlic you should use to create the perfect fusion of flavors in your recipe.
Related: Fermented Garlic Recipe
Opt for Freshness:
The key to a successful fermented honey garlic recipe is fresh garlic cloves. Look for garlic bulbs that are plump and firm to the touch. 
Avoid cloves that feel soft, mushy, or show signs of sprouting. Fresher garlic will yield a more vibrant and robust flavor and ensure a successful fermentation process.
Choose Organic When Possible:
Organic garlic is grown without synthetic pesticides or fertilizers, which can impact the overall quality of the cloves. 
Since fermentation involves the interaction of natural compounds, organic garlic can provide a cleaner and more authentic flavor profile.
Hardneck vs. Softneck Garlic:
Garlic comes in two primary varieties: hardneck and softneck. Hardneck garlic typically has larger cloves and a stronger, more complex flavor. This variety works well for fermenting honey, as its bold flavors can infuse it with a rich taste.
On the other hand, softneck garlic usually has smaller cloves and a milder flavor. While it might not impart as intense a flavor to the honey, it could still work if you prefer a subtler garlic taste.
Local and Heirloom Varieties:
Consider yourself fortunate if you can access local garlic varieties or heirloom garlic. Local garlic can add a unique regional twist to your fermented honey garlic, while heirloom varieties offer exceptional flavors and textures that differ from the standard store-bought options.
Avoid Pre-Peeled Garlic:
While the convenience of pre-peeled garlic is undeniable, it's best to use whole, unpeeled cloves for fermenting honey garlic. Pre-peeled garlic may have been exposed to air for extended periods, leading to potential loss of flavor and compromised quality.
Remember that experimenting with different garlic types can produce exciting flavor variations in your final product. 
With the right garlic choice, you're on your way to creating a delicious and healthful concoction that'll elevate your culinary creations and boost your well-being.
Equipment
One 16-oz. wide mouth jar with a tight-fitting lid, or try this unique fermentation kit made by Masontops.
It comes with these foolproof airlock lids called pickle pipes. That makes it simple and easy to quickly produce your own delicious and nutritious probiotic superfoods, with no monitoring or daily burping of jars required.
Sale
Last update on 2023-11-27 / Affiliate links / Images from Amazon Product Advertising API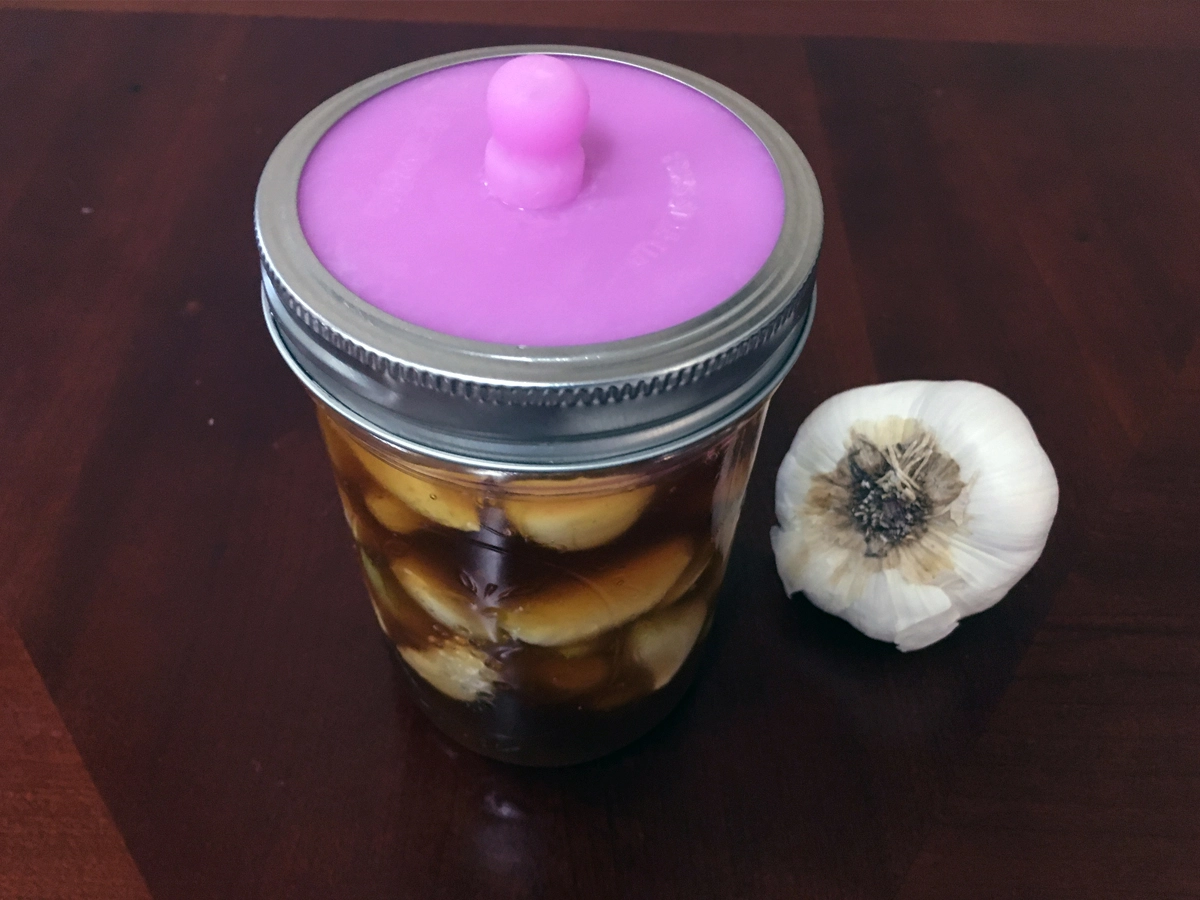 Fermented Honey Garlic: Step-by-Step Guide
1. Prep the Garlic:
Peel the number of garlic cloves you want to use. It takes about one cup of garlic cloves to fill a 16 oz. jar. Slightly crush the cloves to release their juices and oils. This will enhance the flavor of the final product.
2. Choose Your Honey:
Opt for raw, unpasteurized honey. Local honey is a great choice. The quantity of honey you need depends on the amount of garlic and the size of your jar.
If filling one 16 oz. jar, you will need 2 cups of honey.
3. Mix Garlic and Honey:
Place the peeled and slightly crushed garlic cloves into the glass jar. Slowly pour the raw honey over the garlic. Use a spoon to gently press down on the garlic to release any trapped air bubbles. Ensure that the garlic is fully submerged in honey to prevent spoilage.
4. Patience is Key:
Seal the jar with the lid. Now comes the hard part – wait. Allow the mixture to ferment for at least a week and up to a month or more. The flavors meld together during this time, and the honey takes on the garlicky goodness. The longer you wait, the stronger the flavor will be.
5. Check and Remix:
Give the jar a gentle swirl or tip upside down every few days. This helps distribute the garlic and honey and ensures even fermentation.
6. Enjoy the Fruits of Your Patience:
Once your fermented garlic honey has reached your desired flavor profile, it's ready to enjoy.
Here are several delicious ways you can use fermented honey garlic in your cooking:
Marinades: Incorporate the rich flavors of fermented honey garlic into marinades for meats, poultry, seafood, or tofu. Let your protein soak up the sweet and savory goodness before grilling, roasting, or pan-searing.
Salad Dressings: Create a unique twist on your salad dressings by adding a teaspoon of fermented honey garlic. It adds a burst of flavor that complements various types of salads.
Stir-Fries: Toss fermented honey garlic into your stir-fry dishes during the cooking process to infuse the entire dish with its aromatic taste. The honey's sweetness and the garlic's depth will enhance the overall flavor.
Roasted Vegetables: Drizzle some honey garlic goodness over roasted vegetables before or after they come out of the oven. The caramelized flavors will complement the earthiness of the vegetables.
Grilled Foods: Brush fermented honey garlic onto grilled vegetables, corn on the cob, or even grilled bread for an added layer of flavor.
Sauces and Glazes: Use the fermented honey garlic as a base for sauces and glazes. It adds depth and complexity to your culinary creations, whether for meats, fish, or even as a dipping sauce.
Pasta Dishes: Incorporate the fermented honey garlic into pasta sauces or toss it with cooked pasta for a quick and flavorful meal.
Sandwiches and Wraps: Spread a thin layer of fermented honey garlic onto sandwiches or wraps to elevate the taste and bring a touch of gourmet to your lunch.
Pizza Toppings: Add a few spoonfuls of fermented honey garlic to your pizza before baking. Its unique flavor will mingle beautifully with other toppings.
Dipping Sauces: Mix some fermented honey garlic with mayonnaise, Greek yogurt, or sour cream to create a delicious dipping sauce for veggies, chips, or bread.
Cheese Plates: Serve the fermented honey garlic alongside cheeses for a delightful pairing. The sweet and savory combination complements a variety of cheese flavors.
Roast Chicken or Turkey: Stuff a few cloves of the fermented honey garlic into a whole chicken or turkey cavity before roasting. It infuses the bird with a beautiful aroma.
Omelets and Scrambles: Incorporate a spoonful of the fermented honey garlic into your morning eggs for an unexpected and delicious twist.
Grain Bowls: Add a dollop of fermented honey garlic to your bowls for a flavor that complements grains, veggies, and proteins.
Salmon or Fish Glaze: Brush the fermented honey garlic onto salmon fillets or other fish before baking or grilling. It adds a flavorful glaze that enhances the natural taste of the fish.
Remember, the versatility of fermented honey garlic allows you to get creative in the kitchen. Don't be afraid to experiment and discover new ways to incorporate this delightful condiment into your favorite dishes.
Cooking fermented honey garlic can kill the beneficial bacteria present in the mixture. 
The fermentation process encourages the growth of beneficial microorganisms, contributing to the concoction's unique flavor and potential health benefits. 
However, these delicate bacteria are susceptible to destruction when exposed to high temperatures during cooking.
To retain the probiotic benefits of fermented honey garlic, it's best to drizzle the mixture in recipes after it has been cooked to avoid high heat. 
This way, you can savor the unique flavor and potential health perks from the fermented mixture's live microorganisms.
How To Store Fermented Honey Garlic
Store your fermented honey garlic in a cool, dark place or refrigerator. The honey is a natural preservative, but refrigeration will prolong its shelf life.
It's normal for the honey and garlic to darken over time. You might notice the garlic start to turn a blue/green color. This is a normal occurrence in garlic too.
Related: Why Fermented Garlic Turns Blue
Making fermented garlic honey is as easy as combining garlic and honey in a jar and patiently waiting for the magic to happen. Its distinctive flavor and potential health perks make it a versatile addition to your pantry.
So, why not give it a shot and add a little homemade gourmet flair to your dishes? Your taste buds might thank you!
Check out our favorite fermenting products page to find everything you might need to help make your next recipe successful!
Common Questions About Fermented Honey Garlic
How Does Honey Ferment?
Honey, especially the raw variety, contains wild yeast and bacteria essential for fermentation. Yet, the honey added should be enough to coat the garlic, not too much or too little.
The reason is that the juices/moisture the garlic cloves release must reach about 18-20% for the fermentation to start.
After about 5-7 days, a tiny bubble formation will be visible on the surface, signifying that the fermentation process has begun.
Burp the jar once daily to release the carbon dioxide built-up throughout the process.
Place the jar on a small plate to catch the drips and keep ants away from the jar.
Is There a Risk of Botulism with Fermented Garlic Honey?
Fermented honey garlic is entirely safe to consume. There are minimal to no risks of botulism.
Botulism usually occurs when garlic or other veggies are stored in oil without any acidic ingredient.
To soothe your botulism worries, test your fermented garlic honey's pH (acidic) level using a pH tester or strip. If the test reads less than 4.6 pH, it is entirely safe to eat as botulism spores cannot survive/reproduce in a low pH environment.
If the pH level reads higher than 4.6, you can add some acidity by mixing a little apple cider vinegar.
Can you add more garlic to a jar of fermented honey garlic?
No, you should not keep adding to the jar of fermented honey garlic. The best thing to do is start a new batch with fresh ingredients.
During the fermentation process, the sugar in the honey is consumed and slows down, making it unable to ferment more garlic safely.
It will consume enough sugar not to be reused/repurposed for another batch without another sugar infusion.
How Long To Ferment Honey Garlic?
Let the honey garlic ferment for about a month. But the longer you can wait, the more amazing it will taste. Honey garlic can ferment for several years, darkening and tasting out of this world.
I suggest fermenting several jars at a time so you can try them for one month, three months, and then a year + to experience the different flavor profiles.
Is it safe for people who have diabetes to eat fermented honey garlic?
The fermenting process does not break down ALL the fructose glucose in the honey.
Although most of the fructose glucose will be consumed during fermentation, plenty of sugar remains that would affect blood sugar levels.
If you have diabetes, I suggest using fermented honey garlic in moderation, like with anything when dealing with diabetes.
What if my raw honey is solid? Can I melt it?
Yes, as long as it stays below 40 C / 104 F, you won't accidentally kill the probiotics.