How To Make Lacto-Fermented Red Onions
Fermented red onions are easy to make, delicious as a snack, side, or sandwich topper, and last for several months in your fridge. 
If you're ready to try your hand at making some fermented red onions, grab a large jar and let's gather your ingredients.
Selecting Fresh and Organic Red Onions
The first step when making lacto-fermented red onions is to start with the best ingredients. 
Fresh and organic red onions enhance your final product's flavor and quality. Look for firm onions with no soft spots or signs of sprouting. 
The skin should be shiny and dry, without any blemishes or discoloration. Organic varieties will prevent potential pesticide residue, giving you a healthier and more natural result.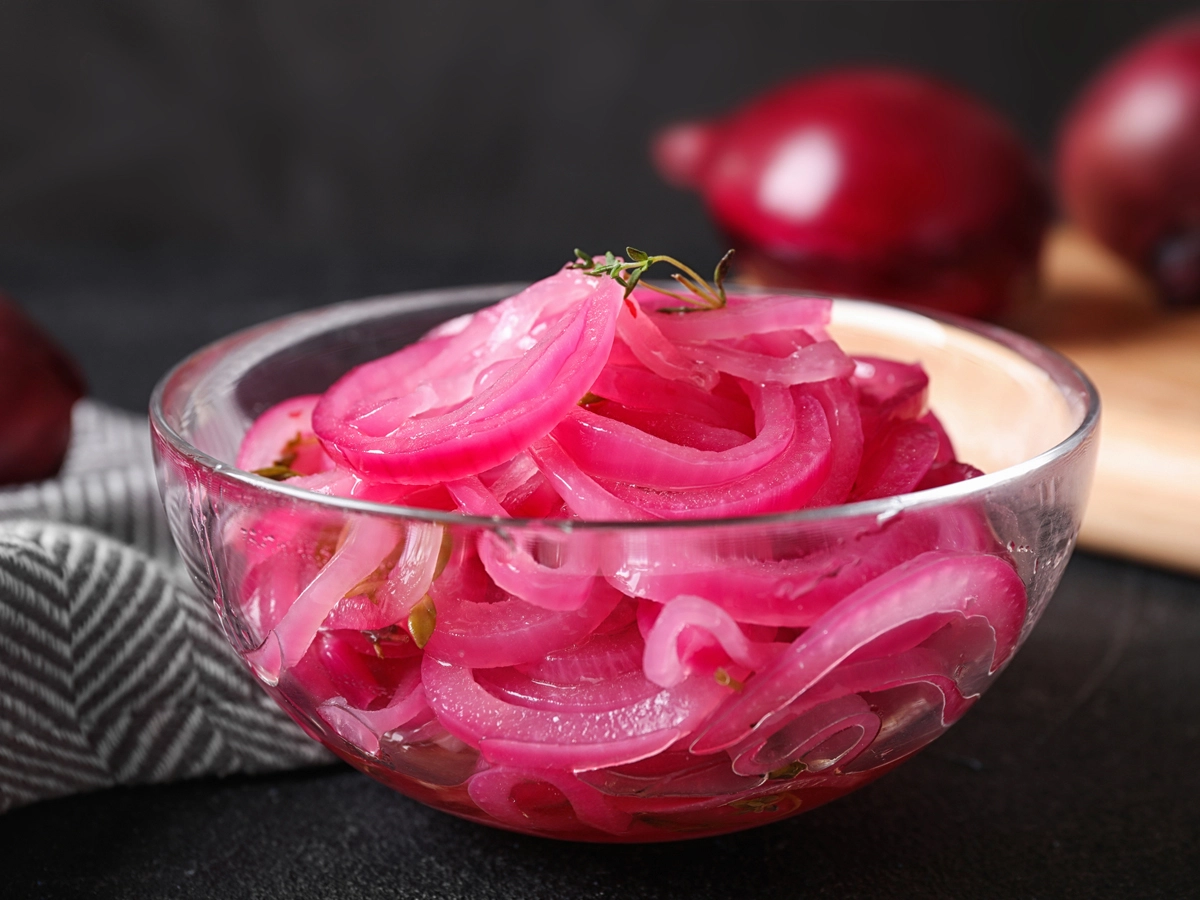 Cleaning and Preparing the Onions for Fermentation
It is essential to clean the vegetables properly. 
Start by rinsing them under cool water to remove dirt or debris clinging to the outer layers. Next, trim each onion's root end using a sharp knife, leaving approximately half an inch intact. 
This will help ensure that the layers stay together during fermentation. 
Peeling red onions is a personal preference—the outer papery layer can be removed or left intact for added texture in your final product. 
If peeling them, gently remove each layer until you reach a point where they become difficult to separate without breaking. 
Slicing or Chopping the Onions
Slice the onions into thin rounds or chop them into small pieces, depending on your preference. 
Once cleaned and prepped, it's time to create a brine solution to kickstart the fermentation process and infuse your red onions with tangy flavors. 
Creating the Fermentation Brine
Explaining the Role of Brine in Lacto-Fermentation
The brine is crucial in creating the perfect environment for beneficial bacteria to thrive and work their magic on red onions. 
It acts as a protective shield, preventing harmful bacteria from growing while encouraging the growth of lactobacillus, which handles the fermentation process. 
It also helps maintain the texture and flavor of the onions during fermentation. 
The brine saltwater solution creates an inhospitable environment for harmful bacteria while providing essential minerals and nutrients to support the growth of beneficial bacteria. 
The salt in the brine adds flavor and helps draw out moisture from the red onions, creating an environment where lactic acid can be produced through fermentation. 
This acidic environment inhibits spoilage organisms and preserves the onions. 
Choosing the Right Salt for Brine Preparation
Selecting the right type of salt for your fermentation brine is important to achieving successful Lacto-fermentation. 
Non-iodized salts such as sea salt or kosher salt are best. 
Avoid iodized table salt, as its iodine content can hinder bacterial growth. 
Sea salt is popular among fermentation enthusiasts because it contains trace minerals that enhance flavor and promote a healthy fermentation process. 
Look for fine or medium-grained sea salt without any additives or anti-caking agents. Kosher salt is another great option, as it dissolves easily and has no additives that could interfere with fermentation. 
Its larger grains make measuring accuracy easier, ensuring you add enough without oversalting your brine. 
Use a Kitchen Scale: A kitchen scale is a great ally in achieving the perfect balance of salt for your brine. This precision ensures the ideal environment for fermentation.
Flavorful Additions and Seasonings
Exploring a World of Flavors
The possibilities for adding exciting flavors are endless with Lacto-fermentation. You can take this already delightful preserve to new heights by incorporating a variety of herbs and spices. 
Thyme, rosemary, and oregano will infuse your onions with earthy undertones. 
Add chili flakes or whole-dried chilies to ignite a delightful kick of spice: or diced jalapenos and crushed cumin seeds for a smoky spiciness.
Or add garlic cloves for an intense aroma and umami essence. 
Freshly grated ginger or turmeric can also be great additions to this fermented onion recipe.
Captivating Combinations Worth Trying
Remember, experimentation is key in creating unique flavor profiles in lacto-fermented red onions. 
Don't be afraid to let your creativity run wild by trying new combinations that resonate with your taste preferences. 
The Fermentation Process
Packing the Onions into a Fermentation Vessel
Once your onions are sliced or chopped, it's time to find them a cozy home. Grab a clean fermentation vessel – anything from a glass jar with an airlock lid to a ceramic crock. 
Make sure you give it a good wash beforehand to rid it of any potential unwanted guests lurking inside. 
Pouring Brine Over the Onions to Cover Them Completely
In a separate container, prepare your brine by dissolving salt in filtered water. 
The general rule of thumb is 1-2 tablespoons of salt per quart (4 cups) of water. This can be adjusted based on your taste preferences. 
Pour enough brine over the packed onions until they are submerged. Push them down a few times to remove any trapped air bubbles. 
Related Topics: How Much Salt To Make Sauerkraut and Other Vegetables, Salt Brine Calculator
Weighing Down the Onions to Keep Them Submerged in Brine
To prevent any onion pieces from floating above the brine, weigh them down. 
Place a glass weight on top of the onions, ensuring they remain submerged. This way, our little onion soldiers can undergo a consistent fermentation process. Questions about fermentation weights? Check out our Fermentation Weight Guide.
Covering the Vessel with a Breathable Lid or Cloth
Cover the jar or crock to create the ideal environment for fermenting red onions. 
We don't want to suffocate our onions; they need to breathe. 
An excellent option is to use a breathable lid with an airlock that allows carbon dioxide (CO2) to escape. 
The lid will also prevent dust and bugs from entering the vessel. Here are three highly rated fermentation kits that make fermenting so much easier and practically guarantee exceptional results every time.
Last update on 2023-09-13 / Affiliate links / Images from Amazon Product Advertising API
Allowing Fermentation at Room Temperature for a Specific Duration
Now comes the hardest part—patience! Find a spot in your kitchen or pantry where the jar can sit undisturbed at room temperature. 
Let the magic happen as you allow the natural lactic acid bacteria to work their transformative powers on those beautiful red onions. 
The fermenting of red onions takes one to two weeks, depending on your taste and preference. 
Keep the onions at room temperature and give them a taste test around day 5. You can measure the amount of tang and depth of flavor according to your taste buds. 
Once you have decided your ferment tastes just right, you can store them in the fridge.
 The fermented onions can last for up to two months in the refrigerator.
Troubleshooting Common Issues
Addressing potential problems during fermentation
Fermentation, although a natural and straightforward process, can sometimes present challenges. It's important to be aware of potential issues that may arise during the fermentation of red onions. 
One common problem is mold growth on the surface of the brine or onions. 
Mold can occur when insufficient salt in the brine or onions are not fully submerged. 
To prevent this, ensure that you use enough salt in your brine and weigh down your onions to keep them submerged at all times. 
Another issue is a foul odor emanating from the fermenting onions. 
While some odor is expected during fermentation due to the release of gases, an overpowering or putrid smell can indicate spoilage or bacterial contamination. 
If you encounter this problem, it is best to toss it out and start fresh with new ingredients and proper sanitation practices. 
Providing tips on how to overcome challenges
Here are several helpful tips to overcome common fermentation challenges when making lacto-fermented red onions: 
1. Ensure proper hygiene: Maintaining your equipment and hands is crucial for successful fermentation. Clean all utensils and containers to prepare your lacto-fermented red onions thoroughly before use. 
Wash your hands with soap and warm water before handling any ingredients. 
2. Maintain ideal temperature: Fermentation thrives at specific temperatures between 60°F (15°C) and 75°F (24°C). 
Keep an eye on the ambient temperatures and place your fermenting vessel where it will remain within this range throughout the process. 
3. Adjust salt levels: If mold growth persists despite careful attention to submerging the onions, you may need to increase the salt content in your brine by adding more salt or using a stronger brine solution. 
Experiment with different salt ratios until you find the right balance for your fermentation process. Remember, practice makes perfect when it comes to lacto-fermentation. 
Don't be discouraged if you encounter challenges; they are part of the learning experience. 
With patience, observation, and a willingness to troubleshoot, you can overcome obstacles and achieve delicious, tangy lacto-fermented red onions. 
Related Topics: How To Ferment Vegetables
Storing and Using Lacto-Fermented Red Onions
Proper Storage Techniques: Preserving the Tangy Goodness
Once you've completed the lacto-fermentation process, it's time to store your precious batch of red onions. Proper storage is crucial to maintain their tangy flavor and prolong their shelf life. 
The first step is to transfer your fermented red onions from the fermentation vessel into clean, airtight glass jars. 
Leave about an inch of headspace at the top of each jar to accommodate any expansion during refrigeration. 
Next, pour some remaining brine over the onions in each jar, ensuring they are submerged. 
The salt brine is a natural preservative and will help keep your fermented red onions fresh for weeks or even months. 
Seal the jars tightly and place them in the refrigerator, where they will continue to ferment slowly but at a much slower pace due to the cold temperature. Remember that lacto-fermented red onions can get even better with age! 
As time goes by, their flavors deepen and intensify. So if you have enough patience (which can be challenging with such tempting treats!), consider allowing them a little extra time in the fridge before indulging in their delectable taste. 
Suggesting Creative Ways to Incorporate Fermented Red Onions into Meals
Now that your tangy treasures are perfectly stored away let's explore some incredibly delicious ways to enjoy them! 
Lacto-fermented red onions add an incredible flavor and complexity to any dish, making them a versatile ingredient in your culinary repertoire. 
1. Salads: Toss some ruby gems into green salads or grain bowls for an instant flavor upgrade. Their tanginess pairs wonderfully with fresh vegetables like cucumbers and tomatoes, adding a zesty twist to your greens. 
2. Sandwiches and Wraps: Elevate your sandwiches and wraps by layering some fermented red onions. Their tangy flavor will complement any filling, whether roasted chicken, grilled vegetables, or tofu. 
3. Tacos and Burgers: Take your taco Tuesday or burger night to the next level by topping them with these fermented beauties. Their acidic kick cuts through the richness of meat or plant-based patties while adding an irresistible tang. 
4. Condiments and Pickle Trays: Blend fermented red onions with mayo or yogurt to create a spread or dip for sandwiches, burgers, or vegetables. They also make an excellent addition to cheese boards or pickle trays alongside olives, pickles, and other tangy companions. 
5. Stir-Fries and Rice Dishes: Add a pop of flavor to stir-fries and rice dishes by stirring in lacto-fermented red onions towards the end of cooking. 
The acidity creates a harmonious balance with other ingredients while imparting their distinctive taste. 
Now that you have many ideas go boldly into the kitchen armed with your fermented red onions! 
Health Benefits of Lacto-Fermented Red Onions
Discussing the nutritional advantages of fermented foods
Lacto-fermented red onions add flavor to your meals and provide many health benefits. 
Fermentation enhances the nutritional profile of red onions, making them more easily digestible and increasing their nutrient content. 
During fermentation, beneficial bacteria such as lactobacillus produce enzymes that break down complex sugars and proteins, making them more bioavailable for our bodies. 
One significant advantage of lacto-fermented red onions is their high probiotic content. 
Probiotics are live microorganisms that promote healthy gut flora, supporting digestion and overall immune function. 
These friendly bacteria help balance the harmful bacteria in our digestive system, potentially alleviating issues such as bloating, indigestion, and even certain food intolerances. 
Additionally, Lacto-fermentation increases the antioxidant levels in red onions. Antioxidants protect our cells from damage caused by free radicals and oxidative stress, reducing the risk of chronic diseases like heart disease and certain types of cancer. 
Fermented red onions are rich in quercetin, a powerful antioxidant known for its anti-inflammatory properties. 
Regularly consuming lacto-fermented red onions can support your body's defense against inflammation and promote optimal health. 
Brief Explanation of the Lacto-Fermentation Process
If you've ever wondered how ancient civilizations preserved their food before refrigeration, the answer lies in the magic of lacto-fermentation. 
Lacto-fermentation is a natural process that harnesses the power of beneficial bacteria to transform ordinary vegetables into tangy, probiotic-rich delights. 
Unlike pickling, which uses vinegar, lactic fermentation relies on naturally occurring lactic acid bacteria to convert sugars into lactic acid, creating an acidic environment that inhibits harmful bacteria while promoting the growth of beneficial microorganisms. 
The process starts by selecting fresh and organic red onions (or any other vegetable you choose). 
After cleaning and preparing them, they are submerged in water and salt brine. 
The salt helps remove moisture from the onions while inhibiting undesirable bacterial growth. 
This brine environment allows friendly lactobacillus bacteria already present on the vegetable skins or introduced through inoculants like whey or starter cultures to thrive and kickstart fermentation. 
Benefits of Lacto-Fermented Foods
Beyond their culinary appeal, lacto-fermented foods offer various health benefits that have been cherished for centuries.
Firstly, these fermented creations teem with probiotics – live microorganisms promoting gut health and aiding digestion.
Probiotics help maintain a balanced gut microbiome, bolstering our immune system and improving nutrient absorption. 
Additionally, Lacto-fermented foods often boast higher vitamin levels than their unfermented counterparts.
Fermentation increases specific B vitamins and vitamin K levels while enhancing antioxidant activity in vegetables like red onions. 
Moreover, consuming lacto-fermented foods has been linked to improved mental health due to the intricate gut-brain connection.
The probiotics in these foods may help reduce anxiety and depression symptoms by influencing neurotransmitter production and modulating the body's stress response. 
Incorporating lacto-fermented red onions into your diet adds a burst of tangy flavor to dishes and contributes to a healthier gut, increased nutrient intake, and improved mental well-being.
Conclusion
Incorporating lacto-fermented red onions into your diet adds a tangy kick to your dishes and provides various health benefits. 
Fermentation enhances their nutritional value by increasing probiotics and antioxidants while making their nutrients more accessible to our bodies. 
By enjoying these flavorful fermented onions regularly, you can support your digestive system's well-being while boosting your overall health. 
So go ahead! Get creative in the kitchen with lacto-fermented red onions – add them to salads, sandwiches, tacos, or even as a condiment. 
Your taste buds will thank you, and your body will reap the rewards of these delicious and nutritious fermented delights. Cheers to good health and flavorful meals!