Drink up this healthy Strawberry Smoothie with Kefir. Whether on the run or staying in, it's a refreshing and nutritional kefir smoothie to start the day.
We love kefir smoothies! This strawberry smoothie recipe does not disappoint. We use organic kefir drinks without added sugars or flavors and then add all the flavors at home. It was made in just minutes!
The Best Strawberry Smoothie with Kefir - So Good and Easy To Make!
This smoothie is full of good-for-your-gut probiotics and tastes like a vacation in a glass.
Kefir is tangy and creamy, and it makes the smoothie thick.
Strawberries are cool, fruity, and a smoothie classic.
Together, strawberries and kefir taste like straight-up paradise. 
This fermented, cultured drink is tasty and full of gut-friendly probiotics that may improve your digestion and overall health and make a great addition to a balanced and healthy diet.
And while there are some great options for buying gut-friendly kefir at the store, like Lifeway Kefir, there's nothing like making it yourself. Try our milk kefir recipe; it's easy!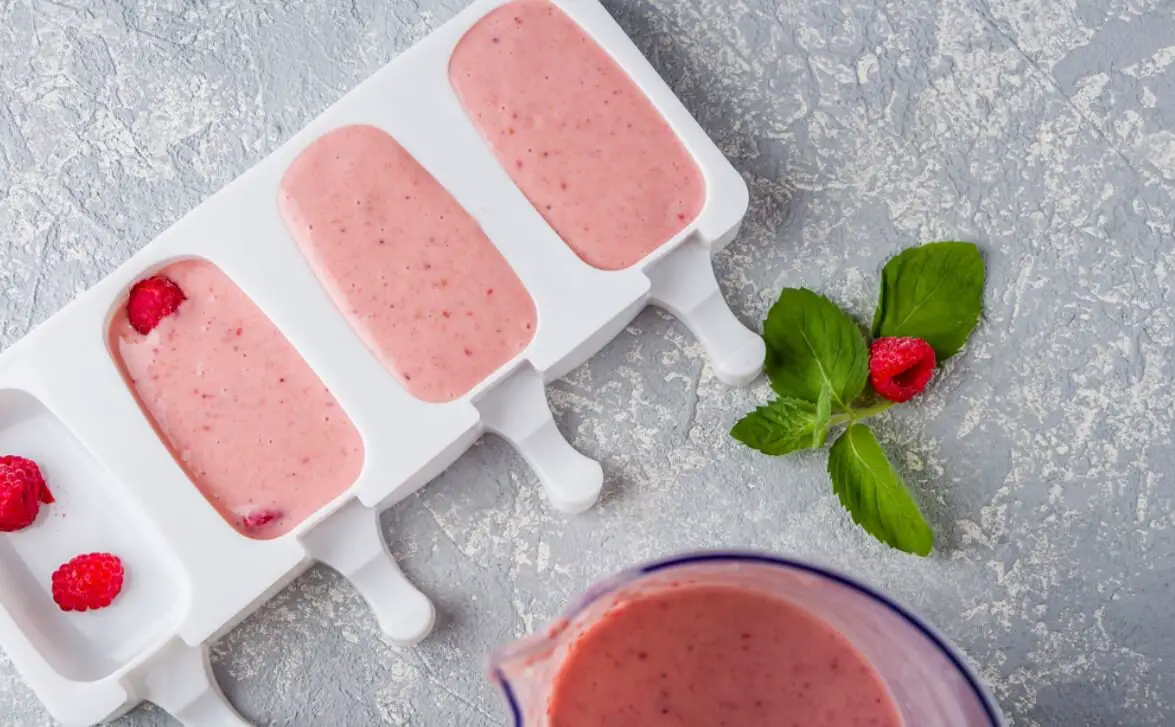 What Is Kefir?
Our fermented smoothie's main ingredients are milk kefir, strawberries, vanilla, and a little sweetener (optional). While all the ingredients are important, the fermentation process that the kefir goes through is key to this drink, as it is largely responsible for its many health benefits.
The fermentation process works like this. Kefir grains, a combination of bacteria and yeast, are mixed with milk and left for roughly 24 - 48 hours.
During this time, the kefir grains consume the natural sugars in the mixture, which produces beneficial bacteria called probiotics.
And it is this good bacteria that may aid in healthy digestion, enhance gut health, and even boost your immune system.
And in addition to the active probiotics, you end up with a tasty drink! Strawberry kefir is a fizzy, tangy, and slightly sour drink bursting with strawberry goodness.
If you're looking for one, it can be a healthy alternative to soda or drinks with added sugar.
Related: What are the differences between yogurt and kefir?
Step-By-Step Guide to Making Strawberry Kefir Smoothie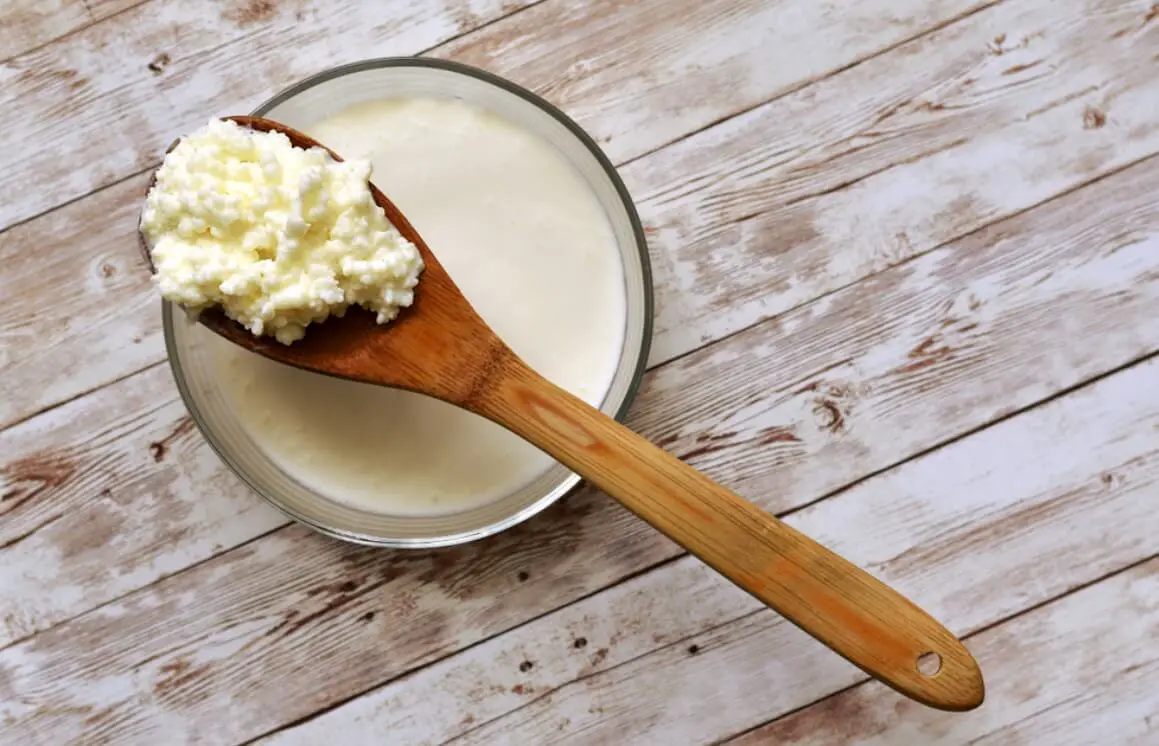 Ready to get started? Just gather the ingredients and follow the step-by-step instructions below, and you'll be enjoying your homemade strawberry kefir in no time!
What You'll Need
1 cup of milk kefir
½ cup fresh strawberries chopped (more or less is fine depending on how much strawberry flavor you're after - use your discretion)
1 teaspoon vanilla extract
1 tablespoon organic cane sugar and/or honey (added sugar or sweetener is optional)
1 cup ice cubes
Instructions
Step 1: Add the kefir, strawberries, vanilla extract, sweetener (if using), and ice cubes to the blender.
Step 2: Blend until smooth.
Step 3: Enjoy!
You're done! You can drink the strawberry kefir immediately or let it chill in the fridge for up to 1 day. The longer you leave it in the refrigerator, the more sour it will get (which can be a good thing, depending on your preference). Enjoy!
Tips and Tricks for Making the Perfect Strawberry Kefir Smoothie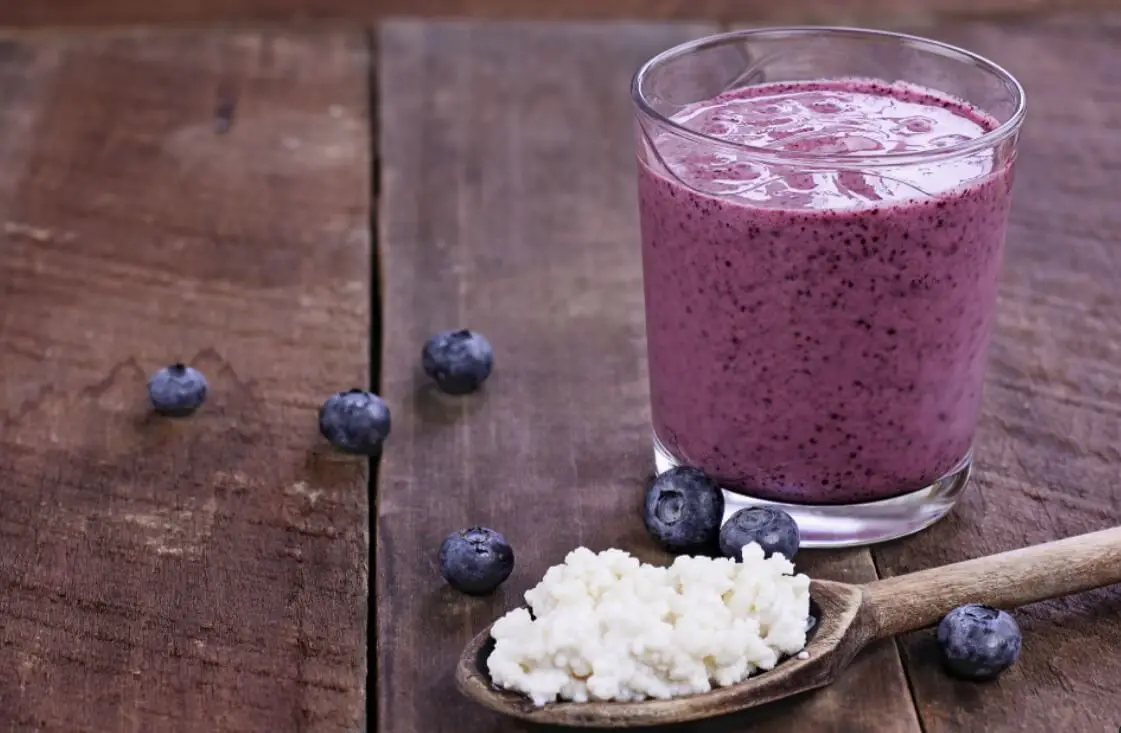 One of the best things about making strawberry kefir yourself is that you can experiment with different ingredients, amounts, and times to create your own perfect batches of this probiotic superfood.
So, here are some tips and tricks for doing just that!
Try experimenting with different fruit combinations and flavors to customize your kefir recipes. Try adding other berries, citrus fruits, or even spices like cinnamon. They can make a significant difference!
Feel free to adjust the amount of sweetener, fruit, or milk kefir to suit your taste preferences. This goes for that second fermentation time, too. You can always tweak the recipe until you find the perfect balance of sweetness and tanginess.
You can use store-bought kefir for these recipes, but try it with a homemade version. Not only is it easy to do, but making it yourself allows you to customize it to your liking - not all kefir has to taste the same!
As long as you have some patience and a willingness to experiment, you could be well on your way to creating your perfect kefir in no time. Here is a basic kefir recipe to help get you started.
The Bottom Line
This easy homemade strawberry kefir recipe isn't just good - it's good for you and a great part of a balanced and healthy diet!
Remember that kefir is an excellent source of active probiotics, which may improve digestion, boost immunity, and support your overall health, and it also helps you meet your recommended daily value of protein and calcium.
So, by following the simple steps above, you can create a health-boosting drink that the whole family will love.
Be patient and experiment with different flavors and fermentation times to find the perfect balance for your taste buds. And most importantly, have fun and enjoy the process of making your own homemade strawberry kefir recipes. Good luck!
For another treat, our banana kefir smoothie always hits the spot!