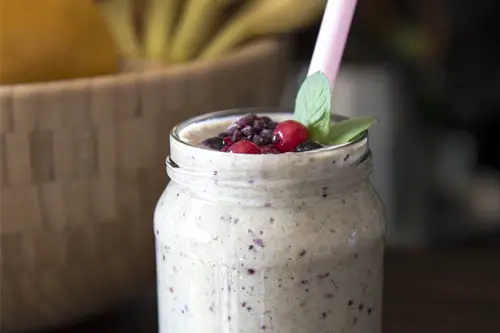 Jump to recipe
Banana Kefir Smoothie Recipe
You really do get the best of both worlds when it comes to a banana kefir smoothie. Not only is it a deliciously creamy drink, but it's also an excellent source of probiotics.
And the health benefits don't stop there.
It keeps your digestion moving.
Helps support your immune system.
Gives your bones a boost of calcium.
In this recipe, the banana offers an excellent source of vitamin B6 and also contains Vitamin C, Potassium, and Manganese, all of which are important for good health. But most of all, bananas taste great and make delicious smoothies!
The banana kefir  smoothie is full of so many vitamins, minerals, enzymes, protein, and fats that it can be used as a meal substitute or smaller quantities can make a great between-meals snack.
Furthermore, because of the fermentation process, kefir is almost entirely lactose-free, making it possible for most people who are lactose-intolerant to enjoy it as well.
The health benefits of kefir are vast, and while you could drink it solo, why not kick it up a notch by adding some fresh fruit and make it a tangy taste and healthy smoothie.
If you would like to learn more about the health benefits of kefir and how to make it from scratch check out my post on how to make kefir.
Here are a few suggestions on what you can add to your next kefir smoothie.
Fresh or frozen strawberries
Blueberries
Avocado
Pineapple
Mango
Peanut butter
Chia seeds
Ginger
Spinach or other leafy greens
Dates
Figs 
Make it an Orange Julius kefir smoothie by adding one small orange to the mix. This will really impress your kids.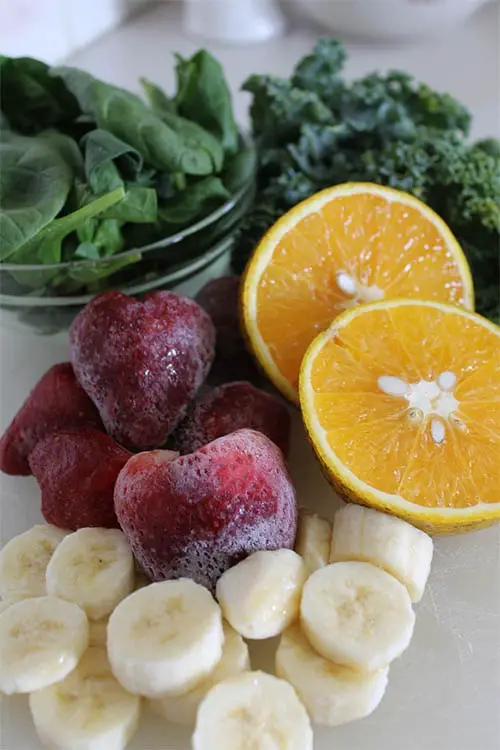 This superfood smoothie is rich, creamy, and a real treat that's worth waking up to.
Kefir Smoothie Recipe

Delicious kefir made into a banana (or your favorite fruit) smoothie is perfect for breakfast or a snack.

Ingredients
1 1/2 cups of Kefir
One cup crushed ice
One ripe banana
Two tablespoons of coconut oil
3-4 tablespoons (or to taste) of maple syrup, or honey
One teaspoon of vanilla extract, a pinch of nutmeg or cinnamon
Instructions
Add all ingredients to a food processor or blender and blend for one minute or until smooth.
Add more ice to make it thicker. If you prefer it a little thinner, just add one tablespoon of water to dilute it.
© 2022 Copyright Fermenters Kitchen
Related Topics