This post may include affiliate links. As an Amazon Associate I earn from qualifying purchases.You can read my complete affiliate disclosure for more details.
In a sea of fermented drinks like kefir, which brand is best? This post will help you discover the 10 best kefir brands and what makes them so good while answering all your questions.
Looking for the Best Kefir Drinks to Buy
To make buying the best kefir brands easier, we've added links to purchase the following fermented drinks online. You can also buy kefir at your local grocery store in the dairy aisle.
The balance of good and bad bacteria in our gut impacts more than bloating and constipation. It plays a role in almost every part of the system, from the function of our immune system and hormone regulation to disease prevention and mental health.
When choosing a kefir drink, look for the words "live active cultures" and "lactobacillus acidophilus" (a probiotic) on the label.
What Is Kefir?
Kefir is an Eastern European drinkable yogurt that boasts incredible health benefits. Kefir tends to have a thick and viscous texture, making it much closer to a smoothie than to milk. 
The health benefits of kefir come from the product's high protein and probiotic content. 
The flavor of kefir is naturally acidic and tart.  It is very similar to the flavor of natural greek yogurt. 
Because of the flavor of the kefir, it is a perfect addition to recipes that need to be brightened up or lifted a little. It is also a great addition to your daily diet as a health supplement.  
Traditionally, kefir is made with cow's milk, but it is also possible to find kefir brands that use goat's milk or even dairy-free products such as coconut milk.  
Kefir is made with kefir grain. Kefir grain is a protein-based group of fungal and bacterial species that help to facilitate the fermentation process. 
The kefir grain in kefir products acts similarly to a "mother" in kombucha or apple cider vinegar.  
Last update on 2023-09-13 / Affiliate links / Images from Amazon Product Advertising API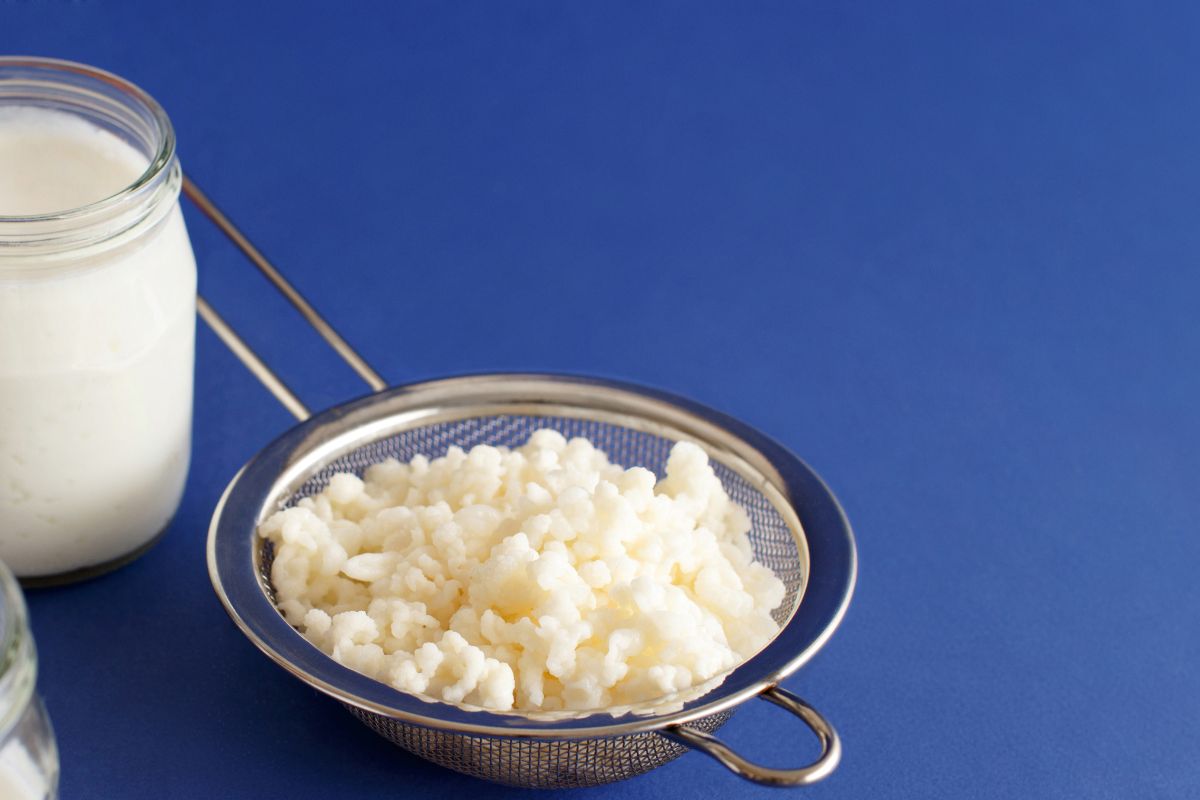 There are two main types of kefir that you can buy from popular brands, milk kefir, and water kefir. 
These kefir products provide many health benefits for your gut, but the ingredients and specific benefits are slightly different.
Milk kefir is naturally the sweeter of the two types as the starter culture ferments the natural lactose sugars in the milk. 
Because of the milk content, this version of kefir also has a boosted amount of vitamins and nutrients compared to the water alternative. 
There are higher amounts of protein, B12, calcium, riboflavin, magnesium, and vitamins D, K2, and A.  
Milk kefir also contains a higher amount of probiotics than water kefir. This makes it the most beneficial type of kefir to help restore balance to your gut after illness or a course of antibiotics. 
Water kefir is the best option if you want to increase your probiotic intake but want to avoid eating dairy or animal products.
Water kefir is particularly high in B vitamins, including B12, which is important for energy for those on a vegan diet; it also contains high levels of folic acid and biotin, which are good for hair and nail health and fertility. 
All the vitamins and minerals in water kefir contribute to the normal function of your metabolism, nervous system, and red blood cell production. 
Water kefir is also a great source of minerals such as calcium, magnesium, and phosphorus, which are crucial for bone health, muscle function, and nerve health. 
Learn more: Best Probiotic Foods For Gut Health, Exploring the dangers of drinking kefir: Health Benefits, Side Effects, and Risks.
What Are The Health Benefits Of Kefir?
Despite the many health benefits of kefir, the product isn't as well known as other fermented dairy products such as yogurt. 
Regardless, it is generally understood that the product has been consumed for hundreds of years thanks to its health benefits.  
Some of the main benefits of kefir include a reduction of bad cholesterol, an increase in good cholesterol, and increased levels of good gut bacteria. 
With regular consumption of kefir, you may also notice an improvement in your overall immune system. Kefir also helps improve your digestive system's health and reduces inflammation.  
Some of the most impressive health benefits of kefir are its antibacterial and antifungal properties and its antitumor activity against cancer cells. 
These reasons can often make people consider incorporating kefir into their diets more. 
It can be incredibly beneficial and provide more peace of mind by actively consuming foods that can help preemptively fight disease.
Store Bought Vs. Homemade
Many health benefits mentioned above are linked to kefir products made traditionally using kefir grains. Many kefir products sold in stores are made using starter cultures instead. 
Currently, no studies have been conducted to prove whether or not commercially made kefir products possess the same health benefits as homemade ones.  
However, if you don't have the time or the inclination to make your own homemade kefir, some basic health benefits are available in store-bought kefir that come from the milk content of the product. 
Protein, vitamins, and minerals will still be present in the product.  
Related:
Kefir Vs. Yogurt
Kefir and yogurt are similar in that they are both fermented dairy products (except for water kefir). However, there are a few key differences between yogurt and kefir.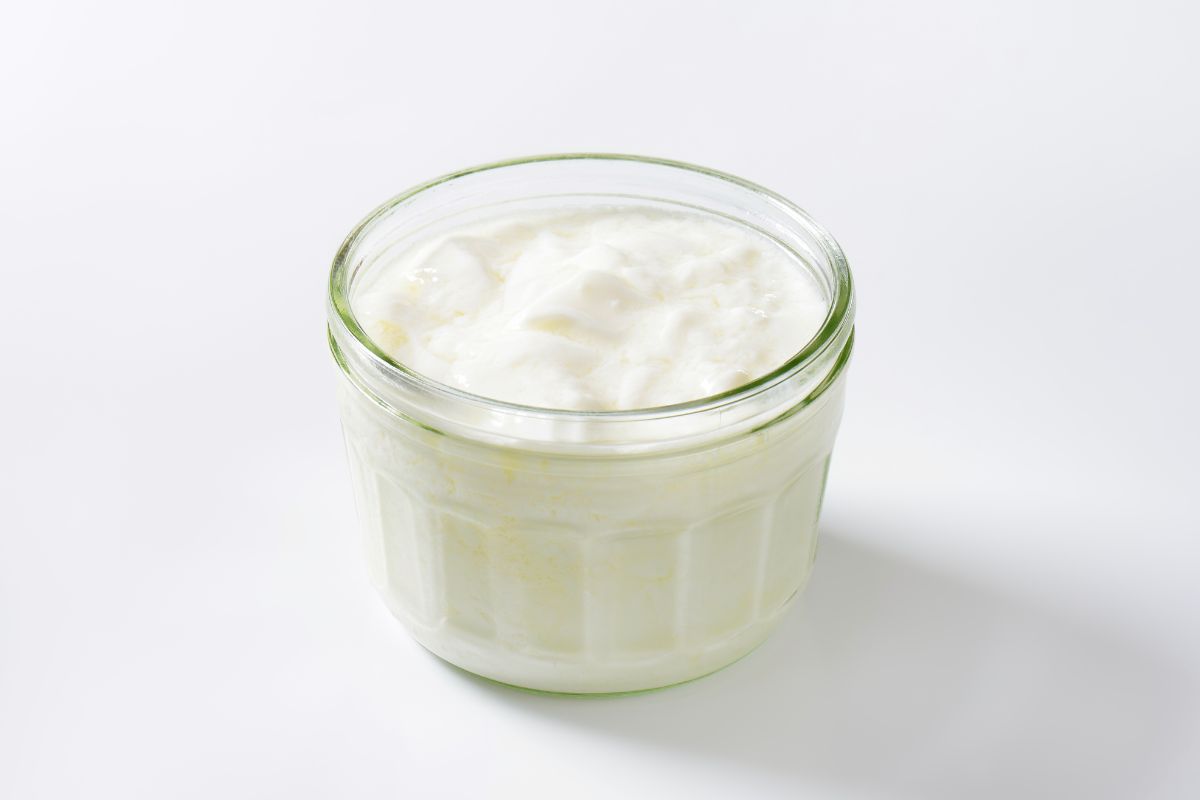 Fermentation Process
Kefir is essentially named after its fermentation process, which requires kefir grains containing a yeast and bacteria mixture. 
The presence of yeast in kefir gives it the potential to have slightly effervescent properties due to the low level of carbonation. Alternatively, yogurt is fermented using only bacteria.  
Probiotic Content
Although kefir and yogurt are comparable products that descend from the same food family, there are disparities in multiple aspects of both products. 
One of the most notable disparities comes from the probiotic content. 
While yogurt usually contains between two and three probiotic strains, kefir, on average, contains around ten different strains.  
The probiotic strains found in both products help contribute to healthy immune and digestive systems and contain high levels of calcium, which can help fight diseases.  
Micronutrient Content
There is a clear winner when comparing the micronutrient content of kefir and yogurt. 
Kefir contains multiple B vitamins, specifically high quantities of B12.
The levels of B12 in kefir are significantly higher than in yogurt, thanks to the unique fermentation process that combines yeast and bacteria. 
There are also higher potassium levels in kefir than in yogurt, which helps protect your heart. 
Digestibility
Scientific studies have found that kefir is more easily digested than yogurt. This is largely thanks to the fact that there are fewer milk sugars than regular milk. 
This has been proven in the fact that people with an intolerance to milk sugars can sip on kefir products without issue. 
Many kefir products are naturally low in lactose or can even be completely lactose-free. 
Where To Buy Kefir
There are many different places where you can purchase kefir products.  Online stores such as Amazon and online supermarkets will sell some kefir products. 
Health food stores and your local grocery also stock several brands of kefir products for you to buy.  
List Of The Best Kefir Brands To Try
Below is a list of some of the best kefir brands on the market.  These brands make a great starting point to try kefir for the first time. 
1. Redwood Hill Farm
Last update on 2023-09-13 / Affiliate links / Images from Amazon Product Advertising API
The first brand on this list is Redwood Hill Farm kefir.  This brand uses goat's milk for their kefir rather than cow's milk. 
This gives the product a slightly different flavor, but the health benefits are the same. 
Redwood Hill Farm offers its kefir in two flavors, original and blueberry pomegranate acai.  Both of these flavors are available in 32-fluid-ounce bottles.
Although their range of flavors isn't extensive, the flavors they offer are delicious and loved by customers of the brand. 
Where To Buy Redwood Hill Farm Kefir
You can find Redwood Hill Farm Kefir at Whole Foods Mart, Ralph's, Frys, and Publix. Or order online with Amazon Fresh and Instacart.
---
2. Lifeway Kefir
Last update on 2023-09-13 / Affiliate links / Images from Amazon Product Advertising API
Lifeway Kefir has a much more extensive range of flavors and kefir products than Redwood Hill Farm does. 
Flavors include coconut, pomegranate, mango, honey fig, cappuccino, vanilla, lemon, strawberry banana, campfire smores, ceremonial matcha, raspberry, chocolate, and plain.  
In addition to a standard kefir product, you can purchase low-fat, organic, non-fat, organic whole milk, real fruit kefir, bio kefir, minis, and low-fat seasonal.
In summary, Lifeway Kefir offers a huge range of flavors, including fruit and dessert flavors. 
Where To Buy Lifeway Kefir Products
Lifeway Kefir products can be found in most major grocery chains, including Kroger, Safeway, Walmart, and Publix.
---
3. Wallaby Organic
Last update on 2023-09-13 / Affiliate links / Images from Amazon Product Advertising API
Wallaby Organic is an Australian kefir brand that is incredibly popular worldwide. 
Wallaby Organic makes a nonfat and whole milk version of their kefir which are available for all the flavor options. You can also purchase 32 fluid-ounce bottles or seven fluid-ounce bottles. 
Wallaby Organic offers a variety of flavors, including mango, peach, vanilla, strawberry, blueberry, and plain.  
Where To Buy Wallaby Organic Kefir
Whole Foods, Walmart, Kroger, and Safeway all carry Wallaby Organic line of probiotic-rich products, including their kefir drinks.
---
4. Maple Hill Organic Kefir
Sale
Last update on 2023-09-13 / Affiliate links / Images from Amazon Product Advertising API
The organic kefir from Maple Hill is made with organic, grass-fed cow's milk. Maple Hill offers only three flavors: vanilla, strawberry, or plain. 
However, these flavors are made to such a high standard that you can forgive them for focusing on their base product rather than flavors.  
Maple Hill promises that their organic kefir is GMO-free which means that you can be sure that the product is truly good for your body and your gut. 
They treat the cows from which they get their milk well, which is also a great sign that their kefir will be almost as good as homemade versions.
Where To Buy Maple Hill Organic Kefir
Maple Hill Kefir can be found at Whole Foods Market, Target, Walmart, and Safeway.
---
5. KeVita Sparkling Probiotic Drinks
Last update on 2023-09-13 / Affiliate links / Images from Amazon Product Advertising API
KeVita is a brand that uses water kefir instead of the standard milk-based kefir. 
Another unique thing about the kefir products offered by KeVita is that the products are sparkling. 
This makes a refreshing, dairy-free kefir option for anyone whose diet or intolerances dictate that they can't have lactose.  
There are nine flavors in the kefir range that KeVita offers. 
These flavors include pomegranate, lemon cayenne, mango coconut, mojito lime mint coconut, lemon ginger, ginger colada, watermelon rose, tangerine, and strawberry acai coconut. 
This is a great range of varied flavors that provide sweet options, spicy options, and tangy options. 
Where To Buy KeVita Sparkling Probiotic Drinks
KeVita probiotic drinks are sold at all the big grocery chains, Walmart, Albertson's, Kroger, and Publix.
---
6. Nancy's Kefir
Last update on 2023-09-13 / Affiliate links / Images from Amazon Product Advertising API
The kefir offering from Nancy's is another GMO-free product. 
It also contains live probiotics that help actively boost your digestive system and support your immune system. 
Nancy's offers a whole milk range and a low-fat range.  Both of these ranges have different available flavors.  
The whole milk kefir is available in three flavors blueberry, plain, and vanilla. 
The low-fat milk kefir is available in four flavors: peach, raspberry, strawberry, and plain. 
These are some quite tame flavors compared with other brands. However, GMO-free products could be a bigger selling point than flavors.  
Where To Buy Nancy's Kefir Drinks
Nancy's Kefir can be found at Kroger chains such as Fred Meyer and Fry's, as well as Walmart.
---
7. Chuckling Goat Kefir
Chuckling Goat has one of the most interesting names of all the brands on this list; that alone could convince you to buy this UK-based product. 
However, there are plenty of other reasons you should consider this brand of kefir. 
Chuckling Goat offers a wide range of kefir products, but their most popular and original product is their goat's milk kefir.  
Chuckling Goat only offers a single flavor of kefir, plain. However, they do also sell some kefir-based skincare products. 
Their kefir skincare range includes a lotion and a cleanser.  This can be a fun way to include some extra kefir goodness in your life. 
Where to buy Chuckling Goat Kefir
I can not find any USA-based companies that carry Chuckling Goat Kefir. However, you can order Chuckling Goat Kefir online here.
---
8. Green Valley Creamery
Last update on 2023-09-13 / Affiliate links / Images from Amazon Product Advertising API
One of the best things about Green Valley Creamery kefir is that it is lactose-free. This makes it a great option for anyone with an allergy or intolerance to lactose. 
The Green Valley Creamery kefir is made using live and active cultures, which helps provide extra health benefits.  
You can purchase Green Valley Creamery kefir in three flavors, plain low-fat, plain whole milk, and blueberry pomegranate acai low-fat.  
Where to buy Green Valley Creamery Kefir
Walmart, Albertsons, and Publix all carry the Green Valley Creamery products.
---
9. Evolve Kefir
Two products are offered by Evolve Kefir, greek yogurt and smoothies.  The smoothies that Evolve Kefir makes are all low-fat. 
The kefir smoothies have multiple flavors, including peach, blueberry, pomegranate, plain, strawberry, vanilla + Omega 3, goji, acai, and cranberry. 
The kefir greek yogurt offered by Evolve Kefir is available in four flavors, strawberry, blueberry, peach, and plain.  
Where to buy Evolve Kefir Products
Evolve Kefir can be purchased online at Instacart. Grocery stores that sell Evolve Kefir include Walmart, Safeway, Fred Meyer, Frys, Nam Dae Mun in Georgia, and Foodtown in New York.
---
10. Biotiful Dairy
Biotiful Dairy makes kefir ice cream, cheese, and milk drinks.
The kefir ice cream has three basic flavors, chocolate, vanilla, and cherry. The cheese is also available in three different flavors. 
You can purchase plain kefir cheese, herbs, garlic kefir cheese, red pepper, and cumin kefir cheese.   
The kefir beverage is available in a generous ten flavors.  These flavors include cacao, raspberry, mango, cherry, original, honey ginger, and blackcurrant. 
Where To Buy Biotiful Dairy Kefir Drinks
Biotiful is available in the UK at Amazon Fresh, or you can order it directly from their website here.
Final Thoughts
We know that kefir products provide a vast range of health benefits.  We also know that there are many different kefir-based products on the market. 
Although commercially produced kefir often doesn't feature health benefits to the same extent as homemade kefir, the products offered by the above brands are still a great place to start. 
You will still get many health benefits you will begin to see with continued use of kefir products. 
Whether you want to try kefir for the first time or experiment with different brands and flavors, this list is a great place to start.