Sauerkraut, our favorite fermented condiment, is good for much more than eating straight out of the jar (though you can find us doing that regularly). Here are ten sauerkraut-filled recipes that will bring a big kick of flavor from soup to dip to sushi.
Continue reading to learn new ways to integrate sauerkraut into your meals. In addition to answering the question, what foods go well with sauerkraut? And how to consume sauerkraut even if you don't like it.
Sauerkraut, the most delectable fermented condiment, has ten uses ranging from classic hotdog topping to topping over scrambled eggs.
One spoonful of sauerkraut contains a lot of flavors, healthy gut bacteria, and minerals. One bite can make a significant difference in your digestion.
17 Ways to Eat Sauerkraut That Will Have You Asking for More
1. Sauerkraut and Salad
Sauerkraut is excellent as a salad topping. Combine carrots, lettuce, green onions, cilantro, parsley, or any vegetables on hand, with a little bit of sauerkraut, olive oil, and salt to taste. Combine the ingredients to make a tasty side dish.
Try Hormones Balance's simple sauerkraut salad recipe.
2. Sauerkraut and Eggs
Scramble, fry, or make an omelet with your eggs, whichever you like. Then add a couple of teaspoons of sauerkraut on top. First, drain the sauerkraut. The mix of eggs and sauerkraut is delicious!
Alternatively, mash the avocado and sauerkraut together in a bowl and top with feta, as Cameron Diaz does in her dish. Another idea is to add it to a burrito or a breakfast bowl.
3. Sauerkraut and Avocado
Cut an avocado in half and stuff it with sauerkraut! The creaminess of the avocado complements the salty and acidic sauerkraut. Enjoy!
Cameron describes this dish as "the most gloriously gratifying, most probiotic-filled bowl also packed of fantastic, nutritious fats."
Ingredients
One avocado, mashed
2 tablespoon feta cheese (optional)
½ cup sauerkraut (fresh kraut from the refrigerated section will work better)
2 tablespoon feta cheese (optional)
Directions
Smash avocado in a large bowl
Stir in the sauerkraut until thoroughly combined.
Sprinkle feta cheese over the top or mix it in.
Serve as a spread or alone, or dip for vegetables.
4. Sauerkraut Sushi
After one bite of sushi made with avocado and sauerkraut, you may never return to regular sushi! It's full of flavor and ideal for a quick meal. Try out this simple Avocado Sauerkraut Sushi recipe.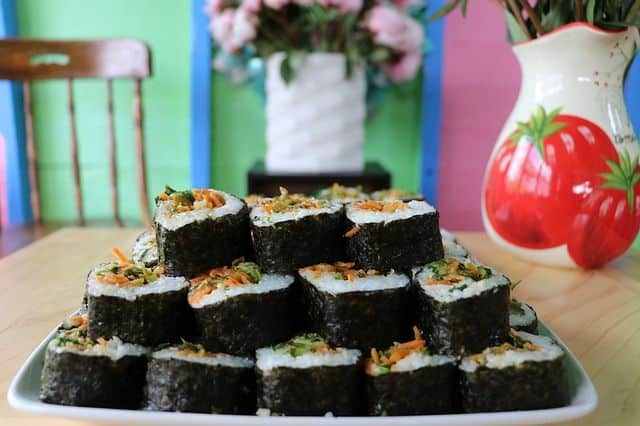 5. Sauerkraut and Stir-Fry
Add a little tangy flavor to your favorite stir-fry by stirring in some sauerkraut before serving.
6. Sauerkraut and Rice Bowls
Rice bowls: a bowl of rice, steamed greens, a pinch of salt, and a heaping spoonful of sauerkraut (place the sauerkraut between the rice and greens to warm it up without killing the probiotics).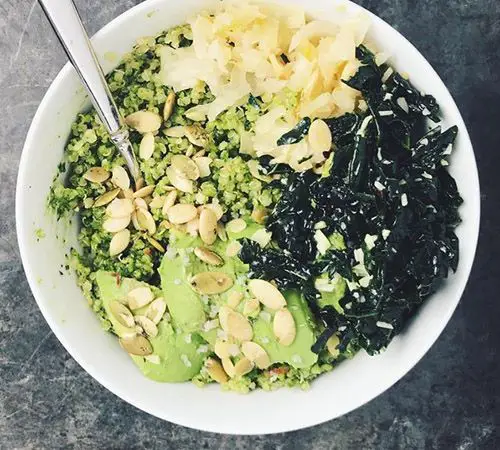 7. Sauerkraut and Sandwiches
I could go on and on with traditional Rubins, corned beef, ham and cheese, pesto and cheese, and so on! Spread a liberal schmear of mustard and mayo on two slices of bread. Arrange everything in a layer, stack it high, and top it with a few heaping teaspoons of sauerkraut.
8. Baked Potatoes topped with Sauerkraut
When the sauerkraut is added to baked potatoes, they always taste better. Serve a baked potato with grated cheese, herbs, sour cream, diced tomatoes, and chilled sauerkraut on top, and season with salt, pepper, and caraway seeds to taste.
9. Sauerkraut and Sausages
Kielbasa (or your favorite sausage) with sauerkraut is a quick family supper that can be grilled, skillet-cooked, or baked in the oven. This simple recipe will be on repeat throughout the summer!
Try it in the traditional Austrian manner, with sauerkraut on the side, fiery sausages, and fried potato slices.
10. Sauerkraut Grilled Cheese Sandwich
Cheese and sauerkraut go together like peanut butter and jelly. That is my opinion! Sauerkraut is likely to blow the roof off any grilled cheese sandwich, whether you throw some cheese slices and white bread together or go all out with Gruyere and Pumpernickel. Because sauerkraut grilled cheese sandwiches are my favorite way to eat sauerkraut, I saved the best for last.
There are many ways to eat sauerkraut. It's a versatile condiment that will enhance almost any meal's flavor, nutrients, and probiotics.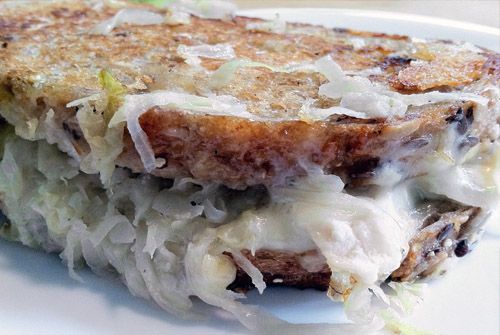 WHAT TO DO WITH SAUERKRAUT – RECIPES TO TRY
11. Reuben Sliders with Sauerkraut
This is, without a doubt, one of my favorite party treats. Why? Because these tiny Reubens are ridiculously easy to make and are always devoured.
A seasoned buttery sweet roll topped with sliced corned beef, swiss cheese, sauerkraut, and Thousand Island dressing. Perfect for any party or a quick evening meal that everyone will enjoy!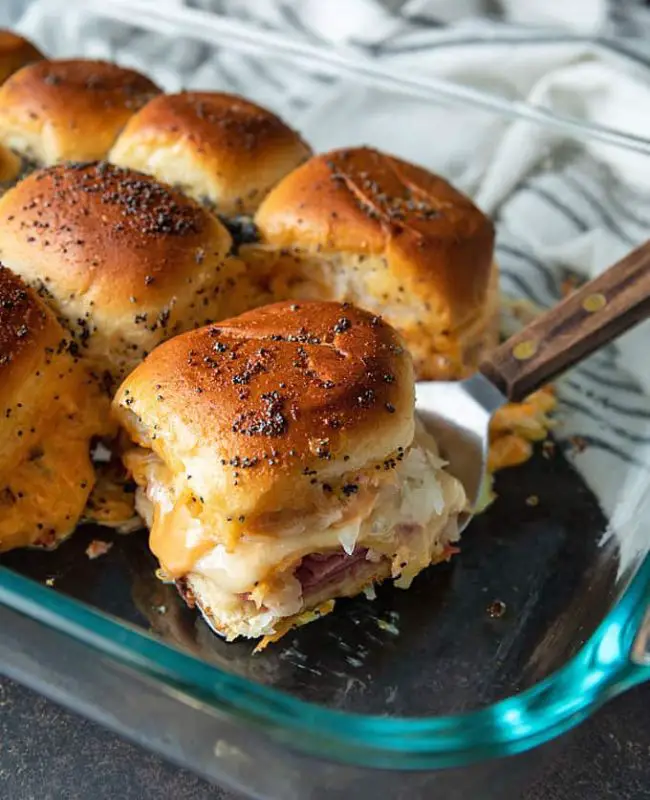 12. Buffalo Kraut Dip
Buffalo Kraut Dip is another great appetizer you can easily make in your home. Not only is it easy to make, but it is delicious when consumed.
13. Sauerkraut on Nachos with Meat
Nachos topped with sauerkraut, corned beef, homemade Thousand Island dressing, and melted Swiss cheese are a crowd-pleaser for any event.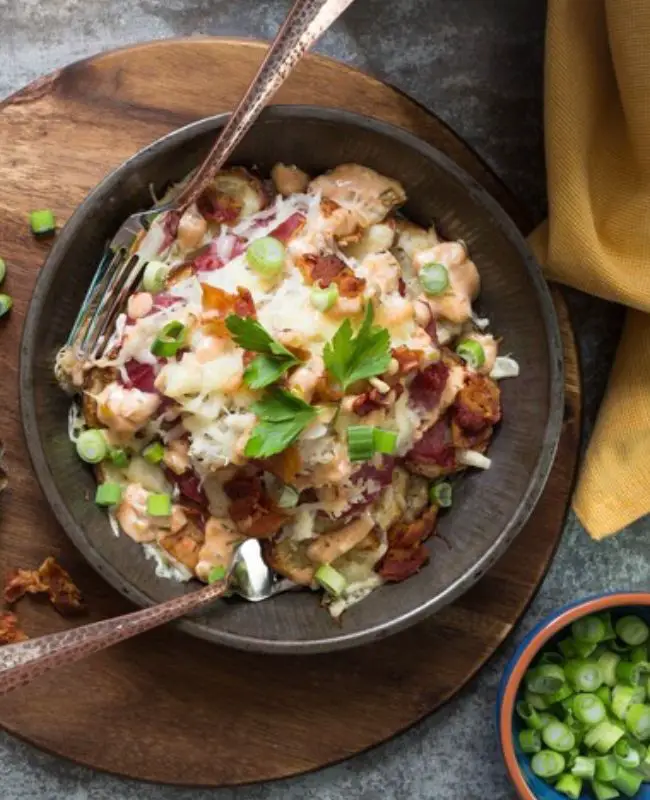 14. Sauerkraut on Nachos (Vegan)
They're crunchy, savory, salty, spicy, and oh-so-delicious. Topped with delectable vegan walnut taco meat, creaminess from the guac, delightful fresh notes from the pico de gallo, and a spicy bite from the nacho cheese. You'll be thinking about these nachos for several days.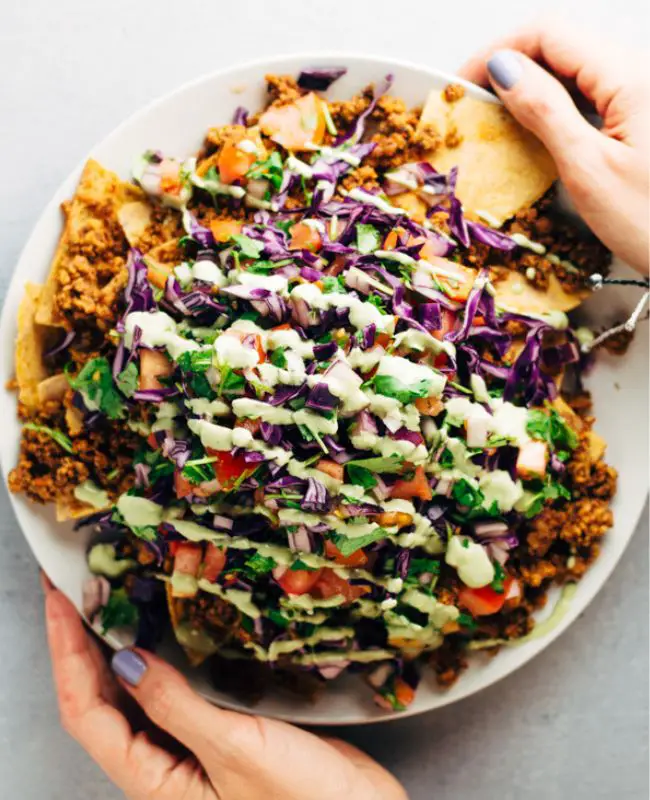 15. Pizza Topped with Sauerkraut
This Canadian Bacon, Sauerkraut, and Pineapple Pizza is the ideal combination of sweet, tangy, and savory flavors – and one of my all-time favorite pizzas for a tasty Friday pizza night!
Pizza topping: It's got the acidic zing of pineapple but without making the pizza so sweet. First, drain the sauerkraut to prevent making the pizza soggy.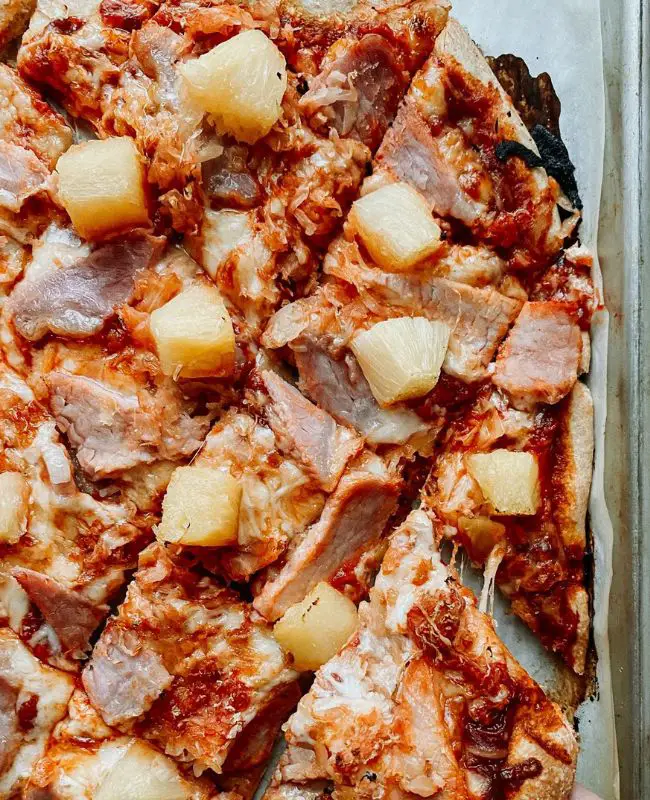 16. Potato Pancake with Sauerkraut
These vegan Potato Sauerkraut Pancakes are a tasty, crunchy, and healthful alternative to potato latkes. The sauerkraut offers a lot of flavor depth, while the fresh herbs bring zest and zing. A gluten-free, vegan, soy-free, nut-free dish is possible.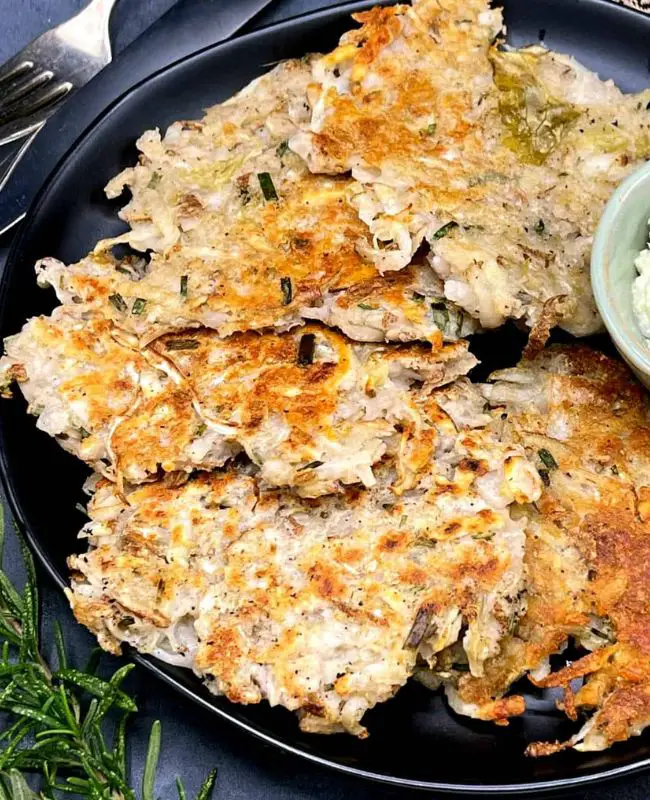 17. Cheddar Sauerkraut Toast
This quick vegetarian meal is reminiscent of a Welsh rabbit, nachos, and a Reuben sandwich. 
Toast bread pieces, then top with the fermented trifecta of sauerkraut, pickled jalapenos, and Cheddar cheese.
The cheese bubbles and crisps under the broiler and the cabbage warms and mellows. 
The sauerkraut adds vegetables and, coupled with the jalapeno, balances out the richness of the cheese. Adapt as desired: spread horseradish or mustard on the toast, or replace the sauerkraut with kimchi.
Helpful Tips For Cooking With Sauerkraut
Sauerkraut lends itself naturally to recipes that call for briny ingredients like pickles, olives, and more. Keep this in mind when brainstorming your uses for sauerkraut.
Preserve the beneficial bacteria of the sauerkraut by keeping its temperature below 115 degrees F.
You will have to dehydrate the sauerkraut to sprinkle into soups or salads. To do this, press or squeeze out the juice from previously prepared sauerkraut. Place squeezed sauerkraut onto dehydrator trays. Dehydrate for 6 hours at 125°F (50°C). 
Sauerkraut Brine is Worth Its Weight in Gold
Has any brine left over? Drink it for probiotic health, mix it with your favorite salad dressing, or use it as a starter for your next vegetable fermentation recipe.
Is Your Sauerkraut Too Salty?
If your sauerkraut is very salty, give it a quick rinse. It will remove some beneficial bacteria but not all of them. Find out how to fix overly salty sauerkraut. Here are some more suggestions for how to improve overly salty sauerkraut.
Avoid Cooking Your Sauerkraut
Cooking sauerkraut destroys beneficial enzymes and probiotics!
To retain the nutritional benefits of fermented sauerkraut, serve it as a topping or side dish to another cuisine. It's OK to warm up sauerkraut in a bowl of soup, but don't overly cook it.
Sauerkraut is one of the most straightforward fermented recipes to make at home. 
Making your own allows you to be creative and add your personality and flavors to these dishes, allowing you to experiment with entirely new characters.
Try my homemade sauerkraut recipe if you want to create your own.
You probably already know that it has a lot of fantastic health advantages because you usually have some on hand. Its beneficial microorganisms make it an excellent probiotic and high in nutrients.
Use this collection of delectable recipes to figure out what to do with sauerkraut. Breakfast, supper, and even dessert are all cooked with fun and healthy ingredients.
Whether you've stocked up at Costco or have leftovers from a large German supper, there are numerous methods to use leftover sauerkraut.
Sauerkraut complements a wide range of foods. It will fit if the cuisine calls for pickles, olives, or other saline components. Try it on some hot dogs or some avocado toast.
So keep a jar of sauerkraut on hand next time you want to add some interesting texture and taste to a dish.
Related Topics: