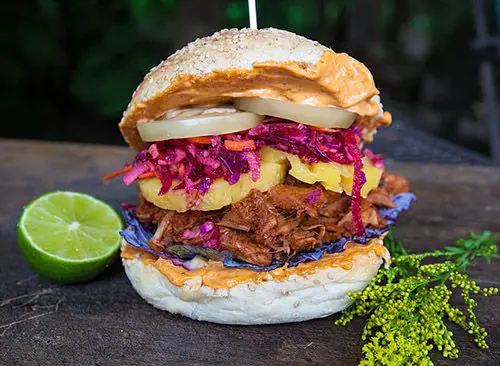 Sauerkraut is a great condiment that is easy to incorporate into any classic recipe for a kick of flavor that includes a bit spicy, a bit sweet, and a bit salty. Read on to discover new ways to use sauerkraut in your meals. As well as answer the question, What foods go well with sauerkraut? 
From the traditional topping of a hotdog to topping off scrambled eggs, here are ten uses for sauerkraut, the most delicious fermented vegetables.
Sauerkraut is packed full of goodness in both flavor, probiotics, and nutrients, and while for some, it may be an acquired taste, it pays off enormously when handled right.
10 Ways to Eat Sauerkraut That Will Have You Asking for More
1. Sauerkraut and Salad
A popular use for sauerkraut is as a topping on salads. Carrots, lettuce, green onions, cilantro, parsley, really any vegetables you have, add sauerkraut, drizzle with a little olive oil, and a dash of salt if needed. Mix, and you have a delicious side dish.
Try this simple sauerkraut salad recipe by Hormones Balance.
2. Sauerkraut and Eggs
Prepare your eggs the way you like them, scrambled, fried, or make an omelet. Then top with a few tablespoons of sauerkraut. Be sure to drain the sauerkraut first. Eggs and sauerkraut make a delightful combination!
3. Sauerkraut and Avocado
CUt an avocado in half and fill with sauerkraut. The creaminess of the avocado blends well with the salty and tangy sauerkraut. Enjoy!
Or, mash the avocado and sauerkraut together in a bowl and top will a little feta, as Cameron Diaz does in her recipe.
4. Sauerkraut Sushi
You may never go back to traditional sushi after one bite of Sushi Avocado and Sauerkraut! It's packed with flavor and perfect for a quick lunch. Try this easy Avacado Sauerkraut Sushi recipe.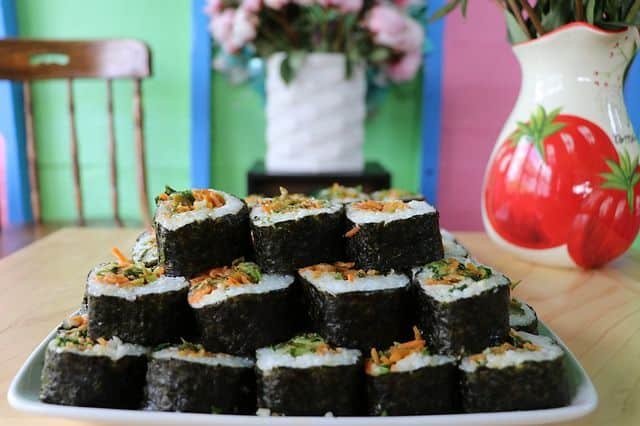 5. Sauerkraut and Stir-Fry
Add a little tangy flavor to your favorite stir-fry by stirring in some sauerkraut just before serving.
6. Sauerkraut and Rice Bowls
Rice bowls: A bowl of rice, steamed greens, a dash of salt, and a healthy serving of sauerkraut (place the sauerkraut in between the rice and greens to warm it up without killing the probiotics).
7. Sauerkraut and Sandwiches
Whether it's a traditional Rubin, corned beef, ham & cheese, pesto & cheese, I could go on! Slather two slices of bread with a generous schmear of mustard and mayo. Arrange a layer of everything, stack it high, then top with a few heaped tablespoons of sauerkraut.
8. Sauerkraut Topped Baked Potatoes
Baked potatoes always taste better when sauerkraut is added to them. Top a baked potato with a little grated cheese, thyme, sour cream, diced tomatoes, and cold sauerkraut. Season with salt, pepper, and caraway.
9. Sauerkraut and Sausages
Try a traditional Austrian way, served as a side with spicy sausages and fried potato slices.
10. Sauerkraut Grilled Cheese Sandwhich
Cheese and sauerkraut are as perfect and peanut butter and jelly. In my opinion! Whether you slap some cheese slices and white bread together or go all out with Gruyere and Pumpernickel, sauerkraut is sure to blow the roof off any grilled cheese sandwich. I saved the best for last because sauerkraut grilled cheese sandwiches are my favorite way to eat sauerkraut.
Beware: Cooking sauerkraut destroys all the health-promoting probiotics. If you want the gut-healthy probiotics in your meal, then only warm it up or add it as a topping to the dish.
Sauerkraut is one of the easiest ferments to make on your own. By making your own, you can get creative and add your own flavors and personality to all of these dishes and experiment with totally new characters.
If you would like to make your own sauerkraut, try my homemade sauerkraut recipe.
If you are fermenting for the first time, check out these tools to ensure your first sauerkraut batch is a success.
Product
Title
Buy
Kerazo 7 L (1.9 Gal) K&K Keramik German Made Fermenting Crock
View On Amazon

Top

Top

Crazy Korean Cooking Premium Fermentation and Storage Container with Inner Vacuum Lid, 1.3 gallon (5.2 L)
Latest Price On Amazon

Top

Top

Braun FP3020 12 Cup Food Processor Ultra Quiet Powerful motor, includes 7 Attachment Blades + Chopper and Citrus Juicer
Latest Price On Amazon

Top

Top

Masontops Complete Mason Jar Fermentation Kit - Easy Wide Mouth Jars Vegetable Fermenting Set
Latest Price On Amazon

Top

Top

Fullstar Vegetable Chopper Dicer Mandoline Slicer - Food Chopper Vegetable Spiralizer Vegetable Slicer
Latest Price On Amazon
Fermentation Made Easy! Mouthwatering Sauerkraut: Master an Ancient Art of Preservation
View On Amazon
We independently select these products—if you buy from one of our links, we may earn a commission.