This post may include affiliate links. As an Amazon Associate I earn from qualifying purchases.You can read my complete affiliate disclosure for more details.
How To Make a One-Gallon Simple Apple Cyser Mead
An Apple Cyser Mead is a blend between an apple cider and a mead. The delicious combination of the two meads makes a fine drink that will disappear quickly if you can handle the aging process.
All it requires is a little time and patience — a couple of hours one evening will be more than enough to get the apple cyser mead started. In three to four weeks, you'll enjoy your Viking grog.
Ingredients needed for a 1-gallon batch of Apple Cyser:
Last update on 2023-09-13 / Affiliate links / Images from Amazon Product Advertising API
Sourcing The Apple Juice for Apple Cyser Mead
Our recipe today is a more "simple" cyser, so we have used store-bought juice as the apple addition. Sourcing your apple juice from a grocery store (rather than pressing your own) will not make a difference in your chosen brand. Nor will it matter if you use the cheapest juice you can find versus the purest apple cider.
What will matter most is whether or not the juice you choose has any preservatives that may inhibit fermentation.
Additional acids such as ascorbic acid (vitamin c) and malic acid are common additives in store-bought apple juice. Their inclusion in the juice is ok as these will not affect your fermentation.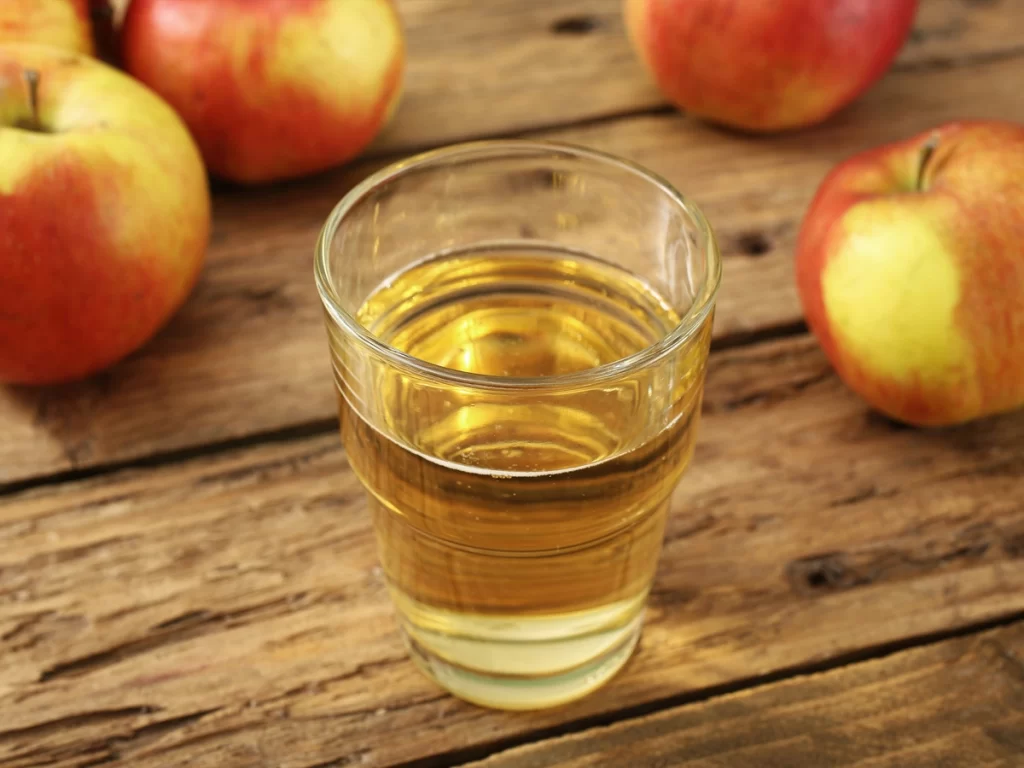 Want to learn more about mead-making? Check out our other helpful posts:
Sourcing The Honey
As far as the honey goes, I recommend that you stick with either clover or wildflower honey. These will be your cheapest options and most widely available. As a cyser will already be blended with apple, I don't find it worth the extra money for specific honey varietals.
More often than not, you should be able to source either of these types of honey at your local grocery store. If you are worried about quality, you can check your local fruit/vegetable stands or farmers' markets for a local honey option. Make sure you are buying true raw honey without any stabilizers that may inhibit fermentation, and you will be fine.
Best Yeast Choice
I've chosen Redstar wine yeast for this recipe based mostly on its alcohol tolerance. As our recipe has the potential to end at 15% ABV, using Redstar wine yeast will ensure that we leave a little bit of natural sweetness behind in the finished product.
The Redstar wine yeast can only handle up to about 13% ABV. This means that when using it in this recipe, fermentation should stop before the yeast has eaten all of the sugars from the honey and apple juice.
If you prefer a drier cyser, you may look into using yeast that has a higher alcohol tolerance. Something like Lalven dry wine yeast (EC-1118) would trick the cyser down to a final gravity of 1.000.
Alternatively, if you were looking for something sweeter, I would recommend the workhouse known as Safale US-05. While this is typically used as a beer yeast, it has a clean neutral fermentation profile that can ferment up to the 10% -11% range. This would leave even more sweetness in the final product than in the Redstar wine yeast.
Process
Clean and sanitize your 1-gallon fermenter.
Add ½ a gallon of apple juice to the fermenter.
Add 2 pounds of raw honey to the fermenter.
Close the fermenter and shake so the honey and apple juice blend together.
Open the fermenter and add additional apple juice to the fermenter. You will want to add enough juice to bring the total volume to around 90% of the total fermenter volume. This will ensure you leave some headspace to allow for fermentation activity.
Take a hydrometer sample of the must. Starting gravity should be between 1.110 and 1.125 (this actual gravity will depend on the gravity of the juice and honey you sourced).
Add ½ teaspoon of diammonium phosphate (DAP) to the fermenter
Add ¼ teaspoon of Fermaid-K to the fermenter
Pitch half a packet of Redstar wine yeast into the fermenter
Seal your fermenter with an airlock and ferment at 68 degrees.
After 48 hours, open the fermenter and gently stir the must with a sanitized stirring device to degas the must.
Add ¼ teaspoon of diammonium phosphate (DAP), and ⅛ teaspoon of Fermaid-K.
Reseal the fermenter with an airlock and continue fermentation.
Once fermentation is complete (around 2-3 weeks). Cold crash the fermenter for 48-72 hours.
Transfer the cyser to a secondary vessel for conditioning.
Post Fermentation
Beverages fermented with honey require a "conditioning" period to allow the finer crystals to settle out. This process usually takes around 4-8 weeks. In some cases, it may take as long as six months.
While this extended conditioning period will make the cyser "look better", I have found that my cysers have only ever needed 2-4 weeks of cold conditioning before they "mellow" out enough to be an enjoyable drinking experience.
I advise experimenting with cold conditioning times to see what tastes and/or looks best to you!
Related Posts and Recipes
You've reached the right place if you enjoyed this Apple Cyser Mead recipe and are curious about mead. Check out our related posts, where we share all the information you need about mead-making.