An Easy Guide to Fermenting Vegetables At Home
Tangy, crunchy, sauerkraut straight out of the jar is a simple pleasure at any time of day or night. Fermenting is a brilliant solution for preserving vegetables from the store or your garden.
Fermenting doesn't require a lot of tools or time. Best of all, you can adapt this simple formula for any fresh vegetables; try a mixture of veggies and spices for a truly custom fermentation pleasure.
Ready to start fermenting vegetables? Follow this quick step-by-step guide on how to ferment vegetables at home.
Equipment Needed For Fermenting Vegetables
If you browse Amazon for fermentation equipment you will find an endless list of supplies to choose from (scroll to the bottom to view my favorite fermentation tools).
But, if you are just starting out all you need are a few jars with lids and a knife to cut the veggies.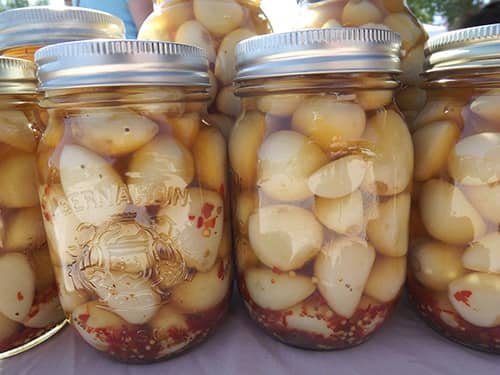 Prepare Vegetables For Fermentation
Give the vegetables a good wash. If you usually peel the vegetables when you eat them raw, then peel them for this process as well. Carrots, radishes, beets, zucchini, mushrooms, broccoli, cauliflower are all great vegetables to ferment.
Chop or shred the vegetables very small; the smaller or finer they are will help them to ferment faster. It's a matter of personal preference and how you intend to use the finished product.
For example, carrots can be chopped, shredded, diced, cut into coins, or matchsticks. At the very least, cut the vegetables into bite-size pieces.
Make the Fermentation Brine
The fermentation brine is made from 1 tablespoon of salt per cup of water (use natural, non-iodized salt and chlorine-free water). The salt prevents mold organisms from growing and produces the beneficial bacteria that is known as probiotics.
The best salts to use are sea salt, Himalayan salt, pickling salt, and some kosher salts.
Avoid iodized salt and salts that include anti-caking agents, both of which are often found in table salt and some kosher salts.
Mix the salt and water until the salt dissolves.
It is time to fill the jars. Layer the vegetables and any herbs or seasoning in the jars as firmly as you can and pour the brine over them while leaving 1-2 inches of head-space.
Garlic, ginger, bay leaves, dill, fresh thyme, caraway seeds, and red pepper flakes all great herbs and seasoning ideas.
The vegetables must remain submerged in the brine; anything exposed to air will rot. Use a fermentation weight to keep the floaties down.
For some DIY weights, read my post, Fermentation Weights: How to weigh down fermented vegetables.
Let the Vegetables Ferment
If using a mason jar, tighten the lid just a little to prevent any oxygen from entering, but it still lets carbon dioxide escape. Pressure can build up and explode if the lid is too tight and no air can escape. That is why fermentation crocks have water seals.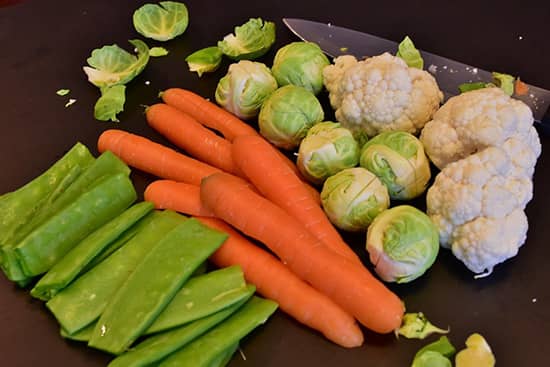 Store the jars of fermenting vegetables in a cool and dark place. The ideal temperature for storage is between 65 to 70 degrees. Store the jars out of sunlight, in a cupboard or pantry.
How long does it take to ferment vegetables?
The fermentation times can vary from three days to six months, depending on the vegetables, temperature, and the flavor you seek.
The best way to know when it's ready is to taste it. Once it reaches the optimal flavor and crisp it is time to move the jars to the refrigerator to stop any further fermentation.
A great way to find your optimal fermentation time is to make several jars at a time and let some ferment longer than others. Leave one for one week, one month, three months, and so on. Keep a fermentation logbook of their progress along the way.
Fermented Veggie Recipes
Ready to get started fermenting vegetables? Try out one of the following easy Lacto-fermented vegetable recipes!
[amalinkspro_table id="5248″ aff-id="fermenterskit-20″ new-window="on" nofollow="on" addtocart="off" /]