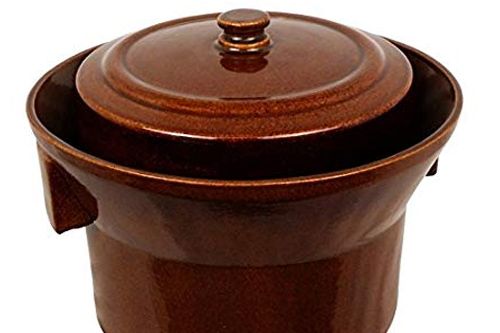 As an Amazon Associate, I may earn a small commission from qualifying purchases if you click to Amazon from my website and make a purchase. Please read my complete disclosure for more details.
The Best Fermentation Crocks in 2021 – Buyer's Guide & Reviews
For all the fermentation tools a person can choose from today, one of the essential items for every fermenter's kitchen remains a good quality crock. If you do any fermenting at all, a high-quality fermentation crock will do a lot to make the job go smoother.
If you're considering purchasing a fermentation crock, our buyers' guide is your one-stop-shop for everything you need to know during the buying process. We review water-sealed crocks, open crocks, pots for bulk fermentation, best-value fermentation crocks, multi-purpose crocks, and fermentation crocks made for kombucha, all for the fermented food lover. Let's get started!
Factors to Consider When Buying a Fermentation Crock
A few things to consider before making a buying decision on a new fermentation crock. What kind of crock seal is best for you, a water-sealed crock or an open lid crock? What about the size of the crock and the price range you are willing to spend on a fermentation crock?
Water-Sealed Crock vs. Open Crock
Water-Sealed Crock
Out of all the crocks, the water-sealed crock is my favorite!
PROS
The water-seal crock process is so simple: you fill up the moat with water, and it creates an airtight seal that keeps out contaminants, such as dust and bugs, keeping your foods fermenting without a problem.
Because of this ingenious seal, there is little chance of mold or surface yeasts growing on your ferment.
It takes the worry out of making sauerkraut and other fermented vegetables.
CONS
It would be best if you kept an eye on the water-seal crocks to ensure that the moat stays full of water. If the water in the moat evaporates, oxygen, particles, and bacteria can get into your brine solution.
You cannot see inside of the crock to monitor it throughout the fermentation process.
The opening is narrow, and that makes it a little difficult to pack in the vegetables.
The narrow opening also makes it difficult to reach your hand in to clean it.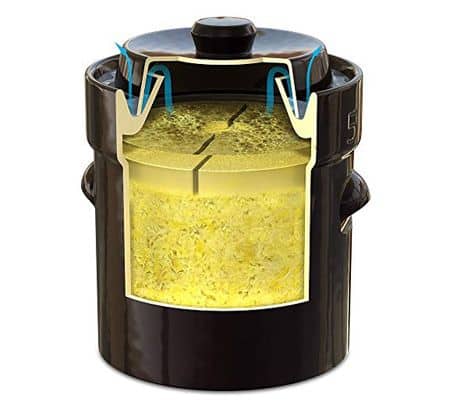 Best Water-Sealed Crock
Top

Top

Top

Top

5L (1.3 Gal) K&K Keramik German Made Fermenting Crock Pot, Kerazo F2, Plus Beechwood Tamper
Latest Price On Amazon

Top

Top

Top

Nik Schmitt Fermenting Crock Pots 5 Liter
Latest Price On Amazon

Top

Top

Top

Polish Pottery Fermenting Crock Pot (3.5 gal) with Weight (Brown Theme) + Certificate of Authenticity
Latest Price On Amazon
Open Crock
Most open crocks don't come with a lid or weight to keep the vegetables held down below the brine, making it a cheaper purchase. This could be considered a positive because it saves you money.
However, it is up to you to find a suitable weight and cover. You can read the post, Fermentations Weights: How to Keep Veggies Submerged, for some clever ideas.
If you are using a cloth or paper towel as a lid, then be sure to closely monitor the batch to prevent Kahm yeast and mold from developing. Both can appear when the vegetables are exposed to the air.
There are some great benefits of using an open crock. The wide mouth makes it easy to place several whole cabbages or other giant vegetables, such as cucks, in the vessel.
So if you are preparing to ferment in bulk, this crock will be perfect for you.
Depending on their size, open crocks are quite easy to clean since their bases and openings are the same diameters.
Furthermore, open crocks can also be used as a storeroom or kitchen container.
It is important to note that open crocks work better during colder periods of the year, i.e., lower temperatures, because molds or Kahm yeast do not form as quickly in lower temperatures.
PROS
Less expensive
Cylindrical shape makes it easy to fit large pieces and whole vegetables.
Great for large batch and whole cabbages
Easy to clean.
CONS
Need to buy or make a lid and weights.
Prone to developing a layer of Kahm yeast if not covered properly.
Easy to get bugs and foreign objects in the ferment if you don't use a lid.
Read reviews here.
Whichever style crock you choose to buy you will still have to check on it to ensure the brine levels are not dropping.
Here is the one open crock I recommend because it comes with weights and a lid.
1-Gallon Stoneware Pickling Crock Complete Kit
1-gallon crock is 8 in diameter x 8-1/2 H and weighs 8-1/2 lbs.

Cover for 1-gallon crock is 10 in diameter x 1-1/2 H and weighs 3-3/4 lbs.

Two-piece, unglazed ceramic pickling weights for 1-gallon crock are 6 in diameter (together) x 1 H and weigh 2 lbs.
Best Large Crocks
Fermentation crocks come in a wide variety of sizes. If you are looking for a larger size crock, I recommend the Kerazo K and K Keramik German Made Fermenting Crock Pot, a 4-gallon capacity. This baby can hold multiple heads of cabbage at one time. 
Just beware of the weight; this crock weighs in at 26 lbs when empty.
E-Jen has a 5.8-gallon crock which is both lighter in weight and on your budget. It is great for mass production. But you'll want to make sure you have the room to store it. E-Jen crocks are plastic and come with an ingenious inner seal that makes them quite versatile because you can easily push down the seal to ferment a smaller batch in any of their container sizes.
There's typically no harm in leaving some extra headspace in the crock, but if you usually make smaller batches, you'll likely be fine with one of the smaller crocks on the market.
Our Reviews of Top Fermentation Crocks
Best Priced Fermentation Crock
The price range for fermentation crocks on the market can be hefty. However, there are a few companies that make high-quality crocks with a great price that will fit your fermentation needs and budget.
Best Multi-Purpose Crock
The E-Jen and Crazy Korean Cooking brands of fermentation crocks are the best multi-purpose and versatile crocks you can buy. Both brands are quality made and have many sizes to choose from. When not fermenting the crocks can use as food storage containers.
Top

Top

Humble House Open SAUERKROCK 2 Liter White Glazed Ceramic Sourdough Fermentation Crock, Utensil Holder, Bottle Chiller, and more!
Latest Price On Amazon

Top

Top

E-Jen Premium Kimchi, Sauerkraut Container Probiotic Fermentation with Inner Vacuum Lid Round (3.1 gal/ 12L)
Latest Price On Amazon

Top

Top

Crazy Korean Cooking Premium Kimchi, Sauerkraut Fermentation and Storage Container with Inner Vacuum Lid, Sandy Brown - 1.6 Gallon (6.4L)
Latest Price On Amazon

Top

Top

Crazy Korean Cooking Premium Kimchi, Sauerkraut Fermentation and Storage Container with Inner Vacuum Lid, Sandy Brown, 0.9 gallon (3.4 L)
Latest Price On Amazon
---
Best Fermentation Crock: Detailed List
Humble House Crock
Humble House Fermentation Crock
Ferment food the traditional way with our water channel crock jar, lid, weights, and wood tamper.

6 in. wide and 8 in. tall; Makes up to 4 standard size mason jars per batch.
The Humble House Crock is a water-seal crock that is available in three sizes, 2 Liter, 5 liters, and 10-liter. It's perfect for fermenting sauerkraut, pickles, and kimchi. It comes with a jar, lid, and weights. It is made of thick ceramic and finished with a lead and cadmium-free glaze.
Two-liter (half-gallon) Humble House Crock
The 2-liter crock measures 6 inches wide and 8 inches tall. This smaller size crock will make about four mason jars worth of pickles, kimchi, or sauerkraut. That is enough to feed 3-4 people. This size crock is perfect for those who don't have much storage space in their kitchen.
Beware that some people say the mouth of the 2-liter crock is so small they cannot fit their hand in it to give it a good scrub.

Five-liter (1.3 gallons) Crock Humble House Crock

If that isn't big enough for you, then the 5-liter crock can surely do the job. At 10 inches wide and 12 inches tall, this medium-sized crock makes up to 10 standard-sized mason jars per batch.

Ten-liter Crock

Thinking of mass producing your fall harvest of vegetables? The 10 liter Humble House Crock is the right crock for the job.
It measures 11 inches wide and 13 inches tall and makes up to 20 standard-size mason jars per batch.
The Humble House Crocks are easy to clean by hand. The manufacturer does not recommend using a dishwasher or detergents. Just use soap and warm water to clean the pot.
Vinegar and water are great if you need extra cleaning power. Since the weights are unglazed, using warm water and vinegar is the preferred method. If necessary, you can boil them for deeper cleaning.
The crocks can brew kombucha or grow a sourdough starter by simply replacing the lid with a clean cloth.
PROS
Three sizes to choose from: 2l, 5l, and 10l.
It comes with a lid & weights.
Lead and cadmium-free glaze
Tough ceramic
CONS
Read reviews here.
---
Crazy Koren Cooking Fermentation Container
Crazy Koren Cooking hits it out of the ballpark with this masterfully made fermentation crock. There are five different sizes to choose from, 0.9 gallons up to a whopping 11.8 gallons.
The smaller containers can fit in any standard-size refrigerator.
Although they might not look very pretty, they are made of high-quality polypropylene plastic mixed with 7-10% natural clay. This combo makes for optimal porosity, and all components are FDA-approved materials, free of BPA, DEHP, and lead.
Warning: The inner seal has a little nozzle, which you need to open for a second or so every day or two, depending on what you are fermenting.
If you don't do this, the gases gradually push the inner seal upwards, and oxygen may enter.
This container can also be used for storing non-fermented foods, like coffee, bread, seaweed, cereal, and so on.
PROS
FDA approved materials, free of BPA, DEHP, and lead-free
Very Affordable
Dishwasher safe
Light Weight
It can be used as a storage container when not fermenting
CONS
Made of Plastic
Not Pretty
---
K&K Keramik German Fermenting Crock Pot
Crocks that originated in Germany have a distinct style and are known as water-sealed crocks. The water gutter in which the lid sits is shaped in a 'U' or 'V'-shape. The gutter is filled with water and creates an airtight seal that only allows gases to escape, but no air to enter.
The Keramik German Made Fermenting Crock is known for its impeccable design and high-quality products. The kit comes complete with a pot, lid, weighing stones, and a recipe book.
The crock works by filling the built-in channel with water to guarantee a perfect seal against the lid. The carbon dioxide that forms during fermentation can easily escape while the odor is trapped inside. The seal blocks contaminated air, mold, and insects from entering the crock.
This ceramic crock is lead-free and cadmium-free, making it a healthy option. It is a 5-liter crock with handles on each side to simplify lifting and transporting.
PROS
Beautiful ceramic piece
Handmade German ceramic
Deep gully 5-liter
Free of lead and cadmium
Handles make it easier to move
It comes with weighing stones
Dishwasher safe
CONS
Small Handles
Fragile
Heavy at approximately 30 pounds
Read reviews here.
---
Kombucha Continuous Brewing Crock
Lastly, this continuous brewing crock for kombucha and other fermented drinks made by Get Kombucha is perfect if you want to keep a crock just for fermented drinks.
Get Kombucha makes this beautiful sleek crock just for Kombucha lovers. Their kombucha crocks are 2.5-gallon white porcelain and come with a wooden stand. Don't stop at kombucha; the crock can also be used to make jun tea, vinegar, and more.
It is designed with continuous brewing in mind, as the spigot makes it easy to fill up bottles and transfer them to the refrigerator, eliminating funnels and messy clean-up.
The glaze is food-safe and lead and cadmium-free.
This crock has thick walls and is sturdy enough for regular use. It is still possible to use a thermostat strip to monitor the temperature of your liquid, though.
The kombucha crock does not come with a lid. You must use a paper towel or piece of cloth secured with a rubber band to cover it and allow it to breathe. This is normal when fermenting kombucha.
PROS
Beautifully made of Porcelain, perfect for regular use
Easy to clean with a water/vinegar
Lead and cadmium-free glaze
Handy Spigot
It comes w/ a Stand
CONS
Heavy when full
Handwash Only
---
Buying Fermentation Weights
I highly recommend you purchase these lead-free glass weights by Stone Creek Trading. The 6.5 " Luna Glass Crock Weight weights 2.6 lbs. This is almost double the weight of most standard glass weights on the market today. This is great because I often hear people complain that their glass weights are not heavy enough to keep the veggies below the brine.
It is important to pay attention to the weight's size, as their smallest size, 6.5", will not fit into smaller 2-liter crocks listed in this article.
How do you clean ceramic fermentation crock and stone weights?
Fermentation crocks should be cleaned with warm water and mild dish soap. You can also use a water/vinegar solution.
To remove strong smells, apply soap for at least 15 to 20 minutes before washing it: rinse and air dry.
Clean the equipment right after you remove the fermented food. Do not let it sit for a long time with food particles.
If you are storing the crock for a while, then fill it up with a scrunched-up newspaper. Also, wrap the lid and stones in newspaper to protect the ceramic pieces and ensure they stay dry.
To prevent mold growth in a crock or on the weight
Always dry the stones/crock thoroughly in a warm oven or the sun
Never put the crock or weights away wet
Never store your crock and weights in a damp room, such as a cellar or basement
If you notice the crock or weights, do have a little mold on them. They can still be saved by quickly cleaning them off before the next use.
How to remove mold
Sometimes, mold happens; here are some tips on how to remove mold from a crock or weight.
Scrub the mold off as best you can
Soak the weights overnight in a pot with a few tablespoons of vinegar and hot water (not boiling), or fill the crock with vinegar and hot water.
Lastly, place the weights or crock in the oven at a low temperature until completely dried.
Why Fermenting Crocks are Better than Mason Jars
When I started out making my own ferments, I took the cheap and easy route using glass jars. Like most people taking on a new hobby, I didn't want to invest in expensive equipment.
But that all changed when I tried a batch of kimchi made in a water-seal style fermenting crock. The kimchi was so much better; I was blown away. It wasn't just a matter of the recipe or expertise; ferments turn out better in a crock for two main reasons:
Ceramic Materials: The thick walls of a crock are made with ceramic clay. The thick clay provides natural insulation and helps keep the brine temperature stable, allowing the bacteria to grow effectively.
Naturally Blocks Light Out: Have you noticed that practically every fermentation recipe you come across recommends placing the jars in a cupboard or pantry away from the light? That is because UV light kills the healthy bacteria in the brine. The thick ceramic walls block out the light and help with a successful end product.
Final Thoughts
As with any product, it is important to buy quality only to have to buy once. That couldn't be truer than when it comes to the purchase of a fermentation crock.
If you settle on a cheaper fermentation crock, you are going to be facing a short lifespan, along with wasting your time and vegetables. Nobody wants that, especially if you have been waiting all summer for harvest time.
I hope our Guide to Buying a Fermentation Crock serves you well. Happy Fermenting!
Related Topics: