This post may include affiliate links. As an Amazon Associate I earn from qualifying purchases.You can read my complete affiliate disclosure for more details.
Originally published on February 2, 2020. Last updated on July 30, 2023
2023 Guide To Choosing The Best Fermentation Crocks
Welcome to our comprehensive guide to the best fermentation crocks and jars available. Whether you are a seasoned pro or a beginner in fermentation, we have researched and reviewed the top products to help you easily make sauerkraut, pickles, kimchi, and other fermented foods.
Our experts have carefully analyzed each product based on durability, ease of use, and food safety. This article will walk you through our top picks and provide valuable insights to help you choose the perfect fermentation vessel for your needs.
Of all the fermentation tools a person can choose from today, one of the essential items for every fermenter's kitchen remains a traditional-style ceramic crock for fermenting.
If you do any fermenting at all, a fermentation crock, a.k.a stoneware crock or fermenting pot, will do a lot to ensure the fermenting process is a success, and you get all the health benefits of probiotic-rich foods.
If you're considering purchasing a crock for fermenting vegetables, our buyers' guide is your one-stop shop for everything you need to know during the buying process.
We review water-sealed crocks, open crocks, pots for bulk fermentation, sauerkraut crocks, best-value fermentation crocks, multi-purpose crocks, and fermentation crocks made for kombucha, all for the fermented food lover. Let's get started!
Open Crock Vs Water-Seal Crock
Open Crock
Open crocks are simple, straight-walled vessels with or without a lid and weights.
A common practice is using a cloth to cover the crock and a plate to submerge the ingredients in their brine.
Open crocks are less expensive, easy to find, and simple to clean.
The wide opening makes it easy to pack larger ingredients like whole heads of cabbage.
Yet, you will have to watch the ferment more to prevent mold infestations and brine overflow.
Additionally, they may allow strong odors to escape during fermentation.
Water-Sealed Crock
Water-sealed crocks come with a lid that sits in a shallow "moat" around the mouth of the crock.
You fill the moat with water to create an airtight seal.
The water seal prevents mold, yeast, insects, and dust from contaminating the ferment.
It also helps seal in the characteristic fermentation aromas.
But, the narrower mouth may make it trickier to fit larger ingredients, as in whole heads of cabbage.
It is important to check the water level in the moat to maintain the seal.
How Fermentation Crocks Work
Once you fill the ceramic crock with water and place the lid on it, it ensures that no outside contaminants, such as dust and bugs, can get inside and contaminate the ferment.
While at the same time, it continues to allow the carbon dioxide to release and bubble out, creating optimal conditions for the lactic acid bacteria to do its magic.
Water-Sealed Crock
Out of all the crocks, the water-sealed crock is my favorite!
PROS
The water-seal crock process is so simple: you fill-up the moat with water, and it creates an airtight seal that keeps out contaminants, such as dust and bugs, keeping your foods fermenting without a problem.
Because of this ingenious seal, there is little chance of mold or surface yeasts growing on your ferment.
It takes the worry out of making sauerkraut and other fermented vegetables.
CONS
You must keep an eye on the water-seal crocks to ensure that the moat stays full of water. If the water in the moat evaporates, oxygen, particles, and bacteria can get into your brine solution.
You cannot see inside the crock to monitor it throughout fermentation.
The opening is narrow, and that makes it a little difficult to pack in the vegetables.
The narrow opening also makes reaching your hand to clean it difficult.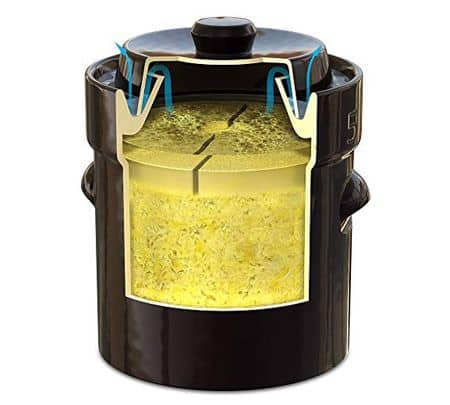 Best Water-Sealed Crock
Sale
Seeutek Fermentation Water Seal Crock 2.6 Gallon
Water sealed jar's cover is designed to allow the fermentation gas to escape, avoid oxidation and bad odor while maintaining air circulation. Weighting stones and pickle Tamper immerse your vegetables under salt water or fermented liquids. It will reach to a better fermentation result.
Last update on 2023-11-26 / Affiliate links / Images from Amazon Product Advertising API
Open Crock
Most open crocks don't have a lid or weight to keep the vegetables below the brine, making it a cheaper purchase. This could be considered a positive because it saves you money.
However, finding a suitable weight and cover is up to you. You can read the post, Fermentations Weights: How to Keep Veggies Submerged, for some clever ideas.
If you use a cloth or paper towel as a lid, then closely monitor the batch to prevent Kahm yeast and mold from developing. Both can appear when the vegetables are exposed to the air.
There are some great benefits of using an open crock. The mouth of the crock is wide, making it easy to place several whole cabbages or other giant vegetables, such as cucks, in the vessel.
So if you are looking for a wide water trough to ferment in bulk, this crock will be perfect for you.
Open crocks are easy to clean depending on their size since their bases and openings are the same diameters.
Furthermore, when not fermenting, open crocks are versatile vessels that can store kitchen utensils and dry goods.
It is important to note that open crocks work better during colder periods of the year, i.e., lower temperatures, because molds or Kahm yeast do not form as quickly in lower temperatures.
PROS
Easy to clean
Microwave and dishwasher safe
Made in the USA
High-quality and durable
The cylindrical shape makes it easy to fit large pieces and whole vegetables.
CONS
Need to buy or make a lid and weights.
Prone to develop a layer of Kahm yeast if not covered properly.
Easy to get bugs and foreign objects in the ferment if you don't use a lid.
Whichever style of crock you choose to buy, you will still have to check on it to ensure the brine levels are not dropping.
Best Open Crock
The Ohio Stoneware brand has been around for many years, and its crocks are famous for their classic design. They also sell fermentation weights and lids separately.
Last update on 2023-11-27 / Affiliate links / Images from Amazon Product Advertising API
Read reviews here.
Best Large Crock For Bulk Fermenting
Fermentation crocks come in a wide variety of sizes. If you want a larger crock, I recommend the Nik Schmitt Fermenting Crock Pots 30 Liter, a 6.5-gallon capacity.
This baby can hold between 15-20 heads of cabbage at once.
Just beware of the weight; this crock weighs 54.5 lbs when empty.
Nik Schmitt Fermenting Crock Pots 30 liter (6.5gal)
Suitable for all types of vegetables
Stoneware does not require special storage
Does not require special Care
Neutral for all fermented vegetables
complete with lid, weighing stones, and instruction booklet.
Last update on 2023-11-26 / Affiliate links / Images from Amazon Product Advertising API
Best Budget-Friendly Fermentation Crock
The price range for fermentation crocks on the market can be hefty. However, a few companies make high-quality crocks at great prices that will fit your fermentation needs and budget.
E-Jen Fermentation Crock
The E-Jen is a high-quality crock great for both large-scale and small batches of fermenting. It is an 8.4-gallon crock that is both lighter and easy on the budget.
But you'll want to ensure you have the room to store it. E-Jen crocks are plastic and come with an ingenious inner seal that makes them quite versatile because you can easily push down the seal to ferment a smaller batch in any container size.
There's typically no harm in leaving some extra headspace in the crock, but if you usually make smaller batches, you'll likely be fine with one of the smaller crocks on the market.
Last update on 2023-11-26 / Affiliate links / Images from Amazon Product Advertising API
Related: Can you ferment vegetables in plastic containers?
Mortier Pilion 2L: Fermentation Jar
The Mortier Pilon is a two-liter fermentation jar with a transparent upper half. So you can see the vegetables going through the fermentation process. This crock requires minimal maintenance.
The fermentation kit includes a silicone sleeve, an elastic band (for tightening purposes), a solid lid, ceramic weights, a wax pencil to mark your ferments, and a recipe book that covers around 45 easy-to-cook fermented recipes, including kimchi, sauerkraut, pickles, and many more.
Last update on 2023-11-26 / Affiliate links / Images from Amazon Product Advertising API
PROS
Because it is see-through, it is an ideal pick for both absolute beginners and experienced fermenters.
You can watch the process of fermentation take place
Beginner-friendly
Easy to ferment
Easy to clean
CONS
It does not have the traditional crock appearance
Best Multi-Purpose Crock
The E-Jen and Crazy Korean Cooking brands of fermentation crocks are the best multi-purpose and versatile crocks you can buy.
Both brands of storage containers are made of materials free of BPA, DEHP, and lead.
The container has an adjustable inner vacuum lid that minimizes air inside to keep food fresh and slow down the decomposition process.
The container also has very fine pores that allow minimal airflow to keep food fresh and prevent aerobic bacteria from thriving.
Both brands are quality made and have many sizes to choose from. When not fermenting, the crocks can use as food storage containers.
Crazy Korean Fermentation Storage Conainer
The Perfect fermentation and storage container
Great for storing foods requiring airtight storage, such as fresh vegetables, coffee beans, bread, seaweed, cookies, cereals, grains, nuts and even dry pet foods.
Easy to handle and clean
Fridge or freezer safe
Last update on 2023-11-26 / Affiliate links / Images from Amazon Product Advertising API
Best Kombucha Crock
Lastly, this continuous brewing crock for kombucha, kefir, tepache, and other fermented drinks made by Humble House is perfect if you want to keep a container just for fermented beverages.
Sale
Last update on 2023-11-27 / Affiliate links / Images from Amazon Product Advertising API
Humble House, a Milwaukee, Wisconsin-based company, makes this beautiful sleek crock just for Kombucha lovers. Their kombucha crocks are 1.3-gallon white porcelain and come with a stainless steel spigot and cotton cloth cover.
Don't stop at kombucha; the crock can also be used to make jun tea, vinegar, and more.
It is designed with continuous brewing, as the spigot makes it easy to fill up bottles and transfer them to the refrigerator, eliminating funnels and messy clean-up.
The glaze is food-safe and lead and cadmium-free.
This crock has thick walls and is sturdy enough for regular use. It is still possible to use a thermostat strip to monitor the temperature of your liquid, though.
The kombucha crock does not come with a lid. You must use a paper towel or piece of cloth secured with a rubber band to cover it and allow it to breathe. This is normal when fermenting kombucha.
Related: Best Bottles for Kombucha Second Fermentation
Factors to Consider When Buying a Fermentation Crock
Size and Capacity
When choosing a fermentation crock, you must first consider the size and capacity that best suits your needs. Fermentation crocks come in various sizes, from small ones perfect for personal use to larger ones for bigger batches. 
If you're planning on fermenting a lot of vegetables or making large quantities of sauerkraut, it's ideal to go for a bigger crock. 
However, if you have limited storage space or prefer smaller batches, opt for a smaller size. Consider how much room you have in your kitchen or pantry before deciding on the perfect size. 
Material and Quality
The material and quality of the fermentation crock are crucial factors that can significantly impact your fermenting experience. Traditional materials like stoneware or ceramic are excellent choices because they offer better insulation, ensuring a stable temperature during fermentation. 
These materials also retain heat well, aiding in proper fermentation. 
Additionally, it is essential to choose a crock with lead-free glaze for food safety purposes. This ensures that no harmful substances leach into your fermented creations, keeping them healthy and safe for consumption. 
Shape and Design
The shape and design of a fermentation crock play an essential role in ease of use and maintenance. Look for crocks with wide-mouthed openings, as they allow for easy access when adding ingredients or checking on the progress of your fermentations. 
A wider opening also makes cleaning less cumbersome since you can easily reach every nook and cranny with a brush or sponge. 
Another crucial aspect is the water seal system incorporated into the design of certain crocks. This system involves creating an air-tight seal using water-filled channels around the rim or lid of the crock. 
The water seal prevents air exposure, which can lead to spoilage or mold growth on your fermented goodies. 
So, watch for a crock with a reliable water seal system to ensure optimal fermentation conditions. 
Handles and Carrying Options: Making it Convenient
Look for convenient handles on the sides of the crock. These handles make lifting and moving the crock easier without straining your muscles or risking accidents. 
Another aspect to consider is portability. If you plan on taking your fermenting delights on the go or sharing them at gatherings, choosing a lightweight option is best. 
However, remember that portable options may sacrifice some capacity compared to larger stationary models. Striking a balance between size and portability will ensure convenience and ample space for all your fermented creations. 
Remember, finding a crock that meets your specific needs regarding temperature control options and handles/carrying options will help streamline your experience as a fermenter while bringing out the full potential of your fermented creations. 
How do you clean ceramic fermentation crock and stone weights?
Fermentation crocks should be cleaned with warm water and mild dish soap. You can also use a water/vinegar solution.
To remove strong smells, apply soap for at least 15 to 20 minutes before washing it: rinse and air dry.
Clean the equipment right after you remove the fermented food. Do not let it sit for a long time with food particles.
If you store the crock for a while, fill it with a scrunched-up newspaper. Also, wrap the lid and stones in newspaper to protect the ceramic pieces and ensure they stay dry.
To prevent mold growth in a crock or on the weight
Always dry the stones/crock thoroughly in a warm oven or the sun
Never put the crock or weights away wet
Never store your crock and weights in a damp room like a cellar or basement.
If you notice, the crock or weights have a little mold. They can still be saved by quickly cleaning them off before the next use.
How to remove mold
Sometimes, mold happens; here are some tips on removing mold from a crock or weight.
Scrub the mold off as best you can
Soak the weights overnight in a pot with a few tablespoons of vinegar and hot water (not boiling), or fill the crock with vinegar and hot water.
Lastly, place the weights or crock in the oven at a low temperature until completely dried.
Why Fermenting Crocks Are Better than Mason Jars
When I started making my own ferments, I took the cheap and easy route using glass jars. Like most people taking on a new hobby, I didn't want to invest in expensive equipment.
But that all changed when I tried a batch of kimchi made in a water-seal-style fermenting crock. The kimchi was so much better; I was blown away.
It wasn't just a matter of the recipe or expertise; ferments turn out better in a crock for two main reasons:
Ceramic Materials: The thick walls of a crock are made with ceramic clay. The thick clay provides natural insulation and helps keep the brine temperature stable, allowing the bacteria to grow effectively.
Naturally Blocks Light Out: Have you noticed that practically every fermentation recipe recommends placing the jars in a cupboard or pantry away from the light? That is because UV light kills the healthy bacteria in the brine. The thick ceramic walls block the light and help a successful end product.
Final Thoughts
Selecting the best fermentation crock for your needs depends on your preferences, goals, and space.
Our recommended options, backed by the expertise of our fermentation specialists, offer a diverse range of choices to cater to every fermentation enthusiast's preferences.
The Ohio Stoneware Crock is an excellent choice for great value and durability.
The Seeutek Fermentation Crock offers an attractive and practical option if you prefer a water-sealed crock.
Or, the E-Jen or Crazy Kitchen Fermentation Crocks are both fantastic picks if you're starting out or on a budget.
Remember to consider the size, material, and storage requirements before deciding.
Embrace the art of fermentation, and enjoy the delicious and nutritious results from your very own fermentation creations!
Related Topics: