A kefir drink is always a delight whether you consider it an indulgence or a healthy superfood. While regular consumption of kefir does come with a few health benefits, it's easy to wonder if any risks are involved in making the drink a part of your diet.
As it turns out, you should be aware of a few drawbacks to kefir. The fermented milk drink can cause some unpleasant side effects due to its probiotic dairy contents. In this article, I'll cover everything you need to know about the risks of drinking kefir.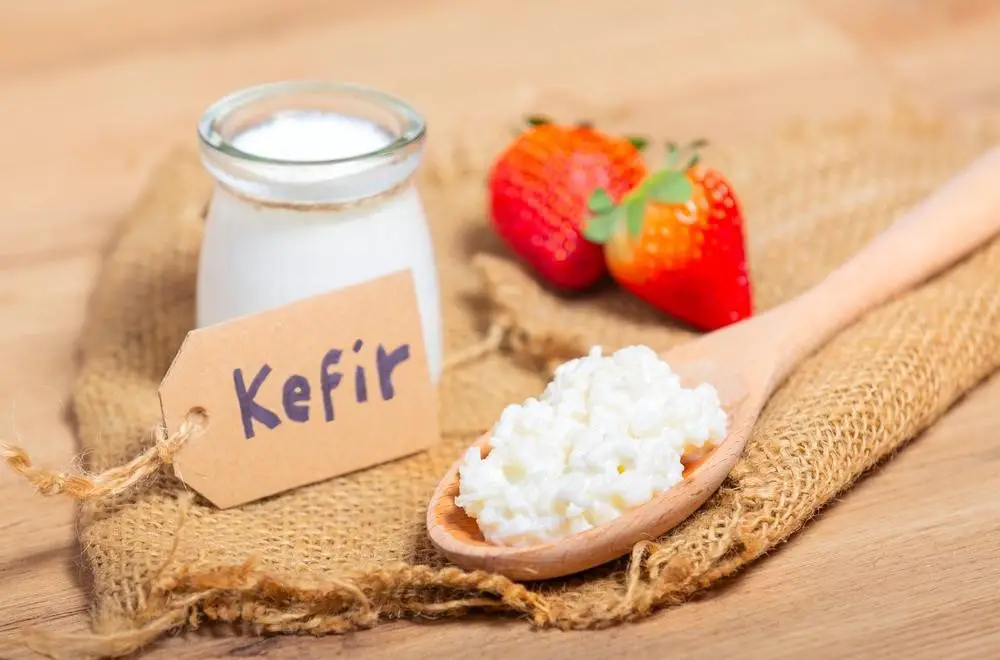 Health Benefits of Kefir
Before we dive into the side effects of drinking kefir, it's important to note that the probiotic drink offers many incredible health benefits. It's loaded with vitamins and probiotics and can help support your immune and digestive systems.
The most significant benefits of drinking kefir come from the strains of good bacteria, or probiotics, in the fermented drink. These probiotics become a part of your gut microbiome and discourage the growth of bad gut bacteria that can negatively impact your health.
As a result of your improved gut microbiome, you may enjoy benefits like improved digestion. You may find you can eat and drink more foods without dealing with symptoms like bloating and discomfort. Your energy may increase as your body becomes more proficient at digesting and absorbing nutrients from food.
The probiotic bacteria content in kefir can also help strengthen your immune system. Some studies have found that kefir can help your body prevent viral and fungal infections. Your improved gut health will also protect you from the negative side effects of a poor gut microbiome.
Some people have found that they even lost weight due to regularly drinking kefir. This weight loss is often attributed to the incredibly nutritious content of the kefir itself and the fact that improving your gut microbiome may help reduce cravings and improve digestion.
Side Effects of Kefir Consumption
Unfortunately, not all of the effects of drinking kefir are positive. Some people suffer from digestive disturbances when they drink kefir due to lactose intolerance or a poor gut microbiome. These side effects are essential to remember and address if you want to drink kefir comfortably.
The most common side effect of kefir consumption is digestive discomfort. Due to drinking kefir, you may suffer from symptoms like indigestion, constipation, diarrhea, bloating, gas, and abdominal cramps. If you notice these symptoms, determining the underlying cause is essential.
Many people suffer these symptoms after drinking kefir because they are lactose intolerant. This issue can typically be resolved by taking lactaid whenever you intend to drink kefir. Alternatively, you can make or purchase a dairy-free plant-based kefir if you believe it best accommodates your lactose intolerance.
This option is especially good for people who suffer allergic reactions to dairy. If you notice symptoms like itching, hives, a runny nose, and vomiting after you drink kefir, you should immediately stop drinking it and investigate the possibility that you suffer from a dairy allergy. No amount of kefir is safe to drink if you are allergic.
Lactose intolerance isn't the only reason some people suffer digestive symptoms after drinking kefir. Kefir can also cause digestive discomfort if consumed in excess. The probiotic content of kefir is only meant to be consumed in moderation. If you drink too much, the probiotics may cause your gut microbiome to fall out of balance.
You should reduce your consumption of kefir if you notice that you suffer from digestive discomfort when you drink a lot. You can gradually increase your intake over time to prevent the symptoms from happening. Taking this approach will give your gut microbiome ample time to adjust.
Related: People Who Should Avoid Eating Fermented Foods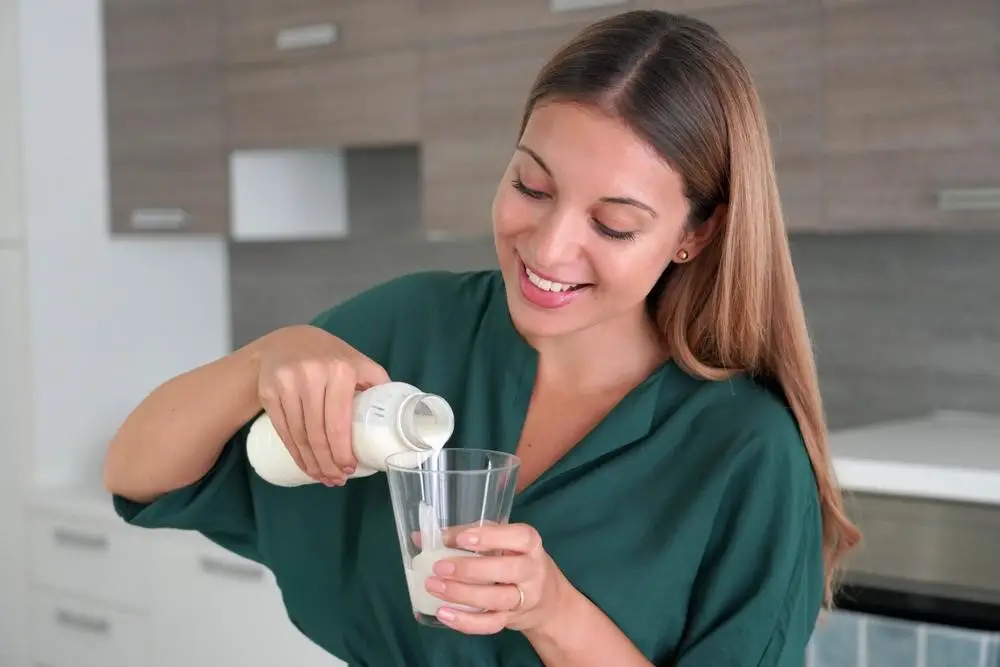 Risks Associated with Kefir
Aside from the typical side effects of drinking kefir, there are a few risks to indulging in the beverage. These risks include contamination and foodborne illness, medication interactions, and even contraindications for a few health conditions.
You're most likely to encounter issues with foodborne illness if you make your own kefir at home. Store-bought kefir is typically safe, but homemade kefir can sometimes become contaminated with harmful bacteria. You should toss your kefir and make or purchase a new batch if you notice strange tastes, textures, or smells.
Kefir can also interact with certain medications in negative ways. You should avoid drinking kefir if you take any of the following medications:
Immunosuppressants, such as azathioprine, mycophenolate, prednisone, and corticosteroids. The bacteria in kefir may be able to pass your weakened immune system and cause an infection.
Disulfiram. This medication can inhibit your alcohol metabolism. You should not drink homemade kefir unless you are sure it does not contain any alcohol. Store-bought kefir is OK.
You should also avoid drinking kefir if you are immunocompromised due to a health condition. As mentioned, the bacteria in kefir may cause a dangerous infection if your immune system is not strong enough to ward it off.
This article provides a more detailed list of medications that decrease the immune system, and therefore kefir should be avoided while taking them.
Proper Consumption and Moderation
As long as you aren't immunocompromised or allergic to milk kefir, the best way to enjoy the fermented drink is in moderation. Drinking just one serving every day can have incredible effects on your digestive system. Best of all, most of the adverse side effects of kefir mentioned beforehand can be avoided with proper serving sizes.
It's recommended that the average adult drinks one cup of kefir per day. This serving is sufficient to give you a healthy dose of probiotics while not overwhelming your gut microbiome. If you're particularly fond of kefir, it's safe to gradually work your way up to drinking two cups per day.
However, you can expect to enjoy benefits from drinking kefir even if you only drink it once a week. It's especially powerful if you combine it with other probiotic fermented food choices, such as sauerkraut and kombucha, because you will get an incredibly diverse mix of beneficial bacteria strains from your diet.
You should consult a healthcare professional if you have doubts about how much kefir you consume. In most cases, drinking as little as one cup a week or as much as one cup a day can be an appropriate and beneficial part of your diet.
This doesn't apply in every case, however, and you may need to treat kefir with more scrutiny if you have a condition or take a medication that could potentially prevent you from drinking kefir safely. Licensed doctors can help you find an appropriate and safe way to incorporate kefir and other probiotic foods into your diet.
No matter how you add kefir to your diet, it's important to remember that you're making a big step to improve your health. With time, you can expect your digestion and energy to change and improve in ways you couldn't have imagined before.
Frequently Asked Questions
Can kefir cause stomach upset or diarrhea?
Kefir can cause stomach upset and diarrhea. There are a few reasons why it can cause these symptoms. The most common is that you might have issues digesting dairy or kefir grains. You should consider a yogurt drink or a non-dairy milk kefir alternative, like coconut milk, if you believe that the kefir grains or dairy are bothering your stomach.
You may also experience digestive discomfort while drinking kefir if your gut microbiome can't handle the probiotics. If this is the case, you should drastically reduce the amount of kefir you consume and increase it gradually to allow your digestive system to adapt and prevent any adverse symptoms.
Is kefir safe for individuals with lactose intolerance?
Kefir is safe for individuals with lactose intolerance but may cause uncomfortable digestive symptoms. If you want to drink kefir despite being lactose intolerant, you should consider taking a medication like Lactaid or looking for a vegan kefir alternative. Many recipes incorporate delicious ingredients like coconut or oat milk, allowing you to enjoy kefir without discomfort.
It's important to note that there is a big difference between lactose intolerance and a genuine dairy allergy. If you experience symptoms like hives, itching, and a runny nose after ingesting kefir and other dairy products, you should stop consuming them immediately. Consuming any amount of dairy when allergic is unsafe, and you will need to find a non-dairy alternative.
What are the risks of consuming homemade kefir?
There are a few risks associated with consuming homemade kefir. If harmful bacteria contaminate the kefir during fermentation, you may develop an awful infection after drinking it. If you are immunocompromised, this risk extends to properly made homemade and non-pasteurized milk kefir products.
You should never drink homemade kefir if you have doubts about its safety. You should immediately discard the kefir if you notice any unusual tastes, textures, or smells. It's much easier to purchase or make another batch of kefir than recover from a dangerous infection.
Can kefir interact with certain medications?
Kefir can interact with certain medications. The most common drug interaction with kefir involves immunosuppressants such as azathioprine and prednisone. If you are taking an immunosuppressant, you should avoid drinking kefir because your body is vulnerable to developing an infection from the bacteria.
You should also avoid drinking homemade kefir if you take a medication like disulfiram that inhibits alcohol metabolism. Homemade kefir often contains alcohol, and you may suffer side effects if the two are combined. Consider purchasing store-bought kefir that you can be certain contains no alcohol instead.
Are there any contraindications for consuming kefir with certain health conditions?
There is a major contraindication for consuming kefir with immunocompromising health conditions such as HIV, Wiskott-Aldrich syndrome, or DiGeorge syndrome. You should not drink kefir if you have cancer requiring chemotherapy or are undergoing organ or stem cell transplant treatment.
All of these conditions and circumstances inhibit your immune system. While the bacteria in kefir are very beneficial to your gut microbiome, they may be harmful in other parts of your body — and if you're immunocompromised, your immune system will not be strong enough to fight them off and prevent infection.