Water Kefir vs. Kombucha: The Ultimate Probiotic Showdown!
In the world of fermented drinks, two popular choices that often pique curiosity are water kefir and kombucha. Many individuals have heard of or seen kombucha and naturally compare it to water kefir. This article highlights the key differences between water kefir and kombucha, highlighting their unique characteristics, benefits, and flavors.
Whether you're a seasoned probiotic enthusiast or new to the world of fermented beverages, we'll provide you with the information you need to make an informed choice about incorporating these drinks into your daily routine.
What Is Water Kefir?
Water kefir is a fermented, fizzy beverage made from water kefir grains. It goes by a few other names, including tibicos, California bees, and Japanese water crystals, and has been around since the late 1800s.
The kefir grains can be used with either sugar water or coconut water. Water kefir grains consist of a symbiotic relationship between bacteria and yeast and are characterized by their grain-like appearance.
Despite their name, water kefir grains are not actual seeds and cannot be planted. Like kombucha, water kefir is prepared by adding the grains to the chosen liquid and allowing them to culture for 24 to 48 hours.
The grains are then removed, and the water kefir can be flavored by adding fruit juice or extracts such as vanilla. Water kefir can exhibit a slightly sweet, tart taste and natural effervescence depending on the culturing time and other factors.
History of Water Kefir
The exact birthplace of water kefir grains remains mysterious, but speculations trace their roots to Mexico. According to research, Tibicos cultures, as they are also known, were discovered as hardened granules on the pads of the Opuntia cactus.
These granules could be revitalized in a sugar-water solution, giving rise to propagating Tibicos. Historical records from the late 1800s recount the use of water kefir grains in fermented drinks made from the sweetened juice of the prickly pear cactus in Mexico.
Interestingly, tales also attribute the origin or usage of water kefir grains to regions such as Tibet, the Caucasus Mountains, and the southern peninsula of Ukraine.
The widespread presence of water kefir cultures worldwide, each with unique characteristics, further adds to the challenge of pinpointing a definitive place of origin.
Health Benefits of Kefir Water
The top health benefit of water kefir is the high concentration of probiotics, a type of healthy bacteria that aids your gut in absorption and digestion. This bacteria can also work to prevent cancer and improve immunity, among other benefits.
People often compare water kefir to yogurt and other dairy-based probiotic-rich products. While water kefir does not have the diverse strains of bacteria and yeast that milk and yogurt do, it has more probiotics.
Flavor Profile and Variations
Water kefir has a refreshing, bubbly flavor with a diluted, earthy taste. Some people liken the flavor to a watered-down spirit or vegetable juice, such as squash or potato.
It's slightly sweet but still tangy and earthy. If you don't enjoy the natural flavor of the sugar and grain combination, you can add different ingredients to create a more pleasant taste.
You can use almost anything to infuse water kefir with delicious flavors:
fresh, frozen, or dried fruit
fruit juices, like, pomegranate, grape, and cherry
splash of homemade vanilla extract
fresh basil and herbs, like grated ginger
Most people enjoy adding fruity flavors to create a drink packed with probiotics. But you can also experiment with more savory options, like basil leaves.
Learn how to make kefir water soda.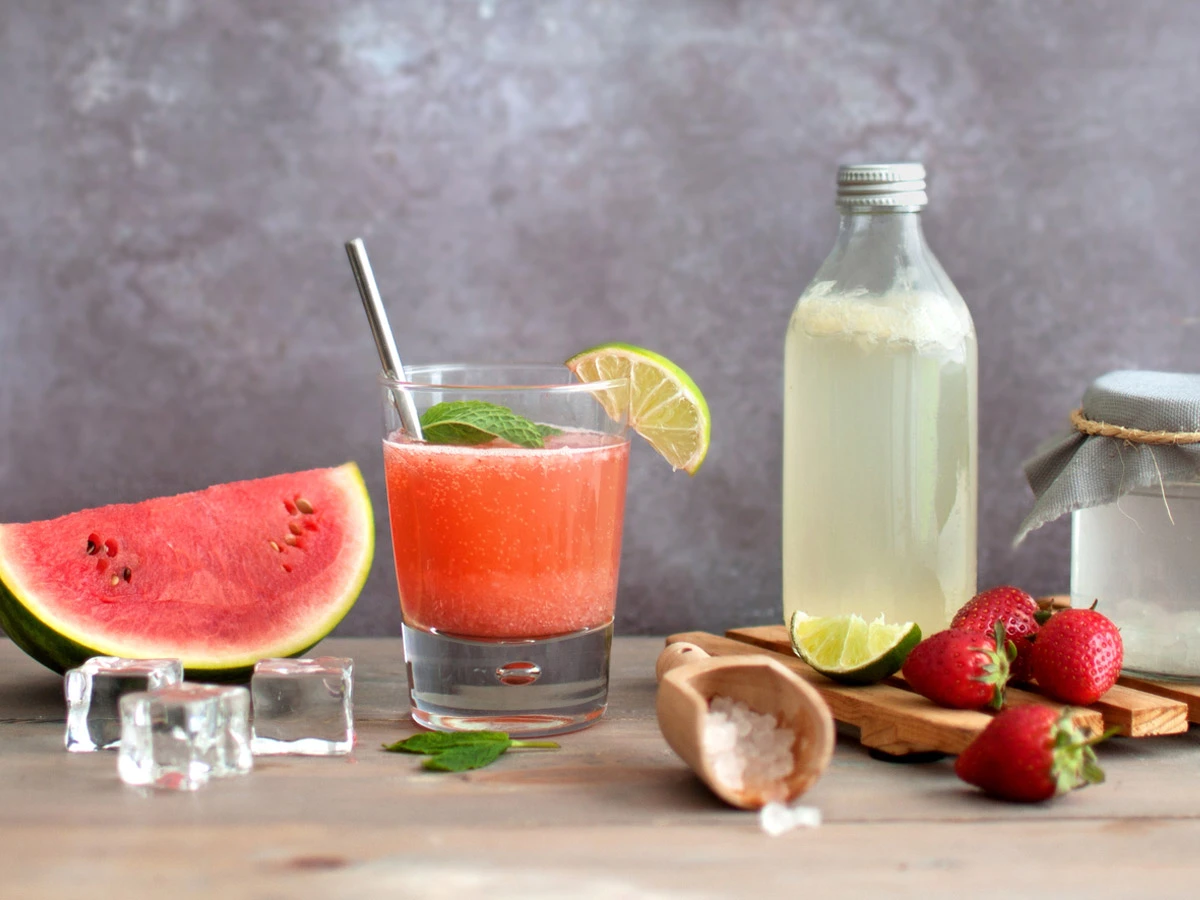 What Is Kombucha?
Kombucha is also a fermented, effervescent drink full of beneficial bacteria, healthy enzymes, and acids that can help your gut. It's a sweetened black tea drink with a dark brown color.
Kombucha, often called "fermented tea," is made using a kombucha starter culture known as a SCOBY (symbiotic culture of bacteria and yeast). The process begins by preparing tea and dissolving sugar in it.
Once the tea has cooled to room temperature, the starter tea, and the kombucha scoby are added. The mixture is then left to ferment at room temperature for a period ranging from 5 to 30 days.
The resulting beverage can be consumed as is or flavored with fruits or juices. Kombucha is known for its rich vitamin content, particularly B vitamins, and has been associated with various health benefits.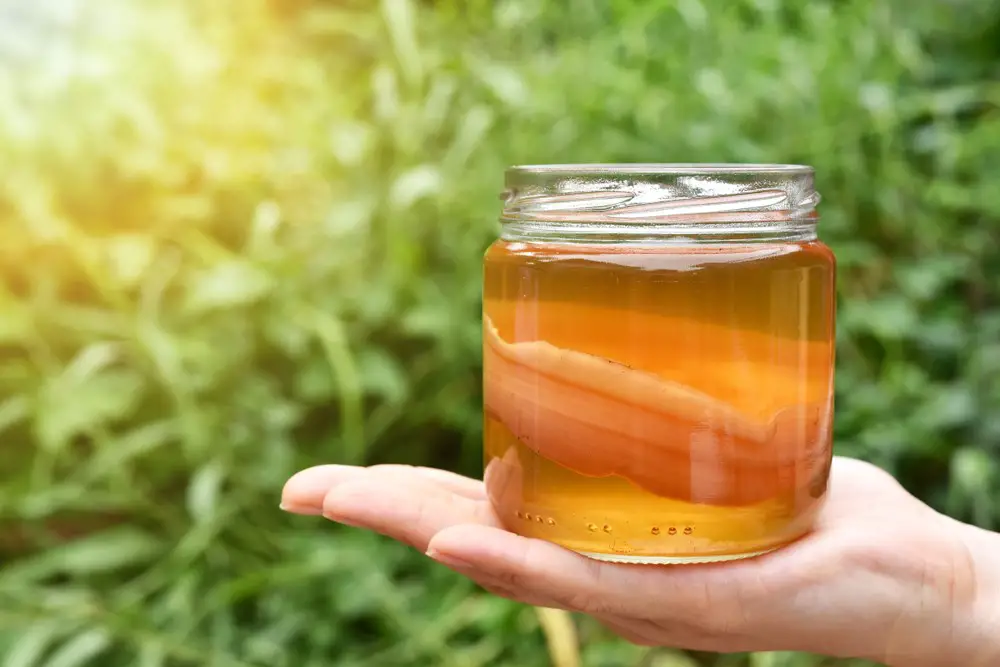 Kombucha History
This article from the Smithsonian Institute states that Kombucha has been around for almost 2,000 years, originating in China and then quickly spreading to nearby countries like Japan and Russia until it finally made its way to Europe in the early 1900s.
Health Benefits of Kombucha
Kombucha is known for having a wide range of health benefits, from boosting immunity to aiding in weight loss, managing high blood pressure, and more. Studies have even shown it can prevent the growth of cancer cells and reduce the risk of heart disease.
But, like water kefir and milk kefir, the top health benefit of kombucha is the presence of probiotics, which can prevent diarrhea, stop consumption, and reduce the symptoms of IBS.
Flavor Profile and Variations
Kombucha has an earthy and spicy flavor with a pungent smell. Depending on what you add, the texture is fizzy and sometimes slightly textured.
The flavor can be floral, herbal, or fruity. People often liken the taste and texture to organic apple cider. It can be refreshing and bright but also warm and tangy. Like water kefir, there are many kombucha variations to choose from.
As avid kombucha brewers with years of experience, we have explored numerous flavor combinations. Within our vast repertoire, specific flavor profiles have emerged as exceptional favorites. These flavor combinations strike the perfect balance between taste and texture, providing an unforgettable drinking experience.
Embrace the concept of eating and drinking with the seasons. Selecting produce currently in season ensures the freshest and most delicious ingredients for your kombucha. Farmer's markets and local vendors are excellent sources of inspiration for seasonal produce. Explore what they offer and let your taste buds guide you toward unique and flavorful combinations.
Spring: Citrus fruits, the beginning of strawberries, and blueberries.
Summer: Cherries, stone fruit (such as peaches, plums, and nectarines), berries (strawberries, raspberries, blackberries, and blueberries), melons, and grapes.
Fall: Apples, pears, passionfruit, and grapes.
Winter: Apples, persimmons, citrus fruits, kiwi, pears, and passionfruit.
Year-round: Beets and carrots (not fruits, but great in kombucha).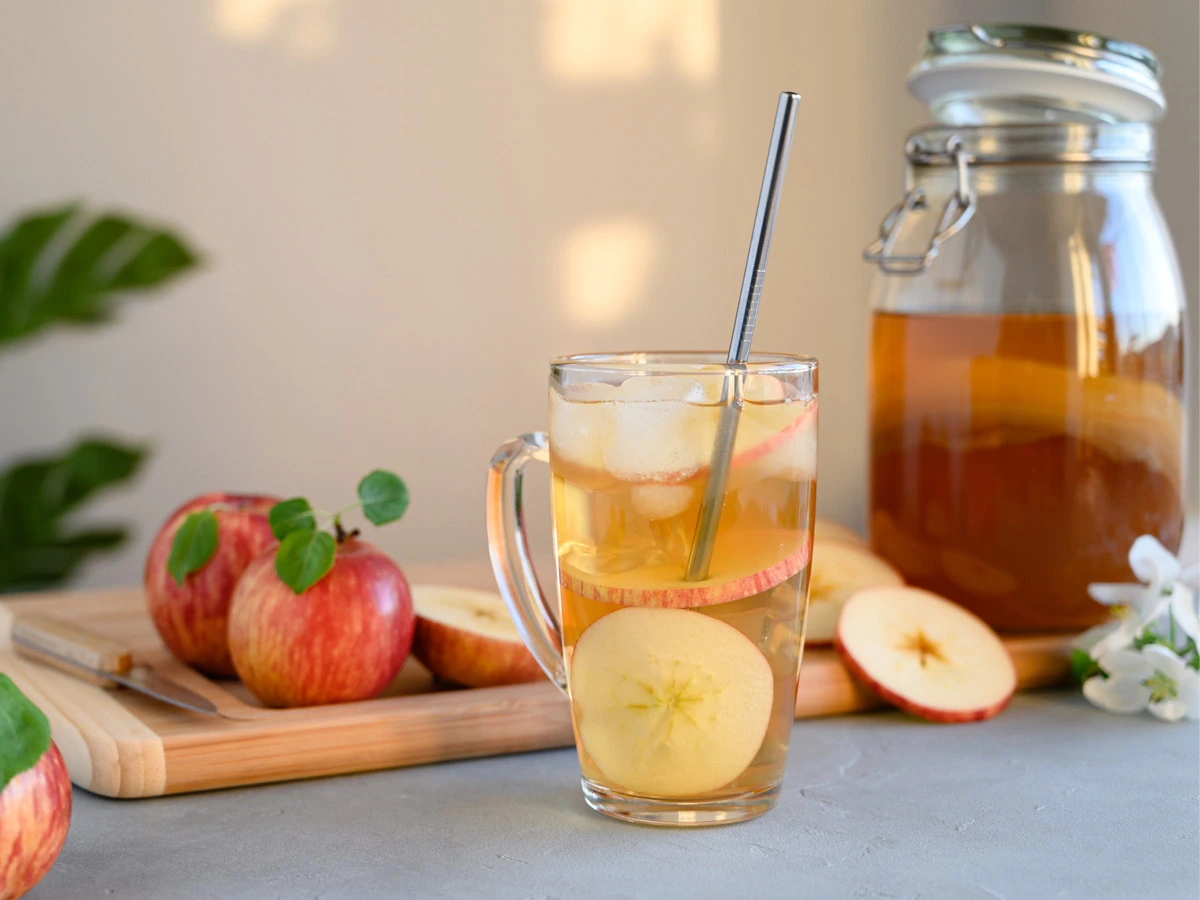 What do Water Kefir and Kombucha Taste Like?
Water kefir tastes slightly sweet and a little tart at the same time. Depending on the type of sugar used, the amount of culturing time water kefir may also be somewhat bubbly. 
Kombucha flavor is a tangy, slightly sweet, and effervescent beverage. The flavor varies greatly depending on the time it has been allowed to ferment, whether or not flavoring was added, and the types of tea and sugar used to brew. 
For example, kombucha will have a more robust vinegar-like taste if left to ferment for an extended period. A longer fermentation process will allow the tea to culture more fully if you like a more tart flavor.
If you desire a more sweet taste, fermenting for a very short brewing period of around five days will give you just that. 
Most people find kombucha more sour or vinegar-like than water kefir. Water kefir is generally sweeter, but the sweetness of both beverages is determined by how long it is cultured, and both can be flavored and brewed to your taste.
Fermentation Process
The fermentation process differs in time for water kefir vs kombucha. Water kefir can be fermented for as little as 24 hours and usually no longer than 72 hours.
On the other hand, Kombucha must sit for at least seven days before it's ready for consumption. But you can also let kombucha ferment for up to 30 days, deepening the flavor and increasing the bacterial presence. Water kefir's short fermentation process can make it an easier drink to make at home and enjoy.
Ingredients
While both drinks contain beneficial bacteria, yeast, acid, and enzymes, they differ in ingredients and cultures. The starter cultures for water kefir are small, translucent kefir grains, but kombucha uses a symbiotic colony of bacteria and yeast (SCOBY) bound by polysaccharides.
Beyond the starter cultures, the basic ingredients also differ, as kombucha uses tea and water kefir uses water. The main similarity is the presence of organic sugar.
When it comes to additives, both drinks share possibilities. However, kombucha lends itself better to savory and potent flavors, while water kefir is best with sweet, refreshing ingredients.
Choosing Between Kombucha and Water Kefir
In the debate of which is better, kombucha or water kefir, it is important to note that both beverages offer valuable benefits for overall well-being. Kombucha, with its abundance of probiotics, acids, and enzymes, aids in digestion and may provide additional health advantages.
On the other hand, water kefir boasts a more comprehensive array of bacterial strains compared to kombucha. Both beverages contribute to hydration and support the body's natural systems. The choice between the two concerns individual taste preferences and specific health needs.
Additionally, the versatility and ease of freezing or dehydrating water kefir grains make it a convenient option for those seeking variety in flavors and brewing patterns.
Can children and pregnant women consume water kefir and kombucha?
Water kefir and kombucha are generally safe for children to consume in moderation. Pregnant women can consume both if they are 100% natural and pasteurized.
Unfortunately, homemade water kefir and kombucha are not pasteurized, so are not recommended for pregnant women. However, store-bought pasteurized water kefir and kombucha are safe for pregnant women.
Are there any side effects or risks associated with water kefir or kombucha?
Depending on the current condition of your digestive system, water kefir and kombucha may cause bloating, cramps, nausea, and constipation.
Some varieties of these probiotic drinks high in sugar can also cause insulin levels to spike. However, most people only experience these adverse side effects when they consume too much.
Can I consume both water kefir and kombucha together?
Yes, absolutely! Many people consume water kefir and kombucha together so that they can take advantage of the benefits of both. As long as you consume both beverages in moderation, they're safe to drink together.
How much kombucha and water kefir can I drink?
Drinking between four and 16 ounces of water kefir per day or about four ounces of kombucha is recommended. Water kefir is milder, so it's okay to drink more. When drinking both, limit your consumption to no more than 16 ounces total.