This post may include affiliate links. As an Amazon Associate I earn from qualifying purchases.You can read my complete affiliate disclosure for more details.
Kefir water soda is a fizzy, fermented drink with a range of health benefits. And you can make it at home. This article is a comprehensive guide that will teach you how to make kefir water soda and tips for making it taste delicious.
What Is Water Kefir Soda?
Kefir water soda, also called kefir water, kefir soda, tibicos, California bees, and Japanese water crystals, among other names, is a carbonated probiotic fermented drink.
It's made with water kefir grains, organic cane sugar, and water. The combination of ingredients creates SCOBY (symbiotic culture of bacteria and yeast), carbonating the beverage and making it rich in probiotics.
Health Benefits of Kefir Water
So, why do people drink kefir water soda? It has benefits similar to kombucha but is a little more comprehensive. It offers many health benefits and can help keep you well and energetic. Drinking kefir water regularly can:
Boost your body's immune responses and prevent illnesses
Protect you against certain cancers and stop the growth of cancer cells
Aid in weight loss by boosting your metabolism and burning fat faster
Balance the bacteria in your gut to improve digestion
Lower blood pressure and prevent hypertension
Supply your body with extra nutrients to support regular functions and overall health
As you can see, there are many reasons to drink kefir water soda. If you want to know how to make kefir water soda, you've come to the right place.
Related Topic:
What You Need to Make Water Kefir Soda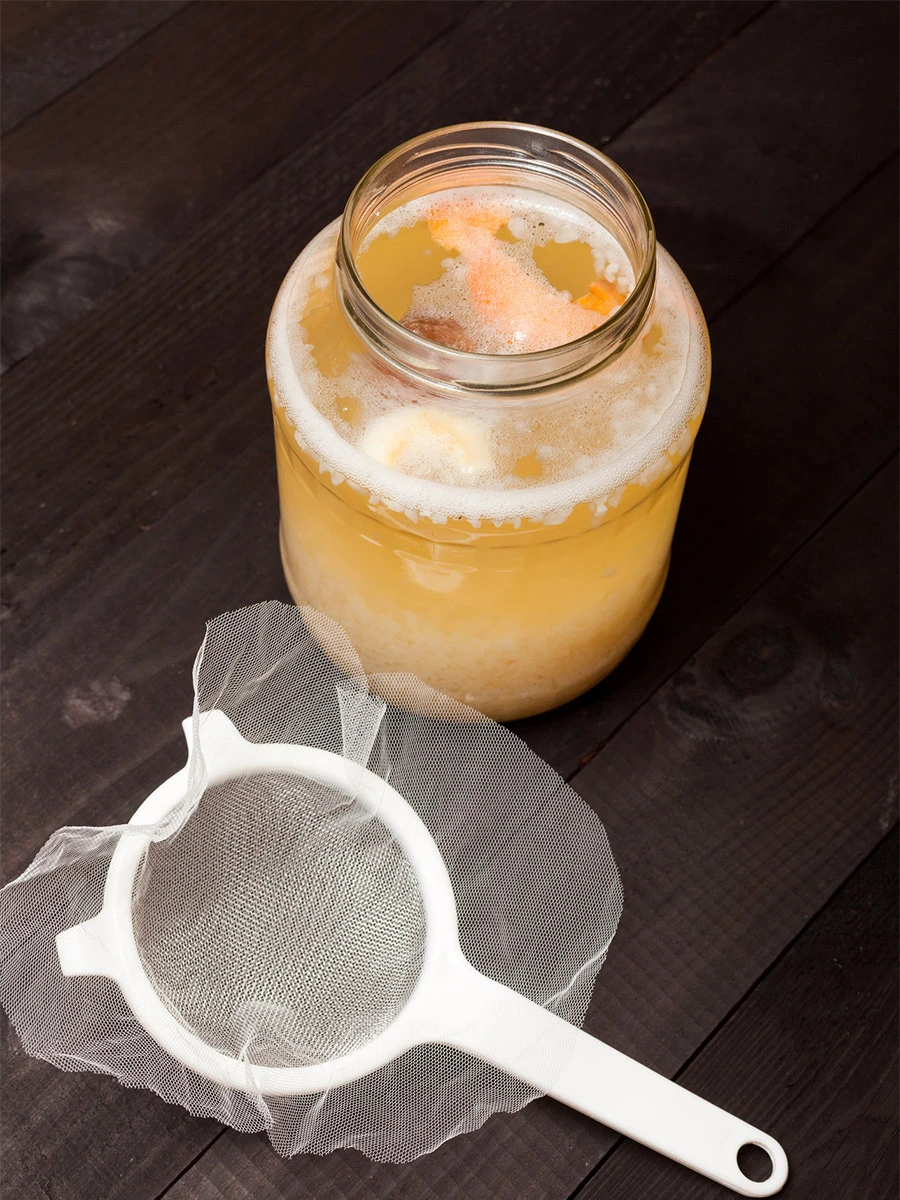 Before we dive into the water kefir recipe, you need to ensure you have all the right materials and ingredients to make it. For equipment, you will need the following:
Glass Bottles or Jars: Probably the most essential item you need to make kefir soda, the bottles or jars are what you will ferment the drink in. Look for high-quality bottles or jars with a loose seal. The choice between bottles and jars is not a big deal, so go with what you have or prefer. Here's a brand of glass bottles I use.
Filter or Strainer: You need a filter or strainer to strain the beverage after the fermentation. You can use a fine mesh strainer, cheesecloth, towel, or coffee filter.
Funnel: You may not need a funnel if you are using a bottle with a small mouth to ensure you get all the kefir water inside, or else you'll waste a lot of it.
Cloth or Lid: This one is optional, as you may want to use a plastic lid, fermentation cap, or lightweight cloth secured with a rubber band to cover your bottle or jar for the fermentation process.
Once you collect the necessary equipment, you must round up the ingredients. Kefir water only requires the following three ingredients, but there are some optional additions we'll mention:
Water Kefir Grains: Water kefir grains are a symbiotic culture of bacteria and yeast in a polysaccharide biofilm matrix. The gelatinous grains may originate from Mexico in a specific kind of sugary cactus. While we refer to these as grains, they do not contain any actual grains, like rice.
Sugar: You will need some sugar to make kefir water. It's best to use organic cane sugar, so avoid using any processed varieties. Many people choose to use brown sugar in its natural form.
Water: The water needs to be chlorine and chemical-free water. However, it's best to use water that contains minerals. If you use purified or filtered water, you can add minerals back.
Additives: You may want to add fruit or herbs for the second ferment. We will elaborate on your additive options later in this article.
Aside from the water kefir grains, you may already have all the items and ingredients in your home to make kefir soda. And, once you buy the grains, you can make kefir soda whenever you want. Now that we've collected everything we need let's move on to the instructions for how to make kefir water soda.
Step-by-Step Guide to Making Kefir Soda
Once you get the hang of it, creating kefir water soda is easy but can initially feel complex and confusing. This step-by-step guide is a complete breakdown of making kefir soda water so you can do it at home.
Remember, the process takes at least a day or two, so you won't be able to make water kefir and consume it on the same day. If you want some, make sure you make it ahead of time.
Below is a very brief overview of the steps you must take to make kefir water soda:
Mix warm water and organic sugar and stir until sugar dissolves.
Add two tablespoons of kefir grains to the sugar water.
Cover the opening of the jar or bottle loosely with a cap, lid, or cloth.
Place the drink in a dark, temperature-stable (preferably warm) environment and let ferment for 24-48 hours, maximum 72 hours.
After fermentation, strain the mixture to remove the kefir grains.
(Optional) Add flavorings and reseal the jar or bottle.
(Optional) Ferment again for 24 hours.
To help you understand the process even more, we've broken down the steps into detailed sections so you understand the importance of each part of the process and the small nuances involved.
Activating and Culturing Kefir Grains
This part of the process is the only real "cooking" you have to do, and it's relatively easy.
First, mix the sugar and water until the sugar dissolves. Organic sugar can sometimes do this in room-temperature water, but it's easier to heat the water before adding the sugar.
You'll only need about a ¼ cup of sugar for the average size glass bottle or jar. Heat the water until it's warm, and add the organic sugar to the jar or bottle you will use. Add the warm water and stir until you cannot see any grains of sugar.
Once the sugar dissolves completely, add about two tablespoons of kefir grains to the jar or bottle. You do not need to stir or mix the grains into the sweetened water.
Believe it or not, the two steps above constitute most of this kefir recipe, so you're almost done aside from the waiting.
First Fermentation Process
Now, for the boring part. The fermentation process needs to begin once you combine the three main ingredients.
After filling the bottles or jars, loosely cover them. You may use those if the bottle is self-sealing or the jar has a loose lid. Otherwise, cover the opening with a plastic lid, fermentation cap, or cloth, and then use the rubber band to secure the top and eliminate any leaks or air holes.
If some air gets through, it's not the end of the world, but the more air restriction, the better the fermentation.
Allow the drink to ferment for 24 to 48 hours. The magic number for most people is 36 hours, but anywhere between 24 and 48 is acceptable. Refrain from fermenting the drink for more than 72 hours, as the grains will begin to disintegrate and disappear, which is not ideal. We recommend setting a timer so you don't forget.
During the first fermentation process, keep the jar out of direct sunlight and in a room-temperature or warm area. It should be kept in a dark place, so a cupboard or pantry are decent options. A room with an air temperature of 75ºF is perfect, as a cold room can inhibit the fermentation process, and a hot room can make it happen too quickly in some cases.
The fermentation conditions must stay the same. Do not move the fermenting kefir water to different places, as the change in light and temperature can disrupt the fermentation process. The bacteria need a consistent environment for the fermentation process to occur.
After the designated fermentation time, open the container and use the strainer or cheesecloth to filter the liquid and save the water kefir grains. You can filter the kefir water into a new bottle or jar or put it back into the one you fermented it in.
Save the kefir grains? Yes! If water kefir grains stay healthy and in a relatively stable environment, you can use them repeatedly to make water kefir soda. Store them in a fresh container of sugar water to ensure they stay healthy and usable. The sugar is what they eat to stay alive.
Our favorite part of water kefir is that once you collect the grains and equipment, you can make it consistently without buying new ingredients other than sugar which you probably need anyway.
Once you strain out the kefir grains, your water kefir soda is ready for consumption. It does not need to be refrigerated if your home is reasonably cool, but you can keep it in your fridge if you want it to be chilled. One of the sections below will discuss storage in detail, but next, we will talk about the optional second fermentation.
Kefir Water Soda Second Fermentation (Optional)
The second fermentation is different from the first fermentation. The first fermentation is essential for making the kefir water soda, but the second fermentation is optional and involves adding flavor to the drink.
It's important to note that this fermentation stage does not include using grains, so follow the steps above to complete before performing the second fermentation.
After removing the kefir grains, you can add any flavorings you like. You can add herbs, fruit juice, coconut sugar, white sugar, or other sweeteners to enhance the flavor. The next section will offer some flavoring ideas to inspire you.
Once you add the flavoring, reseal the bottle or jar with a cloth, lid, or cap and put it back in the dark, stable place where you first fermented it. For the flavors to ferment, you usually only need to let the drink sit for about 24 hours. The flavors will infuse quickly, so you may only need 12 hours for the second fermentation.
And voila! You have a delicious jar of healthy and fizzy kefir water soda.
Flavor Variations and Recipe Ideas
While the second fermentation process is optional, most people do it to make the flavor more pleasant. The natural flavor of water kefir soda is a diluted, earthy flavor with a hint of sweetness from the sugar.
People liken it to watery squash, mild and slightly tangy with a bland base. We recommend trying plain kefir water soda before playing around with flavorings, but when you're ready, consider the flavor variations and recipe ideas below.
Citrus Heaven
Sometimes the mellow and watery flavor of water kefir soda can be unpleasant, but a splash of lime juice or the zest from a lemon can brighten the taste, so it's more enjoyable.
A combination of sugar water and lemon juice can create a lemonade water kefir, or you can add a splash of natural orange juice. If you love grapefruit, lime, lemon, orange, or other citrus fruits, use them to liven up your water kefir.
Berry Blast
Berries are another popular option because they're juicy and flavorful, so they can easily enhance your bland kefir. Strawberries, blueberries, blackberries, and raspberries are the top choices for flavoring kefir. You can muddle or puree the fruit or use fruit juice to create a lovely berry flavor.
Tropical Delights
If you want something more tropical and exotic, consider using coconut water, mango juice, banana puree, or other island flavors. Pineapple juice is also a brilliant choice, as it can increase the tartness for an irresistible succulent flavor.
The beauty of using tropical flavors is they can be mellow and subtle or bold and bright, so there are many options.
Sweet Desserts
Yes, fruit flavors are the most common, but you can add sweetener ingredients to turn your fizzy kefir water into a tasty dessert drink. Let your imagination run wild because the options are endless. People add ice cream scoops to their kefir water to create a cream soda drink.
You can also add a spoonful of molasses or maple syrup to create a warm and rich taste. Chocolate syrup is another option if you want a decadent drink, but consider a dash of cinnamon and sugar for something more subtle. A splash of vanilla or a different extract you enjoy can significantly affect the flavor.
Herbal Infusions
If you want something earthy and maybe a little savory, herbal infusions are a wonderful way to add flavor. Any herb you can imagine will work in kefir soda, including rosemary, lavender, mint, basil, lemongrass, and thyme.
Feel free to get creative with your herb choices, and you can mix and match them with different fruit juices. You could use dried herbs, but we highly recommend using fresh herbs for infusing kefir soda.
Spicy Sips
Spicy kefir water? Yes! Cayenne pepper is a popular way to make spicy kefir water.
You can add fresh ginger or ginger syrup for a biting, earthy taste. Some people add a splash of spicy chai or even a pinch of red pepper flakes.
Exploring Creative Flavor Combinations
These are just a handful of the flavorings you can add to your kefir soda. Don't be afraid to experiment with different ingredients to find the perfect combination of flavors that make you crave your kefir soda.
Bottling and Storing Kefir Water Soda
Below are some helpful bottling and storage tips.
Bottling Tips
When choosing your kefir bottles, we recommend looking for darker bottles that can block out light. Bottled with loose lids are best if you want to do an open fermentation.
Try to find thick, heavy-duty glassware, and never use a metal container or lid. It can disrupt the fermentation and add harmful chemicals to the mixture.
Storage Tips
While the kefir soda water will not go bad if left out of the fridge, we recommend keeping it refrigerated.
Keeping your kefir water in the refrigerator ensures that it won't be exposed to sunlight or high temperatures that can cause the bottle to explode.
If you make kefir water during summer and do not religiously use air conditioning, you should 100% keep it in the fridge.
If you don't plan to drink it right away, use a loose seal, but open the seal to release some of the pressure every so often, like once a day or every other day. Otherwise, your bottle may explode, which is not ideal.
How long kefir water soda can last is debatable. At the low end of the spectrum is ten days, and at the high end is 30 days.
So, we split the difference and recommend you drink it within 15 to 20 days after fermentation.
Craft Your Own Refreshing Homemade Kefir Water Soda
Now that you know how to make kefir water soda, you can have this fizzy, healthy beverage at home. Have fun with the flavorings and experiment to find the best combination of ingredients for your palate.