Fermented Curtido Recipe: A Fermented Cabbage Condiment
Curtido is a fermented dish originally from El Salvador. It is similar to sauerkraut, with a crispy, salty, spicy, tart, and refreshing taste. However, curtido traditionally ferments much quicker, 1 to 5 days.
Curtido is a lightly fermenting cabbage mixed with onion, peppers, oregano, and carrots.
Curtido is a versatile condiment great as a topping on a plate of nachos or tacos. Or by the fork full straight out of the jar!
Whether you eat your curtido alone or enjoy it on your Salvadoran pupusas, this is a fermented curtido recipe that you won't regret trying. 
Are Sauerkraut and Curtido the Same?
If you are already a fan of sauerkraut, then you will love curtido. However, the two condiments still have some key differences. Firstly, curtido is fermented quickly, within five days, so it tastes fresher and crisper than sauerkraut. 
Secondly, it usually has other vegetables added, like peppers, onions, herbs, and carrots. 
For these reasons, you'll find curtido quite different from sauerkraut, but it offers many of the same delicious flavors and stomach health benefits.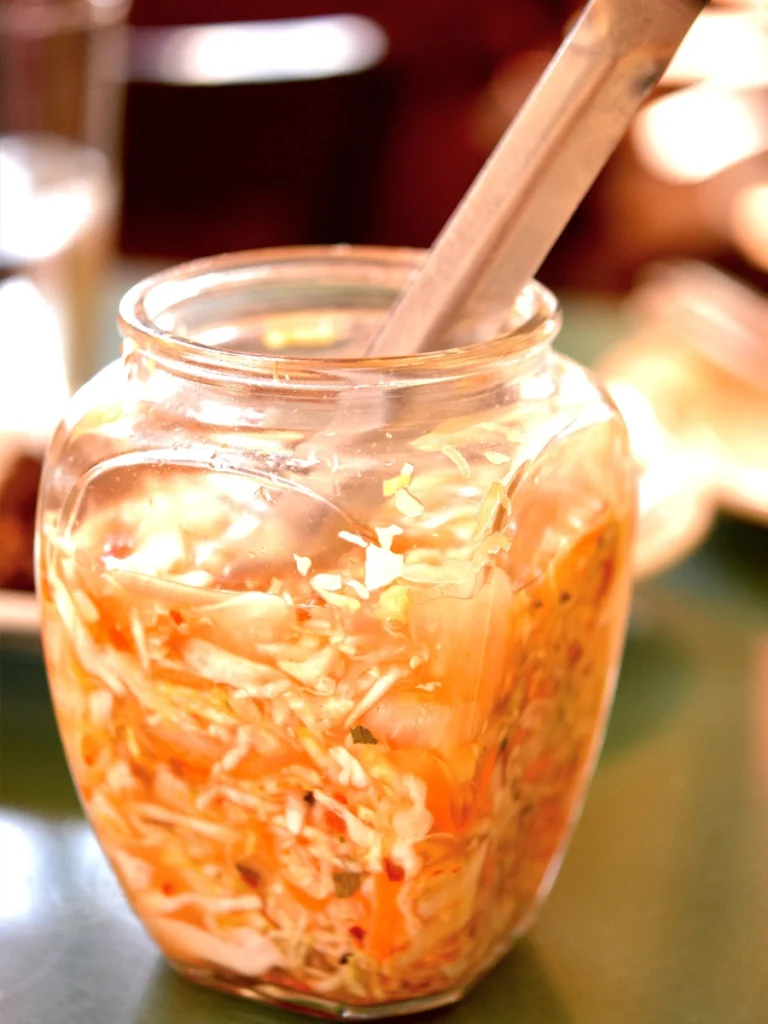 How to Make Fermented Curtido
Fermented curtido is a quick and easy fermentation recipe similar to making sauerkraut but much faster. It starts with taking a healthy mix of vegetables like cabbage, onion, and carrots before Lacto-fermenting the vegetables and allowing them to develop a gently sour flavor. 
Lime juice and seasoning are also sometimes added to curtido to accentuate it.
To make fermented curtido, grab all the vegetables, peppers, onions, herbs, and carrots to add to your curtido.
Shred the cabbage and carrots
Slice the onions and peppers
I've recommended a few of my favorites in this recipe, so guesswork is unnecessary if you prefer to follow along.
Ingredients List
½ head of shredded cabbage 
½ medium red onion (sliced)
3 shredded carrots 
1 serrano or jalapeno pepper (sliced)
½ lime (squeezed and zested)
3 teaspoon oregano (fresh, sliced)
3 teaspoon kosher or sea salt
Distilled water
Combine the vegetables in a large bowl and give them a good mix. 
Toss with oregano, salt, and a generous squeeze and zest of a lime. 
Toss some more to ensure all the vegetables are evenly coated with seasoning.
Next, let the ingredients rest. The salt will draw out moisture from carrots, onion, oregano, and cabbage cells. You can leave the vegetables sitting for around an hour since the salt inhibits any dangerous bacteria from growing during this time.
In the meantime, gather your distilled water and sterilized mason jars to prepare for the next steps. 
The process is quite simple if you aren't familiar with sterilizing mason jars. You can run the jars through your dishwasher on a sanitize cycle (without soap!), but you can also rinse the mason jars with boiling water if you prefer a quicker process. 
Once the jars are sanitized, and the vegetables have been allowed to sit in the salt and lime mixture, you can transfer everything into your mason jar.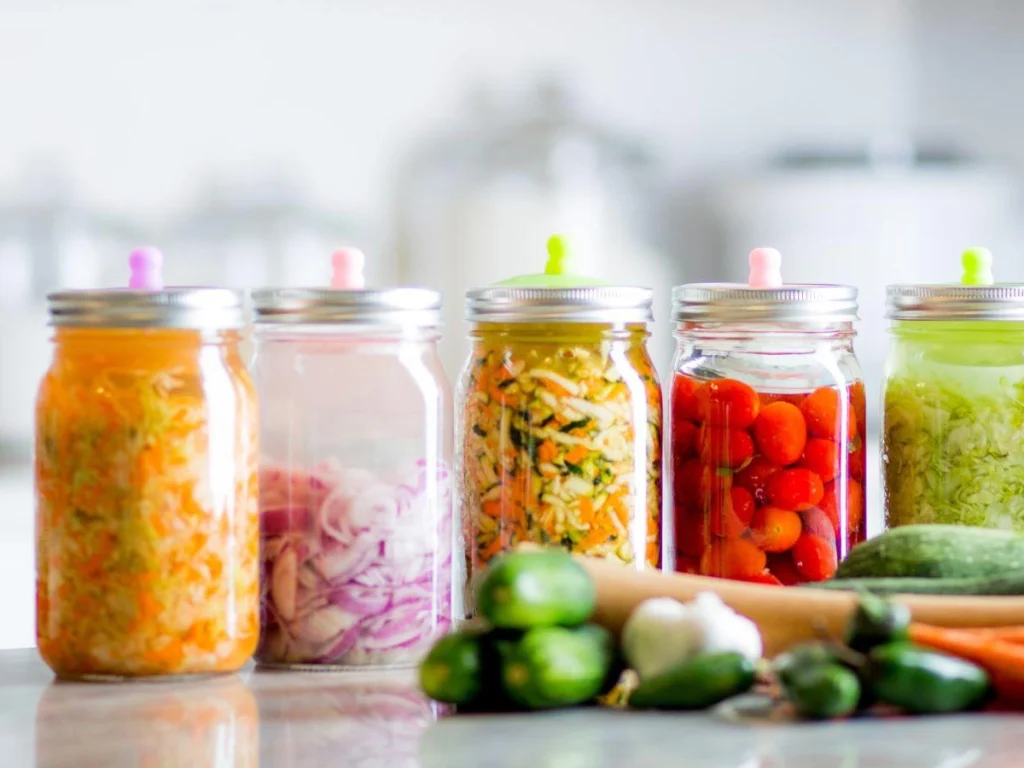 The ingredients in this recipe should fit in a quart mason jar, even factoring in the liquid drawn out from the vegetables. If you need another jar, consider adding extra salt (ensuring it's mixed in thoroughly!)
If the liquid doesn't reach the top of the jar, you should pour in distilled water until it reaches the top. This ensures that there's no air to potentially introduce harmful bacteria into the brine. 
Once the jar is full, you're all set to begin the fermentation process. (Ensure that the jar is still full an hour or two later — since the salt is still drawing out water, it may cause the amount of liquid in the jar to change.)
Finally, place the lid on the jar (without screwing it shut) and allow the mixture to ferment for 1 - 5 days, according to preference. 
Don't screw on the lid super tight. It should be just loose enough that the gases that form during fermentation can still escape. 
Otherwise, a dangerous amount of pressure can build up inside the jar as the mixture ferments. (Alternatively, you can purchase fermentation lids for mason jars!)
As the fermentation process begins, you will see bubbles start to form among the vegetables. On the first day, the curtido will be only very slightly sour. The vegetables will soften and grow increasingly sour and less salty as each day passes. 
Depending on your tastes, allow the fermentation process to continue for up to 5 days. The fermentation speed varies by temperature, so pay close attention to your curtido to determine the perfect timing. 
In the way that sauerkraut can turn out too salty, you should watch out to ensure the curtido tastes right before stopping the fermentation process. 
After you find your curtido is fermented to perfection, finishing the process is simple — all you need to do is stick it in the fridge to stop the fermentation process, and make sure to enjoy yourself while trying this incredible condiment!