Fermented Foods Are Good for Your Skin
What if I told you that the secret to healthy, glowing skin might lie in the foods you eat and not in the skincare products you buy? Here at Fermenters Kitchen, we believe in achieving clear, glowing skin from the inside out by harnessing the power of fermented foods!
Continue reading to learn about the amazing health benefits of fermentation and how it can help you achieve radiant skin!
Fermented Foods for Healthy, Glowing Skin
So, what exactly are fermented foods, and why are they so good for your skin? The fermentation process occurs when living organisms like bacteria or yeast convert carbs (e.g., sugar or starch) into alcohol or acid.
As food or beverages ferment, the healthy bacteria that form, also known as probiotics, help reduce or eliminate acne, reduce early aging signs, and create a brighter, more even skin tone.
How Does A Healthy Gut Lead to Healthy Skin?
So, how exactly are the skin and gut connected? Through what's known as the gut-skin axis, the skin can be thought of as a reliable indicator of what's going on inside our gut (Lawrenson). In other words, if your gut is healthy, so is your skin!
However, in today's world, many people lead lifestyles that harm the healthy bacteria in their guts—think excess consumption of coffee, processed foods, and alcohol.
These factors can contribute to an unhealthy gut, resulting in inflammation and diseases of the skin such as acne, eczema, or rosacea.
What Are the Health Benefits of Fermented Foods?
How do fermented foods work to help our gut, and in turn, our skin? Fermented foods contain powerful antioxidants that are crucial for eliminating inflammation and supporting healthy skin cell turnover, leading to improved gut health and clear skin.
When we maintain healthy bacteria in our gut through the consumption of probiotics and other wellness practices such as exercise, we strengthen our immune systems, balance out our hormones, and rid ourselves of the "bad" bacteria that lead to infection and inflammation.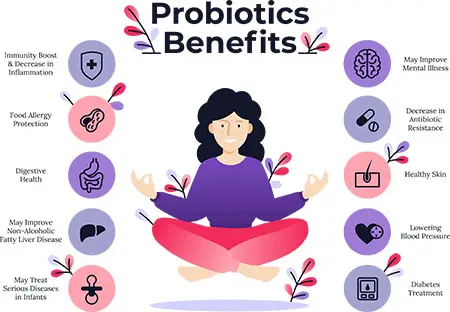 Fermented Foods and Drinks for Healthy Skin
Aside from their health benefits, fermented foods and beverages are also incredibly tasty!
Examples include:
For convenience, many people resort to taking probiotics in the form of supplements. However, this is a big no-no! Experts say that the probiotics found in the aforementioned fermented foods and drinks have live, active bacteria, which are much more efficient at healing the gut than anything found in supplements (Lippe).
So, how do you start incorporating these foods and drinks? We recommend starting slow, as overloading your body with too many fermented foods in a short amount of time may cause minor indigestion like bloating or gas as your body adjusts to the influx of bacteria.
Pro tip: Try to incorporate fermented foods at one meal a day, such as one tablespoon of sauerkraut as a side to your main dish or half a cup of kefir for dessert.
Not all Fermented Foods are Created Equally
It is important to be aware of hidden sugars or flavoring present in store-bought fermented foods and drinks that may reduce their nutritional benefits.
For example, while sugar is an essential part of the fermentation process, skip on any fermented drinks that list sugar as one of the top 3 ingredients, or try one of our DIY fermented drink recipes at home!
Ready to try out fermented foods for yourself? Follow along with the Fermenters Kitchen blog for fun recipes and more information about the fantastic benefits of fermented foods and beverages!