This post may include affiliate links. As an Amazon Associate I earn from qualifying purchases.You can read my complete affiliate disclosure for more details.
Most fermented foods, including sauerkraut, don't need a starter culture.
When searching for sauerkraut recipes online, you can easily find some that recommend using a starter culture to make sauerkraut and plenty of recipes that do not call for a starter culture as an ingredient.
Starter cultures aren't necessary for making sauerkraut. You can rely on the microbes naturally found in cabbage to start the fermentation process.
This article explains all the benefits and drawbacks you need to be aware of when using starter cultures to make sauerkraut.
What is a Starter Culture, and How Does it Work?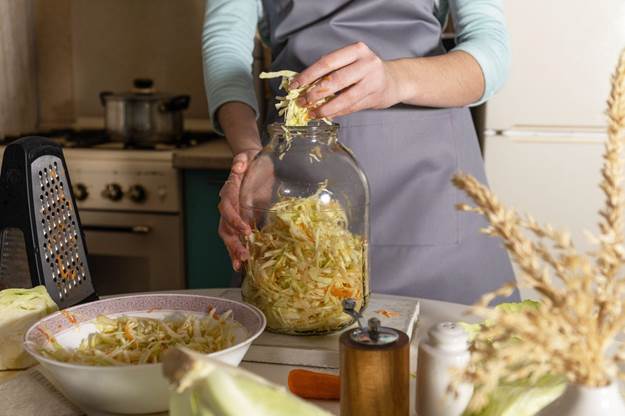 A starter culture contains all the bacteria and other microbes necessary for fermentation. These starter cultures are prepared in different ways depending on how the culture is intended to be used.
Many are made to ferment quickly or to produce specific textures and flavors.
Starter cultures serve several purposes when used to ferment sauerkraut and other foods. Some of the benefits of the fermentation process include gas formation, acid production, the production of new flavors, and preservation.
Each culture is tailored to provide the best result for its intended food product — for example, gas formation is essential for developing the texture of cheeses and sourdough bread.
These cultures ferment food through glycolysis or the consumption of sugar. This process is anaerobic — i.e., it doesn't require the presence of oxygen — which reduces the risk of contamination and contributes to the preservative quality of fermentation.
As the bacteria in the starter culture consume the sugars, they gradually develop and release various compounds.
Lactic acid and acetic acid (vinegar) are the most critical byproducts, but many other lesser compounds contribute to the resulting flavor of the fermented food.
Preservation and flavor aren't the only benefits of fermentation with a starter culture. The fermentation process also produces a variety of vitamins and offers a healthy microbial boost when consumed.
This is why yogurt and kombucha are commonly recommended for gut health.
Types of Starter Cultures for Sauerkraut
Kraut preparation methods vary. Many people enjoy preparing sauerkraut through a traditional process. This involves only using salt to preserve the cabbage.
Modern methods with whey or commercial starter cultures present an opportunity to make an exciting and unique batch of sauerkraut.
Salt is the primary ingredient used for the historical method of making sauerkraut. Before the advent of refrigeration, many people relied on salting vegetables and other foods to preserve them.
The mineral is highly effective at suppressing the growth of pathogens and improving the texture of the sauerkraut. The salt process is an excellent option for making fermented vegetables easily.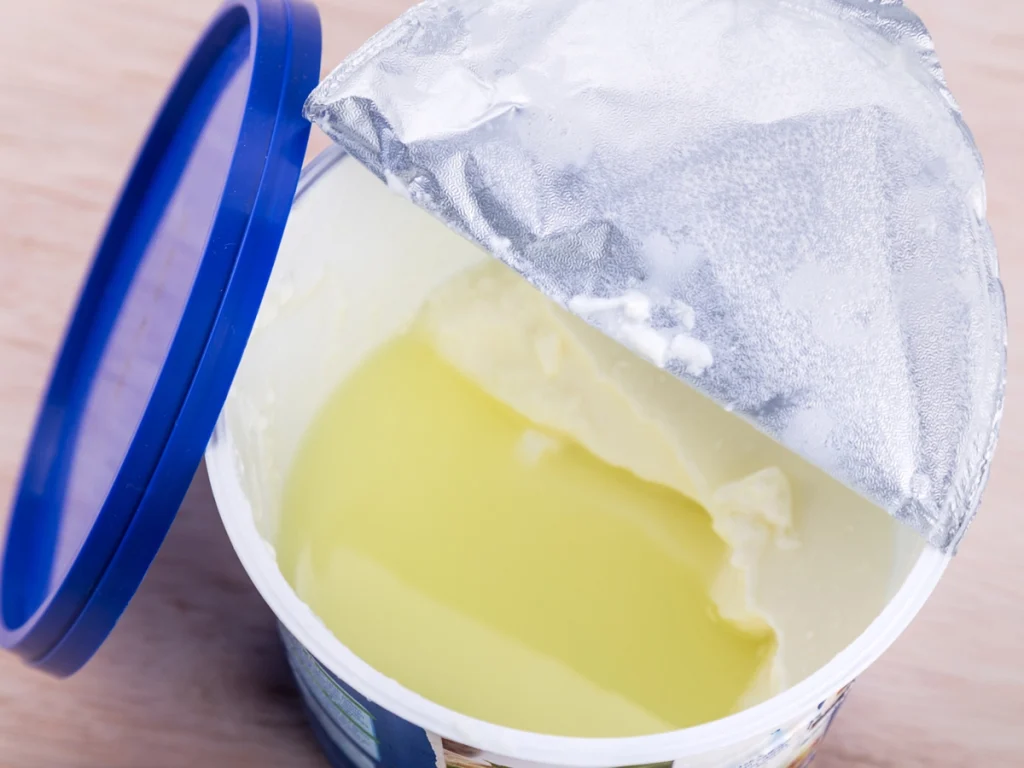 Whey is one of the best starter cultures to make a cultured batch of sauerkraut. Whey fermentation harnesses the lactic acid bacteria present in whey to consume the sugars in the cabbage.
Whey fermentation is an excellent choice when you want to avoid using a commercial starter but desire the same crunchy, delicious result.
You can use the whey from water kefir to culture your vegetables. Always use freshly strained kefir whey in your fermented vegetable recipe. If the kefir whey is too old, it will not successfully culture your vegetables.
Commercial starter cultures are another excellent option for preparing sauerkraut. These cultures are ideal for developing a complex and tangy flavor.
Another benefit of commercial starter cultures for your sauerkraut is that you can get a reliable and consistent result with every batch.
It's worth experimenting with different cultures, as many brands develop their cultures with varying proportions of microbes.
Regardless of what starter culture you decide to use to ferment your cabbage, it's worth noting that all three methods can produce spectacular results.
The most important thing to remember is that some research and experimentation will likely be required until you can perfect your personal sauerkraut recipe.
The Role of Starter Cultures in Fermentation
Starter cultures play a significant role in the process of fermentation. While it's possible to ferment food without a starter culture, the process is inherently guided by what bacteria are present in the food — and this bacterial balance isn't always good.
Starter cultures guarantee beneficial, quick, and reliable fermentation.
The most crucial role starter cultures play in fermentation is introducing beneficial bacteria. These cultures serve as inoculants to the food they're added to. The bacteria gradually begin to feed on the sugars in the food and produce a variety of beneficial compounds.
Starter cultures are also excellent compared to other fermentation methods because they jump-start the process.
With a starter culture, beneficial microbes may be present in small quantities and struggle to ferment. This isn't an issue when the culture is used to inoculate the food.
Starter cultures ensure that fermentation produces consistent results. The fact that bacteria are present in consistent amounts in every use of the culture ensures that the same fermentation process will always occur.
Without a starter culture, you may find harmful bacteria present or that your fermented foods have a strange-tasting balance of bacteria.
As you can see, there are many clear benefits to using starter cultures for fermentation. I recommend using a starter culture if you're new to fermenting because the reliable results will make it much easier for you to learn.
But as you improve your skills, it is worth knowing about non-cultured fermentation.
Pros and Cons of Using a Starter Culture for Sauerkraut
Starter cultures have become a ubiquitous part of preparing sauerkraut. When you compare traditional and modern methods of making sauerkraut, it becomes evident that there are some pros and cons of using a starter culture for sauerkraut.
Here are some factors to consider when deciding whether to use a starter culture in your fermenting practices.
Benefits of Using a Starter Culture
Enhanced flavor and texture are some of the most significant benefits of using a starter culture for kraut. Fermentation considerably influences whether the sauerkraut will turn out crunchy, fresh, and tangy.
Non-cultured fermentation is prone to causing mushy, browned, or off-tasting sauerkraut when done incorrectly.
You can achieve consistent results with a starter culture. It takes a lot of time and energy to produce a batch of sauerkraut, and it can be extremely disappointing if the sauerkraut doesn't turn out as intended.
The pre-prepared microbes in a starter culture ensure you'll get the desired results.
Lastly, you can expect faster fermentation using a starter culture for sauerkraut. While microbes are naturally present everywhere, they aren't always in the same quantities.
Starter cultures allow you to avoid delays by inoculating the brine, cabbage, or other fermented foods with tons of beneficial bacteria.
Drawbacks of Using a Starter Culture
The most obvious drawback of using a starter culture is that it's much more expensive than alternatives. Using whey or the bacteria naturally found in food will always be significantly cheaper than purchasing a starter culture.
Starter cultures are also much less flexible than other methods of fermentation. Many advanced fermenters enjoy developing their own cultures or taking a hands-on approach to non-cultured fermentation.
This isn't an option when you use a starter culture, as these inoculants are meant to provide the same results every time.
Finally, it's worth noting that starter cultures can still present a risk of contamination. If the culture is improperly prepared or stored, the balance of microbes in the culture can change. In some cases, harmful bacteria may even be able to develop in the culture.
Factors to Consider When Deciding Whether to Use a Starter Culture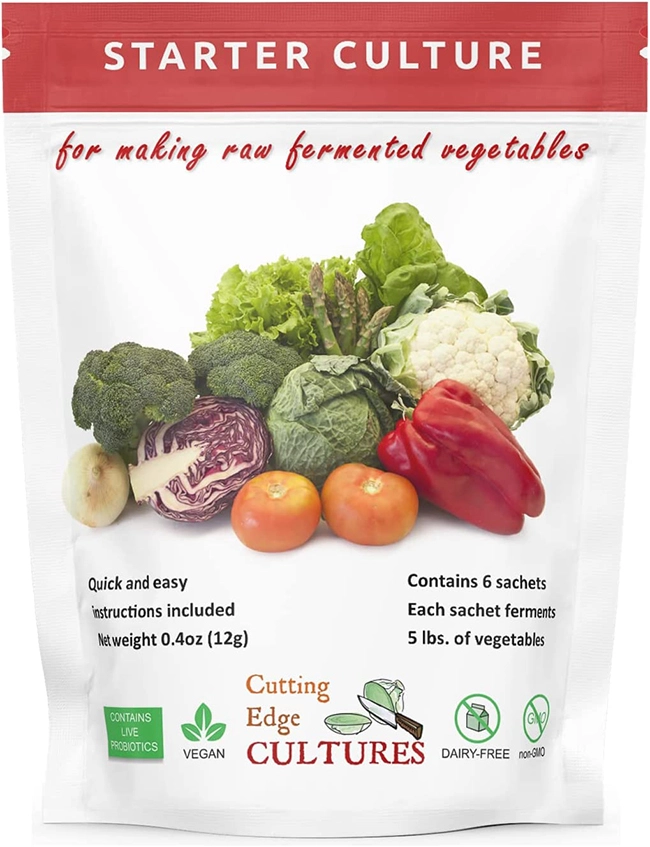 Traditional vs. Modern Methods
Historically, sauerkraut wasn't prepared with any starter culture. All of the microbes necessary to start the fermenting process and create the sauerkraut are already present in cabbage, so cultures were never considered essential for the process.
The traditional method of making sauerkraut only required salt brine and cabbage. The cabbage is weighed down and kept beneath the surface of the salty brine. As the lactic acid bacteria on the fermented vegetables grow, they produce compounds like acetic acid that eventually cause the vegetable to ferment.
Fermentation proved popular historically because it made it easy to preserve fresh vegetables for an extended period.
While fresh crops weren't always available, a jar of fermented vegetables would provide a delicious portion of vitamins and antioxidants to enjoy year-round.
As fermentation science progressed, many started considering alternative methods of producing homemade sauerkraut.
While traditionally-prepared sauerkraut is tasty and nutritious, the quality of the product can vary drastically between batches — and the quality has more to do with the microbes present than the skill of the fermenter.
The solution that fermenters came up with was starter cultures. These microbe-laden cultures are designed with the ideal balance of microorganisms to produce a healthy and delicious result.
Starter cultures made fermenting cabbage significantly more reliable, routine, and accessible to beginners.
There are plenty of benefits to modern starter cultures. As mentioned, these cultures ensure that the resulting sauerkraut is always tasty and nutritious.
They also make fermentation much faster since many beneficial microbes are introduced whenever starter cultures are used.
Neither traditional nor modern methods are equal to the other. Both ways of preparing sauerkraut have their pros and cons.
As you're considering how you want to make your batch of kraut, it's worth closely considering the qualities of both methods to decide which one best suits you.
Personal Preferences and Goals
It's worth considering your preferences when deciding if you'll use a starter culture. Flavor and texture are significantly impacted by the microbes present during fermentation.
Assuming that a starter culture will better fit your goals is also safe if you want a healthier and faster result.
The flavor is one of the characteristics of sauerkraut that differs based on your fermenting process. As lactic acid bacteria digest sugars, they produce compounds like acetic acid, monosodium glutamate, and acetic acid.
Different cultures produce different amounts of compounds. The flavor of the resulting fermented foods varies depending on what compounds are present.
The texture is also affected by the fermentation process. Quality starter cultures are designed to produce crisp and fresh sauerkraut. Poor microbial balance may result in mushy sauerkraut or an underdeveloped texture.
You should carefully consider what flavor and texture you want before deciding how to prepare your batch of sauerkraut.
If you're concerned about how much time fermentation will take or wish to make an exceptionally nutritious kraut, it's worth noting that starter cultures are a much better option.
As mentioned, fermentation time varies depending on how many microbes are already present. Starter cultures can significantly reduce fermentation time by introducing a generous amount of beneficial microbes necessary to start the process.
The health benefits of sauerkraut are also directly influenced by what starter culture you use. Aside from flavorful compounds, the fermenting bacteria also produce a variety of vitamins.
Some microbes have more vitamins than others. Using a starter culture intended for making vitamin-packed sauerkraut will help you get the best results.
Final Thoughts
Understanding the benefits and drawbacks of starter cultures is essential for making the best sauerkraut. Starter cultures allow you to produce consistent and quality results.
The main disadvantage of starter cultures is that you need more creative avenues.
Starter cultures are excellent for beginners and those seeking consistent results. If you want to make a truly unique and classic batch of sauerkraut, experimenting with different methods can be an illuminating experience.
Remember to take sanitary measures seriously as you make your sauerkraut. Using the proper containers and equipment to inhibit the growth of contaminants will save you a significant amount of time and energy.
FAQ About Using Starter Cultures for Sauerkraut
Is a Starter Culture Necessary for Making Sauerkraut?
Starter cultures aren't necessary for making sauerkraut. All the microbes necessary for the fermentation process are already present in cabbage.
If you want to guarantee the best possible results, however, it is recommended to use a starter culture when you make your sauerkraut.
Related: More Facts and FAQs about Sauerkraut
Can I Use a Different Starter Culture Than What's Recommended?
You can use a different starter culture than what's recommended for kraut. If you do this, no guarantee can be made that the sauerkraut will turn out as intended.
You may find that the sauerkraut develops at different speeds, requires a different fermentation temperature, or develops unique flavors and qualities once the fermentation process is complete.
How Do I Know if My Sauerkraut Has Fermented Properly?
You can tell by examining the flavor, texture, and other qualities of the sauerkraut. Properly fermented sauerkraut should have a tangy taste and a pleasantly sour smell.
The texture of the sauerkraut should be crunchy and firm. The kraut should not have any sliminess or mushiness. Sauerkraut should be a light yellow, slightly translucent color, though this may vary depending on what variety of cabbage you use.