Determining the correct fermentation temperature is difficult. While many websites offer advice on the ideal temperature to ferment different foods, these articles often need to account for other factors impacting the fermentation process.
In this article, we'll thoroughly explain why fermentation temperature matters and give some advice on finding the best fermentation temperature for any sauerkraut recipe.
Why Fermentation Temperature Matters
Temperature is one of the most important factors to pay attention to during the fermentation process. Fermentation relies on bacteria that consume a substance's sugars and produce lactic acid.
If these bacteria aren't kept at proper temperatures, they may struggle to digest or ferment the sugars too quickly.
Ensuring that the fermentation temperature is correct will give you increased certainty about the fermentation stage of your project.
The warmth will allow the bacteria to create an adequately acidic and anaerobic environment for your fermented food.
When the mixture isn't too hot, you will avoid unintentionally fermenting the food too quickly and causing the development of bad flavors and textures.
The Science of Fermentation Temperature
Temperature heavily influences fermentation. The rate of microbial metabolism depends on the temperature of the environment.
If the surrounding liquid is too cold or too hot, these bacteria won't be able to feed on sugars and create an anaerobic fermenting environment.
The ideal temperature varies depending on what kind of food you're trying to ferment. These are some of the most common recommended ranges.
Yogurt - The most common recommendation is to incubate and allow the yogurt to ferment at 114°F.
Sourdough - This delicious dough should be fermented at temperatures between 80 and 85°F.
Pickles - The recommended fermenting temperature for pickles is within a range of 65 to 75°F.
Kombucha - This fermented drink should be prepared between 74 and 84°F.
Natto - This soybean delicacy should be fermented at temperatures between 100 and 108°F.
Raw cheese - The ideal fermenting temperature varies depending on what kind of raw cheese you're trying to make, but 115 to 118°F is considered a great range.
The ideal temperature range is 70 to 75 F for sauerkraut to ferment within 3 to 4 weeks. At a cooler temp of 60 to 65 F, fermentation may take 5 to 6 weeks.
However, the sauerkraut may not ferment at a lower temperature of 60 F. Likewise, if it is too hot, say above 75 F, the sauerkraut may become soft and mushy.
The Role of Temperature in Flavor and Texture
Fermenting temperature has a tremendous impact on flavor. The bacteria that are responsible for fermenting foods behave differently depending on the temperature of the surrounding environment.
When the temperature is too low, these bacteria often can't fully ferment the food. The resulting flavor is often strange and unpleasant when the temperature is too high.
The temperature during the fermenting process also significantly impacts the fermented food's resulting texture. Fermented vegetables, like cabbage, become soggy and soft when the fermenting temperature is too high.
Grainy textures in fermented dairy and awful flavors in beer and mead are also caused by excessively hot fermentation.
Factors to Consider When Choosing Fermentation Temperature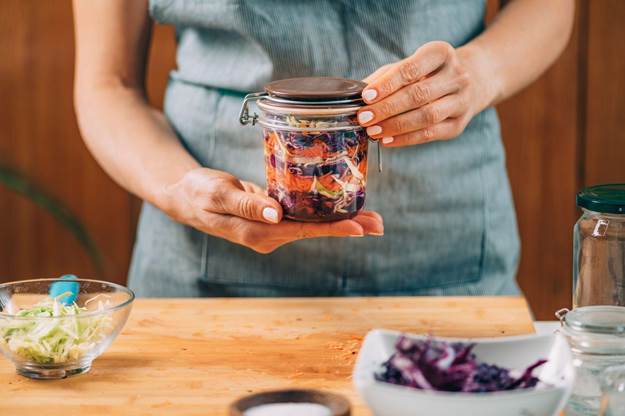 When choosing your fermentation temperature, there are a few factors you should pay attention to. Start by determining what kind of food you want to ferment and research the ideal temperatures.
Once familiar with the basic fermentation process for your intended food, research how your chosen starter culture and fermentation vessel affect the process.
The Type of Fermented Food
Vegetables have a low fermentation temperature, although it varies depending on what you're trying to make. Most vegetables have an ideal fermentation temperature of 55 and 75°F.
Dairy products are fermented at slightly higher temperatures than many other foods. Mesophilic cultured dairy will ferment at room temperature, while thermophilic cultured dairy generally requires temperatures of at least 100°F to ferment.
Kombucha and beer are generally fermented at temperatures between 74 and 84°F. Lower temperatures are recommended if you want to avoid more robust flavors, but the fermenting temperature can be chosen in accordance with your flavor preferences.
This handy kombucha heating wrap makes it easy to keep your kombucha at the right temperature.
Bread dough should be proofed — or allowed to go through the final fermentation process — at a temperature between 75 and 80°F.
This folding proofer is a box that provides the optimal humidity and temperature to help your dough rise better and faster.
The Type of Starter Culture
Wild fermentation is a fermentation process where you ferment a food with the microbes already naturally contained within it.
Wild fermentation is an excellent option if you're familiar with fermenting and want to experiment with unique flavors and textures.
Commercial starter cultures are the best option for beginners and anyone looking for consistent results.
These starter cultures already have the right balance of microbes necessary to get the best flavor, meaning you can reliably produce delicious fermented food with every batch.
Related: Is a starter culture necessary for making sauerkraut?
The Type of Fermentation Vessel
The type of fermentation vessel you use can significantly impact the final result. The vessel used directly influences how much air comes into contact with the fermented food.
Open vessels are recommended for fermenting foods like sauerkraut and pickles as long as you ensure that all fermented food stays submerged in the anaerobic brine.
Closed vessels are recommended for fermented dairy foods like yogurt and kefir. These foods benefit from the predictable fermenting environment provided by closed vessels.
Pressure vessels are similar to closed vessels but utilize pressurization. Fermentation under these conditions produces fewer byproducts.
As a result, foods in a pressure vessel can be fermented faster at higher temperatures with a reduced risk of unpleasant flavors developing.
You might like: Best Fermentation Crock Buyers Guide
Tips for Achieving the Best Fermentation Temperature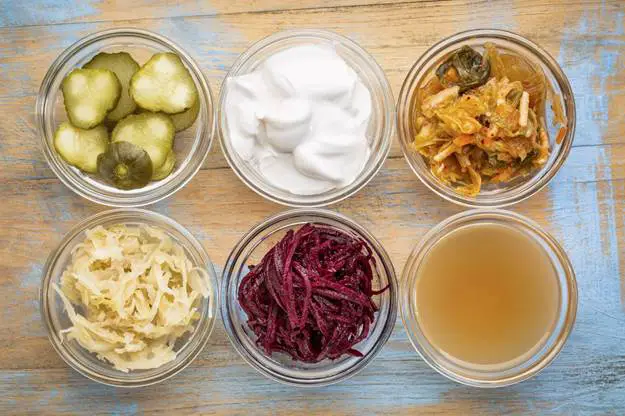 Monitoring Temperature
Thermometers are vital for verifying that the fermentation temperature stays within acceptable ranges. Luckily, this essential piece of equipment can be purchased cheaply online.
Temperature controllers are great if you want a hands-off and reliable approach to regulating the fermenting temperature.
These controllers monitor and heat the food when it falls below acceptable thresholds.
Controlling Temperature
Insulation is one of the most important things to consider when controlling fermentation temperature, as a suitable container will simultaneously keep the fermented food from overheating or cooling excessively.
There's no shortage of DIY solutions you can use to insulate.
Heating devices are excellent if you're fermenting something like dairy. These devices are typically paired with temperature controllers so that the food always stays within the ideal temperature range.
Cooling devices are excellent if you want to do a slow ferment or live in an excessively hot climate. Much like heating devices, many cooling devices are paired with controllers that allow them to respond intelligently.
Other Temperature-Related Tips
Preheating fermentation vessels are commonly used in many industrial fermentation applications, but they also make a great addition to the home. These vessels are excellent for giving the fermentation process a strong start.
Controlling ambient temperature is essential if you want the best results from your fermenting process.
It's recommended to use a heating or cooling device for temperature control when fermenting for the most reliable results.
Final Thoughts
It can take time to figure out the rules of good temperature control for fermenting. As long as you're familiar with fermenting and some general guidelines for different foods, making the right choice becomes simple.
It's impossible to master fermenting in a day, but using these takeaways; you'll make significant progress in learning the craft.
We recommend experimenting with different temperatures and techniques so that you can fully internalize how these factors influence the result.
And remember, the impact of using the right equipment can't be understated. Incorporating equipment like weights and airlocks into your fermenting process will considerably reduce how often contamination and accidents happen.
Shop my list of recommended tools and equipment for fermentation.
Frequently Asked Questions About Fermentation Temperature
Can I Ferment Foods at Room Temperature?
You can ferment many foods at room temperature. Certain types of beer can be fermented at room temperature, as the yeast can metabolize in this temperature range. Vegetables and kombucha are also commonly fermented at room temperature.
What Happens if the Temperature is Too High?
Ideal conditions are necessary for bacteria to metabolize and ferment food. The lactic acid-producing bacteria essential to the fermentation process thrive in warm temperatures. Unfortunately, the liquid can quickly get too warm and ruin the food.
When fermentation occurs at a high temperature, the bacteria or yeast often finish consuming the sugars sooner than intended.
This can produce acrid flavors. Food like sauerkraut may also turn out mushy or discolored. Excessively high temperatures may inhibit fermentation altogether.
What Happens if the Temperature is Too Low?
The lactic acid-producing bacteria require certain conditions to ferment food. If the liquid is too cold, the bacteria or yeast will not be able to digest the sugars in the mixture or produce the lactic acid necessary for preserving food.
In cold temperatures, the fermentation process will take an extremely long time to finish — assuming the process starts at all.
You should monitor the conditions of your food closely and keep the mixture in a warmer space if the temperature doesn't appear to be adequate.