Salt is an essential ingredient in fermenting cabbage into sauerkraut. It keeps unwanted bacteria from taking over, but it also helps keep the cabbage crisp and crunchy. Salt also preserves vitamin content and can slow fermentation, giving it more time to develop flavors.
If you've been researching sauerkraut recipes, you may notice that each calls for a different amount of salt.
Leaving you asking the question, how much salt do I use to make sauerkraut?
The ideal range of salt used to make sauerkraut is between 1.5% and 2.5%. 
This range can vary depending on personal taste preference, temperature, and time left to ferment.
3 Ways To Salt Sauerkraut: By Taste, Volume, and Weight
There are three main ways to determine the proper amount of salt you should use for your sauerkraut. 
1. Taste: How to Salt Sauerkraut by Taste
Salting your cabbage for sauerkraut by taste is one of the easiest ways to ensure that you get the right amount of salt for delicious sauerkraut every time. 
This is also the method that I would recommend to anyone new to fermenting sauerkraut because it gets you used to how the mix should taste and provides a more intrinsic understanding of how much salt to use.  
To salt sauerkraut by taste, you should begin by shredding the cabbage and sprinkling the salt on a little at a time. 
If the cabbage doesn't taste very salty, you can add some more salt, mix, and taste again until it reaches the level of saltines you desire. 
If you taste the cabbage and it tastes similar to a potato chip, you have added the right amount of salt and can move on to the next step. 
If the mixture is far too salty, add more cabbage or other vegetables you are using in the recipe. 
Tip: Use a Salt Brine as a Benchmark
Use a salt brine as a benchmark for what the salt levels should taste like when making sauerkraut.
Combine 1 cup of water with 1 ¼ teaspoons of sea salt. Once the salt has completely dissolved, it is time to taste the brine. It should taste like the ocean. 
Your sauerkraut should taste like this when it has been perfectly salted.
Compare this taste to the cabbage after it has been marinated in salt for at least 15 minutes. Massage the cabbage with your hands and squeeze it. If liquid comes out when you squeeze the cabbage, it is ready to taste. The salt content should be similar to the brine.
The brine is your benchmark! Eventually, you won't have to make it to get the perfect sauerkraut with practice.  
Use this mixture if you need to add more brine during the first ten days of the fermentation process.
2. Volume: How to Measure Salt by Volume
Measuring salt by volume is a good method to use if you are new to fermentation, struggle to accurately rate how salty something is, or prefer to have accurate measurements when cooking. 
This method will require measuring spoons and food scales. 
Measure the weight of the cabbage after you have discarded the stalk and core and shredded it.
The volume of cabbage that you have will determine the amount of salt that you need to add.  
For a one-quart (liter) batch of sauerkraut, you weigh 1 ¾ pound (800 g) of vegetables and add one tablespoon of salt.
One tablespoon of salt to 800g of cabbage
A range of percentages is given rather than an exact percentage because measuring salt by volume isn't overly precise. 
Keep in mind the size of measuring spoons varies depending on where you are. An American tablespoon, for example, contains 14.7 ml, whereas a British tablespoon contains 17.7 ml. 
In Australia, their tablespoons contain a massive 20 ml. This is quite a significant disparity when trying to salt your cabbage. 
Another drawback of this method is that different salts come in different sizes and densities. This means that with certain salts, you might be adding less overall to your cabbage because the grind size is bigger.
3. Weight: How to Calculate How Much Salt to use to Make Sauerkraut
For this method, instead of just weighing your vegetable content, you also weigh the salt content. This is one of the most accurate ways to salt your cabbage for sauerkraut.
Start by weighing your shredded cabbage, including all vegetables from the recipe. You should measure the weight in grams to make the next bit easier. 
Once you have a number in grams for the amount of cabbage, you need to multiply it by 0.2; you can use a calculator. 
This basic equation will give you the number of grams of salt you need to add to the cabbage to create the ideal ratio.  
For example, if you have 800 grams of cabbage, you will add 16 grams of salt to create the perfect balance. 
800g X .02g = 16 grams of salt
One of the best things about measuring your salt and cabbage by weight is that it is incredibly easy to adjust your recipe to fit the conditions. 
For example, if you are fermenting in cooler temperatures, you should reduce the salt you use. 
This means that instead of multiplying the cabbage weight by 0.2, you should multiply by 0.15. Jump to the bottom of this article to learn how temperature plays a role in fermentation.
2-Quart Size Jar: Use 32 grams of salt for 2400 grams of cabbage and vegetables
Don't Be Afraid To Experiment
It may take some experimentation to achieve the right flavor. I suggest fermenting in small batches, using 16 oz. or 32 oz jars, until you find the right amount of salt that produces a flavor you enjoy.
In any recipe for fermented cabbage or other vegetables, reducing or increasing the amount of salt to fit your taste is acceptable. 
However, beware, there are limits on both ends. 
Too little salt may allow mold and harmful bacteria into the batch; it may not keep the vegetables crisp. Too much salt can slow the fermentation down and even stop it altogether.
Stay within the range of 1.5% - 2.5% salt per quart, and with minor adjustments, you will produce tasty, nutritious fermented sauerkraut every time!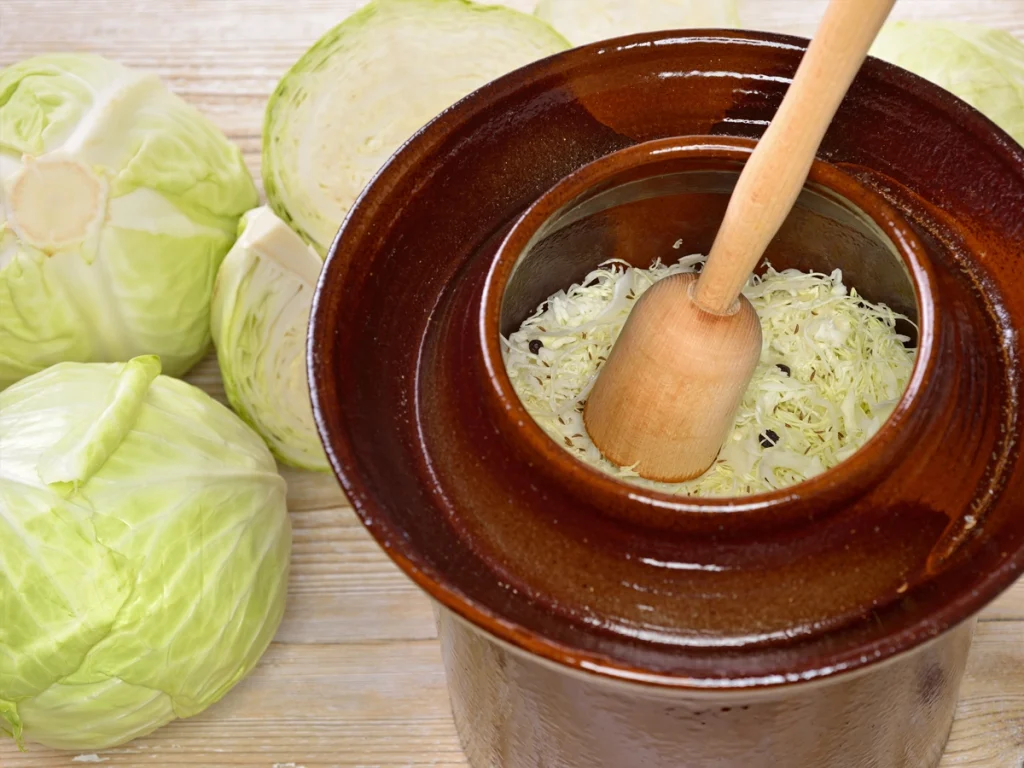 Frequently Asked Questions
How does temperature affect fermentation?
While the ideal measurement is 2%, the temperature at which the sauerkraut is fermenting can affect it.
Fermenting sauerkraut in cooler weather, you can use a tad less salt: 1.5%.
Likewise, you can use more salt (2.5%) to slow the fermentation down when fermenting in warmer weather.
What is the best temperature to ferment sauerkraut?
The ideal temperature range for fermenting sauerkraut is between 60° F (16° C) to 70° F (21° C). 
 At this temperature range, the fermentation is slow enough to support the growth of Lactobacillus bacteria and Leuconostoc mesenteroides. It will also allow for developing the desired flavors and crunchy crisp textures that make sauerkraut delicious.
In addition, ferments at these temperatures seem to last longer in cold storage without browning or growing yeasts and molds.
Fermentation of sauerkraut at 72° F (22° C), or higher, is too warm. Though these temperatures result in a rapid formation of acid, you often end up with mushy, soft, and even pink sauerkraut. 
The fermentation of sauerkraut at 58° F (14° C), or lower, is too cool, and the process of fermentation moves slowly. The slower fermentation can cause the bacteria to digest the vegetables too slowly. The acids are not produced fast enough, giving harmful bacteria and mold the opportunity to take over.
Related Topic: How Long To Ferment Sauerkraut
What happens if you use too little salt while fermenting cabbage?
Although it may not seem like it, using too little salt when fermenting cabbage can be just as bad as using too much salt. 
When you don't add enough salt to your sauerkraut, you risk ending up with mushy cabbage instead of a flavorful, tangy, and crisp side. 
However, worse than ending up with mushy cabbage is the risk of mold developing when the salt content is too low. 
Nothing is worse than putting time, money, and effort into making your sauerkraut only to find that it is covered in the mold when you open it. 
What happens if you use too much salt?
Adding too much salt to your sauerkraut also adversely affects how your fermentation turns out. One of the main issues with adding too much salt to your sauerkraut is that the taste won't be enjoyable. 
However, worse than that, adding too much salt can significantly slow down the fermentation process. This can be inconvenient and lead to an altered end product as the cabbage has fermented for longer.  
Why is the cabbage dry and not making enough brine in the sauerkraut?
What do you do if the cabbage and salt do not produce enough brine? 
If you did not get enough juice from salting and pounding your cabbage, add a little of the salt brine discussed earlier in this article.
Combine 1 ¼ tablespoons of unrefined sea salt with 1 cup of filtered water. Put the cabbage in the jar and add enough salt brine to fully covered the vegetables. Leave enough space at the top for the weight. This will help protect the cabbage from the air and prevent mold from developing. 
The brine recipe above can also be used when fermenting other vegetables, such as carrots, garlic, or broccoli, that don't naturally produce much liquid. 
Pick the freshest cabbage you can to make sauerkraut. If the cabbage is too dry, it has probably been in storage for a long time. I have made sauerkraut with dry cabbage in the past, and I will never do it again because it produces very bland-tasting sauerkraut. 
Fresh cabbage will feel heavy when you pick it up because it is full of water. If the cabbage feels light, that means it is dry. 
The main growing seasons for cabbage are spring and fall. Fall is the preferred season to make sauerkraut, where shortening days and cool temperatures produce sweet, densely packed leaves. Spring cabbage ripens during longer and warmer days which can dry it out.
Did I cover everything you wanted to know about how much salt to use to make sauerkraut?
We have learned multiple methods of ensuring that your sauerkraut is salted correctly to help you get the perfect results every time. 
Different methods have varying degrees of accuracy, but all of them should help you produce consistent batches of fermented cabbage. 
Once you have mastered the art of fermenting it at home, you will never have to go without your healthy daily serving again.