Probiotics are extremely important for good digestive health. Your body is filled with good and bad bacteria. When enough good bacteria are present, your gut has a healthy microbiome. A healthy microbiome is vital for proper digestive function, which will help you feel energized and prevent discomfort.
Unfortunately, it's very easy for your probiotic balance to get out of balance. These bad bacteria can interfere with digestion, making you feel tired and uncomfortable. When you eat yogurt made from culturing milk with beneficial bacteria, you can nourish your body with probiotics and restore the balance in your digestive system.
Do All Yogurts Have Probiotics?
While bacteria are vital to producing yogurt, not all yogurt has sufficient qualities of probiotics to provide real health benefits to consumers. All yogurt is made with Streptococcus thermophilus and Lactobacillus bulgaricus. Both strains are responsible for the delicious yogurt taste you're familiar with, and they're an excellent start for boosting your gut microbiome.
After the fermentation process is complete, many brands add additional strains of bacteria to yogurt to improve the health benefits of the yogurt. This process is legitimate, and shopping for yogurt with added strains whenever possible is vital for improving your gut microbiome. Look for strains like L. acidophilus and B. lactis. Consider eating various brands to maximize the diversity of bacteria you eat.
Generally, you can expect highly-processed yogurt to deliver significantly fewer health benefits than other types of yogurt. Highly-processed yogurt is sometimes heated or pasteurized after fermentation, which can kill a significant amount of the beneficial bacteria present. If you want the best yogurt possible, look for brands with minimal processing, added sugar, or strange ingredients.
Here are some brands of yogurt that I recommend for their probiotic content.
Stonyfield Organic Whole Milk Probiotic Yogurt. Contains an incredible variety of bacteria strains, including L. rhamnosus, L. paracasei, L. bulgaricus, S. thermophilus, Bifidobacterium BB-12, and L. acidophilus.
Nancy's Organic Probiotic Whole Milk Yogurt. Contains a vast variety of bacteria, including S. thermophilus, L. bulgaricus, Bifidobacterium lactis BB-12, L. acidophilus, L. rhamnosus LB3, and L. casei.
FAGE Total Lowfat Greek Strained Yogurt. Contains several bacterial strains, including S. thermophilus, L. acidophilus, Bifidus, L. casei, and L. bulgaricus.
Siggi's Whole-Milk Icelandic Cream-Skyr Yogurt. Contains numerous strains of bacteria, including S. thermophilus, L. delbrueckii subsp. lactis, L. acidophilus, L. delbrueckii subsp. Bulgaricus, B. lactis, and L. acidophilus.
There are also many good vegan brands of yogurt. Here are some of the best probiotic plant-based yogurts.
GT's Living Foods Cocoyo Yogurt. Coconut-based and contains many strains of bacteria, though the bacteria in the proprietary blend aren't disclosed on the label. Each jar contains 100 billion probiotics.
Forager Project Cashew Milk Yogurt. Cashew-based and contains numerous bacterial strains, including L. delbruekii LE, S. thermophilus, B. bifidum, L. bulgaricus, L. acidophilus, and L. plantarum LM.
The Health Benefits of Probiotics
Probiotics have a vital role in gut health. The microorganisms that comprise your gut microbiome are essential for proper digestion and nutrient absorption. You may suffer from poor digestive health and a reduced sense of overall well-being if you don't have a good gut microbiome.
Consuming probiotics is important because these incredible bacteria can help you restore your gut microbiome. Given how sterilized our modern environment is, having a reliable source of beneficial bacteria in your diet is more important than ever.
Probiotics are known to cause a variety of effects when regularly consumed. They are vital in many parts of digestion. Probiotics can help you absorb the vitamins, protein, and other nutrients from your diet. If you boost your gut microbiome, you'll quickly feel the benefits of better nutrient absorption across your entire body.
Consuming probiotics is especially important if you need to take antibiotics. While antibiotics are a vital part of modern medicine, they can devastate the gut microbiome. Consuming probiotics can help you maintain and restore your gut microbiome. Probiotics also reduce the risk of antibiotics-associated digestive issues like diarrhea.
Due to how they boost the digestive system, it is possible to reduce the severity of many digestion-related health issues by regularly eating probiotic foods. Many people have been able to reduce the severity of their gas, bloating, inflammation, diarrhea, constipation, and lethargy by eating probiotic foods every day.
The probiotics themselves aren't the only benefit of eating probiotic foods. The process of fermentation results in the formation of nutrients like Vitamin B-12. These vitamins are essential for mental and physical well-being.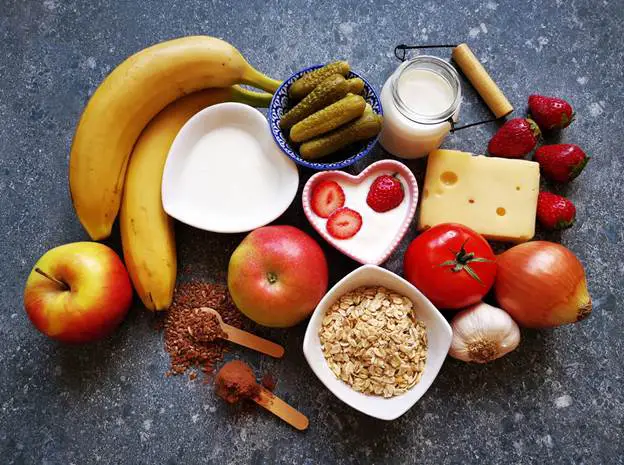 How to Choose a Yogurt With Beneficial Probiotics
Choosing yogurt with beneficial probiotics is extremely difficult when you don't know what to look for. Many brands use misleading practices to make customers assume that their yogurt offers probiotic benefits, even when it contains little to no beneficial bacteria.
When reading a yogurt label, there are a few things you should look out for. You should only purchase yogurt labeled as containing live and active cultures. This label means the yogurt contains at least a few CFUs per gram. In other terms, it will have enough bacteria to provide your gut with some health benefits.
You should also shop for yogurts that contain minimal additives and added sugar. While the absence of additives and added sugar doesn't directly boost gut bacteria, it does mean that your gut will be much more accommodating to good bacteria. Sugar and additives are often responsible for allowing harmful bacteria to feed and throw your gut microbiome out of balance.
According to U.S. guidelines, all probiotic yogurt must contain Streptococcus thermophilus and Lactobacillus bulgaricus. Many brands add extra strains of bacteria to their yogurt. You may encounter strains like L. acidophilus, B. bifidum, B. lactis, L. casei, and even L. rhamnosus. Eating as many strains of bacteria as possible is ideal since improving the diversity of your gut microbiome has been shown to multiply the health benefits.
I recommend reading the label closely before selecting a yogurt. Not all yogurt is created equal, but whether you're shopping for cashew milk yogurt or sour skyr, it is possible to find yogurt that will give you incredible probiotic benefits. Purchasing various brands with various bacteria strains is a great way to maximize the diversity of bacteria you consume.
Conclusion
Choosing the right kind of yogurt is crucial to enjoying the benefits of probiotics. While most yogurt is labeled as containing live and active cultures, not all brands provide the same dosage. Selecting a quality brand with lots of probiotics will ensure you enjoy the best digestive health benefits.
Yogurt is an excellent part of a healthy diet, but you don't have to eat yogurt alone. Incorporating other probiotic foods like kimchi and kombucha into your diet can help you enjoy a variety of nutrients and beneficial microbe strains. As long as you eat a dose of probiotics each day, you'll see massive improvements in your digestive well-being in no time.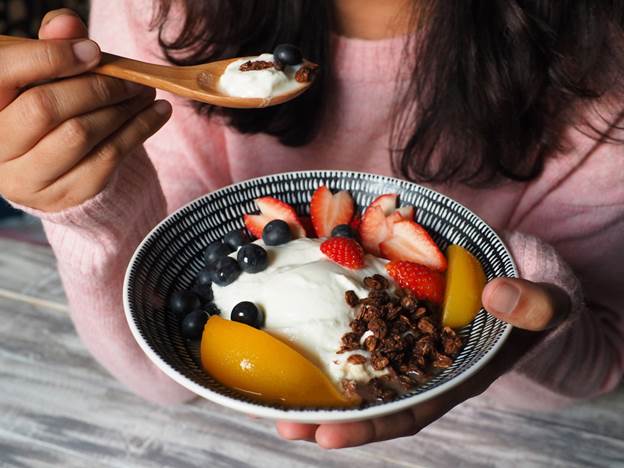 Frequently Asked Questions
Can You Get Enough Probiotics From Yogurt Alone?
It depends on the brand of yogurt you eat. Some yogurt brands contain so little bacteria that you would need to eat ten or more servings to get a decent dose of probiotics. If you choose a quality yogurt brand, you should get enough probiotics by eating a single serving daily.
It's worth noting that yogurt only contains a few strains of probiotics. If you want the most diversity in your gut microbiome, it's worth considering alternating what probiotic foods you eat each day to ensure you're introducing plenty of different microbes to your body.
What Are Some Other Sources of Probiotics?
Some other sources of probiotics include fermented pickles (not vinegar pickles!), kimchi, sauerkraut, fermented vegetables, kefir, natto, tempeh, miso, kombucha, traditional buttermilk, and certain types of cheese. Look for cheeses labeled as containing live and active cultures. Gouda, cheddar, mozzarella, and cottage cheese all frequently contain probiotics.
Are All Probiotics Created Equal?
Not all probiotics are created equal. Some probiotic foods contain exceedingly low doses of probiotics. And as we've made clear with yogurt, some "probiotic" foods don't contain probiotics at all. Vinegar-based pickles are another false probiotic you may encounter. You should always verify that the food you buy is probiotic by checking the label thoroughly.
Can You Overdose on Probiotics?
It is possible to overdose on probiotics. If you never eat probiotic foods and suddenly eat a large dose, it can disrupt your gut microbiome. Eating too many probiotics over a long period can cause you to consume too much bacteria and throw your gut microbiome out of balance.
Are There Any Side Effects of Probiotics?
You may experience bloating or gas while your body acclimates to the probiotics you eat. You can minimize this by slowly raising your intake or reducing how much probiotic food you eat. You should avoid eating probiotics if you have a suppressed immune system or severe acute pancreatitis. It's also worth noting that certain probiotic foods' amines may trigger a headache for certain people.