Jump to recipe
How to make SCOBY Jerky, a SCOBY Snack
Making homemade Kombucha SCOBY jerky is a delicious way to use up any extra kombucha "mothers" you have collected. To make SCOBY jerky, first cut the SCOBY into strips, season it, and then pop it into a dehydrator for approximately 8 hours at 105F.
I'll share four great seasoning combinations to choose from, spicy, mild, sweet, and peanut butter in this post.
SCOBY Jerky made from Kombucha
If you brew Kombucha, then you probably have a lot of SCOBY on hand. A great way to use SCOBY is to dehydrate it and turn it into a snack everyone will love.
After making a Kombucha batch, you can slice the SCOBY, marinate it, and then dehydrate at a low temperature to avoid killing off the probiotic organisms. It tastes like beef jerky and is healthy for your gut.
Kombucha SCOBY is mostly cellulose, so the jerky is flavor, probiotics, and fiber. You are making it a healthy snack! Because you already have the SCOBY, there is almost no cost involved to make them.
SCOBY Jerky Recipe with an Air Fryer
If using the Air Fryer Oven to dehydrate the SCOBY jerky, use the dehydrate setting, and dehydrate at 105°F for 4 hours. The Power XL Air Fryer temperature level can go as low as 100°F. if you want to keep the enzymes and probiotics in your SCOBY, you will need an option for a temperature setting this low.
The GoWISE USA 7-Quart Electric Air Fryer with Dehydrator will dehydrate at a temperature as low as 90°F.
SCOBY Dog Treats
Why not share this nutritious probiotic treat with your dog or barnyard animals? Flavor the SCOBY jerky with a little chicken or beef stock, or peanut butter to really entice your pets to eat the new treat. Just be sure to slowly introduce the new treat to them, so it does not upset their stomach.
Chickens and goats are also known to love SCOBY jerky.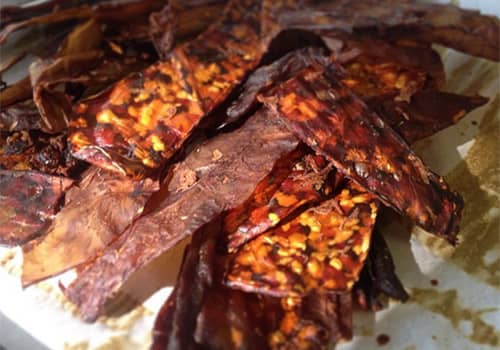 How to Season SCOBY Jerky
Spicy SCOBY Jerky:
Tamari ¼ cup
Kombucha ½ cup
Apple cider vinegar ¼ cup
Red chili flakes ½ tsp
Grated ginger ½ tsp
Garlic cloves 2 (minced)
Sea salt ½ tsp
Apple cider vinegar ¼ cup
Mild SCOBY Jerky:
Ginger grated 1 tbsp
Garlic minced 1 tbsp
Soy sauce ½ cup
Honey 8 tablespoon or to taste
Sweet SCOBY Jerky:
Sugar 4 tbsp
Cinnamon 4 tbsp
Mix and use as a dry rub.
Peanut Butter SCOBY Jerky:
Peanut butter 2 tbsp
Honey 1 tbsp
Kombucha or water ½
SCOBY Jerky Recipe with a dehydrator or Air Fryer
Kombucha SCOBY Jerky

This Kombucha SCOBY jerky recipe is a fun and delicious snack that is made with extra SCOBYs. It is chock full of probiotics and fiber.

Total Time
8 hours, 15 minutes
Notes
The strips of SCOBY will shrink down quite a bit, similar to dried seaweed or kombu. If using the Air Fryer Oven, use the dehydrate setting at 105°F for 4 hours. If using the oven, set to the lowest temperature and leave the door propped open a little with a wooden spoon to prevent the temperature from getting too high and killing the probiotics.

Ingredients
5–6 thin strips of Kombucha SCOBY
Ginger grated 1 Tbsp
Garlic minced 1 Tbsp
Soy sauce ½ cup
Honey 8 tablespoon or to taste
Instructions
Lay the SCOBY flat and cut into strips, you can stretch the strips to make them thin.
Marinade the strips of SCOBY in a plastic bag for 12-24 hours.
Lightly grease the dehydrator trays, or use a non-grease parchment paper
Layout the strips of Kombucha SCOBY in the dehydrator
Mix your SCOBY marinade of choice and brush it on the SCOBY before and during the dehydration process 2 -3 times
Dehydrate for about 8 hours at 105 degrees, until most of the moisture is gone.
Fully dehydrate the SCOBY until you reach the consistency of leather jerky
The SCOBY can be stored at room temperature in an airtight jar and should be consumed within two weeks.
© 2023 Copyright Fermenters Kitchen
Related Topics: