You're not alone if you've experienced awful gas and bloating after eating sauerkraut. Many people feel frustrated when they attempt to incorporate this fermented superfood into their diet and only feel worse.
Sauerkraut is a spectacularly nutritious food and makes a great addition to any diet. But if you want to eat sauerkraut without experiencing gas, you will have to add it to your diet correctly. This article will explain all the facts you need to know and help you enjoy sauerkraut without the gassiness.
Sauerkraut and Gas - What You Need to Know
Sauerkraut is a fermented food. In other terms, it is a type of food that is preserved by allowing good bacteria to grow. When cabbage is submerged in salted water and allowed to rest, the bacteria naturally found within the leaves of the cabbage begin to produce lactic acid, acetic acid, and many other compounds.
The lactic acid is responsible for preserving the cabbage. The feeding behavior of the bacteria and the brine that develops causes the cabbage to develop the familiar sourness and crisp texture of sauerkraut. The resulting sauerkraut is loaded with vitamins and probiotics, making it an incredible source of nutrients.
Unfortunately, eating sauerkraut can sometimes cause gas and bloating. This is most common in people with weak gut microbiomes. The introduction of huge amounts of new bacteria causes a huge shift in the composition of the gut microbiome. The gas and bloating are only exacerbated if you eat a large amount of sauerkraut.
Generally, people who don't eat much fermented food should start by eating one tablespoon of sauerkraut daily. If you eat several tablespoons or more of sauerkraut, you might experience gas. Most people only experience gas and bloating after eating a cup or more of sauerkraut.
The gas isn't harmful, but the bloating accompanying it might be uncomfortable. Some people also find that their gas has an unpleasant smell after eating sauerkraut because sauerkraut itself has a powerful odor. If you struggle with gas while eating sauerkraut, you should reduce how much you eat and gradually increase your servings with time to give your body time to acclimate.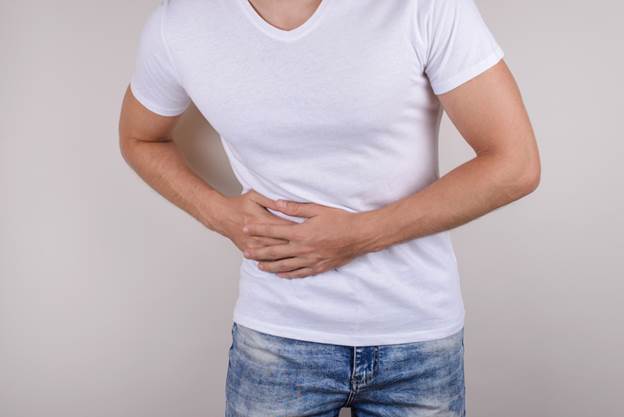 Debunking Common Myths About Sauerkraut and Gas
Myth 1: Sauerkraut Causes Excessive Gas
Sauerkraut doesn't cause excessive gas. An unhealthy gut microbiome is responsible for bad gas. If you eat too much sauerkraut and overwhelm your microbiome with new gut bacteria, you will experience symptoms like bloating and gas.
The bloating and gas aren't a direct consequence of the sauerkraut itself. Many people enjoy eating lots of sauerkraut every day without having any gas. This is because their gut can handle the amount of sauerkraut they eat.
If you're experiencing gas when you eat sauerkraut, you should start by reducing the amount you eat. One tablespoon per day is an excellent amount of sauerkraut to start with. You can gradually increase the amount of sauerkraut you eat over time.
Myth 2: Gas From Sauerkraut Is Unhealthy
Many believe that sauerkraut is unhealthy because it makes them feel bloated and gassy. However, gas from sauerkraut isn't unhealthy, and sauerkraut is a very healthy food. Excessive gas from sauerkraut is a sign that another issue in your digestive system may need to be addressed.
Gas occurs when your digestive system isn't processing and moving food along correctly. A strong gut microbiome ensures your body can digest food efficiently.
Eating small amounts of sauerkraut or other probiotic foods can address this issue and help prevent bloating and gas in the future.
Myth 3: Sauerkraut Is the Only Food That Causes Gas
Sauerkraut is not the only food that causes gas. Many other foods can cause gas and bloating. In some instances, people have misidentified sauerkraut as the culprit when it was actually other foods causing their discomfort.
Carbonated drinks are one of the worst causes of gas and bloating. People who cannot digest lactose may experience gas after eating dairy products. Legumes and cruciferous vegetables are known to cause gas, as are beer and fatty foods.
Tips for Reducing Gas from Sauerkraut
If you're experiencing gas from eating sauerkraut, reducing your feeling of gassiness is important. Practicing good eating habits, improving your gut microbiome, and cooking your sauerkraut are all suitable methods of lowering the gassiness you experience from eating sauerkraut.
The most significant thing you can do to reduce gas from sauerkraut is to eat it in moderation. Gassiness can occur when you eat too much sauerkraut because the beneficial bacteria in sauerkraut throw your gut microbiome out of balance.
You should start eating sauerkraut in a single tablespoon serving daily and gradually increase your intake.
You should also drink plenty of water when eating sauerkraut. Drinking water helps reduce gassiness because it will help your digestive system break down food more effectively. It will also help prevent constipation, which contributes to gassiness and bloating.
If you don't regularly eat probiotics, you should try eating a serving of probiotic food daily or take a probiotic supplement. Many people get gas when eating small amounts of sauerkraut because their gut microbiome is weak.
Having a strong gut microbiome will help you digest food more effectively. Sauerkraut will become much easier to eat without bloating.
If you want to eat a lot of sauerkraut without gas, you should consider cooking your sauerkraut. Cooking sauerkraut or other probiotic foods at hot temperatures destroys the bacteria.
This will prevent the bacteria from throwing your gut microbiome out of balance, meaning you can eat a second serving of sauerkraut worry-free. (You should still eat a reasonable amount of raw sauerkraut when you can!)
Finally, consider taking digestive enzymes. Gas can sometimes result from impaired digestive function rather than the sauerkraut itself. These enzymes will help you digest sauerkraut and reduce the bloating and gassiness after eating.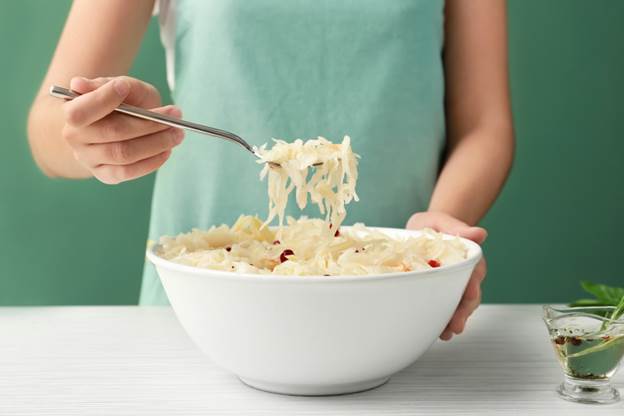 Frequently Asked Questions
Can Everyone Eat Sauerkraut Without Experiencing Gas?
Everyone can eat sauerkraut without experiencing gas. However, people with a weak gut microbiome are much more likely to experience gas when eating sauerkraut. Eating sauerkraut is a healthy practice that will gradually improve your gut microbiome.
Consider making other lifestyle changes to reduce your gassiness if you want to continue to eat sauerkraut. The majority of gassiness is caused by swallowing air.
It's easy to swallow a lot of air if you eat or drink too quickly. Habits like chewing gum and drinking through straws can also lead to a lot of swallowed air.
Here are some things you can do to reduce your gassiness without eliminating your delicious sauerkraut.
Consider whether other foods are causing your gassiness. People who are intolerant to dairy and gluten sometimes experience gassiness after eating food their digestive system is intolerant to.
Stop chewing gum, sucking on hard candy, and drinking through straws. These habits are all known to increase the amount of air you swallow.
Get a sleep study. Some people experience severe gassiness because they swallow significant air while sleeping. If you're known to snore, this is a possibility worth considering.
Stop eating artificial sweeteners. Sweeteners like sorbitol, mannitol, and xylitol sometimes cause bloating and gassiness. Reducing your intake can reduce the severity of your gassiness.
Adjust your diet. While you shouldn't quit eating foods like beans and broccoli, certain preparation methods can help reduce the gas and bloating that these foods are known to cause.
Avoid carbonated drinks. The fizz in drinks like sparkling water, beer, and soda means that you're swallowing a significant amount of air with every glass — and it's going straight to your digestive system.
Visit a doctor. You may need additional treatment if your gassiness results from a digestive disorder like irritable bowel syndrome or diverticulitis. While it can be alarming to be diagnosed with a digestive disorder, this diagnosis will enable you to get the help and comfort you deserve.
Is It Safe to Eat Sauerkraut if I Have a Digestive Disorder?
Whether or not it is safe to eat sauerkraut with a digestive disorder depends on your digestive disorder. Many people who suffer from digestive disorders like irritable bowel syndrome find that eating sauerkraut reduces the severity and frequency of their flare-ups.
Sauerkraut is also commonly recommended as a holistic part of treating gastroesophageal reflux disease (GERD). Fermented foods like sauerkraut, kombucha, and kefir are known to improve digestive health. This can help reduce the severity of reflux.
You should research your specific condition before eating sauerkraut and other fermented foods. If you have any associated immune system issues, the live and active cultures in sauerkraut could potentially harm you. The high sodium content in sauerkraut may be an area of concern for others.
If you're unsure whether eating sauerkraut is safe with your digestive order, consult your doctor or dietitian. They may be able to provide additional insight into how you can incorporate sauerkraut and other fermented foods into a healthy and safe diet.
Related: People Who Should Avoid Eating Fermented Foods
Can Sauerkraut Help With Digestion?
Sauerkraut can help with digestion. Your gut microbiome is essential to proper digestion. If your gut microbiome is weak, you may experience digestive issues like constipation or bloating. You may also feel lethargic or suffer from brain fog because your body struggles to absorb vitamins and other nutrients from your food.
Sauerkraut can help with these digestive issues because eating it introduces beneficial bacteria to your digestive system. Eating just a single serving of sauerkraut or other fermented foods daily will strengthen your gut microbiome. Your digestion will improve as a result.
How Long Does It Take for Sauerkraut to Cause Gas?
Sauerkraut can cause gas within a few hours of consuming it. You're not likely to experience gas if you regularly consume sauerkraut and other fermented foods. But if you eat a lot of sauerkraut despite having a weak gut microbiome, the sudden change may cause you to experience gas and bloating — and the effect will be more substantial if you eat more sauerkraut.
Can I Still Enjoy the Benefits of Sauerkraut Without Experiencing Gas?
Yes, you can enjoy the benefits of sauerkraut without experiencing gas. Sauerkraut can sometimes cause gas and bloating if eaten excessively — particularly if you're new to eating fermented foods. If you're starting to eat sauerkraut, you should only eat one to two tablespoons of sauerkraut per day. You can gradually increase the amount of sauerkraut you eat while avoiding gas and bloating.