13 Foods High In Probiotics You Should Add To Your Diet
How to get your daily dose of good bacteria.
You've probably heard that probiotics are essential for gut health, but it's easy to wonder what foods contain these fantastic microorganisms. From kimchi to yogurt, there are many tasty ways to get your daily fix of probiotic foods. 
As long as you know the right foods, supporting your gut microbiome is simple.
Why Should I Eat Probiotic Foods?
You should eat probiotic foods because they offer health benefits, including improved gut health and reduced LDL cholesterol. Research is beginning to indicate that probiotic foods can even help support conventional cancer therapy, and the topic is quickly becoming a popular subject of clinical trials and studies.
The Benefits of Probiotic Foods for Gut Health
There are many benefits to regularly eating probiotic foods. If you want to support your gut flora in a fun way, there's no better way to do so than with any one of the following lists of probiotic-rich foods.
Probiotic foods are excellent for maintaining your gut bacterium while on antibiotic therapy. If treating an infection with antibiotics, you should eat probiotic food like yogurt at least once a day.
When your gut microbiome is healthy, your small intestine will be much more effective at digesting foods and absorbing nutrients. This can improve your overall well-being since your food will further nourish you. 
Probiotic foods can support certain gut diseases, including irritable bowel syndrome, inflammatory bowel disease (IBD), and infectious or antibiotic-induced diarrhea. 
A healthy gut microbiome has been shown to improve recovery from infections like pneumonia in a study on mice. Probiotics can also improve the immune response to common infections like colds and flu since they boost T-lymphocyte activity. 
The Best Probiotic Foods for Gut Health
Kimchi
While kimchi might seem like a light dish of fermented cabbage, it's one of the best probiotic foods you can add to your meals. This Korean delight is a perfect way to support your gut health and delight your palate simultaneously. And if you add vegetables like onions and garlic to your kimchi, you can enjoy the health benefits of prebiotics with your meal, too!
Yogurt
Yogurt is an excellent food to add to your diet to support your gut health. This wonder food is packed with lactic acid bacteria and calcium, quickly making you feel your best.
And if you're lactose intolerant, many non-dairy yogurts are created with active cultures, too! You can look for yogurt labeled "live and active cultures" to determine whether it will provide the probiotic benefits you're looking for.
Tempeh
Regarding protein-packed probiotics, there's no better food you can eat than tempeh. This is one of the best probiotic foods to add to your meals since soybeans add incredible protein and vitamins. 
And since tempeh is made with fiber-rich soybeans, you can enjoy plenty of prebiotics with every serving, too!
Parmesan Cheese
One of the best ways to get your daily dose of probiotics is by consuming soft cheeses like parmesan. They contain lactic acid bacteria, which effectively deliver probiotics to your body.
Other soft cheeses, like Edam and swiss, are also excellent for adding extra probiotics to your diet. 
Check out my list of 11 Types of Cheese That Contain Probiotics
Sauerkraut
Sauerkraut is a delicious condiment to add to dishes at home, but did you know it contains many probiotic bacteria that can boost your gut health, too?
A great way to give your sauerkraut a boost is to add prebiotic-rich ingredients like garlic and onion.
Aside from making the condiment much tastier, it will also make it an even better food for your gut health!
Related Topic: Does Sauerkraut Cause Gas?
Cottage Cheese
It's not just a delicious taste that cottage cheese has to offer. When you purchase a cultured brand of cottage cheese, you can enjoy a healthy dose of probiotics with every serving, too!
Like soft cheeses like parmesan, making cottage cheese results in tons of beneficial lactic acid bacteria forming in the dish. Look for brands like Nancy's and Good Culture labeled as having "live and active cultures." 
Does Cottage Cheese Have Probiotics?
Buttermilk
While buttermilk might not be your first food for getting some probiotics, it's one of the best probiotics in most grocery stores. It's perfect for adding flavor to dishes and offers extra gut health benefits.
It's important to note that if you want probiotics, you must purchase "traditional buttermilk" and not "cultured buttermilk." 
Kefir vs. Buttermilk: The Real Difference
Kefir
Kefir is among the best foods for a healthy dose of lactic acid bacteria and yeast. It's a great ingredient to balance out the flavor of many dishes since kefir simultaneously offers creamy sweetness and a fermented zing.
It's excellent for adding a probiotic boost to smoothies, ice cream, and salad. 
Kombucha
Kombucha is commonly known for its probiotic health benefits. Kombucha is one of the best-fermented foods to drink to gain extremely diverse gut bacteria since some brands contain over 20 beneficial bacteria species. 
It's incredibly refreshing, too, and can be found in herbal and fruity flavors in grocery stores worldwide.
Miso
Like natto and tempeh, miso paste is a fermented food from soybeans. It's often used to flavor soups and broths. Miso contains a variety of probiotics, including the incredibly healthy A. oryzae. 
It's also an excellent source of prebiotics since miso is made with fiber-rich soybeans. It's ideal in miso soup and easy to add to stir-fry, salad, and even pasta for a strong umami flavor.
Pickles
One of the most common probiotic foods you can find is pickles. Whether you're avoiding dairy or just looking for a quick way to boost your gut health, pickles are one of the best foods for a dose of essential probiotics. 
Fermented pickles have vitamin K and beta-carotene. It's important to note that you must buy pickles without vinegar if you want probiotics.
Learn more about the Best Brands of Pickles with Probiotics
Natto
Like tempeh, natto is made using fermented soybeans. The dish contains a lot of incredible probiotic bacteria, including the unique Bacillus subtilis natto. Since natto uses soybeans, the dish is also loaded with gut-boosting prebiotics.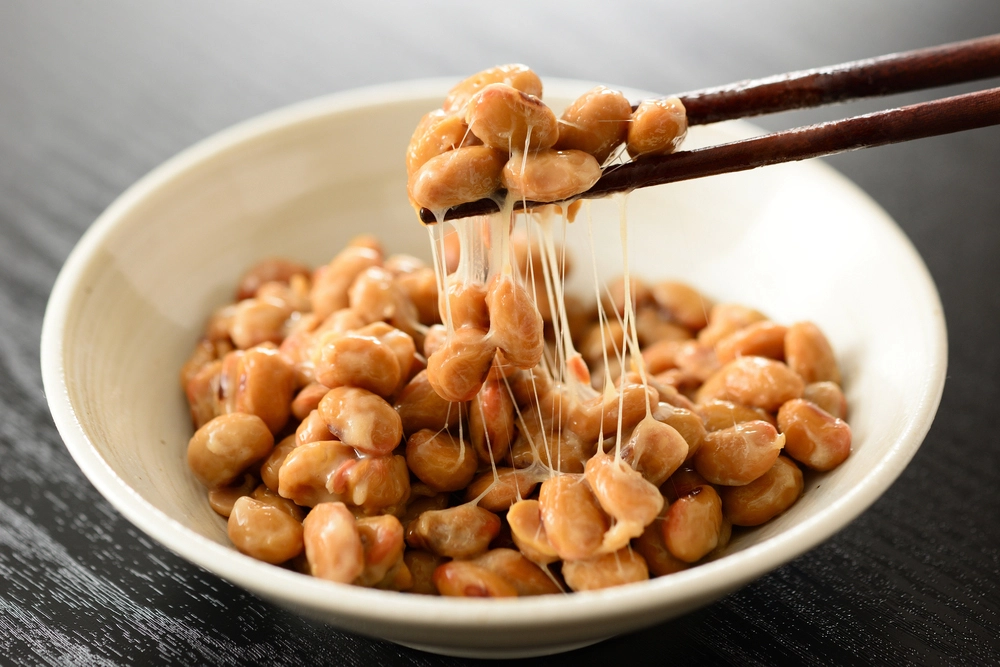 Apple Cider Vinegar
Like many other fermented foods, apple cider vinegar offers a variety of gut-positive bacteria that can help your digestive system perform at its best. However, apple cider vinegar benefits are much lower than other probiotic foods, so consuming probiotics from various sources is important.
What Are the Best Probiotic Foods for Gut Health?
Some of the best probiotic foods for gut health include fermented foods like kombucha and sauerkraut, soybean products like natto and miso, and dairy products like cottage cheese and kefir. 
Many probiotic foods, particularly fiber-rich foods like natto, miso, and tempeh, also offer a host of prebiotics — and with the right ingredients added, kimchi and sauerkraut can, too. 
Regardless of what probiotics you choose, as long as you regularly consume healthy and varied doses of probiotic foods, it won't be long before you see the difference it makes in your gut health.