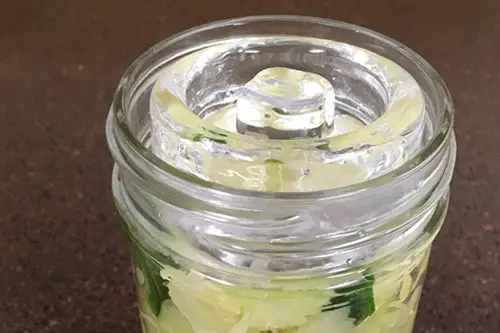 Best Fermentation Weights To Buy, DIY Ideas, and Why You Need To Submerge Vegetables below the Brine.
Don't you hate it when you've waited patiently for a batch of fermented vegetables to be ready to eat, and when you open the lid, you find it covered in a fuzzy mold.
"Why did my fermented vegetables grow mold and spoil?"
"What did I do wrong?" are just a few questions that pop to mind.
Mold happens when oxygen comes into contact with the vegetables that break the surface of the brine.
"How do I prevent moldy fermented vegetables from happening again?"
Fermentation weights are an easy fail-safe method of preventing spoiled batches of your favorite fermented veggies.
This article will cover why vegetables need to be submerged below the brine. Ideas on how to make your own fermentation weights, what to avoid using, and recommend some high-quality fermentation weights that you can easily order online.
Why do vegetables need to be submerged in brine?    
To prevent the vegetables from rotting, they must be in an oxygen-free environment (below the brine).
The carbon dioxide that is produced during the fermentation process rises up through the vegetables and pushes the oxygen that remains to the top, above the brine level.     
The vegetables that peak above the brine come into contact with the oxygen and become contaminated from bacteria, Kahm yeast, and sometimes mold.     
Mold and yeast can't grow without oxygen. 
Fermenting is a great way to increase your intake of probiotics and boost overall health. Just make sure you keep the fermenting foods submerged below the brine so the end result is safe to eat.
DIY Fermentation Weights
The following are some easy DIY ideas for making your own fermentation weights at home.
Fermentation weights can be created from the food you are fermenting, such as cabbage leaves, the cabbage core, and carrot sticks.
Cut cabbage leaves big enough to cover the inside of your fermentation vessel. You can layer strips of carrot or zucchini on top of the leaves to push everything down.
Criss-cross the carrot sticks over the top of the leaves to push everything below the brine.
Apples, daikon radish, or onion all can be used in a similar fashion.
Make sure to discard the veggies you use as a weight when you finish the fermentation process, replace them as needed, and NEVER eat them.
You can also use a small ziplock bag filled with water (or brine) to weigh down the vegetables.
Pebbles or rocks are often recommended, just make sure you wash them as best as you can first and avoid using limestone because the calcium in it can react with the acid in the ferment.
Homemade Fermentation Weights
Everyday kitchen items such as the following can serve as weights too:
Stainless Steel Portion Cups
Avoid using the following items as fermentation weights.
Avoid using knick-knacks from around the house, you don't want to accidentally contaminate your ferment with lead. That goes for copper and brass objects as well. The acid and salt from the fermentation process can corrode and destroy both copper and brass, causing it to leach into the food.
Best Fermentation Weights You Can Buy Online
There are many varieties of fermentation weights to choose from online. 
However, from experience I recommend sticking to glass weights because they are non-porous, which prevents smells and flavors from transferring from batch to batch.  These are great for smaller batches of fermented foods.
Just be sure to pay attention to the size of the glass weight you are buying. The first time I ordered glass weights they were for a wide mouth jar, and at the time I only had regular size jars on hand.  Not a big problem, since mason jars are generally pretty easy to find. But, just a little heads up: pay attention to the size of the jar you are trying to fit the glass weights into.
Luna Glass Crock Weights available in 4.5", 5.5" 6.5", 7.5", and 8.5" Diameter
Fermentation Weight Set of 4 - Glass Fermentation Weights for Wide Mouth Jar
Jucoan 9 Pack Fermentation Glass Weights with Easy Grip Handles
Luna Glass Crock Weights available in 4.5", 5.5" 6.5", 7.5", and 8.5" Diameter
Fermentation Weight Set of 4 - Glass Fermentation Weights for Wide Mouth Jar
Jucoan 9 Pack Fermentation Glass Weights with Easy Grip Handles
Last update on 2022-09-30 / Affiliate links / Images from Amazon Product Advertising API
---
---
Hopefully, this list of ideas on how to keep your vegetables under the brine will inspire you to keep on fermenting. Take a minute to check out all the other supplies you'll need, pick a recipe, and continue your fermenting journey!
MORE FERMENTATION TOPICS & RECIPES
Now that you've learned all about how to make make your own fermentation weights, why they are important, and the best ones to buy, here are a few things that you might find interesting…