This post may include affiliate links. As an Amazon Associate I earn from qualifying purchases.You can read my complete affiliate disclosure for more details.
Originally published on December 8, 2019. Last updated on July 30, 2023
What are Fermentation Weights?
Fermentation weights, also known as crock weights or fermentation stones, are essential tools used in the process of fermenting various foods and beverages. 
These weights are specifically designed to keep the fermenting ingredients submerged in their brine or liquid, preventing any exposure to air. 
By ensuring that the food remains under the brine, fermentation weights create an anaerobic environment that promotes the growth of beneficial bacteria and inhibits the growth of harmful organisms. 
Fermentation weights come in different shapes, sizes, and materials. 
They are generally placed directly on top of the food being fermented inside a container such as a glass jar or a ceramic crock. 
The weight's primary purpose is to exert pressure on top of the ingredients, facilitating even distribution and optimal contact with the brine. This pressure eliminates any air pockets that may arise during fermentation and helps prevent mold growth. 
Importance of Keeping Vegetables Submerged During the Fermentation Process
Maintaining proper submersion throughout fermentation is crucial for several reasons. 
Firstly, it prevents oxygen from reaching the fermenting food. Exposure to oxygen can lead to undesirable effects such as mold growth or spoilage due to unwanted bacteria colonization. 
Using fermentation weights effectively creates an oxygen-free environment within your fermenting vessel. 
Secondly, submerging ferments ensures even contact between all parts of your ingredients and their liquid medium. 
This direct contact maximizes flavor development and facilitates uniform microbial activity throughout the batch. It also prevents surface-level spoilage caused by parts exposed to air. 
Maintaining submersion aids in achieving desirable texture and consistency in fermented foods like sauerkraut or pickles. 
Without adequate weight pressing down on them, vegetables tend to float and can become unevenly fermented or soft on top while remaining underdeveloped below.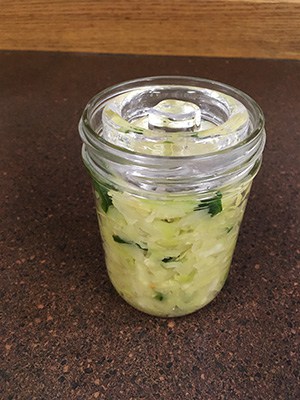 Glass Weights
Glass weights are a popular choice for submerging ferments during fermentation. These weights are typically made from food-grade glass and come in various shapes and sizes to accommodate different fermentation vessels. 
One of the primary benefits of using glass weights is their non-reactive nature, ensuring that no harmful substances leach into your ferment. 
Additionally, glass is easy to clean and sterilize, making it a hygienic option for fermenting foods. 
Regarding shapes and sizes, a wide range of options are available for glass weights. 
The variety in sizes allows you to choose the most suitable weight based on the volume of your fermenting container. It's essential to select a weight that covers the entire surface area of your ferment to prevent any air exposure, which can lead to spoilage. 
To use glass weights effectively, place them on top of your fermenting food once you've packed it into your fermentation vessel. 
Ensure the weights sit directly on top of the food, pushing down any potential air pockets or floating ingredients. 
The weight should be substantial enough to submerge the food but not too heavy to damage delicate fermented vegetables or fruits. 
Regularly check on your ferment throughout its fermentation process to ensure the weights remain in place and adjust if necessary. 
Last update on 2023-11-27 / Affiliate links / Images from Amazon Product Advertising API
Ceramic Weights
Ceramic weights are another popular option for keeping ferments submerged, offering some unique advantages over their glass counterparts. 
These weights are typically made from high-quality ceramic materials designed for food fermentation. 
Ceramic weights have gained popularity due to their ability to retain temperature during fermentation more effectively than other materials. 
The advantages of using ceramic weights lie in their excellent heat retention properties and durability compared to glass alternatives. 
Ceramic helps maintain stable temperatures within the fermentation vessel, creating an ideal environment for the growth of beneficial bacteria. 
Some ceramic weights even have ridges or bumps on their surface, which aid in preventing air pockets and ensuring a consistent weight distribution across the ferment. 
However, it's important to note that ceramic weights may be more susceptible to breakage than glass weights. 
They require careful handling and should be used with caution, especially when placing or removing them from the ferment. 
Additionally, some individuals find it challenging to clean ceramic weights thoroughly due to their porous nature. 
However, with proper cleaning techniques and care, ceramic weights can be a reliable choice for fermentation needs. 
The Pickle Pusher Fermentation Kit
The Pickle Pusher fermentation vessel features a specially designed lid fitted with a silicone gasket, creating an impenetrable barrier against any potential contaminants lurking in your kitchen or pantry.
The plunger gets pushed down onto the vegetables and holds it securely in place below the neck of the jar by fins that push against the sides of the jar.
This system prevents bits from floating to the surface, thus preventing mold growth.
Fermenting vegetables with the Pickle Pusher Small Batch Fermentation Kit is a rewarding experience and an excellent way to preserve and enjoy your seasonal produce.
Last update on 2023-11-27 / Affiliate links / Images from Amazon Product Advertising API
Unconventional Fermentation Weight Ideas
While glass and ceramic weights are commonly used to submerge ferments, several unconventional options can serve the same purpose effectively. 
These alternatives offer unique advantages and can be easily implemented in fermentation. 
This section will explore many unconventional fermentation weight ideas: food-grade plastic bags filled with brine or water, river stones or pebbles, and items you already have in your kitchen. 
Food-grade plastic bags filled with brine or water
Using food-grade plastic bags as fermentation weights is a cost-effective and readily available option for home fermenters. 
The key to using this method successfully lies in choosing the right type of plastic bag. 
Opt for thick, durable bags made from food-safe materials such as polyethylene or polypropylene. These plastics are non-reactive and do not release harmful substances into the fermenting food. 
To prepare the brine or water solution that will fill the plastic bag, dissolve salt (preferably non-iodized) in filtered water until it reaches 2-3% concentration. 
This ensures a sufficient salt content to maintain an anaerobic environment during fermentation. 
Once the solution is prepared, fill the bag about two-thirds and seal it tightly with minimal air. 
To use the plastic bag as a fermentation weight, place it on top of your fermenting food once it's been placed inside a suitable vessel such as a jar or crock. 
Ensure that there is enough headspace to accommodate any expansion during fermentation. 
The weight of the filled bag will press down on the vegetables or fruits, keeping them fully submerged under their own juices while allowing gases to escape through an airlock system if one is being used. 
Related: Can you ferment vegetables in plastic containers?
Stones or pebbles
Another unconventional yet effective method for submerging your ferments is using river stones or pebbles. 
These natural weights offer a rustic charm to fermentation and have been used for centuries in traditional food preservation techniques. 
When using river stones as fermentation weights, it's crucial to select smooth, clean stones free from any chemical coatings or contaminants. 
Avoid stones found near industrial areas or heavily trafficked water sources to ensure their safety for culinary use. 
To use river stones as weights, thoroughly clean and sanitize them before adding them to your fermenting container. 
Place the stones on top of the fermented food in such a way that they distribute the weight evenly across the surface. 
It's important to note that river stones vary in size and shape, so be mindful of their placement to ensure adequate coverage and pressure on your ferments. 
DIY Fermentation Weight Ideas
When it comes to DIY fermenting weights, sometimes the most straightforward solutions are the most effective.
One ingenious hack passed down through generations is using a small plate with a food-safe plastic bag filled with water on top.
This may sound too rudimentary for some, but be aware of its simplicity! This method provides an efficient and accessible way to keep your ferments submerged.
Select a food-safe plate that fits snugly inside your fermentation vessel to implement this weight hack. Fill a plastic bag with filtered water and carefully place it on the plate.
As you gently press down, you'll witness how the bag conforms to the shape of your ferment, exerting consistent pressure and keeping it fully submerged beneath its protective liquid shield. The beauty of this DIY method lies in its versatility and affordability.
More Great Ideas for Fermentation Weights
Silicone cupcake liners are handy reusable silicone baking cups made of food-grade silicone.
Ceramic pie weights, marbles, or whisky stones are perfect for putting inside a food-grade plastic bag to weigh down the vegetables. 
A cabbage leaf or sliced apple – Placing a cabbage leaf or apple slice on top of your ferment and tucking the sides down works well. Occasionally a small weight will be needed in addition to keeping the leaf in place.
Everyday Kitchen Items Can Serve as weights too:
Shot Glasses
Baby Food Jars
Espresso Cups
Dipping bowl
Stainless Steel Portion Cups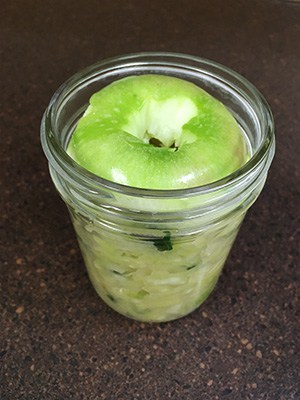 Silicone Mat Magic: Redefining DIY Fermenting Weights
For those seeking a more customized approach to their fermenting weights, consider harnessing the power of food-grade silicone mats—a versatile material that can revolutionize your fermentation game.
 With its pliable nature and temperature resistance, silicone mats provide an ideal base for crafting weight solutions tailored to your needs. 
To create your silicone mat fermenting weight, select a high-quality food-grade silicone mat. 
Cut it into desired shapes and sizes that match the dimensions of your fermentation vessel. The beauty of silicone mats is that they offer a non-reactive, easy-to-clean surface that won't impact the flavors or textures of your precious ferments. 
Additionally, their flexibility allows easy maneuvering and placement within various container shapes. 
Avoid Using the Following Items as Fermentation Weights
Avoid using knick-knacks from around the house; you don't want to contaminate your ferment with lead accidentally. That goes for copper and brass objects as well.
The acid and salt from the fermentation process can corrode and destroy both copper and brass, causing it to leach into the food.
By exploring DIY fermentation weight ideas like homemade glass jar weights or handmade ceramic discs, you save money and control their design and functionality. 
Whether you opt for glass or ceramics as your preferred material, remember that ensuring food safety is paramount throughout every step of creation—using food-grade materials and proper sanitization procedures are essential for success. 
Embrace these DIY projects with confidence as they add an enjoyable element of customization while safeguarding your ferments during their transformation into flavorful delights destined to delight your senses! 
---
MORE FERMENTATION TOPICS & RECIPES
Now that you've learned how to make your own fermentation weights, why they are important, and the best ones to buy, here are a few things you might find interesting…