What is the best cabbage for sauerkraut? Does napa or red cabbage produce a better flavor? And do the size and freshness of cabbage matter when making sauerkraut?
These are all questions commonly asked by novice fermenters, but most resources need to answer them adequately.
Making a great batch of sauerkraut is easy with the proper knowledge, such as knowing how to decide between savoy and green cabbage.
Choosing suitable salt, fermenting process, and equipment is also essential to making a perfect fermented snack.
Here's everything you need to know about finding the best cabbage for homemade sauerkraut.
Why the Type of Cabbage Matters for Sauerkraut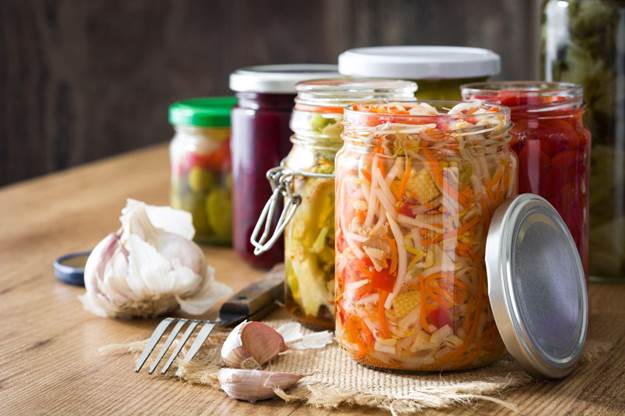 Choosing the correct vegetables when planning your sauerkraut recipe is essential because it directly influences the batch's flavor, texture, and character.
Each cabbage variety is unique. When you harness their qualities correctly, you can make a flavorful and fun batch of sauerkraut every time.
Cabbage Varieties for Sauerkraut
The most popular cabbage varieties for sauerkraut include green cabbage, savoy cabbage, napa cabbage, and red cabbage.
Savoy and napa are perfect for a sweeter, tender result. Green and red cabbage are the preferred varieties for a classic batch of sauerkraut.
Green Cabbage
Green cabbage is one of the most common types of cabbage sold in stores. This variety keeps well in storage and has a mild flavor, making it an excellent candidate for cooking.
You can expect sauerkraut made with green cabbage to be pleasantly crunchy and classically flavored.
Savoy Cabbage
Savoy cabbage is distinguished by its curly leaves and delicate flavor. The leaves that wrap to form the head of the Savoy cabbage are loosely packed, with the texture of the leaves ranging from tender to crisp as you reach the center.
Savoy cabbage is often described as sweet and robust.
Napa Cabbage
Napa cabbage is a variety of cabbage that is extremely popular in several styles of Asian cuisine.
It's commonly the cabbage of choice for other fermented foods, such as kimchi. Napa cabbage is slightly sweeter than green cabbage. The variety is also distinguished by its thin leaves and tender texture.
Red Cabbage
Red cabbage has a flavor and texture similar to green cabbage. The unique color of this variety adds a fun twist to a batch of sauerkraut, while the extra iron content in this variety gives it a nutritious boost.
Consider red cabbage sauerkraut if you enjoy green cabbage but want a fun new twist.
It's worth considering whether the cabbage is considered an early, mid-season, or late variety cabbage if you're considering using another variety to make sauerkraut.
Early cabbage varieties make tender sauerkraut, while late cabbage varieties produce a firmer result.
Factors to Consider When Choosing Cabbage for Sauerkraut
It's essential to consider freshness, size, texture, and flavor when choosing cabbage for sauerkraut. These characteristics differ between various cabbages.
Size, cultivar, and freshness all tremendously influence the texture and taste of your resulting sauerkraut. Depending on your preferences, you may find that one type works better.
Freshness also tremendously impacts how your batch of sauerkraut will turn out. Fresh cabbage is significantly more crunchy and robust.
As the vegetable ages, the leaves gradually soften and turn bitter.
The size of the cabbage also affects the flavor. Small cabbages harvested slightly early tend to have an underdeveloped flavor and crisp texture, while large cabbages are more susceptible to over-ripening and developing a bitter taste.
The texture is essential when choosing what variety of cabbage to use. Most green and red cabbage varieties have smooth and crisp leaves.
You can expect the leaves to have a crimped and tender texture using a type like savoy cabbage.
Tips for Making Perfect Sauerkraut
Determine the best temperature to ferment your sauerkraut. This may vary depending on what kind of culture and container you use.
Think about how long you want to ferment your sauerkraut. Most resources recommend 21 days, which can vary depending on culture and temperature.
Consider how much salt to use. It's also worth deciding whether to use seasoning or other vegetables in your sauerkraut.
Gather the right equipment. Aside from a proper container, it's essential to use supplies like weights and an airlock to reduce the risk of contamination.
Consider whether you'll use a crock or jar. Jars are easier to acquire, but crocks are known to have better insulation.
Choosing the Right Salt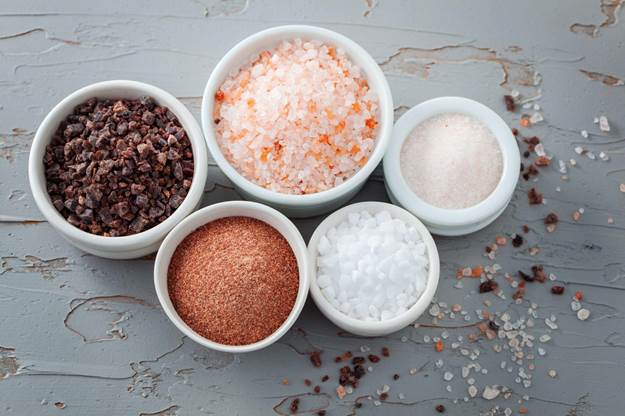 Sea Salt
Sea Salt is one of the most common varieties of salt used for making sauerkraut. This variety is preferred over conventional salt because it contains significantly fewer additives and anticaking agents.
Sea salt is also known to have a low mineral content that adds flavor.
Kosher Salt
Kosher Salt is another great option for making sauerkraut. Be sure to read the ingredients list before buying. For example, Morton Kosher Salt contains anti-caking agents you do not want in your ferments.
However, brands like San Franciso Salt Co and The Spice Lab have kosher-certified salt perfect for safely fermenting vegetables.
Pink Himalayan Salt
Pink Himalayan Salt is one of the most popular salts used in fermenting. When milled to small crystals, the Pink Himalayan salt readily dissolves into the brine and spreads its minerals evenly into the sauerkraut.
This variety is known for having a high mineral content, particularly iron and magnesium.
Celtic Salts
Celtic gray salt is an excellent wet mineral salt. This salt is known for having a very clean and strong mineral flavor. It's often used when a crisp mineral flavor is desired. Some Celtic sea salt has an ocean-like umami flavor, as well.
Fleur de sel
Fleur de sel (translated as "flower of salt") is another excellent option for using wet mineral salt, but it can be prohibitively expensive.
Fleur de sel is harvested directly from the coast of Brittany in France and is known for having a delicate and distinct sea mineral flavor.
Red Hawaiian Salt
Red Hawaiian salt has a nutty flavor. This unique and vivid red salt is created when Hawaiian sea salt intermingles with the iron oxide-laden volcanic clay along the coasts. It's an excellent option for a unique sauerkraut.
Smoked Salt
Smoked salt is an excellent option for adding a smoky flavor to your sauerkraut. This large-grain salt is cold-smoked with wood.
The process can take up to two weeks, resulting in an incredible and distinct taste.
Himalayan Black Salt
Kala Namak, or Himalayan Black salt, is one of the strongest-tasting salts you can use. The complex ingredients and processes used to produce this salt create a product with a distinctly egg-like flavor.
Choose your salt based on your desired flavor. Processed salts are neutral and suitable for beginners. Options like red Hawaiian salt and smoked salt can add new flavors to your sauerkraut.
Of course, mineral-rich salts are a great option to add flavor to your batch of sauerkraut. Pink Himalayan salt is the most common variety used for sauerkraut.
Options like Kala Namak are niche but worth the investment.
Related topics:
The Importance of Temperature and Fermentation Time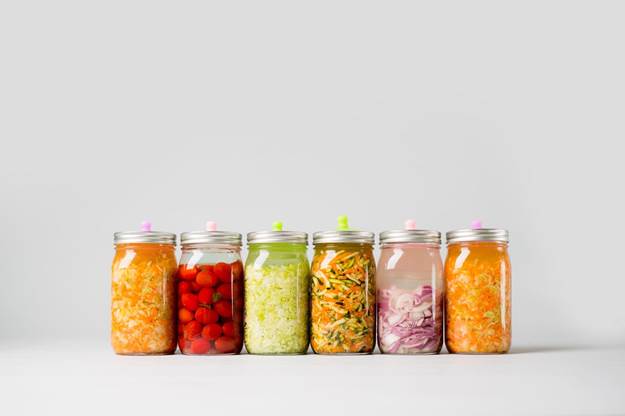 Temperature is crucial in fermenting. Sauerkraut prepared at the correct temperature is crisp and delicious. Cold fermentation results in an underdeveloped flavor, while hot fermentation causes awful flavors and mushy texture.
You should ensure that the cabbage is given adequate time to ferment at the correct temperature.
Sauerkraut should be fermented at the ideal temperature range of 64 to 73°F.
Lactic acid-producing bacteria won't be able to adequately produce the acid necessary to ferment the cabbage if the temperature is too cold.
Hot temperatures will accelerate the fermentation too much.
Allow your sauerkraut to ferment for three weeks. You can periodically taste-test the sauerkraut if desired. Certain starter cultures may allow you to finish fermenting your cabbage early.
The first few days of fermentation are when the lactic acid-producing bacteria are most active. Surrounded by cabbage and brine, these beneficial bacteria begin to feed.
As the bacteria consume all the sugar in the mixture, they produce lactic acid, vinegar, mannitol, ethyl alcohol, and carbon dioxide.
The mixture gradually bubbles as gas forms in the liquid and rises to the top of the container. Rising bubbles of carbon dioxide slowly work to displace all of the oxygen.
The liquid becomes anaerobic, creating the perfect environment for fermentation.
The following two weeks are essential for the fermentation process. The lactic acid produced by fermenting bacteria eventually works to preserve the cabbage.
This lactic acid is also necessary for producing vitamins and inhibiting the growth of contaminants.
To have the best results from your sauerkraut, the fermentation process must continue unhampered through the first two weeks.
The formation of lactic acid creates the distinct flavor and beneficial preserved properties of sauerkraut.
The final week of fermentation is essential for developing the flavor of your batch of kraut. Bacteria gradually slow down and stop producing compounds as sugar dwindles.
In their last few days of activity, they continue to develop lactic acid and enrich the flavor profile of the sauerkraut.
Equipment You Need for Making Sauerkraut
You will need a few supplies before you start making sauerkraut. Namely, you should gather a good crock or jar, weights, and an airlock.
Jars are a great option to consider preparing your sauerkraut in. Mason jars are popular because they are airtight, and most people already have them at home. Wide-mouth jars make it easier to pound down the cabbage.
They also serve as excellent storage containers for the finished kraut.
Crocks are one of the most popular containers used for preparing sauerkraut.
Many people enjoy using crocks because they allow for traditional methods of sauerkraut preparation and are highly effective at maintaining the proper fermentation conditions.
Weights are also good to have on hand. Keeping your cabbage submerged in the anaerobic brine is essential for preventing contamination.
Weights will push the cabbage down and keep it submerged at all times. Luckily, fermenting weights can be purchased at an inexpensive cost online.
You should also purchase an airlock. Fermenting food in a sealed container can cause pressure to build up.
Eventually, you might not be able to open the container at all. Airlocks resolve this by allowing the fermented food to release air without the risk of contamination.
Check out my list of favorite tools and equipment for fermenting vegetables.
Final Thoughts
Fermenting cabbage is a complicated process. It's even harder to make delicious results consistently.
Learning about various ingredients, techniques, and types of equipment helps. You will eventually build an understanding of what makes good sauerkraut.
As you start, one thing worth experimenting with is how you shred your sauerkraut. The texture of sauerkraut often differs depending on how the cabbage is shredded.
Mastering any skill is a difficult process. You should learn to ferment by experimenting.
Accepting failure and learning from it will quickly help you understand how every part of the process works. With time, you will know how to make great sauerkraut effortlessly.
Frequently Asked Questions About Sauerkraut
How Do You Store Sauerkraut?
You should refrigerate sauerkraut. Refrigeration will keep the sauerkraut fresh and delicious for a very long time. Using a suitable container, such as a mason jar, will also improve the longevity of your kraut.
Store your sauerkraut in an airtight container. You should place the jar somewhere cool and dark.
How Long Does Sauerkraut Last?
Sauerkraut lasts for an extremely long time because it's fermented. Properly stored kraut should last at least a year.
Many fermenters report that their sauerkraut lasts several years when properly stored. Sauerkraut will lose flavor and crispness as it ages but remains edible.
Sauerkraut lasts so long because of the fermentation. The lactic acid, acetic acid, and other compounds bacteria produce protect the sauerkraut from rotting.
The acidic brine surrounding sauerkraut is known to be highly preservative.
Is It Safe to Eat Sauerkraut That Has Turned Brown?
It's usually safe to eat brown sauerkraut. I can't recommend eating it, however. Browned sauerkraut tends to have an extremely unpleasant flavor. If you have browned sauerkraut, you should examine how it looks, smells, and feels.
If it doesn't seem contaminated, you can remove the brown bits and keep what remains.
Confirming that the browning results from a natural process like oxidation and not because of contamination are essential.
If you notice signs like odd discoloration, sliminess, foul tastes or smells, or mold or mildew, you should immediately discard the kraut and avoid consuming it.