Sourdough Bread Kvass might sound like a mouthful, but it's a fascinating drink you should know about! It's like a bubbly, tangy cousin of sourdough bread. You're in the right place if you're curious about Sourdough Kvass and how it's made.
This guide will break it down, from its ingredients to the fermentation process. So, let's dive in and uncover the delicious world of Sourdough Kvass.
Bread Kvass can be made with any bread. Rye bread and white bread are both commonly used. You can combine several types of bread, too, if you like.
In this recipe, we are using Sourdough bread.
What Is Sourdough Kvass?
Sourdough kvass is a traditional fermented beverage with an earthy and yeasty flavor, often likened to beer.
Bread kvass is different than other kvass drinks as it is a beer-like beverage made from toasted bread cubes. Try our Beet Kvass recipe! It's another easy kvass drink made from fermented beets.
The process of fermenting sourdough kvass is similar to the kombucha fermentation process, and both have probiotic benefits to improve gut health.
The main difference between the two fermented beverages is the flavor, as kombucha is sweeter with an alcoholic aftertaste, while sourdough kvass is savory and salty. This distinct beverage originated in Russia but is now popular worldwide thanks to its various health benefits.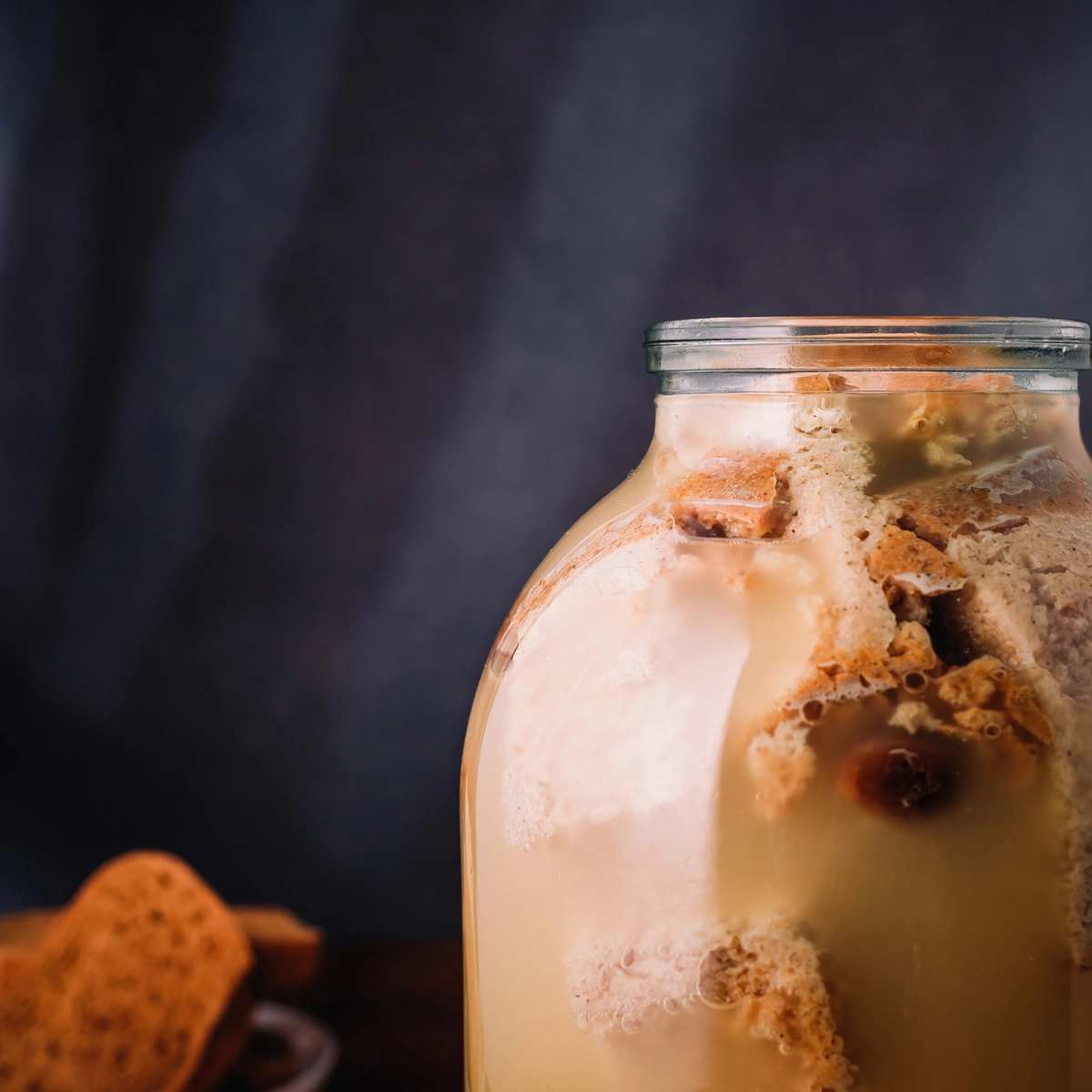 How to Make Bread Kvass
One of the best things about bread kvass is its simplicity. You won't need any special tools or exotic ingredients. Plus, it's relatively low in alcohol, making it a perfect alternative for those who want to reduce their beer consumption.
Below is an in-depth overview of the necessary ingredients and equipment and helpful step-by-step instructions.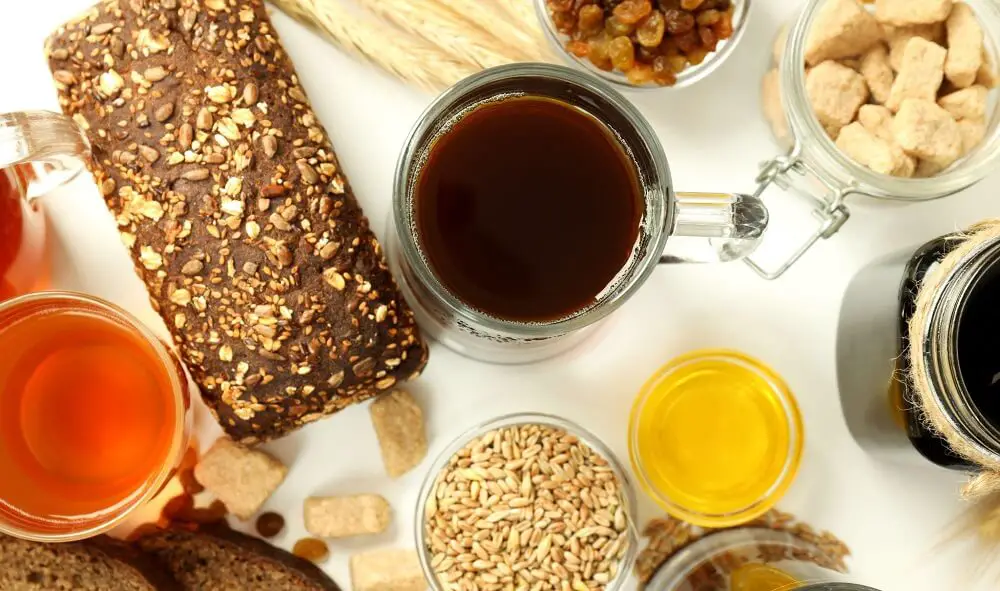 Ingredients and Equipment
While you can buy plenty of fancy fermentation equipment, you don't need special equipment to make bread kvass.
Again, the above items are not entirely necessary but useful. 
Ingredients:
1 pound of sourdough bread (can use any type you prefer)
3 liters of water
⅔ cup of sugar
1 teaspoon of starter
Flavorings (optional)
The sections below take a closer look at each ingredient and variations you can use. You can use many different ingredients to create Kvass, so choose the items carefully and according to your tastes.
Bread
Traditionally, Bread Kvass uses rye bread, but you can experiment with other types. Some of the best alternatives include dark rye bread, buckwheat, pumpernickel, white, or gluten-free sourdough. These are the best options, but if you have a different variety of stale bread, you can experiment with that.
You can even save bread scraps such as the crusts and stale pieces in the freezer until you have enough to brew a batch of bread kvass.
The type of bread you choose will determine the color and richness of the Kvass. Lighter breads yield a more subtle flavor, while darker breads produce a bolder taste. Experiment with different types of bread and grains to discover flavor variations so you can curate the Kvass recipe to suit your tastes.
Water
The main thing to avoid is chlorinated water, as the chlorine can inhibit the fermentation process. Spring, distilled, or filtered water are the best options, as they will be chlorine-free. In many places in the US, tap water is chlorinated, so bottled water is best if you don't have a filter and don't want to distill the water.
Sugar
Sugar is the most common ingredient for Kvass, but you can use almost any sweetener as long as it includes natural sugar. Many people opt for brown sugar because it doesn't contain artificial coloring and offers a richer, bolder flavor profile.
Aside from brown sugar, people often use cane sugar, white sugar, honey, maple syrup, molasses, and other natural sweeteners. The more natural the sweetener, the better the fermentation process will work, so avoid sweeteners made with many artificial ingredients and additives.
Starter
A sourdough starter is traditional and probably one of the safest options because it produces an enjoyable savory flavor and is relatively easy to use.
Sourdough starters contain lactobacillus bacteria and yeast, which are essential for Kvass. The bacteria creates the sour flavor Kvass is known for, while the yeast is responsible for the fizzy texture that so many people love.
Flavor Options for Bread Kvass
When it comes to flavoring your Kvass, the possibilities are endless. Not everyone enjoys the sour and salty taste, so adding some flavorings is the perfect way to make the fermented beverage more approachable.
Elevate your Kvass with different flavors. Mint, cinnamon, raisins, dates, berries, apples, lemon peel, maple syrup, and hops are all fantastic choices. Hops add a beer-like flavor and act as a preservative, extending your Kvass's shelf life.
Fruit Flavors: You can experiment with chopped apples, pears, or other fruits for a fruity twist to your kvass.
Toasted Barley: Add toasted barley for a nutty flavor that pairs well with rye bread.
Sweetness Options: Use molasses or maple syrup instead of honey for a different sweetness with rich, amber-like notes.
Hops: If you enjoy a touch of bitterness, like in beer, you can add hops to your kvass.
Dried Fruit: Consider adding raisins, dates or other dried fruits during secondary fermentation for extra flavor.
Fresh Mint: fresh mint adds a nice flavor to kvass, or consider a little lemon verbena to give your kvass a zesty, herbal twist.
Gluten-Free Option: If you're gluten-sensitive, make kvass with buckwheat for a gluten-free version.
These are just some ideas to inspire you, but feel free to experiment with other ingredients, especially your favorite herbs, and spices. When using fruits or vegetables, chop them before adding them. Most natural ingredients will not interfere with the fermentation process.
Step-by-Step Brewing Instructions
The Easy-Breezy Bread Kvass Recipe
Creating your bread kvass is a breeze, involving just four basic steps:
Toasting for Flavor: Start by toasting your bread to unlock its malted sugars, much like when malted grains are used in beer brewing. The goal is to caramelize these sugars, so don't rush it. A 20-minute toast at 350°F, with a halfway flip, should do the trick.
Soaking and Extracting:
Place your toasted bread cubes in a large bowl.
Bring water to a boil and pour it over the bread.
Let this mixture soak for at least 4 hours (or up to 24 hours).
This process extracts those malted sugars into the boiling water.
Straining: Strain the liquid from the bread using a cheesecloth-lined strainer, squeezing out every last drop of that precious liquid. Stir in sugar, yeast, and any additional flavors you desire. 
Fermenting: Now, it's time for the fermentation magic! Leave your Kvass in a warm spot for around a week, and you'll start to see it foam and bubble after 6-12 hours.
After this initial fermentation, it's time to bottle your Kvass and let it carbonate for another 2-3 days in the fridge. Remember that it will continue to ferment, so ensure your bottles can handle the pressure. 
It's typically ready to enjoy after three days in the refrigerator, but indulge within the first 3 to 7 days for the best flavor.
Enjoy!
For the best flavor, drink the kvass three to seven days after putting them in the fridge. They will continue to ferment for one to two weeks.
After two weeks, the yeast will entirely consume the sugars so that the flavor will be less sweet and more alcoholic. The drink is okay for consumption for up to eight weeks. After two months, it's best to discard any leftover kvass and begin a new batch.
Yeast Options for Making Bread Kvass:
You are wondering which yeast to use for making bread kvass? Well, you've got some great options to choose from. Using yeast is like adding a special ingredient that makes your kvass tasty and bubbly. Let's explore your choices:
Sourdough Starter: This is a top pick because it has both lactobacillus bacteria (which gives kvass its unique sour taste) and yeast (which makes it fizzy). You can easily make your own sourdough starter.
Wild Yeast (Yeast Water): If you like the idea of wild, natural yeast, try soaking dried or fresh fruit in water for a few days. The yeast from the fruit will multiply and work its magic. Here's a recipe for wild yeast.
Kombucha Tea: Kombucha is a trendy drink that contains yeast and acetobacter (like vinegar). Acetobacter adds a tangy flavor to your kvass, just like lactobacillus does in sourdough.
Ginger Bug: While not traditional, a ginger bug is a fantastic option. It has natural yeast and beneficial bacteria, giving your kvass a lovely gingery twist. Here's a ginger bug recipe for you.
Previous Batch of Kvass: If you've already made a delicious batch of kvass, save a little (especially the yeasty stuff at the bottom) to start your next batch. Recycling at its best!
Commercial Yeast: If you prefer convenience, you can always go for commercial yeast, which is easy to find in any grocery store. It's like a trusty kitchen assistant that doesn't need much care.
Now, let's answer some common questions about Bread Kvass:
Give Kvass a Go
If you enjoy fermented beverages, bread kvass is a must-try. It has a rich and funky flavor that will keep you coming back for more, and your body will thank you for all the extra nutrients and probiotics.
As mentioned, it's one of the easiest fermented beverages to master, and the flavor variations are plentiful, so you can develop a personalized recipe you'll want to drink every day.