If you're a beginner sourdough bread baker, there's a good chance you've encountered some trouble with its key ingredient: the starter.
Indeed, it can be challenging to achieve that healthy, active sourdough starter that's ideal for baking bread when you're first starting, but especially if you're using the wrong equipment.
Believe it or not, the correct jar can make all the difference in nurturing a healthy, thriving sourdough culture. It's the key to making a delicious loaf of sourdough bread, and we're going to show you how.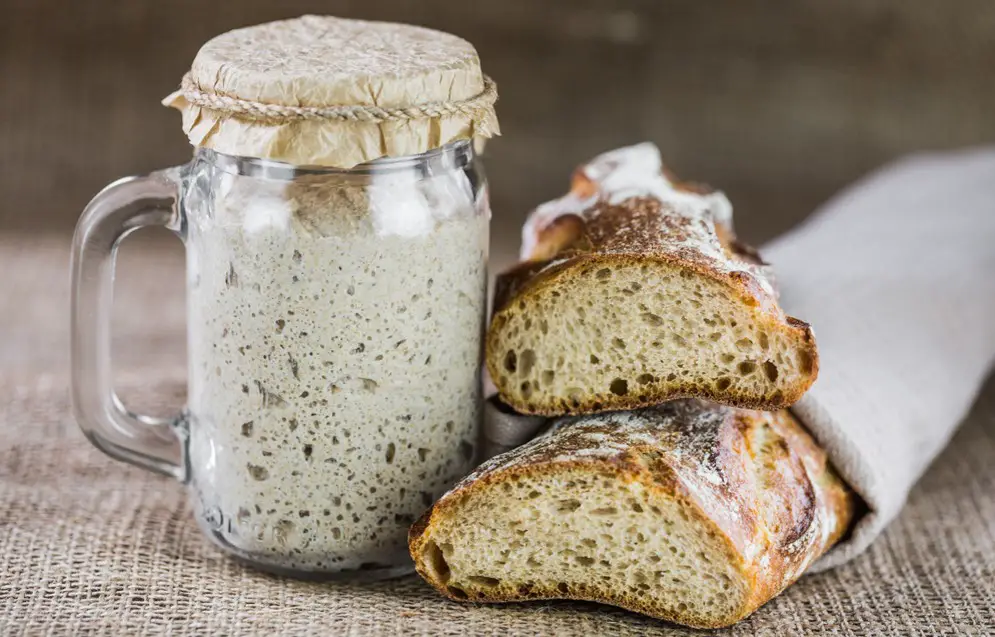 This article explores the best jars for sourdough starters - and what to avoid - to help you achieve perfect loaves every time. We'll cover the different factors you should consider when choosing a jar and the pros and cons of some of our top picks.
So, if you're ready to make your sourdough starter troubles a thing of the past, keep reading to find out how the right jar can help you achieve sourdough success!
Why Choosing the Right Jar for Sourdough Starter Matters
While using a good sourdough starter recipe is essential, of course, there's no doubt that the jar also plays a vital role in the final product.
A good jar not only provides a safe and secure environment for your culture to grow, but it can also help regulate temperature and prevent contamination. And a consistent, clean environment is crucial for creating a strong, healthy, and active starter.
Factors to Consider When Selecting a Sourdough Starter Jar
Let's start by saying that you don't necessarily have to go out and buy some big, fancy, expensive jar, so don't worry!
But when you are selecting a jar for your sourdough starter, there are several factors that you should consider, including its size, lid, shape, and perhaps most importantly, material. Let's explore each of these a little further below.
Size
First on our list is size. The size of your sourdough starter jar is important because you need to ensure you have enough space for it to grow and develop properly.
A jar that's too small may not provide enough room for your starter to grow, while a jar that's too large can make it challenging to maintain the proper ratio of flour to water.
That's why it's typically best to shoot for a medium-sized jar. However, this depends on the amount of starter you're working with, so you'll need to use your discretion.
Lid
Regarding the lid of your sourdough starter jar, you should look for something that you can easily tighten and loosen as necessary. This is because you'll want a loose lid when you first establish your starter and a tighter one when storing it in the fridge.
Shape
The shape of the jar can even play a role in temperature regulation. A wider, shorter jar may allow for more even heat distribution as the starter is spread out over a larger surface area. This can help prevent hot spots from forming in the jar, which can cause the starter to ferment too quickly.
The shape is also a factor when it comes to accessibility. A tall, narrow jar may be more difficult to stir and feed, while a wider, shorter jar often allows for easier access.
Material
The material of your sourdough starter jar is essential for several reasons. Not only are some types more durable and easier to clean than others, but the material can even affect the temperature and moisture level of your starter.
You need to be able to keep a close eye on these and adjust them as needed for best results, so choosing the right material is essential.
Related: 3 Amazing Rosemary Sourdough Bread Recipes and Sourdough Breadsticks Recipe
Best Sourdough Starter Jars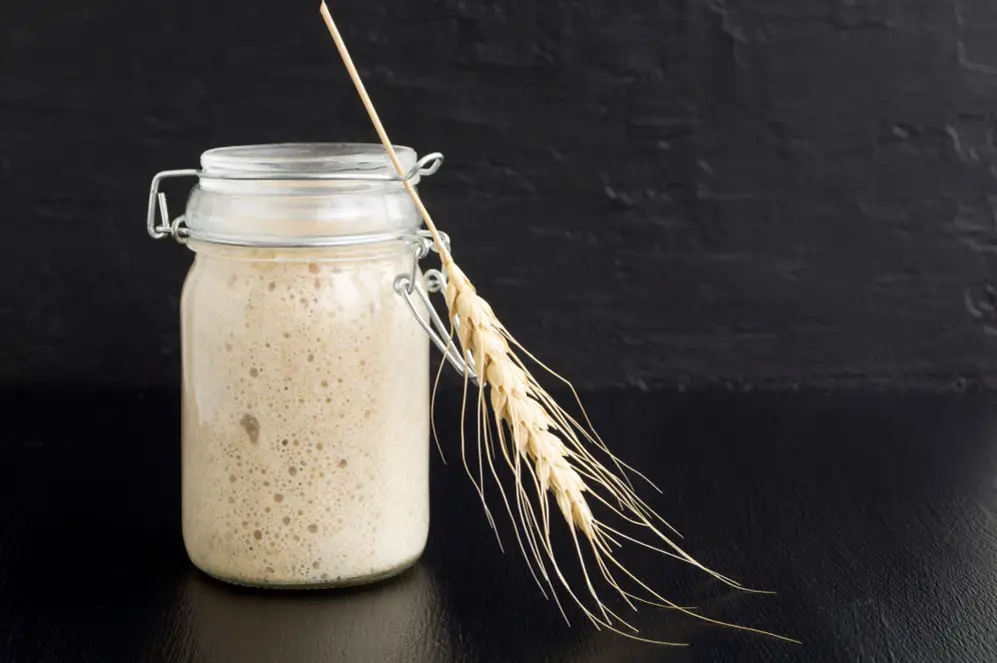 So, now that you have a better idea of what you're looking for, let's get into some of the best jars for sourdough starters. Note that these jars will fall into one of two categories: glass or ceramic. These tend to be the best materials to achieve a healthy, active starter, so let's look at each to help you find your perfect match.
Now, onto the jars!
Glass Jars
There's a reason why glass jars are the go-to choice for many sourdough bakers - actually, a few reasons!
Advantages of Glass Jars for Sourdough Starter
Non-Reactive
Glass is a non-reactive material, so it won't react chemically with the acidic nature of the sourdough starter. This is key to achieving that ideal starter because a reactive material could change the starter's flavor or texture, potentially harming the beneficial bacteria and yeast. You probably don't want any weird chemicals in there, anyway!
Transparent
This one may be especially relevant if you're a beginner still working out the kinks in your sourdough starter recipe. One of the best things about using glass jars is that they are transparent, which makes it easy to monitor the growth and progress of the sourdough starter.
This gives you a quick and easy way to see if there are any signs of mold or contamination in your starter and observe its development and activity. By closely monitoring how it's developing, you can make adjustments as needed to keep your sourdough starter healthy and thriving.
Easy to Clean
While cooking and baking can be a lot of fun, there's one aspect that is…not so fun: cleaning up the mess. Fortunately, glass jars are easy to clean by hand or in the dishwasher, so you can quickly return to what you do best: making delicious food!
Best Glass Jars for Sourdough Starter
If you're thinking of going with a glass jar for your next batch of sourdough starter, then you're making a great choice! Here are some recommendations to help you find that perfect fit.
Last update on 2023-09-13 / Affiliate links / Images from Amazon Product Advertising API
If you're looking for a budget-friendly jar (or, in this case, a group of jars), then the Ball Wide Mouth Pint 16 Ounce Mason Jar is an excellent option. They are wide-mouth, BPA-free, freezer-safe, and made in the USA. What's not to love?
The only thing to watch out for with these is the lids. Sure, they feature Sure-Tight technology, meaning they'll give you an excellent, secure seal when you need one. However, they tend to rust easily, so you may need to purchase additional lids at some point.
Sale
Last update on 2023-09-13 / Affiliate links / Images from Amazon Product Advertising API
Whether you're a beginner or need new equipment, a kit like this Kilner Sourdough Starter Set can help you take your sourdough starter to the next level. You'll get a pair of 12-ounce glass jars, a stainless steel lid, a stainless steel measuring lid, a plastic spatula, and two rubber bands—basically, everything you'll need to create your starter.
What makes this set stand out from the competition, though, is the unique design of the jars. While many jars tend to be more rectangular, these are largely cylindrical. This makes them easier to clean (and the less time spent cleaning, the better!).
Just be aware of the price tag here, as this kit is slightly more expensive than others. However, you are getting a great quality product, so it may be worth it!
Last update on 2023-09-13 / Affiliate links / Images from Amazon Product Advertising API
Now, if you're looking for a premium jar for your starter, it's hard to go wrong with the Weck Sourdough Starter Jar. Not only does it have a cool vintage look, but it's durable, microwave-safe, dishwasher-safe, and BPA-free. And since it has a glass lid, you won't have to worry about rust.
Admittedly, this is kind of a large, expensive jar for simply making a sourdough starter. But if you're looking for a premium addition to your baking arsenal, this is the one!
Ceramic Jars
If glass isn't your thing, you may want a ceramic jar for your sourdough starter. It may not be as popular, but it's still a great second pick!
Advantages of Ceramic Jars for Sourdough Starter
Non-Reactive
Like glass, ceramic jars are non-reactive, so you won't need to worry about any chemical reactions occurring and messing with your sourdough starter.
Retains Heat
A ceramic jar is an excellent choice to help maintain that ideal consistent, warm temperature in your sourdough starter. They retain heat well, which helps the starter ferment more evenly and prevents unusual flavors from developing. And you certainly don't want anything to take away from that delicious, tangy flavor!
Durable
Ceramic jars are typically durable and long-lasting, so you won't need to worry about replacing them frequently. They are also less likely to break or shatter than glass jars, which can be vital if you frequently move your sourdough starter.
Best Ceramic Jars for Sourdough Starter
Think ceramic is for you? Check out some of our top recommendations below!
Sourdough Starter Crock
Sourdough Jar- Dough Fermentation Jar with Breathable Lid- Ideal for Bread Making Kit or Food Pantry Storage
Last update on 2023-09-13 / Affiliate links / Images from Amazon Product Advertising API
Made of stoneware (a type of ceramic), this one-quart Sourdough Starter Crock is perfect for those looking to make large batches of starters at a time. And while you may not be able to see through it, this may be a good thing - not everyone wants their starter visible on the counter!
However, one of the best things about this jar is its breathable lid. This allows gasses to escape and your starter to breathe, which is a good thing.
Sale
Last update on 2023-09-13 / Affiliate links / Images from Amazon Product Advertising API
If you want to try fermenting other foods like kimchi or sauerkraut in addition to sourdough starter, then you may want to go with a jar that's a little more versatile, like this HomeBuddy Fermentation Crock. With this double-glazed ceramic crock, you won't need to worry about the flavors transferring between recipes!
This one-gallon pot is quite large, so it's ideal for those who like to make and keep a lot of starter on hand. Despite its size, it's still ergonomic and easy to use with its wide opening, fermentation weight distribution, and large, comfortable handles.
Jars to Avoid for Sourdough Starter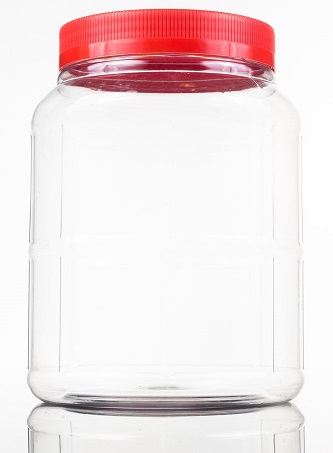 Now, you may be wondering: that's it? Where are the plastic options for sourdough starters? How about the metal ones? While many people use these other jars for sourdough starters, they're not necessarily the ideal choice. And we are looking at the best container for sourdough starters, right?
So, to help convince you that glass and ceramic are your best bet, let's explore why you should avoid materials like plastic and metal for your sourdough starter.
Plastic Jars
Undoubtedly, many people use plastic containers for their sourdough starters. And it makes sense: they're widely available, budget-friendly, typically non-reactive, and less likely to crack or break than other materials. However, a plastic container is far from the perfect choice.
One of the most significant issues with using a plastic jar for a starter container is that they can develop scratches over time, which can harbor harmful bacteria. Introducing this contamination into your water and flour mixture can harm it in various ways, ultimately resulting in a weak starter.
However, if you're determined to go plastic, look for a reusable, BPA-free, food-safe airtight container for your sourdough starter. Some people succeed with plastic for their starter, albeit with mixed results.
Metal Jars
Now, while some people can get away with using a plastic jar, there is one type of jar you should never use with a sourdough starter: metal. And this is because metal jars have one characteristic missing from the other types on this list: reactivity.
While the reactivity of metal jars may not be a factor when it comes to something like a quick saute, it can be an issue when you're using it for a long fermentation process.
When you use reactive metal jars or pots to ferment sourdough starters, a series of chemical reactions can occur over time. These reactions can change everything from the flavor to the color of your starter, preventing you from achieving that perfect final product.
So, if you've been using a metal jar to ferment your starter, it's time to switch things up! Simply using a glass or ceramic jar on your next batch may just fix your problem.
Time to Go Jar Shopping!
Now that you know more about the importance of choosing the right jar for your sourdough starter, it's time to go jar shopping! Consider the size, lid, shape, and, perhaps most importantly, material when going through the different options.
While glass and ceramic tend to be safe bets, you may avoid using a plastic one if necessary. Just stay away from metal if you want to achieve that perfect starter next time.
Good luck with your next batch of starters - I hope it's active, bubbly, and thriving!
MORE SOURDOUGH BAKING RESOURCES