What are the health benefits of Kombucha Tea?
Kombucha is a living probiotic tea packed with beneficial bacteria that help detoxify the body and energize the mind. Kombucha aids the body in healing and restoring gut health and integrity.
Fans often tout it for having a fuzzy effervescent quality like a natural soda. The fuzziness is a result of the fermentation process.
"Death begins in the colon" ~ Dr. Bernard Jensen.
The intestine is sometimes referred to as the second immune system because of its content and potential for harmful bacteria growth. It has such an active role in our health and immunity.
The beneficial bacteria in kombucha help keep harmful bacteria in check resulting in a clean digestive system and well-functioning intestinal tract.
Like apple cider vinegar, it's an excellent digestive tonic produced by a similar process. Taken around mealtime, it helps stomach acid break down proteins and digest other foods and prevents bloating, heartburn, and indigestion.
Some people notice a cleansing effect with kombucha that it aids constipation with its gentle laxative action.
It's not a magic elixir.
People who drink kombucha regularly claim that after one week of drinking it daily, they notice an improvement in immune system function and energy levels.
However, if you continue to eat foods that are toxic and poisonous to your bodies, such as junk foods and highly processed food, then just adding the kombucha tea alone will probably not be enough to experience the benefits.
The best way to heal your body is to remove as much of the toxic things that go into our bodies and are around bodies, and then nourish it and feed it with all it needs to give it every opportunity to rebuild itself.
I'll step down off my soapbox now.
The kombucha's tea portion, whether from black tea or green tea, contains l-theanine, a compound that naturally counteracts the tea's caffeine content with a calming effect.
Both green and black tea come from the same plant, Camellia sinensis. The difference is in the process; Black tea is roasted and aged longer than green tea.
Tea (especially green) is also highly antioxidants and is often used in natural weight-loss formulas.
The caffeine in Kombucha tea is much lower than what's found in coffee and does have some beneficial effects, which include a temporary boost in energy, alertness, and mental acuity.
So many unique and different health benefits can come about from drinking kombucha regularly.
More Health Benefits of Kombucha
Kombucha tea contains a range of B Vitamins: B1, B2, B6, and B12 which provide the body with energy and helps process fats and proteins, which are vital for your nervous system.
Kombucha contains antioxidants that help fight molecules in the body that can damage cells. It has one of the few agents that can cope with the pollutive products of the petroleum industry, including plastics, herbicides, pesticides, and resins.
A study done in 2011 found that the antioxidant-rich kombucha reduces toxins in the liver, suggesting that kombucha may play an important role in promoting liver health and reducing liver inflammation.
However, these studies were conducted on rats, and more research is needed to say with certainty how kombucha can support liver health in humans.
It helps with the structure of cartilage, collagen, and the fluid that lubricates the joints. Collagen reduces wrinkles and helps with arthritis.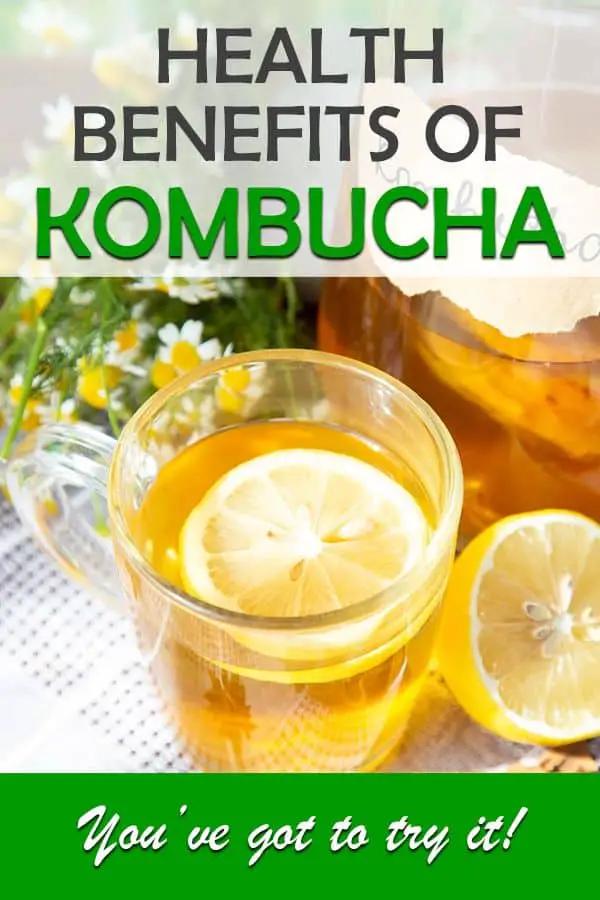 It helps the body to make Glutathione, which is made up of 3 amino acids and is produced naturally in the liver. It is vital for cellular metabolism.
It protects our bodies against oxidative stress caused by free radicals, is also required for the immune system to function correctly, and is a potent detoxifier. 
Kombucha can cure a hangover:
I was so excited by this claim, I wrote a whole post just about how kombucha can cure a hangover.
Medicinal benefits of Kombucha:
SCOBY's and kombucha tea can be used to treat stings, bites, skin infections and rash infections, irritation, eczema and external fungi (e.g., ring work, nail fungi).
Kombucha and SCOBYs can be added to bathwater as the bacteria and goodness absorb straight into the skin.
It's beneficial for sick children or just a relaxing, nourishing time in the bath. You can use it as a probiotic gargle for sore throat infections.
Afterward, consider dumping the bathwater in the garden instead of letting all that beneficial bacteria go down the drain.
SCOBY is useful in garden compost. The bacteria and minerals nourish the soil, and the goodness absorbs into your plants and vegetables.
How Kombucha can help around the house:
Like vinegar, kombucha has acetic acid, but in smaller amounts. Because of this, kombucha can be used as a surface cleaner (just pour some into a spray bottle) or even as a hand sanitizer by adding a little to your liquid hand soap.
How Kombucha can help you with cosmetics:
The SCOBY can be pulverized in a food processor and kept refrigerated to use as a face mask applied directly to the skin and allowed to leave for 10 mins or longer until dried and absorbed into the skin and thoroughly washed off.
How Kombucha can benefit your pet:
The SCOBY can be fed to animals. It will assist them with various ailments such as arthritis, gut, cancer, skin, ear, and more.
How Kombucha kills fleas and ticks:
Kombucha will help eliminate fleas and ticks on your pets. However, a stronger batch of kombucha will be needed for this application.
To make a stronger brew, merely let your kombucha ferment for two extra weeks. This will create an extra-strength brew, similar to a tincture.
Next, apply your stronger brewed batch of flea and tick spray to the affected areas on your dog, cat, or livestock to decrease the irritation and discourage those pesky little buggers.
For severe cases, you can also use it as a bath! It will also help them retain a shiny coat.
How Kombucha gets rid of your pet worms:
Kombucha is a natural way of getting rid of worms in dogs and cats. Dogs and cats get infected with roundworms by ingesting worm eggs in the soil or stool.
Start by giving your pet a dried SCOBY as a chew toy. As you know, cats can be finicky if they refuse a new chew toy. Try mixing it with their food or in their drinking water.
More about the benefits of Kombucha tea:
May Balances hormones
Can help Lose weight
Improves Skin and hair
It may help ease the symptoms of anxiety, eczema, and food allergies if ingested and applied topically.
Behavioral issues, ADHD, Dyslexia, autism
Irritable Bowel Syndrome
Kombucha is chock-full of trillions and billions of good bacteria that can strengthen the gut wall.
Vitamin C potent detoxifier and immune booster, and enhancer of vitality.
Antibiotic qualities help deactivate viruses.
Encourages the intercellular production of energy.
Protects human cellular membranes.
How to make Kombucha:
Check out my one-gallon kombucha recipe if you want to make a batch of kombucha.
Disclaimer about the benefits of Kombucha:
After researching the benefits of kombucha tea for several months and consuming it myself, I have found many claims and lists of benefits it can offer.
But let it be known I have not researched all of these claims individually and am not suggesting using kombucha tea over anything your doctor has recommended.
It is always best to consult a doctor if you are looking for help resolving any of these ailments or conditions.