Rosemary sourdough bread is an amazing treat. Whether you eat the rosemary sourdough alone or pair it with a delicious meal, there's no wrong way to enjoy this spectacular bread. You can make boules, baguettes, focaccia, and many other types of bread using sourdough starter.
You can add many ingredients to your rosemary sourdough to create a more complex flavor. I personally enjoy adding extra virgin olive oil and roasted garlic. And once your sourdough is complete, you can practice making meals like rich and creamy soup to pair it with.
The Beauty of Rosemary Sourdough Bread
Rosemary sourdough bread is a delicious and herbal type of sourdough made by infusing rosemary and other herbs into the dough. The crisp crust and chewy, soft bread interior make it a perfect canvas for incredible flavors to shine.
There are a lot of advantages to using a sourdough starter instead of commercial yeast. The active fermentation process in the sourdough starter allows it to create a significantly airier and softer bread than yeast can.
Sourdough is also more digestible than bread made with yeast because fermentation kick-starts the process of breaking down the grain.
Rosemary sourdough bread is an incredibly nutritious food. Sourdough bread is a much better source of nutrients than regular bread because fermenting the dough reduces antinutrients and improves the digestibility of the bread.
Rosemary is filled with powerful antioxidants and other compounds that can reduce inflammation and reinforce your immune system.
Rosemary also adds an incredibly unique flavor to sourdough bread. It is distinct, with pepper, citrus, pine, and bitterness notes.
Rosemary is also incredibly aromatic. It will fill your kitchen with a delicious smell whenever you bake your next loaf of rosemary sourdough bread.
Check out my post on what makes sourdough sour.
3 Amazing Rosemary Sourdough Bread Recipes
1. Rosemary Sourdough Boule recipe
A great way to start baking sourdough bread is to attempt to make a boule. A bread boule is a round type of bread that originates from France.
Due to how easy boules are to make, this sourdough recipe is commonly recommended for beginners. Use a banneton-proofing basket to help the dough form an ideal shape.
To make a sourdough boule, use 4 cups and 2 tablespoons of bread flour or wheat flour, 1 ¼ cups of water, 2 tablespoons of rosemary, 2 teaspoons of salt, and half a cup of sourdough starter.
Stretch and fold the dough with moistened hands in intervals, allowing the dough to rest for 30 minutes between each folding.
Adjust the time you allow the dough to rest if needed. The dough should be relaxed before you complete the next folding.
After you fold the dough four times, it should have a jiggly and rotund consistency.
Score the top of the dough ball and bake it for 40 minutes at 450°F. Allow boiling water in a pan underneath the bread to steam it and improve the result.
2. Rosemary Sourdough Focaccia recipe
Another excellent recipe for beginners to attempt is baking a rosemary sourdough focaccia. You can start making your own rosemary sourdough focaccia by gathering a quarter cup of sourdough starter, 3 cups of bread flour or wheat flour, 1 ⅓ cups of warm water, 1 teaspoon of sea salt, 2 tablespoons of fresh rosemary, and 1 tablespoon of olive oil.
Ensure you feed your sourdough starter the night before attempting this recipe to have a very active starter to work with.
Combine the water, flour, starter, salt, oil, and rosemary in a large bowl and mix the dough until it is consistent. Let the dough rest for an hour, and then fold the dough again.
Finally, you're ready to bake the dough. Grab a 9" x 9" baking pan and use olive oil to cover the sides of the pan and prevent your focaccia from sticking.
Lift the dough from the mixing bowl and put it in the sheet pan, gently pressing it down until it covers the pan.
Garnish your focaccia with rosemary sprigs and bake it at 425°F for 35 minutes.
Once the top of the bread is golden brown, your focaccia is ready.
3. Rosemary Sourdough Baguette recipe
If you're ready for a baking challenge, I recommend attempting to bake a rosemary sourdough baguette. You can prepare this delicious bread with just a few simple ingredients: two-thirds of a cup of water, 2 ½ cups of flour, three-quarters of a cup of sourdough starter, 1 tablespoon of fresh rosemary, and 1 teaspoon of sea salt.
Start by combining all of the ingredients. Once a consistent dough has formed, knead the dough by hand and then allow it to rest for two hours.
Finally, shape the dough into two 12-inch logs. Score the dough and allow the loaves to rest for one hour.
Bake the loaves for 20 minutes at 425°F until they have a golden brown crust.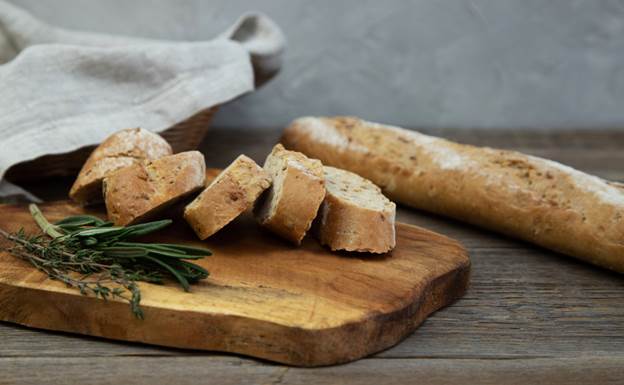 Tips and Tricks for Baking Rosemary Sourdough Bread
Achieving the best results when baking sourdough starts with maintaining a healthy sourdough starter. You should keep your sourdough starter at temperatures between 70 and 85°F to allow it to feed and grow.
Related: How to Strengthen a Sourdough Starter
Feed the starter with non-chlorinated/fluoridated water and flour twice daily. You can refrigerate your starter and feed it every week if you are not actively using it.
Many novice bakers find proofing and shaping the dough difficult, but you can refine your technique over time. You should let your dough proof in a bowl with cloth and flour for at least two hours.
Score the top of your sourdough loaf and place parchment paper on the baking sheet pan before baking to ensure the sourdough won't become malformed in the oven.
You can achieve different results with your rosemary sourdough bread by changing how you add the rosemary to the dough.
Many people enjoy using cuts of fresh rosemary as a garnish. This gives the sourdough an appealing, artisan appearance.
You can infuse fresh rosemary into the bread dough and increase the strength of the flavor by grinding it down.
Chopping the rosemary into small pieces also works, but it is difficult to achieve the best texture through chopping. I recommend using a mortar and pestle to grind the herb into very small pieces.
You can also use dried rosemary for your sourdough. Many people like to add rosemary to their sourdough during the kneading process.
Remember to reduce the amount of rosemary you use if substituting dried rosemary for fresh rosemary because it has a much more concentrated flavor.
You may need to experiment until you can achieve the perfect crust and crumb. Good results start with your sourdough starter, so you should take care of it properly and feed it regularly.
Work on improving your mixing and kneading technique. Handle your dough gently to avoid worsening the structure of the dough. 
You should store your rosemary sourdough loaf in a breathable and clean bread bag. You should place it in a cool, low-moisture area, so the bread doesn't go stale.
I recommend against storing your bread in the fridge due to the humidity.
There are plenty of good ways to reheat your sourdough. Using your toaster is always a good option if you're heating a slice or two or using a skillet to reheat a piece with oil and seasonings.
You can reheat a loaf of sourdough by brushing a bit of water on it, putting it in the oven, and allowing it to bake at 350°F for 10 minutes.
Frequently Asked Questions
Can I Use Dried Rosemary Instead of Fresh Rosemary?
You can use dried rosemary instead of fresh rosemary. Dried rosemary has a different texture and significantly more concentrated flavor than fresh rosemary.
For every tablespoon of fresh rosemary that a recipe advises you to use, you can replace it with one teaspoon of dried rosemary.
I recommend lightly crumbling the dried rosemary to help it add more flavor to your sourdough.
Do I Need a Stand Mixer or Bread Machine to Make Sourdough Bread?
You don't need a stand mixer or bread machine to make sourdough bread. Mix the dough using a sturdy spoon and knead the bread by hand.
Using stand mixers and bread machines can be helpful if you need to speed up the preparation process or want to give your hands a break.
How Long Does It Take to Make Rosemary Sourdough Bread?
There are two significant steps to making rosemary sourdough bread: preparing the starter and baking the bread itself.
You should expect it to take at least ten days to prepare a homemade sourdough starter. You should feed your starter the night before using it.
Preparing the dough and baking the bread can take anywhere from four hours to two days, depending on how long the bread dough takes to rise.
Can I Freeze Rosemary Sourdough Bread?
You can freeze rosemary sourdough bread. You can freeze slices or loaves of sourdough by wrapping them in a moisture-absorbing material (like a tea towel) and inserting the sourdough into a freezer bag.
The bread will stay fresh for up to six months. I recommend writing the date on the bag, so you know how fresh the sourdough is later.
Can I Use Sourdough Starter That I Bought From the Store?
Yes, you can use the sourdough starter that you bought from the store. This option is good if you're apprehensive about making your starter.
If the wrong preparation methods are used, homemade sourdough starters can quickly become contaminated by harmful microbes in the environment and need to be discarded.
A store-bought sourdough starter is a reliable option, but making your own sourdough starter is an educational experience that we can't understate.
You should try to make your own starter when possible since the homemade process is much cheaper and will help you understand the rest of the sourdough preparation process.