This post may include affiliate links. As an Amazon Associate I earn from qualifying purchases.You can read my complete affiliate disclosure for more details.
Nothing smells better than a freshly baked loaf of sourdough bread. And for some bread enthusiasts, no scent is worse than bread smelling too sour or like vinegar! Are you wondering why your sourdough bread has turned out too sour?
This post will explain why a batch of sourdough bread tastes sour and how to make it more sour or less.
Two primary acids are produced in a sourdough culture: acetic acid and lactic acid.
Sourdough bread gets its sour flavor from the acetic and lactic acids produced by the bacteria in the sourdough starter. The bacteria eat sugars in the flour and excrete acids.
The sour taste is sourdough is a result of the acetic acid. At the same time, the lactic acid produces a milder yogurt-like flavor.
Sourdough has an incredibly distinct taste. Its appealing sourness and hint of tanginess make it the perfect base for a variety of savory dishes. Sourdough tastes so distinct because it is made with a fermented leavener — the sourdough starter.
The beneficial bacteria in a sourdough starter produce intense flavors and textures, which are provided with a bit of flour and water to feed on.
Related: How to Strengthen a Sourdough Starter
Much like other fermented foods, the magic behind the unique flavor of sourdough lies within the fermentation process. In this article, we'll offer some essential insights into the science of sourdough.
From the batch of starter to the finished loaf, every baking stage significantly influences the sourness of sourdough — and we'll explain exactly how it comes together and how you can apply these facts to your baking process.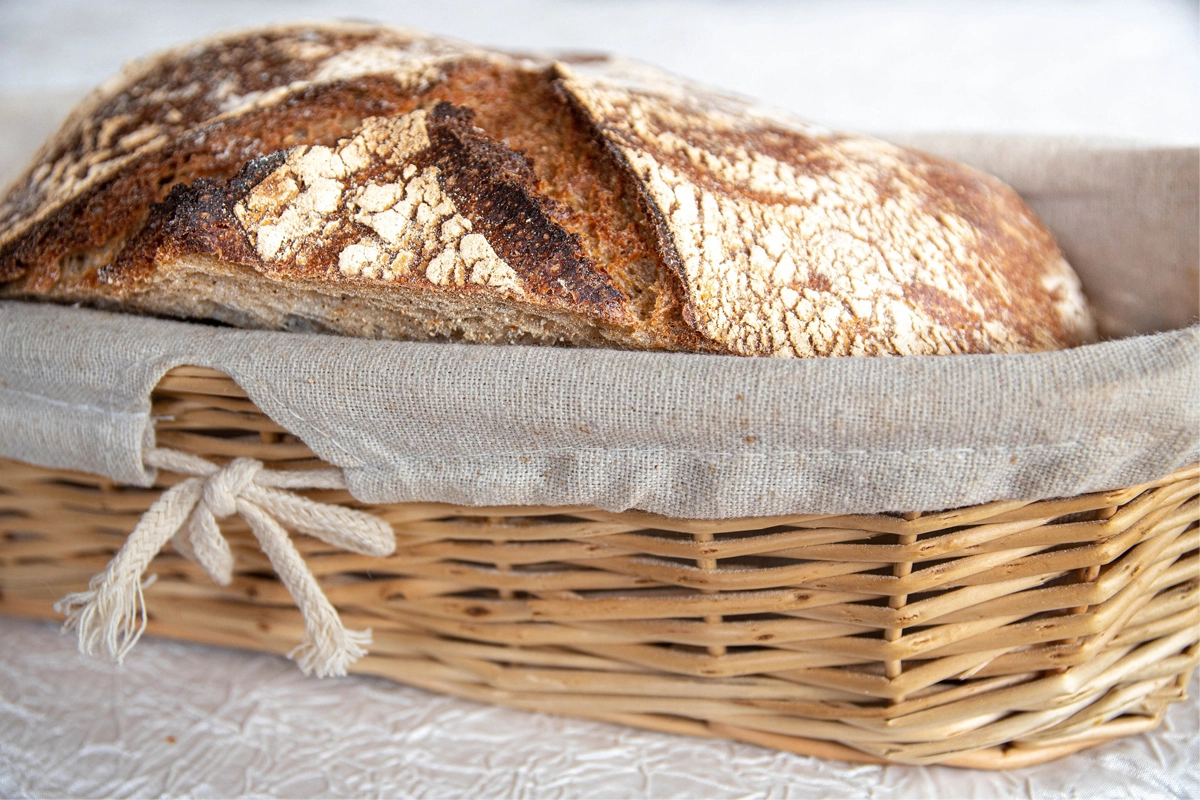 The Basics of Sourdough Bread
Sourdough is a bread leavened with wild yeast and lactic acid bacteria. Essentially, yeast and bacteria are everywhere. It is invisible to the eye but can be found in the air and across every surface.
Sourdough starters use this by allowing the wild yeast and bacteria to form a colony in a mixture of flour and water.
As you cultivate the wild yeast and lactic acid bacteria and allow them to grow, their metabolic process will produce a variety of appealing qualities.
Air bubbles will begin to form in the starter. A tangy flavor and appealingly sour smell will develop.
And when the sourdough starter is used for baking, it will create a deliciously chewy and sour loaf of bread.
Most bread today uses ingredients like baking soda or commercial yeast as its leavener. And while these leaveners are effective at producing bread with an incredible texture, they can't mimic the tanginess, acidity, and chewiness that make sourdough bread so unique. This is a result of how the fermenting process alters the flour.
The structure changes when flour is fermented by yeast and lactic acid bacteria, and the gluten proteins weaken. It develops a slightly denser crumb and becomes more digestible due to the altered structure.
The byproducts of the fermentation process, like lactic acid and acetic acid, are responsible for developing the flavor of the sourdough.
It's unknown how long humans have made sourdough bread, but it has likely been made since the earliest periods of agriculture.
A physicist named Seamus Blackley could revive a sourdough starter used over 5,000 years ago in ancient Egypt. With the proper care and conditions, sourdough starters can last for centuries.
Across California and Alaska, you can find sourdough bread starters originally cultivated by gold rush settlers. These starters have been maintained and passed down for generations and are still used to make sourdough bread today.
One famous example of an ancient sourdough starter is Carl Griffith's 1847 starter, which is still kept alive by a historical society today.
Sourdough wasn't always popular to eat. In the Middle Ages in Europe, sourdough production declined when commercial yeasts and other modern leavening agents became available.
Many people preferred the quick and easy-to-use new leaveners since sourdough starters took a lot of patience and care to bake.
Within the last few decades, sourdough has become popular once again. Many people prefer sourdough to other types of bread for its unique texture and tangy flavor.
You can easily find sourdough bread for sale in your local grocery store. And in artisanal baking communities worldwide, many people enjoy perfecting their sourdough recipes and creating beautiful loaves of bread.
The best way to enjoy sourdough bread is to make your own. Only some loaves of sourdough found in stores are made from a genuine starter, and you cannot adjust the flavor and texture of a store-bought loaf.
When you make sourdough at home, you can make the perfect chewy and sour loaf of bread as soon as you perfect the starter care and the baking process.
The Science Behind Sourdough's Sour Flavor
Sourdough has a tangy and sour flavor due to acetic acid. While yeast is responsible for most of the textural qualities of sourdough you're familiar with, the acids produce most of the flavorful compounds in sourdough.
As they feed on the sugars in the starter and dough, these bacteria produce lactic acid, acetic acid, and many other compounds.
Lactic acid bacteria are a beneficial type of bacteria. They inhibit the growth of harmful bacteria and compete directly with the wild yeast to metabolize the sugars found in the starter.
Some of the acids that the bacteria produce metabolize more sugar. The yeast can use these byproducts to produce more carbon dioxide and increase the bread.
The tangy flavor of sourdough depends on the behavior of the lactic acid bacteria.
And depending on the environmental conditions, these bacteria may be more or less successful at metabolizing the sugar and producing acid.
In optimal circumstances, sourdough starters should be allowed to ferment at temperatures between 75°F and 85°F.
A higher temperature will result in a more sour starter, while a lower temperature will result in a milder starter. The middle of this range often results in a perfectly sour loaf of sourdough.
The lactic acid bacteria also depend on other conditions to grow. Lactic acid bacteria are more successful when infrequently fed large portions of whole-grain flour.
The bacteria thrive in moist and hot environments. The starter should be fed during the early stages of ripeness for optimal sourness.
If a sourdough starter is provided with inverse care, the yeast will grow, and the lactic acid bacteria will struggle to thrive.
The best sourdough bread is often made by balancing each factor perfectly and allowing both the bacteria and the yeast to succeed, as the bacteria is responsible for the flavor. The yeast is responsible for the texture of sourdough.
Make Sourdough Sour: Tips & Tricks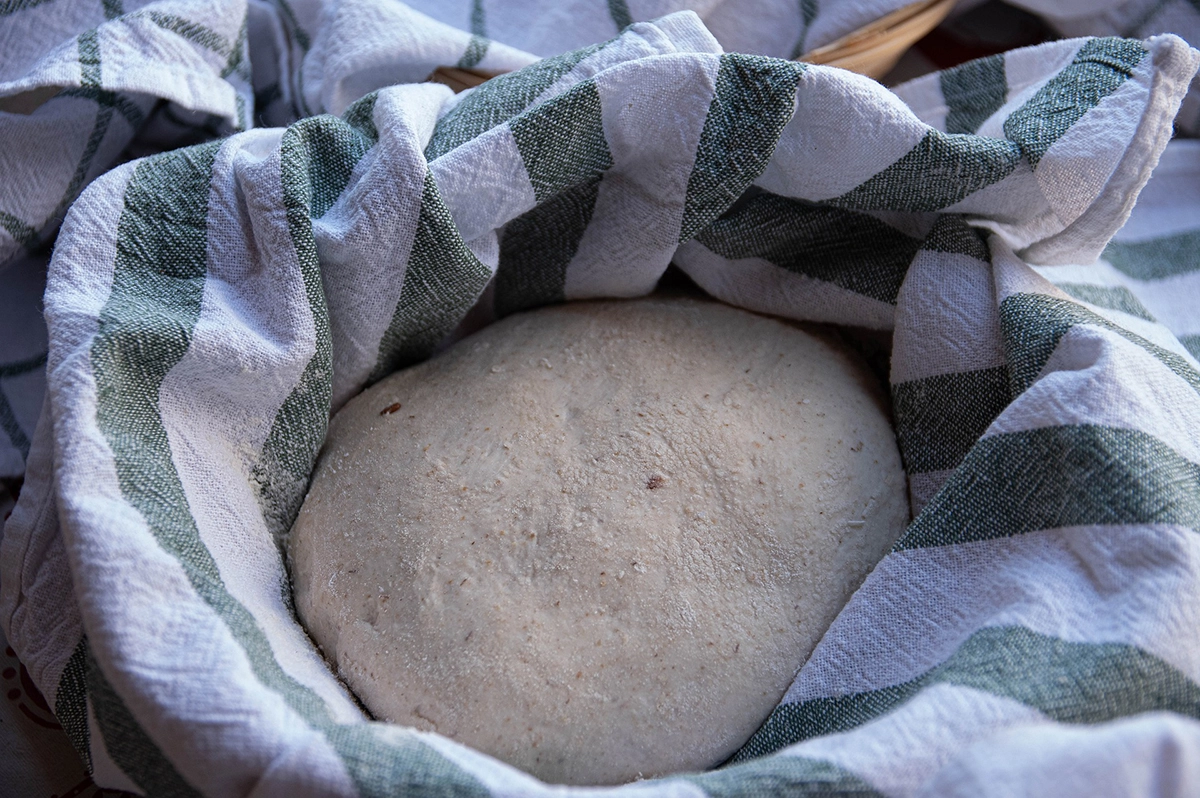 A few factors influence how sour sourdough bread will turn out. To make sourdough bread with the perfect level of sourness, you must be aware of these factors and gradually adjust your baking strategies to perfect your sourdough bread recipe.
Tips for Adjusting the Starter
You should keep your sourdough starter healthy for the best results. You can adjust what you feed the starter, how often you feed the starter, how much you water the starter, and what temperature the starter is kept at to influence the sourness of your starter directly.
Low Hydration
Maintain the sourdough starter at a lower hydration level by using a higher ratio of flour to water. Acetic acid is produced more abundantly in a drier environment like this, while lactic acid-producing organisms seem to thrive in a wet climate.
Use Whole Grain Flour
The sourness of sourdough bread starts with the kind of flour you use for your starter. The lactic acid bacteria responsible for making sourdough sour are much more proficient at feeding on whole wheat flour.
If you use white or all-purpose flour to feed your starter, the result will be much milder.
Use The Hooch
Keep the brown liquid layer called the hoosh that forms on top of a hungry sourdough starter instead of pouring it off. This liquid can add acidity to sourdough and help it develop tang.
Tip for Adjusting the Dough
Proof the Dough for a Longer Time to Achieve Sourness
The longer the dough (not the starter) is left to rise, the more sour the flavor will be. The dough eats up sugars and starches in the flour as it ferments, which takes away the sweeter notes of the flour.
Try fermenting a batch of dough over 2 to 3 days to get that intense sourness you crave. Place the proofing basket in the fridge for 8-12 hours or a few days. Acetic acid bacteria will do their job to increase the tang in the cold.
You will want to experiment with how much time you proof the dough.
Check out my post on How to Choose The Right Banneton Proofing Basket.
Add Ingredients to the Dough
You can incorporate sour ingredients into the bread dough to make your sourdough more sour.
Vinegar is an organic acid, the same as the acids naturally occurring during yeast fermentation. So, adding vinegar to your dough can create a fantastic sour flavor in a shorter amount of time.
A little vinegar goes a long way in this case. Only add a tiny bit to avoid odd flavors or killing the yeast—one tablespoon of vinegar per every two cups of flour will do. 
You can also use rye flour for the dough because the lactic acid bacteria will continue to feed and produce acid until you bake the loaf.
Baking Soda Lessens the Sour Flavor in Sourdough Bread
Adding baking soda to the dough gives it boosted rising power. Still, because it has high alkaline levels, it can also negatively affect the sourdough acids, which also counteracts the sour flavor and texture.
Try these recipes: sourdough breadsticks, amazing rosemary sourdough bread
Frequently Asked Questions
Can I Make Sourdough Bread Without a Sourdough Starter?
You can't make genuine sourdough bread without a sourdough starter. The sourdough starter serves as the leavener and is directly responsible for the distinct chewy texture of sourdough. It is also responsible for creating the deliciously tangy flavor you're familiar with.
You can emulate sourdough bread without a sourdough starter, but it's important to note that it will most likely have notable differences in texture and flavor.
Many recipes use ingredients like full-fat yogurt, vinegar, and commercial yeast to create imitation sourdough.
Can I Make Sourdough Bread With Commercial Yeast?
Some sourdough bread recipes call for adding small amounts of commercial yeast. It's certainly possible to make sourdough bread with commercial yeast as an ingredient, as long as you still use your sourdough starter.
With that being noted, I recommend against making sourdough bread with commercial yeast while you're a beginner.
Commercial yeast is very effective at colonizing. It's often much more effective than lactic acid bacteria.
The sour flavor of sourdough comes from the lactic acid bacteria. You will want to ensure the bacteria can produce lactic acid, acetic acid, and other compounds that give appealing sourdough flavors.
How Long Does It Take to Make Sourdough Bread?
It can take a while to make sourdough bread. Cultivating the starter is lengthy, while sourdough bread can be baked in as little as a few hours. Consider purchasing a starter if you want to avoid cultivating one on your own.
Remember to read about sourdough starter care to maintain your new starter properly.
Cultivating the sourdough starter will take one to two weeks. You must feed and water your sourdough starter properly and ensure it is kept in optimal conditions.
Baking the loaf will require periodically kneading and turning the dough and then allowing it to rest.
Depending on the recipe, this can take as little as four hours or even require a multi-day process.
Can I Freeze Sourdough Bread?
You can freeze sourdough bread. You must wait for your bread to cool down completely before freezing it.
You should wrap the loaf or slices in an absorbent material like paper towels to prevent the bread from becoming icy.
A layer of tin foil can help improve the quality of the frozen sourdough, but it isn't needed for short-term freezing.
Once the sourdough bread is wrapped, place the wrapped sourdough bread into a Ziploc bag or bread bag.
Press as much air out of the bag as possible to reduce the likelihood of freezer burn. Write the date on the bag to keep track of whether the bread is fresh.
Finally, put the bread in the freezer and store it. Sourdough will remain very tasty for up to two months after freezing.